The Eye in Skeletal Disorders
Abraham Spierer
Tamara Wygnanski-Jaffe
Facial Deformity Syndromes
Cranial and Craniofacial Deformity Syndromes
Generalized Skeletal Disorders
Apert's Syndrome
First described by Apert in 1906, Apert's syndrome (acrocephalosyndactyly) is a congenital anomaly affecting bones throughout the body. The main characteristics are premature fusion of the cranial sutures and syndactyly of the hands and feet (
Fig. 5
).
42
,
66
,
67
,
68
Although most cases are sporadic, an autosomal dominant inheritance pattern has been demonstrated in some families. Birth prevalence of Apert syndrome was calculated to be 15.5/1,000,000 births. Males and females are affected equally. Some genetic studies have implicated increasing parental (especially paternal) age as a related factor. The condition has been reported in nearly all races, and the intelligence of the affected individuals is usually normal.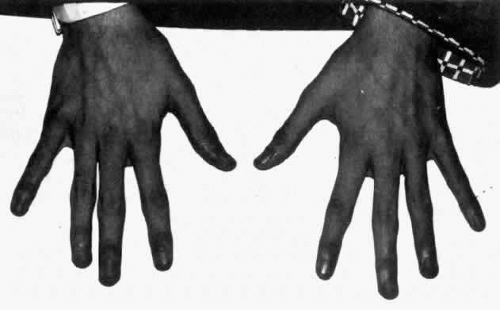 Figure 5. Syndactyly of the hand in Apert syndrome. (Courtesy Moshe Frydman MD, Sheba Medical Center).
Apert's syndrome results from mutations of the fibroblast growth-factor receptor 2 gene (FGFR2) located at chromosome 10.
70
The cranial malformation is principally a premature synostosis of the coronal suture and the hypoplasia of the mid base of the skull and the central face. The bones involved in the latter comprise the sphenoethmo-maxillary complex. The sutural synostosis leads to a characteristic oxycephalic skull deformity in which there is an inconspicuous occiput and a high point anterior to the bregma. The forehead is vertically oriented with no slope, and the anteroposterior diameter of the skull is greatly shortened. Neurologic disturbance is a rare consequence of the cranial malformation. These patients are of normal intelligence unless there is neurologic insult. A broad, depressed nasal bridge and relative prognathism are intrinsic parts of the facial anomaly; posterior cleft palate is occasionally reported.
Other skeletal anomalies most frequently involve the vertebral bodies, the digits, and the limb girdles. A fusion of the fingers is an integral part of the syndrome and characteristically involves the second through fourth digits. The presence of a single fused fingernail is especially characteristic, while involvement of the first and fifth digits is seen occasionally. The syndactyly involving the lower extremities is more likely to include a soft-tissue union of the affected members than that of the upper extremities. The vertebral bodies exhibit varying degrees of fusion, which tends to increase with advancing age. Finally, varying bony abnormalities of the shoulder and pelvic girdles may occur, which result in decreased range of motion along with pain and difficulty in active and passive movements.
Visceral anomalies have been described in this syndrome. In one series,
71
cardiovascular anomalies were found in 10% of the patients and genitourinary anomalies occurred in 9.6%. Less frequent anomalies were found in the respiratory system (1.5%) and gastrointestinal system (1.5%).
The ocular findings are those secondary to the frequently present cranial anomalies and those which occur in relation to, but not as a direct consequence of, the bony malformations. An antimongoloid palpebral slant with the outer canthi measurably lower than the inner canthi is common. Strabismus is found and, rarely, congenital absence of the superior and inferior rectus muscles as well as the inferior and superior oblique muscles. Proptosis secondary to an anatomically shallow orbit may lead to severe exposure keratitis, corneal ulcers, and scarring.