Fig. 14.1
Distal pancreatectomy specimen showing insulinomas in a MEN1 patient
14.2.4

Pathophysiology and Clinical Features

In patients with insulinoma, there is continued secretion of insulin despite low blood glucose; such break of the physiologic negative feedback with the resulting inappropriately excessive insulin secretion is the pathological hallmark of insulinoma [

22

]. The clinical spectrum of hypoglycemia is attributed to reduced hepatic glucose production rather than increased utilization [

23

]. Patients present typically at their fourth or fifth decade [

24

], and the diagnosis is sometimes made years after presentation [

16

] due to diversity and ambiguity of symptoms. Blood glucose levels below 55 mg/dl induce excessive catecholamine release and subsequently result in appearance of adrenergic symptoms like anxiety, palpitations, tremors, weakness, hunger, nausea, sweating, and warmth. Severe hypoglycemia with blood glucose level dropped below 50 mg/dl causes neuroglycopenia manifested as neurologic dysfunction in the form of visual disturbances (diplopia, blurred vision), amnesia, confusion, convulsions, and even coma [

13

,

16

,

22

,

23

].

Two points should be emphasized while clinically evaluating these patients. First, timing of symptoms should be confirmed; early morning or post-exercise onset usually favors the diagnosis of insulinoma, while postprandial symptoms, though cannot preclude [

15

], yet do not favor its diagnosis [

13

]. Second, given the rarity of the condition and the usually nonspecific presenting symptoms, clinical suspicion should always be kept high.
14.2.5

Biochemical Diagnosis

When clinically suspected, diagnosis is usually suggested by detecting hyperinsulinemia in the presence of hypoglycemia plus reversal of the symptoms by administration of glucose, fulfilling classical criteria of Whipple triad [

22

]. The current consensus [

15

] to confirm diagnosis depends on demonstration of six criteria during 72-h fasting test, though some studies declared the adequacy of 48-h fasting [

25

]. These criteria are (1) documented blood glucose levels ≤2.2 mmol/l (≤40 mg/dl), (2) concomitant insulin levels ≥6

μ

U/ml (≥36 pmol/l; ≥3 U/l by ICMA), (3) C-peptide levels ≥200 pmol/l, (4) proinsulin levels ≥ 5 pmol/l, (5)

β

hydroxybutyrate levels ≤2.7 mmol/l, and (6) absence of sulfonylurea (metabolites) in the plasma and/or urine.
14.2.6

Imaging Localization

Once the diagnosis is biochemically confirmed, localization is sought. Various imaging modalities are available with variable sensitivities. None of them is solely adequate, so more than single modality may be used; however, localization can be accomplished preoperatively in the vast majority of cases. Initially, anatomic imaging modalities are used. Computed tomography (CT) is generally preferred over transabdominal sonography because of reported higher sensitivity in most [

26

–

28

] – but not all [

24

] – studies, in addition to the traditional limitations of ultrasound (US) in obese patients and gaseous abdomen, which are easily overcome by CT scan (Figs.

14.2

and

14.3

). Moreover, technical advances in CT enhanced its sensitivity enabling localization of more than 94 % of insulinomas [

29

]. If the tumor is yet not localized, endoscopic ultrasound (EUS) is the appropriate next step. The disadvantages of EUS, being invasive and requiring expertise, are usually overlooked in light of its very high sensitivity which reached 100 % in some studies [

26

]; somatostatin receptor scintigraphy (SRS), as a sole modality, has low sensitivity for the detection of insulinoma owing to the usually small tumor size and low density of somatostatin receptors in the tumor [

30

].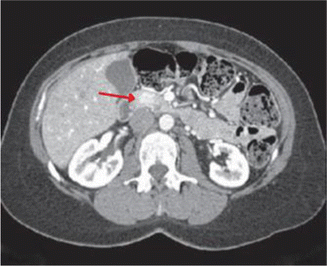 Fig. 14.2
CT scan demonstrating a 1.4-cm hypervascular mass in the head of the pancreas in a patient diagnosed with insulinoma (
arrow
)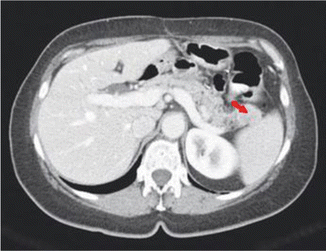 Fig. 14.3
CT scan demonstrating a tumor in the tail of the pancreas (
arrow
)
For the remaining minority of cases, functional imaging is resorted to. Angiography, arterial stimulation venous sampling (ASVS), or selective arterial calcium stimulation (SACS) helps to localize the tumor by verifying hormonal function and thus allowing a more accurate surgical approach [
15
].
Magnetic resonance imaging (MRI) is an alternative to CT with a higher sensitivity, 50 % versus 30 %, in some studies [
31
]. However, being much more expensive, it is reserved for patients in whom contrast is contraindicated. Occult insulinomas refer to a minority of tumors which are biochemically confirmed yet cannot be preoperatively localized despite the use of the aforementioned localization studies [
11
].
14.2.7

Management

In managing an insulinoma patient, two goals should be approached, hypoglycemia control and oncological control, and in fact it is ideal to achieve the first via approaching the second. In addition, given the fact that insulinomas – in the vast majority of cases – are benign and solitary, surgery is usually curative and therefore is indicated. Medical treatment, however, is indicated for preoperative control, for unresectable disease because of metastasis, and for the patient unwilling or unfit for surgery [

7

]. In order to ameliorate hypoglycemic symptoms in these cases, the following nonoperative strategies may be attempted: (1) dietary modification in the form of slowly absorbed carbohydrates and more frequent meals. Continuous glucose infusion may be needed in some patients with severe hypoglycemia. (2) Antihypertensive agent diazoxide may be used on account of its hyperglycemic potential through a dual action and pancreatic through inhibition of insulin release and extrapancreatic through potentiating glycogenolysis. However, its use may be associated with major adverse reactions like nausea, sodium retention with edema, weight gain, and hirsutism [

11

]. As previously mentioned, surgery is the only curative treatment for insulinomas. While continuously and carefully monitoring blood glucose level, the tumor is approached through a bilateral subcostal incision followed by complete pancreatic mobilization. An initial exploration is done to exclude metastatic disease. Meticulous examination of the entire pancreas, both bimanually and by intraoperative US, is done to identify the tumor(s) and its (their) relation to major pancreatic ducts (Fig.

14.4

). Enucleation is usually done, though distal pancreatectomy or rarely pancreaticoduodenectomy may be performed as indicated by tumor location and size. Blind resection and progressive resections are prohibited. Drainage is generally recommended [

13

]. With the advent of endoscopic instruments and vascular sealing devices, laparoscopic resection has also been successfully performed [

22

] albeit with a higher incidence of pancreatic fistulas [

23

]. Postoperatively, some patients, being transiently hyperglycemic, may require small doses of insulin, avoiding glucose in the first 24-h IV fluids. Drains are removed when the patient resumes oral intake and pancreatic leakage is not suspected [

23

].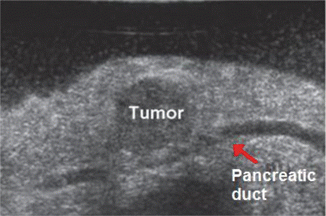 Fig. 14.4
Intraoperative US demonstrates the close proximity of the pancreatic duct (
PD
) just deep to the tumor
In their series, Hirshberg et al. [
32
] reported a prolonged survival in nine out of ten patients with malignant insulinoma after appropriate surgical resection. In addition, Starke and colleagues reported the results of follow-up in ten patients with insulinoma and liver metastasis who underwent successful pancreatic surgery and reported the death of four patients from unmanageable hypoglycemia [
33
]. These reports explain the aggressive surgical approach justified even in metastatic cases. Peripancreatic lymphadenectomy should be performed in case of suspected or proven malignancy [
13
].
Resection of hepatic metastases, synchronous with the appropriate pancreatic surgery, has been recommended [
34
]. For patients with insulinoma-induced intractable hypoglycemia, that is not amenable for surgery, continuous glucose infusion pump has been used [
16
]. An induced apoptotic and antiproliferative effect was reported via targeting glucagon-like peptide-1 receptors on insulinoma cells; this may provide future novel therapy for inoperable cases [
35
].