Primary intraocular lymphoma (PIOL), also known as primary retinal lymphoma (PRL) or reticulum cell sarcoma, is a subset of primary CNS lymphoma (PCNSL) that involves the retina, vitreous, and optic nerve head with or without simultaneous CNS involvement. Most PIOLs are extranodal, non-Hodgkin, diffuse large B-cell lymphomas.
Epidemiology and Etiology

More commonly seen in immuno­compromised individuals

Incidence in the United States has tripled over the last 20 years both in immunocompromised and immunocompetent individuals.

100 new cases of PIOL each year

The incidence of PCNSL is 4 to 5 per 1000 person-years among patients with AIDS and 0.3 per 100,000 persons-years in immunocompetent patients.

25% of PCNSL patients have eye involvement at the time of presentation, whereas up to 85% of PIOL develop PCNSL.

It typically affects an older population, usually in the fifth to sixth decades of life.

Slight male preponderance

Bilateral in approximately 80%, but can be very asymmetric at presentation

Immunosuppression (secondary to AIDS or transplantation) is a risk factor. Infectious agents (Epstein-Barr virus, human herpes­virus 8, Toxoplasma) have been associated with PIOL. However, there have been no clear genetic or infectious markers to suggest susceptibility to PIOL.
Symptoms

Blurry vision, floaters

Photophobia, ocular pain (rare)

Vitreous cells (occurring in sheets) and haze

Multifocal, cream-colored, subretinal infiltrates

AC cells, keratic precipitates (KP)

Visual acuity is far better than expected based on the amount of inflammation
Differential Diagnosis

Sarcoidosis

Viral retinitis (cytomegalovirus, varicella zoster virus, herpes simplex virus), acute retinal necrosis

Toxoplasmosis

Syphilis

Tuberculosis

Endophthalmitis

Metastatic cancer
Diagnostic Evaluation

The diagnosis is difficult, and requires malignant cells or tissue for diagnosis.

Fluorescein angiography demonstrates diffuse retinal pigment epithelium (RPE) perturbation and late staining at the RPE level with a granular or "mottled" pattern, early blockage with late staining of retinal/subretinal lesions, optic nerve staining or leakage, and pigment epithelial detachments. Lack of cystoid macular edema (CME) and retinal vascular leakage is an interesting feature of PIOL.

Indocyanine green angiography shows small, round hypofluorescent areas that disappear in the late phase.

OCT: Nodular hyperreflective lesions in the RPE

Tissue diagnosis: Cytology (large atypical lymphoma cells), flow cytometry, cytokine analysis, and molecular analyses from ocular fluids (aqueous or vitreous)

Brain/spinal MRI and lumbar puncture (LP), (for flow cytometry and cytology) to identify CNS involvement
Treatment

Current therapies are not curative.

Systemic chemotherapy is the mainstay of treatment even when associated PCNSL is not found. Adjunct local chemotherapy can be administered.

Systemic therapy: High-dose methotrexate; cyclophosphamide, adriamycin, vincristine, and prednisone; cytarabine; radiotherapy, and rituximab have all been tried with various degrees of success.

Local therapy: Intravitreal methotrexate (400 mcg/0.1 mL), intravitreal rituximab (1 mg/0.1 mL), and radiation can all be considered.

Recurrence and complications tend to be higher with radiation.
Prognosis

Prognosis is poor.

Median progression-free survival is less than 3 years, and overall survival is approximately 5 years and appears to be unaffected by treatment type.

Systemic spread outside of the CNS is extremely rare (<10% in autopsy specimens).
Ocular complications can include glaucoma, cataract (both due to inflammation or radiotherapy), retinal and/or optic nerve atrophy, vitreous hemorrhage, and retinal detachment.
REFERENCES
Chan CC, Gonzalez JA. Primary Intraocular Lymphoma. Hackensack, NJ: World Scientific Publishing Co Pte Ltd; 2007.
Coupland SE, Damato B. Understanding intraocular lymphoma. Clin Exp. Ophthalmol. 2008; 36(6): 564–578.
Fardeau C, Lee CP, Merle-Béral H, et al. Retinal fluorescein, indocyanine green angiography, and optic coherence tomography in non-Hodgkin primary intraocular lymphoma. Am J Ophthalmol. 2009;147(5):886–894.
Grimm SA, McCannel CA, Omuro AMO, et al. Primary CNS lymphoma with intraocular involvement: International PCNSL Collaborative Group Report. Neurology. 2008;71:1355–1360.
Nussenblatt RB, Chan CC, Wilson WH, et al. International Central Nervous System and Ocular Lymphoma Workshop: recommendations for the future. Ocul Immunol Inflamm. 2006;14(3):139–144.
Sen HN, Bodaghi B, Hoang PL, et al. Primary intraocular lymphoma: diagnosis and differential diagnosis. Ocul Immunol Inflamm. 2009;17(3):133–141.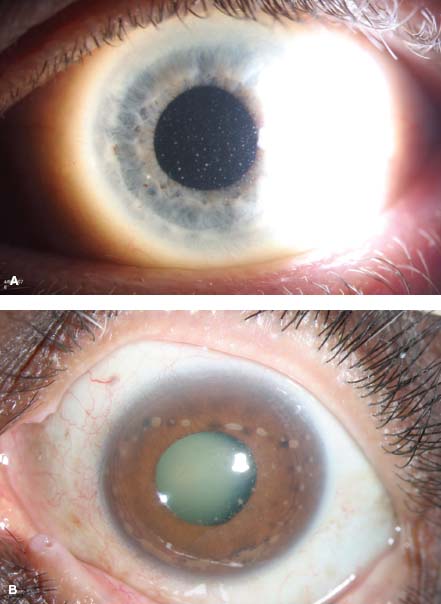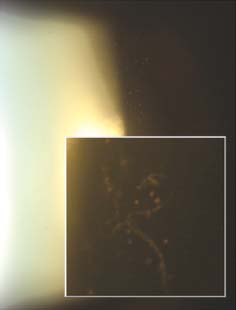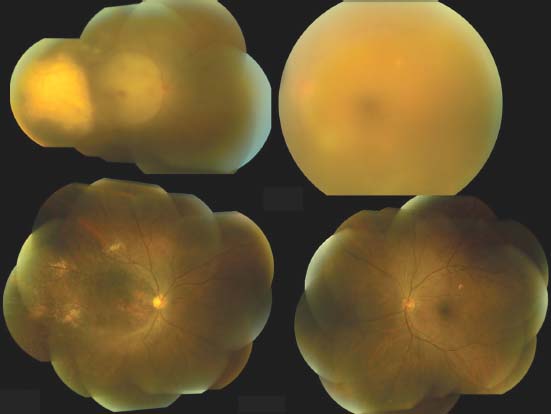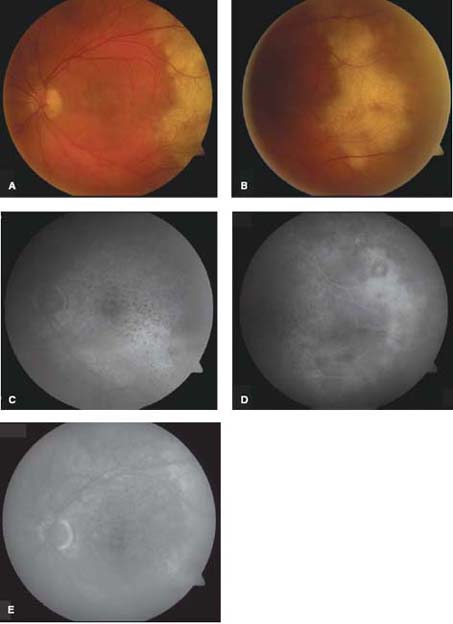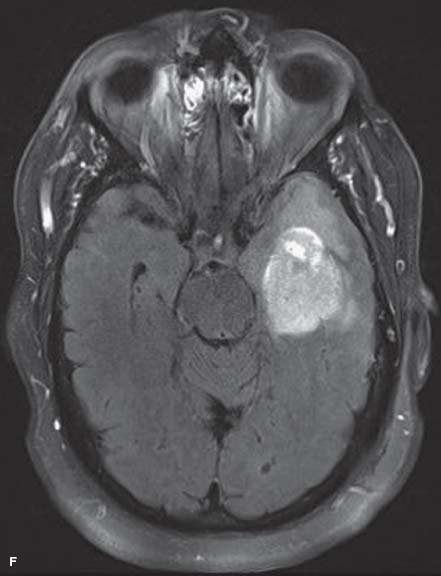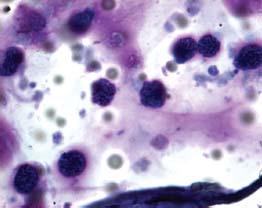 RETINOBLASTOMA SIMULATING UVEITIS
Carol L. Shields

Retinoblastoma classically manifests as a solitary or multifocal, well-circumscribed retinal mass with dilated feeding vessels. Initially, this tumor appears as a subtle, trans­lucent intraretinal mass. As the tumor enlarges, it assumes an exophytic, endophytic, or combined growth pattern. Exophytic retinoblastoma appears as a tumor with overlying subretinal fluid, whereas endophytic tumor appears as a mass with seeding into the vitreous cavity. A rare growth pattern is diffuse infiltrating retinoblastoma where the tumor assumes a relatively flat, ill-defined horizontal growth pattern along the retinal tissue, simulating uveitis or vitritis. Diffuse retinoblastoma seeds into the anterior segment with neoplastic pseudohypopyon and can cause intraocular hemorrhage, further confusing the findings. Often diffuse retinoblastoma is mistaken for uveitis.
Etiology and Epidemiology

Retinoblastoma is the most common cancer of the eye in children. It is estimated that there are over 7000 cases per year worldwide with approximately 1800 in Africa, 4000 in Asia, 400 in Europe, 300 in the United States, and 600 in South America.

The mortality rate from retinoblastoma varies depending on the continent, with 70% mortality in Africa, 40% in Asia, 20% in South America, and <>5% in Europe and the United States. Diffuse retinoblastoma represents <3% of all cases.

In the largest published report on this condition (34 cases), there were no cases of metastatic disease, as the eye was treated promptly.
Symptoms

Painless loss of vision

Floaters

Red eye with conjunctival injection

Often there are no complaints of vision loss, as young children tend to ignore visual compromise.

Anterior segment

Iris neovascularization (50%)

Neoplastic pseudohypopyon (32%)

White tumor seeds on the corneal endothelium (24%)

Iris tumor nodules (18%)

Cornea stromal edema (9%)

Hyphema (9%)

Posterior segment

Extensive ill-defined tumor infiltrating the retina (100%)

Average basal diameter of 20 mm

Minimal retinal thickening (100%)

Extensive vitreous tumor seeds (91%)

Visible calcification (often subtle) on ultrasonography (79%)

Visible calcification (often subtle) on CT (89%)

Vitreous hemorrhage (24%)
Differential Diagnosis

Endophthalmitis

Toxocariasis

Toxoplasmosis

Sarcoidosis

Juvenile idiopathic arthritis

Pars planitis
Diagnostic Evaluation

B-scan ultrasonography: Demonstrates retinal mass with possible intralesional dystrophic calcification. One must look closely for the calcification, as it might just be a fleck of calcium and not be obvious.

Fluorescein angiography: Demonstrates dilated feeding artery and draining vein leading to a retinal mass. The mass might be minimally thickened and subtle.

CT: Demonstrates a thickened intraocular mass, occasionally demonstrating intra­lesional calcification.

MRI: Demonstrates the intraocular mass but will not show the calcification.

Fine-needle aspiration biopsy (FNAB): Should be reserved for cases that are diagnostically challenging. If retinoblastoma is present, tumor seeding into the orbit with risk for metastasis could occur as a result of the FNAB. This test should only be used if retinoblastoma is not high on the differential diagnosis. Usually FNAB is performed through the pars plana, but this should not be done in cases of possible retinoblastoma. Instead, the FNAB should be performed into the anterior chamber for an aqueous sample. Care should be taken not to seed tumor cells and cryotherapy should be performed at the entry site at completion of the procedure. If a vitreous specimen is needed, the pars plan route should be avoided. A preferred approach would be through the peripheral cornea, into the anterior chamber, through the peripheral iris, through the zonules (avoiding the lens), and into vitreous in an anteroposterior direction. Cryotherapy to the entry site is performed. This is a difficult procedure. Immediate cytologic preparation with preservative is important.
Treatment

Most cases of diffuse retinoblastoma are extensive with tumor seeding into the vitreous cavity and anterior chamber, necessitating enucleation.

Administration of intravenous or intra-arterial chemotherapy can be attempted, but the vitreous seeds might not completely respond and could show later recurrence.

External beam radiotherapy can be employed, but a high recurrence of vitreous seeds is anticipated.
Prognosis

Good if there is no invasion of the optic nerve, choroid, sclera, or orbit.

Poor if there is invasion of those structures. Adjuvant systemic chemotherapy to prevent metastasis should be given in cases of invasive retinoblastoma.
REFERENCES
Shields CL, Ghassemi F, Tuncer S, et al. Clinical spectrum of diffuse infiltrating retinoblastoma in 34 consecutive eyes. Ophthalmology. 2008;115:2253–2258.
Shields CL, Shields JA. Retinoblastoma management: Advances in enucleation, intravenous chemoreduction, and intra-arterial chemotherapy. Curr Opin Ophthalmol. March 2010;21:203–212.
Shields JA, Shields CL. Intraocular Tumors: An Atlas and Textbook. 2nd ed. Philadelphia: Lippincott Williams & Wilkins; 2008.


Full access? Get Clinical Tree