Intermediate uveitis (IU) refers to ocular inflammation that localizes primarily to the vitreous and peripheral retina.
Epidemiology and Etiology

IU most often occurs in children and young adults.

IU accounts for up to 15% of uveitis cases in adults, with higher percentages reported at tertiary referral centers, and accounts for up to 28% of uveitis cases in children.

There is no gender predilection.

HLA associations reported, specifically with HLA-DR15, HLA-DR17, and HLA-A28.
Symptoms

Blurred vision, floaters

Pain and photophobia rarely develop as those signs usually occur in association with anterior segment inflammation. When these symptoms develop, they are more common in young children.
Signs
The American Uveitis Society (AUS) describes intermediate uveitis as ocular inflammation localized primarily to the vitreous. Associated findings may include:

Snowballs and snowbanks (Figs. 6-1 and 6-2)

Cystoid macular edema (CME) (Fig. 6-3A–C)

Peripheral vascular sheathing (Fig. 6-3D)

Patients may develop peripheral retinal and/or anterior segment neovascularization and vitreous hemorrhage as a result of peripheral ischemia.

It is bilateral in 75% of patients.

Spill-over of inflammatory cells into the anterior chamber

Scant keratic precipitates may be present.

Band keratopathy may occur in chronic cases.

Cataract

Elevated intraocular pressure/glaucoma
Differential Diagnosis

A helpful mnemonic is SIMPLE:

Sarcoidosis
Inflammatory bowel disease

Multiple sclerosis (MS)

Pars planitis is a subset of intermediate uveitis usually seen in children and young adults that is idiopathic and has no extraocular manifestations. This should be diagnosed only when other etiologies have been ruled out. It accounts for up to 50% of cases of IU.

Lymphoma (primary intraocular lymphoma; Figs. 6-4 and 6-5)

Etc.: juvenile idiopathic arthritis, and infections (syphilis, Lyme disease, tuberculosis, Whipple's disease, toxocariasis, human T-cell lymphoma virus type I [HTLV-1], hepatitis C, Bartonella infection [cat-scratch disease])
Diagnostic Evaluation

Serum tests

ACE and lysozyme for sarcoidosis

Specific treponemal test (FTA-ABS or MHA-TP)

QuantiFERON-TB Gold for tuberculosis

Lyme titers in patients with exposure to ticks in endemic areas

Toxocariasis titers in patients with unilateral disease

Skin testing: purified protein derivative (PPD) for tuberculosis

Imaging studies

Chest radiograph or CT scan for sarcoidosis and tuberculosis

MRI of the brain for MS and intraocular lymphoma

Fluorescein angiography to evaluate for CME and peripheral vascular leakage and nonperfusion.

Optical coherence tomography (OCT) for CME, epiretinal membrane, and macular atrophy.

B-scan ultrasonography if significant band keratopathy or cataract is present.

Gonioscopy should be considered as patients may rarely develop anterior segment neovascularization as a result of peripheral retinal ischemia.
Treatment

Infections and malignancies should be treated appropriately.

Many patients with pars planitis who have mild disease, no CME, and good vision can be closely observed. This is one of the few types of chronic uveitis that can be observed.

Patients with CME, decreased vision, and/or peripheral ischemia with neovascularization require treatment.

Short-term systemic steroids as initial treatment for severe, bilateral disease can be used.

Periocular corticosteroid injections such as triamcinolone acetonide are very effective for the treatment of IU, and especially for pars planitis. Patients may require multiple injections over a short period of time (1 to 2 months). Prior to use:

Infectious causes must be ruled out.

Consider a trial of topical steroids q.i.d. for at least 2 weeks to evaluate patients for a significant increase in intraocular pressure.

Patients must be followed closely with intraocular pressure checks at every visit, regardless of age.

Intraocular steroids can also be used. As with periocular steroid injections, patients should be monitored for increased intraocular pressure and cataract formation. Three commonly used intraocular steroids are:

Intravitreal triamcinolone acetonide

Ozurdex (Allergan, Inc., Irvine, CA)

Retisert (Bausch & Lomb, Rochester, NY)

Steroid-sparing systemic immunosuppression, such as methotrexate, mycophenolate mofetil, and azathioprine, is useful for cases of bilateral disease, or in cases in which local steroid therapy is not effective/appropriate.

Laser (or cryotherapy if laser is not possible) to the peripheral retina immediately posterior to the active snowbank has been used with variable success. It is critical for cases of peripheral retinal or anterior segment neovascularization.

Some investigators advocate pars plana vitrectomy for cases of more severe pars planitis, but there is debate as to the utility of this technique.
Prognosis

Vision loss is usually secondary to CME.

Patients can develop cataracts, which may be amblyogenic in children.

Glaucoma may develop both from inflammation and from chronic steroid use. Rarely, patients may develop neovascular glaucoma.

The outcome is dependent upon the disease severity. Patients with active snowbanks typically have more severe CME and a worse visual prognosis.

Rhegmatogenous retinal detachment may occur in eyes with severe inflammation, particularly when associated with neovascularization of the snowbank.
REFERENCES
Henderly DE, Haymond RS, Rao NA, et al. The significance of the pars plana exudate in pars planitis. Am J Ophthalmol. 1987;103(5):669–671.
McCannel CA, Holland GN, Helm CJ, et al. Causes of uveitis in the general practice of ophthalmology. UCLA Community-Based Uveitis Study Group. Am J Ophthalmol. 1996;121(1):35–46.
Oruc S, Duffy BF, Mohanakumar T, et al. The association of HLA class II with pars planitis. Am J Ophthalmol. 2001;131(5):657–659.
Park SE, Mieler WF, Pulido JS. Peripheral scatter photocoagulation for neovascularization associated with pars planitis. Arch Ophthal. 1995;113:1277–1280.
Potter MJ, Myckatyn SO, Maberley AL, et al. Vitrectomy for pars planitis complicated by vitreous hemorrhage: visual outcome and long-term follow-up. Am J Ophthalmol. 1978;86:762–774.
Rodriguez A, Calonge M, Pedroza-Seres M, et al. Referral patterns of uveitis in a tertiary eye care center. Arch Ophthalmol. 1996;114:593–599.
Smith JA, Mackensen F, Sen HN, et al. Epidemiology and course of disease in childhood uveitis. Ophthalmology. 2009;116(8):1544–1551.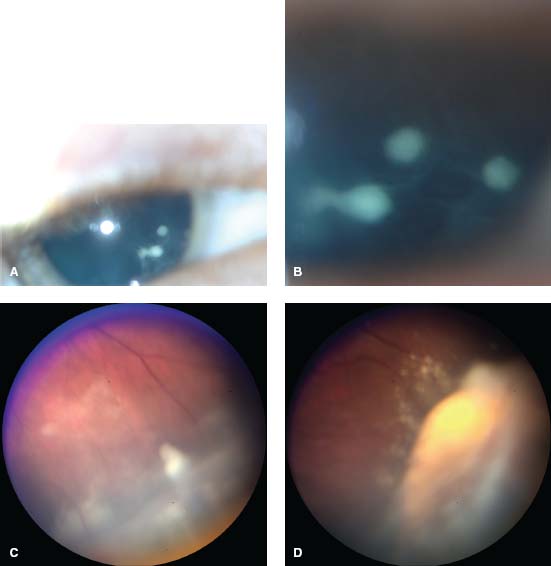 Full access? Get Clinical Tree