Fig. 3.1
Embryology of the development of the nose
The deepening of the nasal pits leads to the formation of the primordial nasal sacs, which grow dorsally. The oronasal membrane, which first separates the nasal sacs from the oral cavity, ruptures by the end of the sixth week forming an open communication between the nasal and oral cavities. A temporary epithelial plug is formed in the nasal cavity from the expansion of cells lining it; this plug resorbs between the 13th and 15th weeks. The primordial choanae lie posterior to the primary palate. After the secondary palate develops, the choanae position themselves at the junction of the nasal cavity and the pharynx. As the maxillary palatal shelves lengthen and grow medially, they fuse with each other and the septum, effectively separating the nasal cavities from the oral cavity [
4
]. Eruption of the nasal pits into the choanae, fusion of the palatal shelves and growth of the nasal septum and soft palate coincide with the development of the lateral nasal wall and primitive sinus anatomy.
Congenitally Malformed Nose
Congenital Midline Nasal and Nasopharyngeal Malformations
Choanal Atresia
Definition
Choanal atresia is an uncommon congenital obstruction of one or both of the posterior choanae. The choanae are the spaces that separate the most posterior aspect of the nose from the nasopharynx. About 30 % are purely bony while the remaining 70 % are thought to have mixed bony and membranous atresias [
14
]. Choanal stenosis may be considered a milder variation of atresia.
History
Roederer was first to describe the condition of congenital choanal atresia in 1755 and Emmert reported the first successful surgical dilation using curved trocars transnasally in 1854 [
15
].
Incidence
In a review of over five million births, the prevalence at birth varied between 0.54 and 1.13 per 10,000 with an equal sex distribution and without evidence of side predilection [
16
]. The frequency of unilateral versus bilateral, while it had traditionally been thought to be 2:1, has more recently shown to be closer to 1:1 [
17
].
Etiology
During development, the nasal cavities extend posteriorly as the palatal processes fuse to form a single closed palate. Failure of the posterior rupture of the buccopharyngeal membrane that separates the nose from the nasopharynx or abnormal growth of the palatine bone may be responsible for choanal atresia. The bony narrowing can result from narrowing of the pterygoid plates laterally, the vomer medially or the sphenoid superiorly.
Associated Malformations
Forty-seven percent of cases have been reported to be associated with other major congenital malformations and should alert physicians to look for other anomalies. Some syndromes associated with choanal atresia include Apert syndrome, Crouzon syndrome, DiGeorge sequence, Pfeiffer syndrome, Treacher-Collins syndrome, and CHARGE association [
16
]. Choanal atresia is a common finding in CHARGE Association, which is a nonrandom association of malformations whose acronym stands for coloboma, heart defects, and atresia of the choanae, retarded growth or development of the central nervous system (CNS), genitourinary anomalies, and ear anomalies. A child has to have three or more of the cardinal malformations (excluding growth/mental retardation) to meet diagnostic criteria. By those criteria, approximately 7 % of children with choanal atresia belong to the CHARGE constellation [
16
].
Clinical Features
Bilateral choanal atresia presents very differently than its unilateral counterpart. Because an infant is typically an obligate nasal breather, bilateral obstruction often presents with immediate respiratory distress during the newborn period. The resulting distress is typically cyclical. During the inspiratory effort, the infant's tongue apposes the palate, occluding the oral airway. Increased inspiratory effort leads to marked retractions. The occlusion is broken if and when the child cries or opens his/her mouth. Asphyxia can and does occur with bilateral atresia.
Diagnosis
The suspected diagnosis is clinically supported by the inability to pass a 6 French suction catheter through the nasal cavity and can be confirmed with a diagnostic flexible nasopharyngoscopy. Computed tomography of the nose can also confirm the diagnosis; furthermore it shows what type of atresia it is, purely bony or membranous and bony (Fig.
3.8
). Unilateral atresia rarely causes respiratory distress and often escapes detection until later in childhood when a thick unilateral mucoid discharge is noted; it is not uncommon for it to be diagnosed as sinusitis.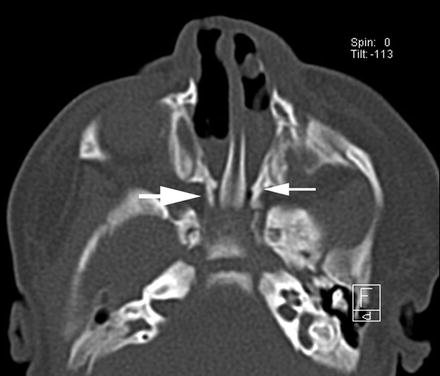 Fig. 3.8
Computed tomography demonstrating choanal atresia (see
arrows
)
Management
Treatment of choanal atresia is surgical. In the case of bilateral atresia, the immediate distress can often be temporarily addressed with either an oral airway or a McGovern nipple, which has either a single enlarged hole or two additional lateral holes at its tip. There are three basics approaches for the repair: transpalatal, transeptal, and transnasal. The transpalatal approach, while it provides great visualization of the surgical field, is typically reserved for older patients as it can result in malocclusion in up to 50 % of patients, a consequence of disrupting the palate before it has completely grown [
18
]. The transeptal approach is typically reserved for unilateral cases. Endoscopic transnasal repair is the most common approach today; it can address either membranous or bony defects. Endoscopes can be used transnasally and through the oropharynx (Fig.
3.9
) demonstrates the endoscopic appearance of the bilateral atresia taken from the nasopharynx. Revision surgery is commonly needed to dilate the passages as the child grows.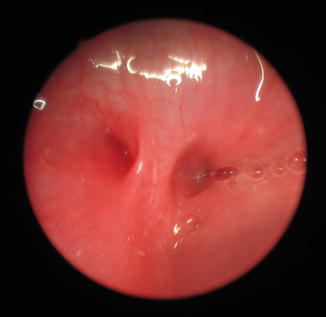 Fig. 3.9
Endoscopic photograph of bilateral choanal atresia taken from the nasopharynx
Craniopharyngioma
Definition
Craniopharyngiomas are benign-appearing dysodontogenic epithelial tumors; the great majority of these affect intradural suprasellar anatomy but they can and do extend into infrasellar regions.
Incidence
The overall incidence of craniopharyngiomas is approximately 0.13 per 100,000 person years and is not gender or race dependent. Craniopharyngiomas comprise approximately 1.5–11.6 % of all intracranial tumors. A bimodal distribution places peak incidence rates in children (aged 5–14 years) and adults (aged 50–74). Approximately 338 cases of this disease occur annually in the United States, with 96 occurring in children from 0 to 14 years of age [
19
].
Etiology/Embryology
Craniopharyngiomas are thought to arise from the remnants of Rathke's pouch, which arises during the fourth week of gestation from the oral stomodeum and projects dorsally towards the brain, eventually forming the anterior lobe and pars intermedia of the pituitary gland (Fig.
3.10
). By the eighth week, Rathke's pouch has typically lost its contact with the stomodeum [
4
]. By the 12th week, the craniopharyngeal duct, the cellular tract formed by the dorsal ascension of Rathke's pouch disappears, leaving an obliterated tract between the sphenoid cavity to the junction of the palate and posterior nasal septum. Most craniopharyngiomas occur in and/or above the sella turcica. Only occasionally do they develop in the basisphenoid or pharynx, presumably from rest of cells in an incompletely obliterated tract.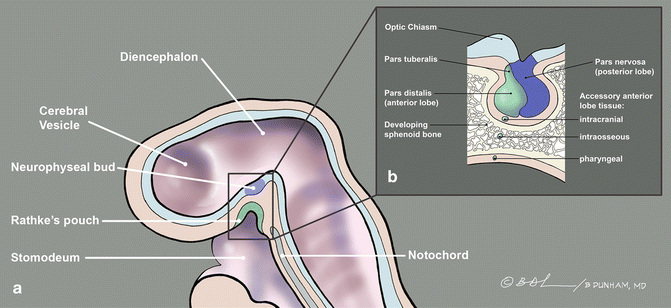 Fig. 3.10
Schematic diagram demonstrating the possible mechanism of formation of a craniopharyngioma
Associated Malformations
If there is a suprasellar/intracranial component, then visual field defects, varying degrees of pituitary insufficiency and signs of increasing intracranial pressure may appear.
Clinical Features
Craniopharyngiomas' symptomatology results from local expansion and impingement on surrounding structures; metastases from craniopharyngiomas are extremely rare. In the case of a purely infrasellar mass, nasal obstruction, epistaxis, sinusitis, and headaches predominate.
Diagnosis
Initial suspicion of an intranasal mass is made either by nasal endoscopy or imaging (Fig.
3.11
a, b). The final diagnosis relies on histopathology. The work up should include general and neurologic examination (including visual field evaluation), a thorough nasal endoscopy, and both magnetic resonance imaging with and without angiography (MRI/MRA) and CT imaging with and without contrast of the brain and sinuses. CT imaging will often detect the calcifications found in the adamantinomatous variant as well as bony destruction and remodeling. MRI imaging best delineates soft tissue involvement and is particularly important for preoperative planning. If intracranial involvement is noted, an endocrine workup is indicated.

Premium Wordpress Themes by UFO Themes
WordPress theme by UFO themes