Fig. 81.1
(
a
) An OCT needle probe, consisting of a miniaturized side-viewing fiber-optic probe mounted inside a hypodermic needle with an imaging window near the tip. (
b
) Microscope image of a side-viewing fiber-optic probe designed for integration into a needle.
SMF
single-mode fiber,
NCF
no-core fiber,
GRIN
graded-index fiber. (
c
) Illustration of an envisaged OCT needle imaging system with a compact hand-held needle scanner
In this chapter, we will review the development and deployment of OCT needle probe technology and examine its use in preclinical and clinical applications.
81.2

Technology

Needle probes replace the sample-arm optics of a conventional OCT scanner. The tasks of the sample-arm optics are to scan and focus the incident light and to collect the weak backscattered light from the sample with high efficiency. Therefore, they define or significantly influence a number of key performance parameters of the OCT system, such as:





Transverse resolution






Depth of focus (DOF)






Sensitivity






Imaging speed
Losses or backreflections in the sample-arm optics will reduce the system sensitivity, whereas aberrations and alignment errors will negatively impact the transverse resolution and DOF. In a well-designed conventional free-space sample-arm setup consisting of a collimator, galvanometer mirrors, and a compound scan lens, minimal losses and diffraction-limited probe beam quality over the entire field of view can easily be simultaneously achieved using high-quality antireflection-coated optics. In the case of miniaturized sample-arm optics, such as those found in endoscopic or needle probes, the small dimensions and the available fabrication methods often force the probe designer to make trade-offs that negatively impact the performance of the OCT system. Recent advances in probe design and fabrication, however, have shown that needle probes can attain sensitivities and resolution comparable to bulk-optic sample arms [
11
].
81.2.1

Probe Optics
81.2.1.1

Probe Optics and Output Beam Parameters
81.2.1.2

ABCD Matrix Modeling
81.2.1.3

Advanced Numerical Modeling Using the Beam Propagation Method
81.2.2

Scan Mechanisms

OCT

imaging

, in the sense that 2D or 3D structural information is obtained, is only possible if the probe beam can be scanned within the sample. In the following, we will give a categorization of scanning probes, based on mechanical and optical principles, which is independent of the technical details of the scan mechanism implementation. This categorization will allow us to gain some insight into the advantages and disadvantages of different classes of currently employed scan mechanisms, and it is general enough to accommodate future developments.

Firstly, probes can be categorized into forward-facing and side-facing types (see Fig.

81.6

). Generally, the requirements of the application dictate which of these two is preferable.

Fig. 81.6
Side-facing (
a
) and forward-facing (
b
) probes. The indicated beam scanning motions in (
a
) and (
b
) are just examples, and a variety of other possibilities exist in both cases
Furthermore, probes can be categorized according to their scan mechanisms. There are two main categories of scan mechanisms: beam scanning and probe scanning. The two categories and some of their variations are illustrated in Fig.
81.7
. Beam scanning involves a movement of the beam path inside the probe housing, allowing the probe to remain stationary during the scan. Probe scanning, on the other hand, mechanically actuates the entire probe (or a mechanical subcomponent thereof which defines the emitting beam aperture), while the beam path inside the probe is unchanged. Beam scanning probes are more challenging to miniaturize, as they usually require moving parts inside the probe housing. For this reason, probes with submillimeter dimensions generally utilize probe scanning.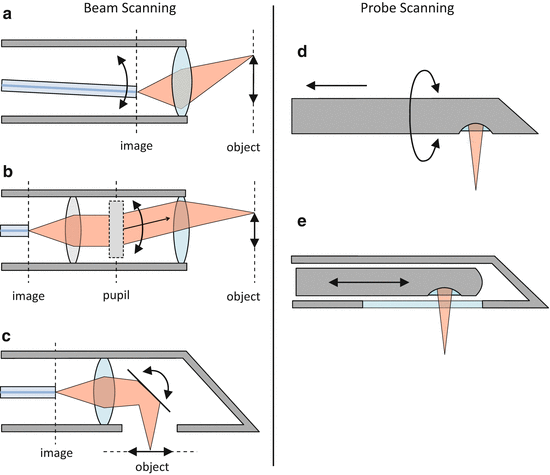 Fig. 81.7
Overview of some basic scan mechanisms, categorized into "beam scanning" and "probe scanning". (
a
) Image-space scanning (using an oscillating fiber tip in this example). (
b
) Pupil scanning. The
dashed grey rectangle
represents a beam deflection mechanism, which can be implemented using various technologies – see text for practical examples. (
c
) Object-space scanning. (
d
) Rotation/pullback scanning. (
e
) Linear-scanning probe inside an outer housing
In beam scanning, the moving beam is projected out of the probe housing into the sample by the probe optics. The probe optics form an imaging system which images scattered light from the sample (the object) onto the sample-arm fiber tip (the image). Using terminology from imaging optics, we can further subdivide beam scanning techniques as "image-space scanning" (Fig.
81.7a
), "pupil scanning" (Fig.
81.7b
), or "object-space scanning" (Fig.
81.7c
). Although Fig.
81.7a
,
b
shows forward-facing configurations for pupil and image-space scanning, they can in principle also be realized as side-facing types by adding mirrors or prisms to deflect the beam outward at a chosen angle.
Image-space scanning (Fig.
81.7a
) can be performed by actuating the tip of the sample-arm fiber. The probe beam focal spot is thereby scanned in the sample over a range, which is determined by the magnification of the probe optics. The concept of image-space scanning has been implemented in endoscopic probe designs using oscillating fiber tips [
44
], but the miniaturization of these designs to submillimeter diameters has proven to be challenging. Small-diameter forward-facing OCT probes of this type have been reported with outer diameters (ODs) of 2.4 and 2.2 mm using tubular four-quadrant piezoelectric actuators [
45
] and electrostatic actuators [
46
], respectively.
Pupil scanning (Fig.
81.7b
) involves an angular deflection of the collimated beam in the pupil plane of the imaging optics. This is the principle of conventional beam scanning solutions based on galvanometer mirrors, which are positioned in the back focal plane of the scan lens. Beam deflection mechanisms for pupil-scanning probes have been realized with MEMS mirrors [
47
] and with counterrotating wedged GRIN lens pairs (paired-angle-rotation scanning, PARS [
48
]). In pupil-scanning arrangements, MEMS mirror solutions require a folded beam path geometry, resulting in relatively large probe diameters of several millimeters. However, PARS probes have been miniaturized to needle dimensions as small as 21 gauge (21G, OD 0.82 mm) in a forward-facing configuration [
7
].
Object-space scanning (Fig.
81.7c
) sacrifices some of the working distance of the probe optics, but is often used in side-facing miniaturized MEMS mirror probes [
49
,
50
] because the MEMS mirror can conveniently serve as the output beam deflector, which directs the beam sideways out of the probe. Although probes of this type with diameters down to 2.6 mm have been demonstrated [
50
], MEMS technology does not yet seem to allow miniaturization to submillimeter dimensions at the time of writing and is, therefore, mainly targeted toward endoscopic OCT applications.
An elegant variation of beam scanning involves the use of long and thin GRIN relay rods, which can be inserted into hypodermic needles. By scanning the incident light at the proximal end face of the GRIN relay rod, the relayed and focused beam is scanned in object space at the distal end of the relay. The key advantage of this approach is that the scan mechanism does not need to be miniaturized to the diameter of the needle and can be relocated into a larger-diameter housing to which the needle is attached. Submillimeter diameter needle probes of this kind have been demonstrated for multiphoton and confocal endomicroscopy [
51
,
52
] and OCT [
53
]. In these needle probes, the GRIN relay rod is an integral part of the distal focusing optics. Depending on the scanning mechanism at the proximal end face of the relay (e.g., by scanning the sample-arm fiber tip [
52
] or scanning an image of it using a galvanometer mirror and objective lens [
53
]), they can be classified as either image-space or pupil-scanning types, respectively.
In order to achieve the highest possible degree of miniaturization, probe-scanning techniques (Fig.
81.7d
,
e
) must be used, with the smallest reported probe of this kind being encased in a 30G needle (0.31 mm OD) [
16
]. Probe-scanning designs must be side facing in order to enable at least 2D scanning capability. The most widespread approach is the rotation/pullback method of Fig.
81.7d
, where B-scans are acquired over one probe rotation and then stacked along the translation direction to generate a 3D image in a similar fashion to endoscopy [
20
]. An alternative is to perform a fast translation along the probe axis to acquire a 2D image, as illustrated in Fig.
81.7e
, and needle probes of this design have been employed in applications that require a fast 2D scan in a plane parallel to the needle axis, such as dynamic imaging of alveoli [
5
] and Doppler imaging [
12
,
54
].
An interesting new development in the area of probe scanning is to use freehand motion to scan over a region of interest [
55
,
8
,
56
]. This approach can be combined with methods to correct for the resulting nonuniformity of the scan motion as well as the misalignment of adjacent A-lines in the OCT image data, either by using feedback control to actively compensate the probe position during the scan [
55
] or by post-processing of the OCT image data in combination with location data from a position sensor [
56
].
81.2.3

A Review of Published Needle Probe Designs

In the following subsections, we will give an overview of the technical evolution of OCT needle probes that are capable of acquiring 2D or 3D images via some form of scanning, as described in Sect.

81.2.2

. The term "imaging needle," which was coined in [

2

], is useful because it differentiates such scanning needle designs from "point-sensing" fiber probes that are integrated into needles, typically in a forward-facing configuration. Point-sensing needles measure 1D structural information from A-scans acquired at a stationary position or during needle advancement, and a number of examples have been reported. Sequences of A-scans (M-mode) acquired during needle advancement can be displayed as 2D arrays of depth versus time that allow the successive penetration of tissue layers to be visualized [

57

] (see also Sect.

81.3.1.2

). Alternatively, the relative displacement of scatterers in consecutive A-scans can be analyzed in order to determine the mechanical properties of soft tissue that lies ahead of the needle [

58

]. Processing of single A-scans acquired with point-sensing needles has been used to obtain localized tissue parameters such as the refractive index [

59

,

60

] or attenuation coefficient [

4

]. An exhaustive discussion of the technology and applications of point-sensing needles lies outside the scope of this section, and we will, therefore, focus our attention on imaging needles.
81.2.3.1

Side-Facing Rotation/Pullback Imaging Needles
81.2.3.2

Side-Facing Linear-Scanning Imaging Needles

In contrast to rotation/pullback scanning which combines a fast rotation with a slow linear motion in order to acquire a 3D cylindrical volume, linear-scanning needle probes perform a rapid linear motion along the needle axis in order to generate fast 2D image frames. This can be advantageous for applications where a fast update rate of a large rectangular 2D field of view (FOV) is desirable.

The first linear-scanning OCT needle probes were developed for Doppler imaging and are shown in Fig.

81.9a

,

b

[

12

]. Two versions were demonstrated, one with an angle-polished GRIN lens and one with an angle-polished ball lens. In both cases, TIR at the angle-polished interface was ensured by sealing the side opening in the 19G (1.1-mm OD) needle with a flat plastic window. These probes allowed imaging at a rate of 1–2 Hz over a linear scan range of ∼2.5 mm. In a later version [

54

], the dimensions of the probe were reduced by using all-fiber probe optics consisting of GRIN fiber and an angle-polished NCF tip section that were enclosed in a protective catheter that was delivered via a 22G (0.72-mm OD) needle as illustrated in Fig.

81.9c

.

Another application which requires a fast 2D frame rate over a large FOV is dynamic imaging of lungs, where a 1.27-mm OD (18-G) linear-scanning needle probe was demonstrated [

5

] (see Fig.

81.9d

and also Sect.

81.4.2.3

). An inner side-facing needle probe with a similar design to the one shown in Fig.

81.8b

was actuated inside the outer 18G needle at a rate of 3 Hz over a linear scan range of ∼12 mm.
81.2.3.3

Forward-Facing Imaging Needles

The mechanical requirements of a sharp needle tip for easy tissue penetration are not straightforward to combine with the optical requirements of a forward-facing imaging system. For this reason, forward-facing imaging needle probes are typically only used for special applications where a blunt front end is acceptable or even desirable.

A forward-facing OCT needle probe concept called paired-angle-rotation scanning (PARS) [

48

,

7

] has been developed for aiding specialized surgical procedures in the eye. As illustrated in Fig.

81.10a

, two angled GRIN lenses are mounted in an inner and an outer needle that rotate in opposite directions, causing the output beam to perform a fanlike sweep back and forth on a line trajectory ahead of the needle. The smallest demonstrated probe of this type had an OD of 0.82 mm (21G) [

7

].

Another application which requires needlelike forward-facing OCT probes is interventional guidance in neurosurgery. Figure

81.10b

shows a 0.74-mm OD (slightly larger than 22G) forward-facing needle incorporating a 0.5-mm-diameter, 12-cm-long GRIN relay rod that was proposed for this application [

53

]. The input beam to the GRIN relay rod was scanned using galvanometer mirrors that were incorporated into a prototype handpiece attached to the needle. The FOV of this probe was a circular region of 0.44-mm diameter, limited by the diameter of the GRIN relay rod. As an alternative to this approach, somewhat larger, forward-facing needle-like probes with outer diameters of ∼2 mm have been developed that employ an electrostatically actuated oscillating fiber tip inside the needle shaft [

46

,

10

].
81.2.4

Advanced Needle Probe Designs
81.2.4.1

High-Sensitivity Anastigmatic Imaging Needles