X-Linked Ophthalmic Disorders
Kammi B. Gunton
Irfan Ansari
Leonard B. Nelson
The approach to hereditary ocular disease is undergoing a profound transition with the information provided by modern molecular genetics. The Human Genome Project has begun to provide the human deoxyribonucleic acid (DNA) code for an increasing number of specific diseases, and the application of this data to human disease is still ongoing.
1
,
2
Every aspect of disease management may eventually be affected by decoding its genetic basis. Prenatal diagnosis and carrier state detection should allow early diagnosis so that treatment can be directed at prevention with targeted protein treatments or gene therapy prior to the manifestation of the disease.
3
,
4
A clear understanding of genetic principles begins to allow the applications of molecular genetics to identify genes associated with disease, to clone or isolate those genes, to identify the gene product and the key pathologic events, and finally to design treatment strategies.
5
The human genome consists of 22 paired chromosomes and one pair of sex chromosomes, X and Y. Females have two copies of the X chromosome, whereas males exhibit an XY genotype. The Y chromosome carries information that determines secondary male characteristics. Since males have only one X chromosome, recessive genes on the X chromosome in males are expressed phenotypically. Females with one normal allele and one disease allele are called carriers.
6
The Lyon hypothesis predicts that one of the X chromosomes in a female is randomly inactivated in somatic cells early in embryogenesis.
7
This inactivation may allow the display of some signs of the disease in carrier females. Diseases carried on the X chromosome are, therefore, genetically linked to the sex of the patient.
The X chromosome also has a disproportionately large number of genes coding for ocular traits
8
(
Table 1
,
Fig. 1
). Given the linkage to the sex of the patient, pedigree analysis may identify some diseases carried on the X chromosome. In X-linked recessive diseases, pedigree analysis will reveal that more males are affected than females, and affected fathers pass the carrier state to 100% of their female offspring and none of their male offspring. Furthermore, both male and female offspring of a carrier female have a 50% possibility of inheriting the affected allele. Carrier females are unaffected, but may show variable signs of the disease
9
,
10
,
11
(
Fig. 2
). X-linked dominant disease is rare, but identifiable by pedigree analysis. Females are affected. There are approximately twice as many affected females as males because females carry a larger percentage of all X chromosomes. The male genotype is often lethal, but if it is viable, affected males transmit the trait to all of their female offspring and to none of their male offspring. Affected females have a 50% probability of passing the disease allele to both their male and female offspring
9
,
10
,
11
(
Fig. 3
). These inheritance patterns may allow the localization of the disease gene to the X chromosome and are important for genetic counseling. Isolation of a specific gene may employ several of the tools of molecular genetics, including restriction endonucleases and gel electrophoresis.
3
TABLE 1. X-linked Diseases With Ocular Manifestations
Aicardi syndrome
Aland Island eye disease
(ocular albinism type 2—Forsius-Eriksson type)
Albinism, ocular albinism, ocular, with late-onset pensineural deafness (Nettleship-Falls type)
Alport's syndrome
Anophthalmos, X-linked
Arts syndrome
Blue-cone monochromacy
Cataract, congenital
Choroideremia
Color blindness, duetran or protan
Cone dystrophy 1
Cone dystrophy 2
Congenital stationary night blindness
Corneal dermoids, X-linked
Fabry's disease
Familial exudative vitreoretinopathy, X-linked
Fanconi syndrome
Focal dermal hypoplasia (Goltz's syndrome)
Icthyosis with steroid sulfate deficiency
Incontentia pigmenti
Lowe's oculocerebrorenal syndrome
Megalocornea
Menke's syndrome
Microphthalmia
MIDAS (microphthalmia, dermal aplasia, and sclerocornea) syndrome
Myopia 1 (Bornholm eye disease)
Nance-Horan syndrome
Norrie's disease
Nystagmus, congenital X-linked
Optic atrophy, polyneuropathy, and deafness
Pelizacus-Merzbacher syndrome
Retinitis pigmentosa
Retinoschisis
Smith-Lemli-Optiz syndrome
Tapetochoroidal atrophy
Wildervanck syndrome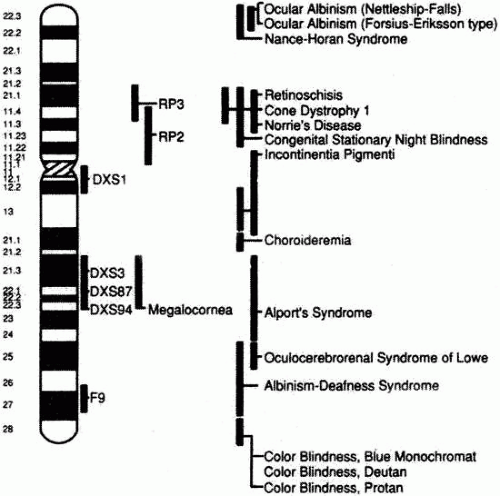 Fig. 1. Idiogram of the X chromosome showing the approximate locations of linkage markers and several X-linked ocular diseases. RP, retinitis pigmentosa; DXS, F9, known X-chromosome linkage markers. (Modified from Mackey DA, Buttery RG, Wise GM et al: Description of X-linked megalocornea with identification of gene locus. Arch Ophthalmol 109:829, 1991.)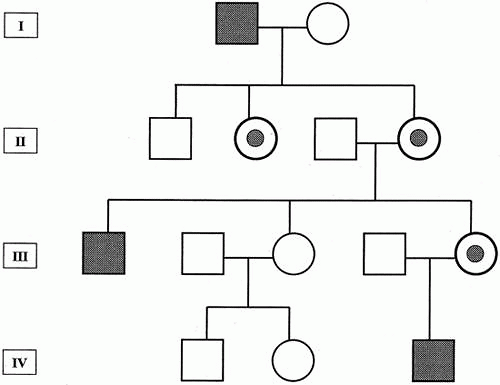 Fig. 2. Pedigree showing typical X-linked recessive inheritance. Generally, asymptomatic female carriers inherit traits from affected males.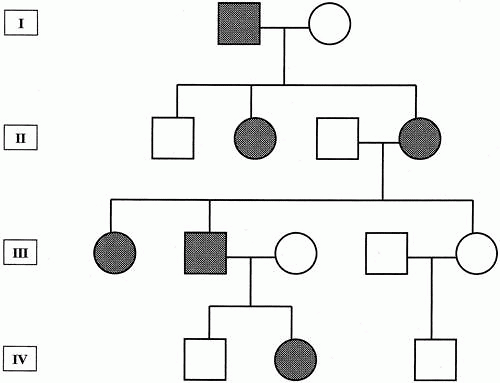 Fig. 3. Pedigree showing typical X-linked dominant inheritance. Affected males pass the trait to all their female offspring but to none of their male offspring.
A specific restriction endonuclease enzyme will cleave DNA at a particular recognition site for that enzyme, cutting the DNA into manageable fragments in a predictable and reproducible manner.
12
Because mutations in genes may be caused by base pair changes, deletions, or rearrangements of the genetic material, the genetic sequence in a mutation will be modified. If the modification occurs within a recognition site for a restriction endonuclease or includes an insertion or deletion of genetic material adjacent to a recognition site, the fragment lengths produced by the restriction endonuclease will differ from the nonmutated DNA. Restriction endonucleases, therefore, may be used to identify these mutations. The different-size fragments are referred to as restriction fragment length polymorphisms (RFLPs). Gel electrophoresis of the fragments allows the separation of biological molecules based on their size or secondary and tertiary structure. The technique can be tailored to exploit the characteristic of interest by manipulating the components of the gel.
Restriction endonucleases and gel electrophoresis are combined in Southern blot analysis. The total human genome is digested with a particular restriction endonuclease. The fragments are then separated by gel electrophoreses and transferred to a paper medium from the gel. A DNA probe, which is a unique sequence of DNA of interest labeled with either a radioactive or other type of marker, is hybridized with the paper to look for a specific sequence of DNA. Southern blot analysis has many applications, including the search for gene deletions and rearrangements in a pedigree.
These molecular genetic techniques are also employed in determining the location of a gene within the X chromosome. The location of a gene of interest can be estimated by using linkage analysis. Linkage analysis employs specific markers whose position on the chromosome is known relative to each other. These markers must exhibit many different alleles in the population to allow a specific allele to be traced through the pedigree. By comparing the inheritance of these markers to the inheritance of the disease of interest in a pedigree, linkage can be ascertained. Linkage implies that the disease gene is present near the same chromosomal locus as the marker. The closer together two genes are on a chromosome, the less likely they are to recombine during meiosis. Thus, if the disease gene and the marker are close together, they are not likely to separate and will be inherited together. This linkage can be detected with Southern blot analysis. For example, a RFLP is a type of linkage marker. If an endonuclease cleavage site is near a gene of interest, then RFLPs are inherited along with the disease. When screened, patients with the disease will also inherit the same RFLP pattern.
13
,
14
Another type of linkage marker is a variable number of tandem repeats (VNTRs). VNTR polymorphisms are regions of DNA where a particular short sequence of DNA is repeated. The number of repeats is highly variable and can be detected in genetic analysis. A third possible marker is a dinucleotide repeat or "CA" repeat.
13
If these sequences are located close to a gene of interest, then both the gene of interest and the number of repeats will be inherited together. This pattern can be detected in offspring. Testing for these linkage markers can be used in prenatal diagnosis and carrier state detection.
Linkage analysis suggests the approximate location of the disease gene on a chromosome. Identification of the specific gene may be by the candidate gene approach or the positional cloning of all the genes in the region until the disease gene is isolated. A candidate gene must either be expressed in the disease tissue or have a known or suspected function in the diseased tissue. In the positional cloning method, there are no assumptions made about the nature of the gene product or its function, but this approach is labor intensive and time consuming. On the other hand, identification of a new gene product may lead to insights into the physiology of diseases.
Upon identifying a gene, the functional coding regions of the gene, or exons, are separated from the noncoding introns. Mutations are alterations in the genetic code. Mutations can be classified in the following categories: missense mutations, nonsense mutations, frame shift mutations, and splice site mutations. Missense mutations change a single amino acid in the protein product due to substitution of a nucleotide in the coding sequence. Nonsense mutations result in a stop codon that leads to a truncated protein. Frame shift mutations are caused by nucleotide deletions or insertions that completely alter the protein product. Splice site mutations affect the transcription of DNA to RNA by altering the exon-intron boundaries of the gene. Base pair mutations may be designated either by the nucleic acid substitutions followed by the numeric position within the gene product, such as GGC-to-GAC base 164, or by the amino acid substitution at the numeric position in the gene product, such as C203R.
Focus on identifying a gene product may lead to a greater understanding of the pathogenesis of the disease in question. Antibody labeled to the gene product can then be used to isolate the location of the protein in the ocular tissue. The localization may help determine the function of the protein. In the future, gene product identification may also allow specific target protein treatment.
The X chromosome carries many genes for ocular diseases as well as for systemic diseases that have ocular manifestations. The systemic diseases are discussed elsewhere in this book. This chapter focuses on the more frequent and severe ophthalmic diseases, including choroideremia, color vision deficits, megalocornea, Norrie's disease, ocular albinism, retinitis pigmentosa, X-linked cataracts, and X-linked juvenile retinoschisis. Discussion focuses on the influence of molecular genetics on diagnosis and treatment.