Tonometry, Tonography, and Aqueous Fluorophotometry
Pratap Challa
Leon W. Herndon
David K. Dueker
Tonometry
Determination of the intraocular pressure (IOP) is a central feature in the diagnosis and management of the glaucomas. A true measurement of IOP requires a direct fluid connection to the anterior chamber. Cannulation of the anterior chamber for measurement of IOP is used frequently in the laboratory and occasionally during surgery. This approach entails too many hazards for the routine clinical management of glaucoma, however. Therefore, we generally use indirect measurements of IOP—tonometry.
Normal Pressure
In the normal young adult population, the mean of IOP readings lies between 15 and 16 mmHg, with a distribution that is bell-shaped and symmetric (
Fig. 8
)
26
With increasing age, most studies indicate a tendency toward increased IOP with skewing of the distribution toward higher pressures.
27
Conversely, IOP in normal infants and children tends to run lower than that of the young adult population.
28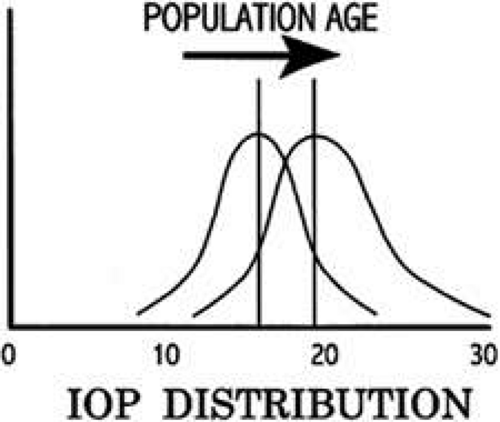 FIGURE 8.
IOP and age. In the normal young adult population, the mean IOP is 15 to 16 mmHg and the distribution approximates a normal bell-shaped curve. In the aging normal population, the mean IOP is higher and the distribution is skewed to the right. This presumably reflects both a true trend to higher IOP with age and a certain proportion of new undiagnosed glaucoma cases in development.
Circadian Variation in Intraocular Pressure
Intraocular pressure shows a natural cycle with a phase of relative elevation followed by a phase of relative depression occurring over a 24-hour period—a circadian rhythm.
29
The mechanism for this variation almost certainly involves variations in aqueous humor production, although other factors contribute also. The magnitude of the variation is greater in glaucoma patients—in some studies, three or four times greater than in the normal population (
Fig. 9
). The larger pressure swing in glaucoma patients is logically related to poor outflow facility but because outflow facility and diurnal variation of IOP are not highly correlated, other factors also must play a role.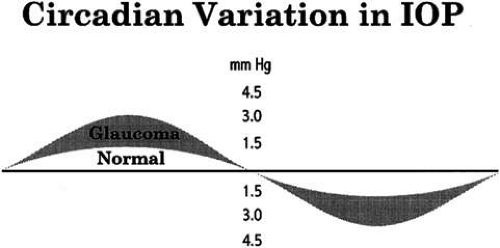 FIGURE 9.
Variation of IOP. Like many physiologic parameters, IOP fluctuates on a daily cycle. The fluctuation in normal patients is low, but it is more pronounced in glaucoma patients. Study of this pattern in glaucoma patients has shown that peak pressures often occur outside normal office hours.
The most common daily cycle shows a tendency for higher pressures in the morning hours and falling pressures in the evening. This pattern is not universal, however, because peak pressures occur at any time of the day. Careful studies of IOP using home tonometry
30
to track patients' normal daily patterns have shown that about 50% of peak pressures fall outside normal office hours.
31
Twenty-four-hour IOP monitoring studies also show a high incidence of peak IOPs outside normal office hours.
32
,
33
The practical consequences of circadian variation in IOP are several.