The Role of Genetic and Environmental Factors in Age-Related Macular Degeneration
Philip Storey
Larry A. Donoso
INTRODUCTION
Both genetic and environmental factors have been implicated in the pathogenesis of age-related macular degeneration (AMD).
1
,
2
These factors have been difficult to differentiate and characterize in part because AMD is an adult onset condition. Genetic studies are challenging because affected individuals are typically 65-years of age, and in most cases, have children too young to manifest the disorder and parents who are deceased. The finding that AMD increases rapidly with advancing age implies that environmental risk factors may contribute to or modify the disease as well. Of the risk factors that have been investigated, cigarette smoking has been clearly and most consistently identified.
3
,
4
,
5
,
6
,
7
,
8
,
9
,
10
The last decade has seen an explosion of knowledge related to human genetics. The Human Genome Project has provided an entire map of the human genome as well as another map, the HapMap.
11
The HapMap, in which the entire genome of 16 "normal" humans was sequenced, revealed that only 0.1% of the 3 billion nucleic acids are responsible for genetic diversity. These nonconserved sites are "normal" sequence variants known as single nucleotide polymorphisms, or SNPs. One percent of these SNPs, the nonsynonymous SNPs, cause single amino acid changes in their translated proteins. Unlike mutations, which are "abnormal" variations in the DNA sequence that result in gene products with significantly altered structure and function, nonsynonymous SNPs may be understood as "normal" variations which alter susceptibility to rather than cause disease.
Several SNPs have been identified and implicated as either predisposing or protective, or in conjunction with specific environmental factors, able to modify the risk of developing advanced AMD.
12
,
13
,
14
,
15
,
16
,
17
,
18
,
19
This chapter will review the latest information regarding several chromosomal regions which have been implicated in the pathogenesis of AMD. These chromosomal regions code for several proteins involved in the inflammatory process including CX3CR1 (C3p21.3), complement factor H (C1q25-31), complement factor B (C6 MHC), complement component 2 (C2) (C6 MHC), complement component 3 (C3) (C19p13.3), and complement factor I (C4q25). In addition, the LOC387715 gene (C10q26), a gene of unknown function, appears to modify further the smokers' risk of developing AMD. Taken together these studies provide insight into the genetic and environmental factors that play a prominent role in the pathogenesis of AMD.
The following discussion will present a brief overview of the complement system, summarize the recent reports regarding these SNPs and their effect on AMD, and discuss their importance in reshaping our understanding of the pathophysiology of AMD and other seemingly unrelated systemic disorders that may share the same underlying mechanism, specifically, a chronic localized inflammatory process.
GENERAL FEATURES OF AMD
Clinical Features
The clinical and angiographic features of AMD have been well described. In particular, Gass
20
,
21
,
22
,
23
helped to characterize the "dry" form of AMD including drusen, the extracellular deposits associated with the condition, and also described the contribution of the choroidal vasculature to the "wet" form (
Figs. 23C.1
,
23C.2
and
23C.3
). The clinical features of this condition are not a subject of this Chapter and the reader is referred to Foundations, Volume 2, Chapter 12 for a more detailed discussion.
Histopathological Features
Drusen, the hallmark of AMD, are extracellular deposits of degraded normal cellular materials which accumulate between the basal lamina of the retinal pigment epithelium (RPE) and the inner collagenous layer of Bruch's membrane
24
,
25
(
Fig. 23C.4
). Drusen are predominantly composed of cholesterol, vitronectin, and apolipoproteins B and E (
Table 23C.1
).
24
,
26
,
27
,
28
In addition, amyloid,
25
,
29
a substance not normally found in healthy cells, as well as complement proteins (C5 and C5b-9), immunoglobulin light chains, and Factor X and their RNA transcripts have been identified in drusen and the RPE respectively.
25
,
30
,
31
Similar material has been identified the glomerular deposits of poststreptococcal and membranoproliferative glomerulonephritis type II (MPGN II) and in the neuritic plaques which characterize Alzheimer's disease (AD)
32
as well as in other diseases of aging
25
including atherosclerosis,
33
,
34
amyloidosis,
35
dense deposit disease,
25
and elastosis
36
(
Table 23C.2
). This suggests that these systemic disorders may have a similar pathophysiology. The association with MPGN II is particularly notable. In the majority of cases, MPGN II is characterized by an autoantibody against the C3bBb complex, which leads to uncontrolled activation of the alternative complement pathway. Renal lesions in MPGN II have been shown to be identical in composition and structure to drusen in AMD, supporting the hypothesis of the central importance of the complement system in AMD.
37
Recent studies have also implicated allelic variations in factor H in MPGN II, AMD, coronary artery disease, and atherosclerosis.
38
,
39
,
40
,
41
A common denominator in these seemingly diverse and unrelated ocular and systemic diseases may be the co-localization of factor H, C-reactive protein (CRP), and heparin on the arterial endothelium. This indicates that factor H may play an important role in the protection against complement mediated vascular damage with associated secondary exudation or neovascularization.
16
,
41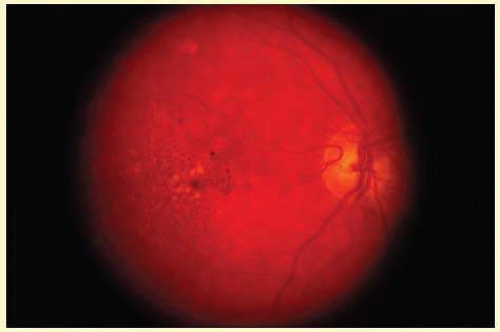 FIG. 23C.1
Drusen. Fundus photograph demonstrates numerous small drusen and RPE pigment clumping in an eye with "dry" AMD.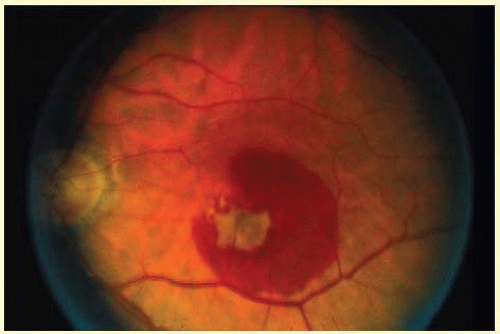 FIG. 23C.2
Exudative AMD. A large neovascular membrane with associated subretinal hemorrhage consistent with "wet" or exudative AMD is present in the macular region.
GENETIC APPROACHES TO THE STUDY OF AMD
Several approaches have been utilized to study AMD including investigations of genes known to be causative for juvenile onset macular dystrophies, twin and linkage studies, and more recently, genome wide scans in related and unrelated adults.