Alex V. Levin
Thomas W. Wilson
Stephen P. Kraft
David Smith
Linda Calpa
S
trabismus can be classified into congenital or acquired forms, as well as comitant versus incomitant entities. Congenital strabismus is generally considered a misalignment that manifests within the first 6 months of life, while acquired forms have their onset after that time period. Comitant strabismus implies that the degree of misalignment is the same in all fields of gaze, contrasting with incomitant strabismus, in which the measured angle of the eye turn varies in the different fields of gaze.
Incomitant strabismus can vary in the horizontal or vertical plane, or both. If a horizontal misalignment (esotropia or exotropia) differs in the upgaze and downgaze positions, this leads to pattern strabismus (including A, V, Lambda, Y, or X patterns). A misalignment, either horizontal or vertical, that changes when shifting from the right to left gaze positions generates a horizontal incomitance. Finally, if a vertical misalignment (hypertropia or hypotropia) changes on fixating from upgaze to downgaze, this is termed a vertical incomitance.
Incomitant strabismus can be classified etiologically into innervational and mechanical forms. Innervational entities include innervation deficits (paresis or palsy), which can be supranuclear, nuclear, or infranuclear. Excess innervation of muscles may also occur. Mechanical causes imply restrictions due to problems within the orbit, and these can include abnormalities in the muscles, soft tissues, or bones, as well as lesions within the socket. Restrictions can be caused by congenital disorders or they can be acquired as a result of trauma, surgery, systemic disorders, or other problems.
II. Dissociated Deviations
a) Dissociated Vertical Deviation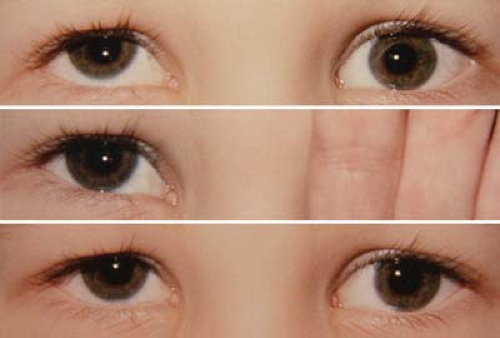 Figure 1.19
Unilateral Dissociated Vertical Deviation (DVD)
The upper image shows a right hypertropia when the left eye fixates. The middle image shows the left eye being covered to force fixation with the right eye. In the lower image, the right eye continues to fixate but there is no manifest hypotropia of the left eye, confirming the diagnosis of unilateral right DVD. In dissociated vertical deviations, one eye is moving independently of the other (nonyoked innervation) in contrast to "true" vertical deviations, in which a switch of fixation to the hypertropic eye always results in an equal downward deviation of the fellow eye (yoked innervation). DVD with a downward drift has also been rarely reported.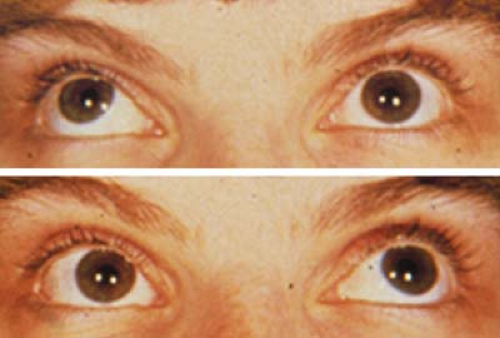 Figure 1.20
Bilateral Dissociated Vertical Deviation (DVD)
The upper photo shows that when the patient fixates with the left eye the right eye drifts upward and outward. The lower photo shows that when she fixates with the right eye the left eye drifts upward and outward. Indirect ophthalmoscopy showed excyclotropia of the hyperdeviated eye in each instance. These findings confirm the presence of bilateral DVD. Note that there is never a hypotropia of the fixating eye when fixation is switched (
Fig. 1.19
). If a patient presents with a latent or manifest DVD in one eye, patching of the fellow eye for several minutes may bring out a bilateral DVD that was not apparent on initial examination. In side gaze, fixation by the adducting eye can be blocked by the nose, causing that eye to drift upward. To differentiate this from overaction of the inferior oblique (
Fig. 1.31
), a cross-cover test will fail to show a hypotropia of the abducting eye in DVD.
b) Dissociated Horizontal Deviation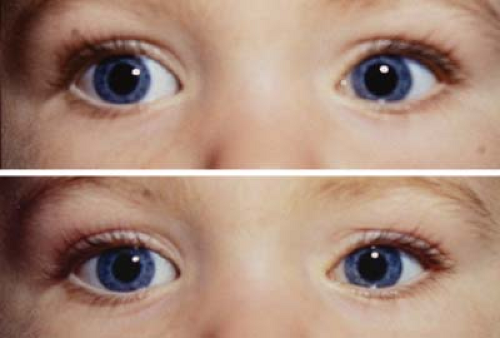 Figure 1.21
Dissociated Horizontal Deviation (DHD)
The upper image shows a child with a right exotropia when he fixates with the left eye. This horizontal deviation becomes manifest when there is a lack of visual attention or a disruption in fusion. In the lower image, the child is fixating with his right eye, yet there is no manifest exotropia of the left eye. There is a symmetric low hyperopic refractive error in the two eyes, leading to symmetric accommodative demand for the two eyes. These findings suggest a right dissociated horizontal exodeviation. Most cases of DHD are exodeviations. Dissociated esodeviations are much less common.