Richard O. Wein
Miriam O'Leary
This chapter covers the broad category of diagnoses that fall under the diagnosis of stomatitis. The term "stomatitis" indicates an inflammation and potential breakdown of the oral cavity mucosal surfaces and is typically symptomatic. The clinical presentation may extend to the oropharynx or the external perioral region. The etiologies are multiple and include treatment-related, infectious, immunologic, systemic, nutritional, and idiopathic causes.
The diagnoses that fall under this classification can be challenging to identify and require a detailed assessment of a patient's history of presentation and associated conditions. Additionally, these presentations are not solely seen in the adult population and some forms of stomatitis are unique to the pediatric population.
Given that many of these diagnoses are localized manifestations of systemic diseases, collaborative management of patients with our Dermatology, Infectious Disease, Oral Medicine, and/or Rheumatology colleagues is expected.
Interestingly, despite being encountered daily in general practice, the etiology of many of these oral lesions remains unclear. Many of the advocated treatment options vary dramatically within the medical literature and may only offer symptom control and not affect cure of the underlying diagnosis. As such, this chapter attempts to summarize some of the common perspectives relative to these diagnoses; however, for those seeking more detail on any one condition, the reader is encouraged to review the articles cited within the chapter's reference list.
CLINICAL ASSESSMENT
The clinical appearance of stomatitis is variable. Presentations can differ from simple localized to fulminant manifestations and may include components of mucosal erythema, hyperkeratosis, ulceration, pseudomembrane, and/or vesicle formation.
The rate of epithelial turnover in the oral cavity ranges from 3 to 7 days. As a result, this anatomic location is quick to demonstrate visible signs of a metabolic disturbance from a systemic condition or in relation to treatment (
1
).
Throughout this chapter, a theme should develop relative to the importance of a thorough history of presentation and the assessment for associated diagnoses. Some of the conditions that are discussed are diagnoses of exclusion, while others may represent the earliest presentation of a more significant systemic process.
Pertinent issues that should be addressed in the history include the circumstances and the time course surrounding the onset of symptoms, recent changes in medications, aggressiveness of oral hygiene and product use, palliating/provoking factors, quality of pain and any prodromal symptoms.
A full head and neck examination is necessary in these cases in an effort to assess for synchronous findings beyond the oral presentation. Dentures should be removed and assessed for quality of fit while asking the patient about the original date of manufacture in addition to visits for modification. In cases of buccal mucosal lesions, the relationship of the ipsilateral dentition and any amalgam that contacts the mucosa in a closed mouth position should be identified. Additionally, the quality of salivary production should be assessed.
Exudative lesions should be considered for gram stain and culture (with fungal cultures additionally requested). Tzanck smear and viral cultures should also be considered in patients with vesicular lesions.
Laboratory assay, in cases where a wide differential diagnosis continues to exist after history and physical examination, can include a complete blood count (CBC) with differential, erythrocyte sedimentation rate (ESR), antinuclear antibody (ANA), and cytoplasmic-antineutrophil cytoplasmic antibodies (c-ANCA) in addition to levels
for iron, ferritin, total iron-binding capacity, folate, thiamine (B1), riboflavin (B2), pyridoxine (B6), cobalamin (B12), zinc, and magnesium (
2
). In xerostomic patients, anti-SSA and anti-SSB can be drawn to assess for Sjogren disease.
Biopsy remains a powerful tool for establishing a definitive diagnosis in patients with stomatitis of unclear etiology. Patients with vesiculobullous lesions should have perilesional tissue sent for direct immunofluorescence (DIF) for deposition of IgG, IgA, and/or complement C3. Biopsy should be considered in patients with suspected recurrent aphthous stomatitis (RAS), oral lichen planus (OLP), or graft-versus-host disease (GVHD) to rule out oral squamous cell carcinoma because of the potential for similarity in appearance.
Patients with a history and findings highly suggestive of an inflammatory bowel condition, such as Crohn disease or ulcerative colitis (UC), should be considered candidates for colonoscopy.
ETIOLOGY
Our understanding of the etiology of treatment-related mucositis at the cellular level continues to evolve. Some aspects may be genetically predetermined and explain the heterogeneity of response between patients to different treatments.
Theories on the development of mucositis have traditionally stated that it was the result of direct damage to the basal epithelial cell layer leading to an impairment of the renewal capacity of the surface epithelium. The resultant clonogenic cell death would result in atrophy and consequent ulceration with the clinical presentation of mucositis.
Additional evidence has suggested that an acute microvascular injury resulting from endothelial apoptosis may play a more significant role in the etiology of mucositis than previously considered. Electron microscopy has demonstrated that endothelial and connective tissue damage precede epithelial changes in irradiated oral mucosa. This finding suggests that the development of treatment-related mucositis is not just an epithelial process.
Sonis et al. (
3
) describe the five phases of mucosal barrier injury as a result of chemotherapy and/or radiation therapy as:





Initiation with generation of reactive oxygen species






Up-regulation with generation of messengers including nuclear factor-κB






Signaling and amplification with proinflammatory cytokines including tumor necrosis factor-alpha (TNF-α)






Ulceration with inflammation with bacterial colonization and pain






Healing with epithelial proliferation and the return of local microbial flora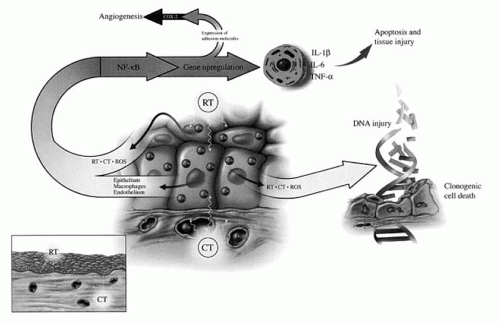 Diagram 51.1
Mucositis as a result of radiation therapy or chemotherapy occurs as a result the creation of reactive oxygen species (ROS) and the stimulation of transcription factors (such as nuclear factor-κB). Resultant double-stranded DNA breaks leads to clonogenic cell death. Up-regulation of TNF-α and the interleukins (IL-6 and IL-1β) leads to apoptosis of cells in the basal epithelium. Additional expression of factors, cyclooxygenase-2, stimulates reactive angiogenesis. (From Sonis ST, Elting LS, Keefe D, et al. Perspectives on cancer therapy-induced mucosal injury: pathogenesis, measurement, epidemiology, and consequences for patients.
Cancer
2004;100(9 Suppl):1995-2005, with permission.)
TREATMENT-RELATED STOMATITIS
Stomatitis can occur as a result of multiple forms of therapy; however, it is most evident and has the greatest impact in the treatment of cancer. It is expected that with chemotherapy and radiation therapy some degree of stomatitis, also known as mucositis, development will be experienced. Strategies for prevention, assessment, and treatment of treatment-related mucositis have been well documented; however, variation in findings and recommendations exist.
In 2004, the Multinational Association of Supportive Care in Cancer and the International Society for Oral Oncology (MASCC/ISOO) offered a consensus statement with recommendations on treatment-associated mucositis.
Get Clinical Tree app for offline access