Recurrent Respiratory Papillomatosis
Craig S. Derkay
Cristina M. Baldassari
In discussing recurrent respiratory papillomatosis (RRP) of the aerodigestive tract, it is helpful to review our current knowledge regarding the etiology of the disease, including some basic information on human papillomavirus (HPV), the histopathology of respiratory papillomas, as well as the epidemiology of the disease and risk factors for its transmission. This chapter also addresses the common clinical features seen in children with RRP, including the pertinent findings on history, physical examination, endoscopy, and imaging studies. Surgical treatments, including the use of laser and nonlaser technologies, also are addressed. Additionally, potential nonsurgical adjuvant therapies and their current indications for use are discussed. Complications of the disease itself as well as of its treatment are covered. A staging system for following patients with RRP is presented along with other new horizons for research and treatment of this frustrating entity.
RRP is a disease of viral etiology, caused by HPV types 6 and 11, associated with exophytic lesions of the airway. Although it is a benign disease, RRP has potentially morbid consequences due to its involvement of the airway, propensity to recur, and to the risk of malignant conversion.
RRP is both the most common benign neoplasm of the larynx among children and the second most frequent cause of childhood hoarseness (
1
). The disease is often difficult to treat because of its tendency to recur and spread throughout the respiratory tract. Although it most often involves the larynx, RRP may involve sites anywhere in the entire aerodigestive tract. The course of the disease is variable, with some patients experiencing spontaneous remission and others suffering from aggressive papillomatous growth, requiring multiple surgical procedures over many years.
In most pediatric series, RRP is diagnosed between 2 and 4 years of age with a delay in diagnosis from the time of onset of symptoms averaging about 1 year (
2
,
3
). Seventy-five percent of the children have been diagnosed before their fifth birthday (
4
). It is estimated that 1,500 to 2,500 new cases of childhood-onset RRP occur in the United States each year. The incidence among children in the United States is estimated at 4.3 per 100,000 children, translating into more than 15,000 surgical procedures at a total cost of more than $100 million per year (
5
). Anecdotal observations suggest that most patients are first born; have young, primigravid mothers; and come from families of low socioeconomic status (
5
,
6
,
7
). The clinical course is unpredictable, with malignant transformation possible in patients with long-standing aggressive disease.
RRP may have its clinical onset during either childhood (juvenile onset recurrent respiratory papillomatosis, JORRP) or adulthood (adult onset recurrent respiratory papillomatosis, AORRP). Of these two distinct forms, JORRP is generally more aggressive. The aggressive form of RRP, although most prevalent in children, can also occur in adults. Children whose RRP was diagnosed at younger ages (less than 3 years) have been found to be 3.6 times more likely to have more than four surgeries per year and almost 2 times more likely to have two or more anatomic sites affected than were children whose RRP was diagnosed at later ages (greater than 3 years) (
8
,
9
).
ETIOLOGY
Human Papillomavirus
HPVs are grouped on the basis of genetic homology, with viruses that exhibit less than 90% identity in specific regions of the viral genome being defined numerically as separate types. On this basis, nearly 100 different HPV types have been identified. These groupings correlate with tissue preference as well as similarities in pathophysiology. Groups associated with mucosal lesions in the aerodigestive and genital tracts include HPV types 6 and 11 with a low malignant potential; HPV 16 and 18 with a much higher malignant potential; and HPV 31 and 33 with a malignant potential that lies somewhere in between. At least 90 different types of HPV have been identified and are designated by numbers (i.e., HPV 6). The closer the numbers, the more similar the viral subtypes are in their clinical manifestations.
Recurrent Respiratory Papillomatosis
Histologically, RRP appears as pedunculated masses with fingerlike projections of nonkeratinized stratified squamous epithelium supported by a core of highly vascularized connective tissue stroma (
Fig. 94.1
). The basal layer may be either normal or hyperplastic, and mitotic figures are generally limited to this layer. Cellular differentiation appears to be abnormal, with altered expression and production of keratins. The degree of atypia may be a sign of premalignant tendency.
RRP lesions occur most often at anatomic sites in which ciliated and squamous epithelium are juxtaposed (
22
). The most common sites for RRP are the limen vestibuli, the nasopharyngeal surface of the soft palate, the midline of the laryngeal surface of the epiglottis, the upper and lower margins of the ventricle, the undersurface of the vocal folds, the carina, and at bronchial spurs (
6
). In tracheotomized patients, RRP is often encountered at the stoma and in the mid-thoracic trachea, areas that might be considered iatrogenic squamociliary junctions. Papilloma lesions may be sessile or pedunculated and often occur in irregular exophytic clusters (
Fig. 94.2
). Typically, the lesions are pinkish to white in coloration. Iatrogenic implantation of papilloma may be preventable
by avoiding injury to nondiseased squamous or ciliated epithelium adjacent to areas of frank papilloma. Ciliated epithelium undergoes squamous metaplasia when exposed to repeated trauma and is replaced with nonciliated epithelium that creates an iatrogenic squamociliary junction. This may also explain the observation that RRP flourishes in the presence of uncontrolled gastroesophageal reflux with an increased incidence of laryngeal scarring (
23
).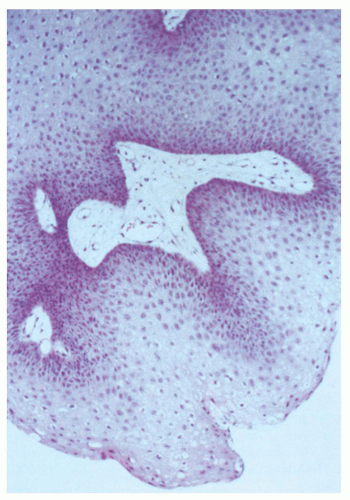 Figure 94.1
Histologic section of papilloma, demonstrating fingerlike projection of nonkeratinized stratified squamous epithelium and vascularized connective tissue stroma.
CLINICAL FEATURES
Because the most common symptoms of RRP are related to airway obstruction, it is not uncommon for children to be misdiagnosed initially as having asthma, croup, or chronic bronchitis. The hallmark of RRP in children is the triad of relentlessly progressive hoarseness, stridor, and respiratory distress. Hoarseness in children tends to be overlooked or at least accepted until it reaches a certain level of severity. However, any infant or young child with symptoms of voice change, along with obstructive airway symptoms or recurrent croup, warrants laryngoscopy to rule out neoplasia, with RRP being the most likely lesion.
Children with RRP most often present with some degree of dysphonia. Stridor is often the second clinical symptom to develop, beginning as an inspiratory noise and becoming biphasic with progression of the disease. Less commonly, chronic cough, recurrent pneumonia, failure to thrive, dyspnea, dysphagia, and acute life-threatening events may be the presenting symptoms. The duration of symptoms prior to diagnosis varies with a typical period of about 1 year from onset of symptoms till a diagnosis of RRP is made. Not uncommonly, a mistaken diagnosis of asthma, croup, allergies, vocal nodules, or bronchitis is entertained before arriving at the definitive diagnosis of RRP.
PATIENT ASSESSMENT
History
Persistent or progressive stridor and dysphonia, with the possible development of respiratory distress, are the most consistent signs and symptoms of RRP in children (
Table 94.1
). In the absence of severe respiratory distress, a careful history should be obtained. Information regarding the time of onset of symptoms, possible airway trauma including a history of previous intubation, and characteristics of the cry are obviously important. Hoarseness, although a common and often benign clinical complaint in young children, always indicates some abnormality of structure or function. Because of the precision of laryngeal mechanics, hoarseness may result from a remarkably small lesion and thus be an early sign in the course of a disease process. On the other hand, if the lesion's origin is remote from the vocal cords, hoarseness may present as a late sign. Although histologically the same lesion, a papilloma that produces hoarseness in one patient may produce stridor and obstruction in another, depending on the size and location of the lesion. The quality of the voice change may give only limited clues to its etiology, whereas other characteristics such as age of onset, rate of progression, associated infection, history of trauma or surgery, and the presence of respiratory or cardiac distress may be of much greater significance. A low-pitched, coarse, fluttering voice suggests a subglottic lesion, whereas a high-pitched, cracking voice, aphonia, or a breathy voice suggests a glottic lesion. Associated high-pitched stridor also suggests a glottic or subglottic lesion. Although stridor that has been present since birth is more often associated with laryngomalacia, subglottic stenosis, vocal cord paralysis, or a vascular ring, it should be realized that neonates also can present with papillomatosis.
TABLE 94.1 COMMON PRESENTING SYMPTOMS IN CHILDREN WITH RRP
Progressive hoarseness
Stridor
Increasing dyspnea
Associated symptoms such as feeding difficulties, allergic symptoms, vocal abuse, and the presence of hereditary congenital anomalies may help distinguish RRP from alternative diagnoses, including vocal fold nodules, vocal fold paralysis, subglottic cysts, subglottic hemangioma, and subglottic stenosis. In the absence of any history suggesting these lesions, review of the perinatal period may reveal a history of maternal or paternal condylomata. If the onset of stridor and dysphonia is gradual and progressive over weeks or months, then neoplastic growth compromising the airway must be considered and investigated.
Certainly not every child with a hoarse voice or cry merits investigation beyond an assessment of the symptom. However, in the presence of hoarseness with respiratory distress, tachypnea, decreased air entry, tachycardia, cyanosis, dysphagia, chronic cough, failure to thrive, recurrent pneumonia, or dysphagia, the larynx must be visualized and a firm diagnosis of the cause of hoarseness must be made. Any child with slowly progressive hoarseness merits investigation and the clinician should not wait until total aphonia or airway problems occur.
Physical Examination
Children presenting with symptoms consistent with RRP must undergo a thorough and organized physical examination. The child's respiratory rate and degree of distress must first be assessed. The physician should observe the child for tachypnea or the onset of fatigue that may indicate impending respiratory collapse. The child should be observed for flaring of the nasal ala and the use of accessory neck or chest muscles. Increasing cyanosis and air hunger may cause the child to sit with the neck hyperextended in an attempt to improve airflow. If a child is gravely ill, additional examination should not be undertaken outside the OR, the emergency room, or the intensive care unit, where resuscitation equipment for intubation of the airway, endoscopic evaluation, and possible tracheotomy are readily available.
In the stable, well-oxygenated child, additional examination can proceed. The most important part of the examination is auscultation with the aid of a stethoscope. The physician should listen over the nose, open mouth, neck, and chest to help localize the probable site of the respiratory obstruction. A useful technique is to pull the bell off the stethoscope and listen over these areas with the open tube. The respiratory cycle, which is normally composed of a shorter inspiratory phase and a longer expiratory phase, should then be observed. Stridor of a laryngeal origin is most often musical and may begin as inspiratory, but will progress to biphasic with worsening airway narrowing. Infants with stridor should be placed in various positions to elicit any changes in the stridor. A child with RRP would not be expected to demonstrate much change in the stridor with position change in contrast to infants with laryngomalacia, a vascular ring, or a mediastinal mass. Pulse oximetry can add an accurate quantitative analysis of the child's respiratory state. In the stable patient in whom asthma is a likely diagnosis, pulmonary function testing combined with arterial blood gas evaluation also may be helpful.
Airway Endoscopy
Full access? Get Clinical Tree