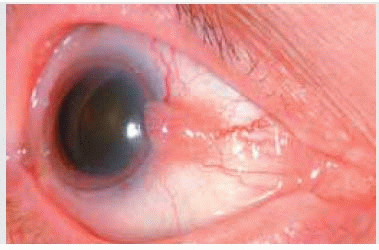 Premalignant and Malignant Lesions of the Conjunctival Epithelium
Conjunctival Keratotic Plaque and Actinic Keratosis
General Considerations
Several types of benign and malignant lesions can arise from the squamous epithelium of the conjunctiva. These lesions tend to form a spectrum ranging from those that are entirely benign, to those with low malignant potential, to more aggressive, malignant neoplasms. It is often difficult to differentiate clinically between the benign and malignant lesions. The majority of epithelial lesions seen in a clinical practice are low grade proliferations with only a small chance of evolving into frank squamous cell carcinoma. Two of these are keratotic plaque and actinic keratosis (
1
,
2
,
3
,
4
). Because they may be impossible to differentiate clinically, they are considered together for this discussion. In the authors' clinical series of 1,643 conjunctival tumors, there were four keratotic plaques and four cases of actinic keratosis each representing less than 1% of the 1,643 cases (
2
).
Clinical Features
Both keratotic plaque and actinic keratosis can develop on the limbal or bulbar conjunctiva usually in the interpalpebral region. Clinically, the lesion appears as a flat, white plaque that appears gradually and shows no tendency toward aggressive growth.
Pathology
Pathologically, keratotic plaque consists of acanthosis of the epithelium with keratinization of the conjunctival epithelium and parakeratosis. Actinic keratosis (senile keratosis) is a similar proliferation of epithelium with prominent keratosis, often over a chronically inflamed pingueculum or pterygium. It can have a frothy or leukoplakic appearance and may be clinically similar to a keratotic plaque.
Management
Keratotic plaque and actinic keratosis of the conjunctiva are usually indistinguishable clinically from conjunctival intraepithelial neoplasia (CIN), which has slightly greater potential to evolve into invasive squamous cell carcinoma. Therefore, the finding of leukoplakia in the conjunctiva is a relative indication for surgical excision and supplemental cryotherapy. However, it is also acceptable to follow some such lesions until progression is documented, particularly in elderly patients, because the prognosis is generally excellent, even for CIN.
Selected References
1.
Shields CL, Demirci H, Karatza E, et al. Clinical survey of 1643 melanocytic and nonmelanocytic tumors of the conjunctiva. Ophthalmology 2004;111: 1747-1754.
2.
Spencer WH. Conjunctiva. In: Spencer WH, ed. Ophthalmic Pathology. An Atlas and Textbook. 4th ed. Philadelphia: WB Saunders; 1996:112-113.
3.
Volker HE, Naumann GOH. Conjunctiva. In: Naumann GOH, Apple DJ, eds. Pathology of the Eye. New York: Springer-Verlag; 1986:287.
4.
Mauriello JA Jr, Napolitano J, McLean I. Actinic keratosis and dysplasia of the conjunctiva: a clinicopathological study of 45 cases. Can J Ophthalmol 1995; 30:312-316.
Conjunctival Keratotic Plaque and Actinic Keratosis
These benign lesions can simulate neoplasia because of the leukoplakia produced by the keratosis.
Premium Wordpress Themes by UFO Themes
WordPress theme by UFO themes