Susan Baker Brehm
Melissa M. Statham
Alessandro de Alarcón
Pediatric voice disorders comprise a broad spectrum of problems commonly encountered in pediatric otolaryngology practice. Epidemiologic reports estimate that more than 1 million children in the United States are dysphonic, with abnormalities in pitch, quality, and/or loudness (
1
,
2
,
3
). Given the potentially far-reaching impact that voice disorders may have on the psychosocial development of children, it is imperative that practitioners have a basic understanding of this growing field and a sound working knowledge of contemporary pediatric voice evaluation and management techniques (
4
,
5
). To this end, our chapter will present an overview of key voice-related concepts and clinical issues in children.
ANATOMIC CHANGES IN THE LARYNX DURING CHILDHOOD
The Laryngeal Framework
The pediatric larynx continually matures throughout childhood. Maturational changes are particularly rapid during the first several years of life and then gradually slow down until the larynx reaches maturity in young adulthood. Both the thyroid cartilage and the cricoid cartilage undergo significant changes in length, height, width, and weight, though these changes are more pronounced in males. The pediatric larynx is much higher in the airway than the adult larynx and gradually descends with age. In a neonate, the larynx is high in the neck, with the lower border of the cricoid cartilage approximately at the level of C3-C4. By age 2, it descends to approximately C5, and by age 15, it descends to C6-C7. This downward migration is associated with increasing separation between the hyoid bone and the thyroid cartilage, which are contiguous at birth.
Microstructure of the Vocal Fold
Two aspects of the developing pediatric vocal fold play an important role in voice: (a) the relationship between the arytenoid and the musculomembranous fold and (b) the layered vocal fold structure. In neonates, the proportion of the arytenoid and the musculomembranous fold is equal. Over time, this proportion changes, with the musculomembranous fold becoming two-thirds of the vocal fold. The layered structure of the lamina propria also significantly changes. From 2 to 11 months of age, the initial monolayer gradually becomes a bilayered structure. By age 7, it becomes an adultlike three-layered structure (
6
,
7
). Collectively, these anatomic and structural changes influence when a voice disorder manifests as well as a clinician's ability to evaluate and initiate treatment. The relationship between these changes and specific voice disorders will be discussed later in this chapter.
VOICE EVALUATION
Optimally, voice evaluation should be carried out in an interdisciplinary setting. This allows close collaboration between otolaryngologists and speech-language pathologists, thus facilitating a more thorough evaluation and the development of a comprehensive, well-coordinated management strategy. Also, it offers parents the convenience of decreasing the number of clinic visits for their child and the number of endoscopies performed.
A comprehensive voice assessment should include a medical history, an endoscopic or videostroboscopic examination, an acoustic evaluation, an aerodynamic evaluation, a perceptual evaluation, and often, a voice-related quality of life or handicapping evaluation. These combined tests provide clinicians with a global perspective on the disorder, facilitate the categorization of the disorder, and ultimately, play a role in treatment decisions.
Voice-Related Quality of Life/Handicapping
Voice-related quality-of-life/handicapping assessments are designed to measure the impact of a voice disorder on a child's daily life. This assessment is more complicated in children than in adults because parental perspectives may be quite different from those of children. These perspectives may be colored by factors such as the child's past airway history, the duration of the voice disorder, and societal influences.
Instruments that have been validated and are widely used include the PVOS (Pediatric Voice Outcomes Survey), the PVRQOL (Pediatric Voice-Related Quality of Life), and the pVHI (Pediatric Voice Handicap Index). A fourth instrument currently being developed is the voice-related PEDS QL 4.0 (Physical, Emotional, Social, Work/School Functioning) (
11
,
12
,
13
,
14
,
15
). This differs from the above-mentioned instruments in that it takes into account both the parent's and child's perspectives. At least one voice-related quality-of-life evaluation should be included in the battery of tests used by the practitioner in assessing a voice disorder.
PEDIATRIC VOICE DISORDERS
Laryngopharyngeal Reflux and Eosinophilic Esophagitis
Vocal Fold Nodules, Cysts, and Polyps
Vocal fold nodules are the most commonly encountered cause of pediatric dysphonia (5% to 40%) (
18
). Patients generally present with a harsh, breathy voice. They often have limited pitch range and may have voice breaks and aphonia at specific pitches. Also, voice quality often worsens with heavy voice use. These children may be either heavy voice users or vocal abusers who frequently scream and yell. Endoscopic examination often reveals fairly symmetric bilateral lesions in the midmembranous vocal fold. During vocal fold closure, a typical hourglass closure configuration is often seen. (
Fig. 91.4A and B
) The location and size of the lesions variably affects mucosal wave, vocal fold vibration, and pitch. The perceptual assessment of voice quality varies from mild-to-severe dysphonia (
19
,
20
).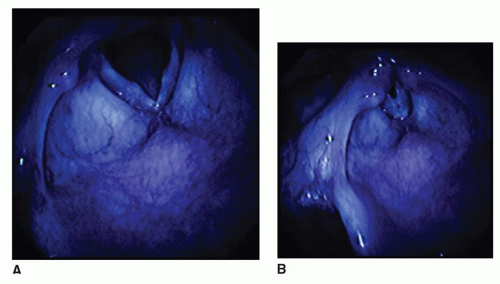 Figure 91.4
Vocal fold nodules.
A:
Open glottis with midmembranous nodules.
B:
Hourglass closure during phonation.
The voice perception of patients with vocal fold cysts and polyps is often similar to that of patients with vocal fold nodules. In some cases, however, there may be a history of an acute phono-traumatic event associated with the development of dysphonia. Cyst and polyps are much less common than nodules. Endoscopic examination often demonstrates a large unilateral lesion and a smaller contralateral reactive lesion (
Fig. 91.5A-D
). As with vocal fold nodules, the size
and location of the lesion are often related to the effect on voice. Vocal fold cysts can be mucous or epithelial, and their location can vary from fairly superficial to very deep within the vocal fold. Vocal fold polyps are often exophytic, more pedunculated, and may have an obvious vascular supply. In some cases, imaging of pediatric vocal fold nodules, cysts, and polyps may not accurately differentiate these lesions. The lack of a uniformly accepted nomenclature in pediatric laryngology may also hamper diagnosis and treatment. For a more in-depth description of these benign lesions, see
Chapter 68
.
Full access? Get Clinical Tree