Fig. 1
(
a
) Narrowest point of airway: Adult vs Neonate. Note the more superior position of cricoid ring in the neonatal airway vs adult. (
Courtesy of David Low, CHOP
). (
b
) Sagittal View of the Adult vs Neonatal Airway. Note the reduced nasopharyngeal space and larger occiput of the neonate contributing to the tendency for tongue based obstruction during airway emergency situations. (
Courtesy of David Low, CHOP
). (
c
) Cross section of the narrowest point of the airway: Neonates vs Adults, (adapted from Wheeler and Shanley, et al. eds. Resuscitation and Stabilization of the Critically Ill Child). Springer, 2009. (
d
) Major anatomic differences between infants and adults
The Upper Airway
The airway of the younger child is very different from that of the older child or adult, and these pediatric features are usually present until about age 8 or 9. After this age, the airway becomes more adult-like in configuration, and the generalist emergency physician is on more familiar grounds. There are many levels of differences from the nose and mouth to the tracheal bifurcation and, generally, more malacia of structures due to a relatively greater amount of connective tissue and weak supraglottic tissue. In general, the segments of the upper airway include the nasopharynx, oropharynx, hypopharynx, and larynx.
The Lower Airway
The cricoid cartilage marks the true beginning of the lower airway.
The first structure encountered is the trachea, which ends at the carina. The tracheal size and length vary with age (Fig.
9
).

Fig. 9
Table of tracheal dimensions: neonates vs adults (Adapted from Chap.
25
, Ian Jacobs, MD Fundamentals of Pediatric Surgery, in Peter Mattei editor: Springer
The neonatal trachea is much shorter, narrower, and more compact than the adult trachea proportionally, and a high tracheal position at C1-2 can result in anteroposterior differences. There are major differences in the length and diameter of the trachea at different age groups (Fig.
9
). The trachea is "C" shaped with soft trachealis muscle posteriorly and a 3:1 ratio of rings/muscle circumference. The soft muscle provides flexibility during breathing but can be the source of severe collapse in cases of significant tracheomalacia [
45
]. At the level of the cricoid ring any mucosal edema will encroach on the lumen, resulting in exponential increases in resistance to airflow per Poiseuille's law (that is, air flow is proportional to the fourth power of the airway radius) [
27
,
28
].
Neck
The neck of the infant compared to the adult is much shorter, composed of more subcutaneous fat, and often requires different maneuvers while intubating when compared to a child or an adult. Cricoid pressure is often necessary during intubation to overcome the limited space and lack of anatomical landmarks easily seen in adults or children.
Airway Resistance
The diameter of the pediatric airway is much smaller than the adult airway, making it far more vulnerable to obstruction by either foreign objects or edema. Minor narrowing from respiratory infections or bronchospasm may result in profound airway difficulties in the pediatric patient. Airflow through a pipe like the bronchi is described by Poiseuille's equation. Airflow in the narrowed airway meets resistance that is described by an inverse proportion to the fourth power of the radius of the airway for laminar airflow, and to the fifth power for turbulent airflow (Fig.
10
).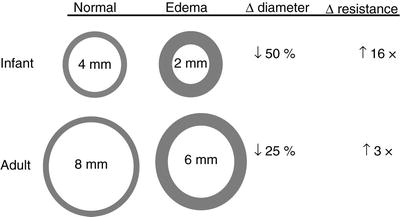 Fig. 10
Differences in luminal size and airway resistance with 1 mm circumferencial edema: Adult vs Infant. (Adapted from Wheeler et al., [
56
]. In Wheeler et al., Resuscitation and Stabilization of the Critically Ill Child). Springer, 2009

(
R
is resistance and
r
is the radius)