Metabolic Diseases and the Eye
Selwa Al-Hazzaa
Pinar Ozand
Elias I. Traboulsi
A landmark in the history of human biochemical genetics was set at the turn of the 20th century with Sir Archibald Garrod's monographs on inborn errors of metabolism.
Metabolic and genetic disorders that affect the eye may cause significant visual disturbances and sometimes blindness. Furthermore, metabolic disorders may have characteristic ocular findings that assist in their diagnosis, making the ophthalmologist an invaluable member of the team that cares for these patients.
Metabolic disorders generally are inherited in an autosomal recessive fashion. There is reduced or absent function of one or more enzymes in a biochemical pathway that is critical to normal cellular function, growth, and development. Accurate biochemical diagnosis is essential for treatment, for genetic counseling, and for monitoring future pregnancies and children.
Clinically, enzyme deficiencies produce systemic and ophthalmic signs and symptoms by several mechanisms: accumulation of undegraded products, lack of production of an essential substrate, blockage of the normal conversion of one product to the other, or activation of alternate metabolic pathways that are deleterious to cellular integrity.
Inborn errors of metabolism can be divided into two broad categories
4
:
Category 1
consists of diseases that involve only one functional or anatomic system or affect only one organ. The presenting symptoms usually are uniform, and diagnosis is easy, even when the basic biochemical lesion gives rise to systemic consequences. Included in this category are bleeding disorders that result from coagulation factor defects or hemolytic anemia from defects of glycolysis.
Category 2
consists of diseases in which the basic biochemical lesion either affects a metabolic pathway common to a large number of cells or organs or is restricted to one organ but gives rise to humoral and systemic consequences. The presenting symptoms are diverse. This category includes most inborn errors of intermediary metabolism, diseases of intracellular trafficking, and lysosomal disorders.
Pathologic changes in the eye sometimes are characteristic of the underlying metabolic disease process. The detection of these ocular abnormalities depends on their prominence, the severity and ease of diagnosis of the systemic illness, and the familiarity of the ophthalmologist with their nature and significance. In many instances, the patient is referred with a diagnosed or suspected systemic disease, and a search for the known ocular complications of the illness is undertaken. In other instances, a metabolic disorder is suspected but no diagnosis is offered, making the ophthalmologic findings, if present, even more valuable in the diagnostic process.
Ophthalmologic findings such as corneal opacities, cataracts, cherry-red spot, and retinal degeneration may be the earliest signs of many metabolic disorders. Prompt and accurate diagnosis of the systemic disease aids in determining the prognosis and clinical expectations regarding career and life planning for the affected individual. It allows the early institution of treatment, when available, and the provision of genetic counseling on the risk of recurrence in siblings or in children. Measurement of enzyme levels or mutation analysis of DNA from fetal cells obtained through amniocentesis allows the prenatal diagnosis of many of these diseases.
Advances in molecular biology, biochemistry, and enzymology have allowed a better understanding of these diseases and their chemical defects. Currently, a biochemically based terminology is used instead of eponyms, and almost all disorders can be diagnosed by enzyme or gene analysis. Serum, leukocytes, or cultured skin fibroblasts can be assayed for enzyme activity if the molecular genetic defect is known, circumventing the need for biopsy of the liver, brain, or other tissues.
More than 300 human diseases that result from inborn errors of metabolism currently are recognized. Their true incidence may be underestimated because of failure of diagnosis. The detection of metabolic diseases relies only in part on screening programs and primarily depends on a high index of clinical suspicion and coordinated access to expert laboratory services.
Corneal opacities frequently occur in the mucopolysaccharidoses, mucolipidosis III and IV, α-mannosidosis, Fabry's disease, multiple sulfatase deficiency (Austin disease), Farber disease, LCAT (lecithin: cholesterol acyltransferase) deficiency, cystinosis, tyrosinosis type II, and Tangier disease.
Cataracts are some of the more conspicuous ocular signs of metabolic disorders.
5
At birth and in infancy, cataracts are prominent findings in Lowe syndrome. They can be the only presenting sign of sorbitol dehydrogenase deficiency. Cataracts commonly occur in peroxisomal biogenesis disorders and in Cockayne syndrome. They are the only signs of galactokinase deficiency. They also are present in various galactitol or sorbitol accumulation states of unknown origin. Cataracts can be associated with other typical systemic signs and symptoms in galactosemia, mannosidosis, sialidosis, respiratory chain defects, hypoglycemia due to galactosemia, the severe form of mevalonic aciduria, aspartylglucosaminuria, multiple sulfatase deficiency, and Fabry's disease. In childhood, cataracts are present in one fourth of patients with untreated Wilson's disease. They also are signs of hypoparathyroidism and pseudohypoparathyroidism. In adults, isolated cataracts can be a sign of Lowe syndrome or of the heterozygous state for inborn errors of galactose metabolism. They frequently are present in patients with cerebrotendinous xanthomatosis. Posterior subcapsular cataracts with onset in the second decade of life are nearly constant complications of gyrate atrophy of the choroid and retina.
A macular cherry-red spot is a characteristic finding in some lysosomal disorders. The ganglion cells filled with storage material in the macula are opaque and give rise to a white ring that encircles the red, ganglion cell-free fovea. The diseases associated with a cherry-red spot are GM1 gangliosidosis (Landing disease), GM2 gangliosidosis Type 1 (Tay-Sachs disease), GM2 gangliosidosis Type 2 (Sandhoff's disease), Niemann-Pick Types A and B, sialidosis (cherry-red spot myoclonus), mucolipidosis I, metachromatic leukodystrophy, and galactosialidosis.
Retinal degeneration, with or without pigmentary retinopathy, occurs commonly in inherited metabolic disorders. Although its pathophysiology is not known, retinal dysfunction in metabolic disorders may be induced by toxic effects of certain metabolites, errors of synthetic pathways, or deficient energy metabolism.
Table 1
lists the disorders associated with a pigmentary retinopathy.
This chapter summarizes the systemic and ophthalmologic manifestations of metabolic disorders in which the enzyme deficiency results in visually significant or diagnostic ocular manifestations. Because the diseases of interest have etiologies and manifestations in complex overlapping, noncategorical biologic systems, the authors are faced with the classic dilemma of balancing the practicality of categorical thinking against the reality of biologic variation.
LYSOSOMAL STORAGE DISEASES
DISORDERS OF LYSOSOMAL ENZYME PHOSPHORYLATION
Spranger and Wiedemann coined the term
mucolipidoses
for this group of disorders.
58
The mucolipidoses have phenotypic and biochemical features of both the mucopolysaccharidoses and the sphingolipidoses without excessive urinary excretion of mucopolysaccharides. Ultrastructurally, the affected cells resemble those of the MPSs, with cytoplasmic vacuoles filled with fine fibrillogranular-material. The vacuoles also contain membranous lamellar inclusions similar to those present in the lipidoses.
15
Four diseases have been included in this category: 1) mucolipidosis I, or sialidosis; 2) mucolipidosis II, or inclusion cell disease (I-cell disease); 3) mucolipidosis III, or pseudo-Hurler polydystrophy; and 4) mucolipidosis IV, or Berman disease.
MUCOLIPIDOSIS I (MLS I) (SIALIDOSIS TYPE 1; CHERRY-RED SPOT MYOCLONUS SYNDROME)
In MLS I, there is deficiency of the enzyme sialidase that leads to a syndrome characterized by a retinal cherry-red spot and myoclonus. MLS I was reclassified as sialidosis type 1
59
and is discussed later in this chapter.
MUCOLIPIDOSIS II (MLS II) (I-CELL DISEASE)
MUCOLIPIDOSIS III (MLS III) (PSEUDO-HURLER POLYDYSTROPHY)
Mucolipidosis III results from the same enzyme deficiency as MLS II.
N
-acetylglucosamine 1-phosphotransferase is composed of at least two distinct polypeptides: a recognition subunit that is defective in the MLS III variant and a catalytic subunit that is deficient or altered in the classic forms of MLS II and III as well as in the MLS II variant.
70
Onset of clinical signs and symptoms is later than in MLS II. The clinical course progresses more slowly, and survival into adulthood is possible.
71
,
72
Most patients have been Ashkenazi Jews. Children usually present at about 3 years of age with joint stiffness, coarse facial features, and short stature.
73
They have many of the features of Hurler syndrome but with a much slower clinical evolution and no mucopolysacchariduria. The arms and hands are involved most markedly, and carpal tunnel syndrome with wasting of the thenar eminence is common (
Fig. 9
). Aortic valve disease occurs in most cases. The pathology of MLS III is not well documented. Cultured fibroblasts have inclusion bodies similar to, but not as prominent as, MLS II cells.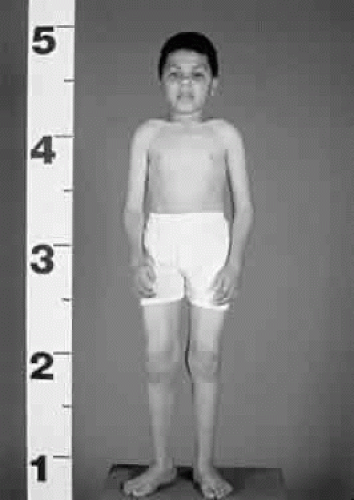 Fig. 9. Child with mucolipidosis III. Note mild coarse facial features and joint contractures, most prominent in the hands.
Nearly 50% of reported patients have some learning disability or mental retardation.
74
Life expectancy and the natural course of the illness beyond the third decade are unknown.
Corneal clouding (
Fig. 10
), hyperopic astigmatism, and a mild retinopathy with surface-wrinkling maculopathy (
Fig. 11
) appear to be the constant ocular triad.
75
Some patients have retinal vascular tortuosity, optic nerve head swelling (
Fig. 12
), visual field defects, and abnormalities in color vision. Visual complaints are uncommon.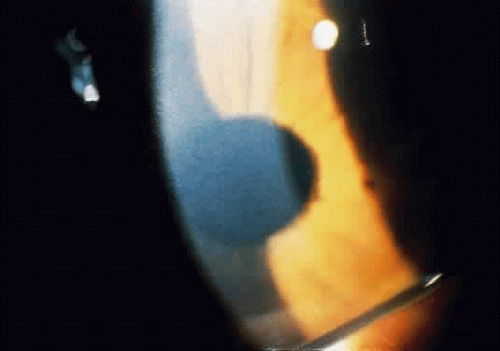 Fig. 10. Mild corneal clouding in a child with mucolipidosis III. (Traboulsi E, Maumenee I: Ophthalmologic findings in mucolipidosis III. Am J Ophthalmol 102:529, 1986)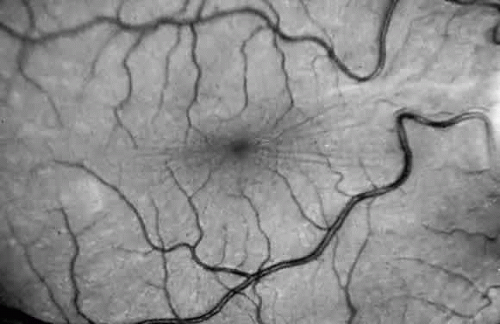 Fig. 11. Surface-wrinkling maculopathy in a patient with mucolipidosis III. (Traboulsi E, Maumenee I: Ophthalmologic findings in mucolipidosis III. Am J Ophthalmol 102:529, 1986)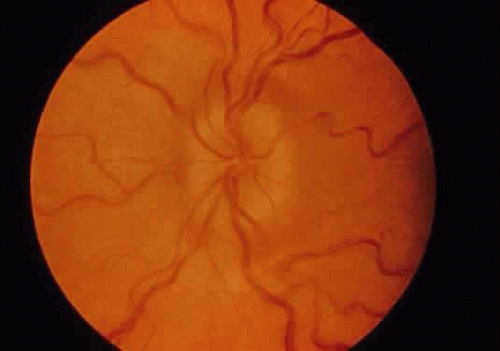 Fig. 12. Optic nerve head swelling in a patient with mucolipidosis III. (Traboulsi E, Maumenee I: Ophthalmologic findings in mucolipidosis III. Am J Ophthalmol 102:529, 1986)
Prenatal diagnosis by means of amniocentesis is possible. There is no specific or definitive treatment.
MUCOLIPIDOSIS IV (MLS IV) (BERMAN DISEASE)
Mucolipidosis IV was first described by Berman.
12
It is characterized by psychomotor retardation, lack of skeletal deformities and organomegaly, and variable ophthalmologic abnormalities in the form of corneal opacities and retinal degeneration. Patients have been described with onset of clinical findings from 1 year of age to the mid 20s. Life span and prognosis beyond this age remain to be determined. The disease is seen mainly among Ashkenazi Jews.
76
MLS IV differs from most other lysosomal storage disorders in the apparent lack of progression in some patients. In most, however, there is marked psychomotor and physical retardation. Biochemically, MLS IV is characterized by the accumulation of gangliosides,
77
phospholipids,
78
and acidic mucopolysaccharides.
79
Deficiency of ganglioside sialidase was reported as the possible metabolic defect causing this disorder, and partial reduction in activity of this enzyme was noted in obligate heterozygotes.
80
Conjunctival biopsy shows characteristic-intracellular inclusions.
81
There is progressive severe visual impairment from corneal opacification
12
,
82
and from progressive retinal degeneration.
83
,
84
The age of appearance and the extent and severity of the clinical course of these abnormalities are variable. The superficial corneal opacification is a characteristic feature of MLS IV and leads to the clinical diagnosis in most children. The opacities are not congenital in all patients, as suggested previously.
12
With time, the corneal opacities may increase in density, with poor fundus visualization leading to the erroneous diagnosis of cataracts in some patients. Epithelial edema also hasbeen noted. Corneal clearing may occur after epithelial removal, but clouding returns after a few days or weeks. A progressive rod-cone dystrophy is present with a subnormal or extinguished electroretinogram (ERG).
82
,
84
The static nature and, at times, improvement in the degree of corneal opacification in more than 50% of cases is characteristic of MLS IV. In other lysosomal storage disorders, corneal clouding and visual impairment are progressive. Deterioration of visual function in MLS IV correlates with retinal degeneration rather than with worsening of corneal opacities. Prenatal diagnosis is possible.
81
,
82
DISORDERS OF GLYCOPROTEIN DEGRADATION AND STRUCTURE
Glycoproteins are synthesized via two pathways: (1) the glycosyltransferase pathway that synthesizes oligosaccharides linked to serine or threonine and (2) the dolichol, lipid-linked pathway that synthesizes oligosaccharides linked to asparagine. Specific enzyme deficiencies cause individual glycoprotein storage diseases.
SCHINDLER DISEASE
Schindler disease is caused by deficient activity of the lysosomal hydrolase enzymes α-
N
-acetylgalactosaminidase and α-galactosidase B.
119
The gene has been localized to 22q13.1–q13.2.
120
The disease is clinically heterogeneous, and there are two major phenotypes. Only type 1 is described because of its ophthalmologic features.
In type 1 Schindler disease, there is infantile onset of severe neural degeneration and neuroaxonal dystrophy. The disorder originally was described in two German brothers who were the products of a consanguineous marriage.
119
,
121
Development is normal in the first 9 to 15 months of life. This is followed by rapid neural degeneration and by loss of developmental milestones, resulting in severe psychomotor retardation, myoclonic seizures, and cortical blindness. Limited information is available on pathologic and biochemical abnormalities because all known patients are still living.
Ophthalmologic findings include strabismus, optic atrophy, nystagmus, and eventually, cortical blindness. Neuroimaging studies demonstrate generalized atrophy of the brainstem, cerebellum, and cortex. Visual evoked potentials have low amplitude, delayed responses, or both.
121
,
122
Diagnosis of affected homozygote and heterozygote carriers can be made only by determination of α-
N
-acetylgalactosaminidase activity in various tissues. Prenatal diagnosis is possible. There is no specific treatment, and appropriate supportive care should be implemented as needed.
DISORDERS OF LIPID METABOLISM