Joanna L. Goulah
D. Virgil Alfaro III
Carlos E. Ortiz
INTRODUCTION
Ranibizumab is marketed as LUCENTIS (ranibizumab injection) and was approved by the U.S. Food and Drug Administration (FDA) in June 2006 for the treatment of neovascular (wet) age-related macular degeneration (AMD).
Ranibizumab has also received regulatory approval for the treatment of neovascular AMD in more than 100 countries worldwide. Ranibizumab binds to the receptor binding site of active forms of vascular endothelium growth factor-A (VEGF-A), including the biologically active, cleaved form of this molecule, VEGF110.
VEGF is a secreted homodimeric protein that is a potent vascular endothelial cell mitogen (
1
). VEGF stimulates vascular endothelial cell growth, functions as a survival factor for newly formed vessels, and induces vascular permeability. VEGF expression is up-regulated by hypoxia as well as by a number of other stimuli. Although other angiogenic factors have been identified, VEGF is perhaps the most potent and specific, with a well-defined role in normal and pathologic angiogenesis. Inappropriate overexpression of VEGF has been hypothesized as playing a key role in the growth of solid tumors and in vascular retinopathies such as AMD (
Fig. 17.1
).
VEGF-A has been shown to cause neovascularization and leakage in models of ocular angiogenesis and is thought to contribute to the progression of AMD. Inhibition of inappropriate VEGF activity is a so-called antiangiogenic approach to the treatment of these diseases. The binding of ranibizumab to VEGF-A prevents the interaction of VEGF-A with its receptors (VEGFR1 and VEGFR2) on the surface of endothelial cells, reducing endothelial cell proliferation, vascular leakage, and new blood vessel formation. Ranibizumab, an anti-human VEGF, affinity-matured Fab, has been developed by Genentech as a therapeutic agent for treating ocular vascular disease by intravitreal (ITV) injection.
RANIBIZUMAB
Drug Biochemistry and Formulation
Affinity-matured ranibizumab is produced by standard recombinant technology methods in an
Escherichia coli
expression vector and bacterial fermentation. Ranibizumab is not glycosylated and has a molecular mass of approximately 48,000 Da.
The lyophilized form of the drug is produced from a freeze-drying process. The solid cake seen in each vial consists of protein and the excipient components that are stabilizing agents for the protein. The lyophilized form of ranibizumab requires reconstitution with Sterile Water for Injection (SWI), USP. After reconstitution with SWI, the highly concentrated protein solution is further diluted with vehicle prior to ITV administration. This presentation was useful in early clinical dose-ranging studies and was used in early phase I/phase II studies.
The liquid formulation is the commercial form. This presentation provides excellent stability and eliminates the need for reconstitution and further dilution. Liquid ranibizumab is formulated as a sterile solution aseptically filled in a sterile, 2-mL glass vial. Each vial is designed to deliver 0.05 mL of 10 mg/mL of ranibizumab aqueous solution with 10 mM histidine HCI, 10% α,α-trehalose dehydrate, and 0.01% polysorbate 20 (pH 5.5). The vial contains no preservative
and is suitable for single use only. Vials should be protected from light. The liquid formulation was assayed for purity and identity as described for the lyophilized form. The assay for potency is a biologically relevant, cell-based assay in which the ability to inhibit VEGF-dependent growth in vitro with a cell line requiring VEGF for growth is quantified.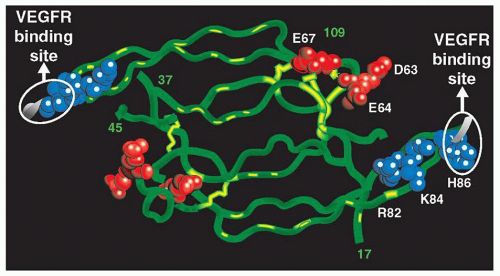 Figure 17.1
▪ Vascular endothelial growth factor (VEGF) is a homodimeric glycoprotein that is secreted in response to hypoxia and ischemia. VEGF induces angiogenesis and vascular permeability.
Arrows
show the binding site VEGFR. (Reprinted with permission from Quiroz-Mercado H, Kerrison JB, Alfaro DV, et al. Macular surgery, 2nd ed. Philadelphia, PA: Lippincott Williams & Wilkins; 2011.)
Get Clinical Tree app for offline access