James A. Davison
Guy Kleinmann
Yoel Greenwald
David J. Apple
This chapter describes the evolution, chemistry, and clinical characteristics of pseudophakic and phakic intraocular lenses (IOLs). Surgical strategies and complications are also discussed, as well as future trends. Cataract surgery, secondary lens implantation, IOL power calculation, and pediatric lens implantation are discussed in other chapters.
HISTORICAL OVERVIEW
The history of the IOL is interesting and colorful. It is a classic example of the improvement of medicine with the active cooperation of science and industry. It involves a reciprocating but overlapping evolutionary relationship of cataract removal technology with IOL design. Cataract surgery evolved through extracapsular cataract extraction (ECCE), intracapsular extraction (ICCE), machine-assisted ECCE, phacoemulsification by external nuclear attack, and phacoemulsification-assisted internal nuclear disassembly. For IOL fixation, the evolution has been posterior chamber, anterior chamber (AC), pupil and iris, iridocapsular, ciliary sulcus, asymmetric placement, and capsular bag. As with any evolutionary process, this has been and still is a leapfrogging phenomenon, so that at any one point in time several cataract surgery strategies and IOL implantation techniques can be considered good science and good medicine. The process continues as microincision phacoemulsification procedures gain sophistication in search of an IOL to be inserted through a sub–2.0-mm incision.
INTRAOCULAR LENS MATERIAL CHEMISTRY
Various materials have been used for IOL optics. Excluding glass, the materials used for IOL manufacture have been several types of plastics, also known as polymers. The name polymer is derived from Greek poly (many) and mer (unit). A polymer is a long chain structure, composed of many units. The properties of polymers are derived both from the units in the structure and the relation of the chains to each other.
Polymerization is the process by which the repeat units (the monomers) that form a polymer are linked by covalent bonds, which produces a stable bond between each pair of monomers. For example, the methyl methacrylate monomer is used for the manufacture of PMMA. PMMA (poly[methyl methacrylate]) is a rigid, linear acrylic polymer. When different monomers are polymerized together, the process is called copolymerization. Three-dimensional, flexible acrylic polymers can be created by using appropriate monomers and a cross-linker that connects polymer chains together. Each currently available foldable acrylic lens type is manufactured from a different acrylic copolymer, with different refractive index, glass transition temperature (above which the polymer exhibits flexible properties and below which it remains rigid), water content, mechanical properties, and so forth.
The polymeric materials currently used for the manufacture of IOL optics can be divided into two groups based on their flexibility: rigid versus flexible. Within the flexible group, the subgroups of materials are silicones, hydrophobic acrylics and hydrophilic acrylics (
Fig. 11-54
).
RIGID MATERIAL
The rigid material for IOL optic usage is PMMA. PMMA is a "glassy" material at room and body temperature because it is both rigid and brittle. It exhibits these glassy properties because of its structure: The individual polymer chains are inflexible, and the chains are tightly packed together. Foldability can occur above the glass transition temperature (about 105°C [221°F], but raising a PMMA lens to this temperature prior to and during implantation is not practical.
FLEXIBLE MATERIALS
Various different flexible polymers have been used for IOLs. They fall into three categories: silicones, hydrophobic acrylics, and hydrophilic acrylics (i.e., hydrogels). The flexibility of each of these materials is based on three factors in the polymer's structure: flexibility of the molecular chain, interchain flexibility, and flexibility as the result of the presence of other materials. The glass transition temperature for silicone optic materials is approximately -100°C, whereas those for hydrophobic acrylics are generally in the range of 5° to 15°C and 25°C for hydrophilic materials.
The three flexible material types constitute the basis of foldable IOLs implanted worldwide today.
Silicones
The first foldable IOLs were manufactured from silicon. Silicone polymers are any of a large class of polysiloxanes, which are very stable over a wide range of temperatures. They possess an alternating silicon–oxygen atom backbone with organic side groups attached to the silicon atoms. The first silicone material used in the manufacture of IOLs was poly(dimethylsiloxane) [PDMS], which has a refractive index of 1.41. This was termed first-generation silicone. Poly(dimethyldiphenylsiloxane) [PDMDPS] is the later, second-generation silicone IOL material in use today. It has a higher refractive index of 1.46, so IOL optics manufactured from it can be thinner.
Silicones derive their flexibility from both their chain structure, alternating silicone–oxygen bonds that create large bond angles allowing rotation about the silicon–oxygen bonds, and their intermolecular structure in which tight chain packing is not possible. Substitutional modifications along the chain silicon atoms can be made to modify overall material properties, most notably flexibility and refractive index. These are the only nonhydrocarbon polymers in general use and were developed primarily because of their ease of fabrication and thermal stability. They incite little inflammatory reaction and are used in scleral buckling implant materials, heart valves, shunts, and other surgical devices.
Major manufacturers of silicone materials include AMO (SI40 series and Clariflex); STAAR Surgical (AA4203); and Bausch & Lomb (SoFlex series).
Acrylics
"Acrylic" is actually defined as any compound that can be considered to be derived from acrylic acid. In general terms, it is used to apply to any type of plastic made from acrylic monomers. For example, the PMMA of Ridley's first implant was designated as an acrylic material.
With the introduction of the AcrySof IOL, the term acrylic was expanded to define a new type of foldable IOL optic material, one composed of acrylic monomers, and also to distinguish it from the other foldable material of the time, silicone. The two adjectives hydrophobic and hydrophilic are used to modify the term acrylic as it pertains to IOL chemistry. The modifying terms are used based on the, wet ability or more accurately, the contact angle measurement, of the material and the water content of the material.
Flexible Hydrophobic Acrylic Polymers
Flexible hydrophobic acrylic polymers are structurally similar to the rigid PMMA used for IOLs for many years. However, substitutional changes to the monomers used to fabricate the chains, the use of different units in a controlled composition, and control of the intrachain structure result in the desired flexibility of these acrylic materials. Hydrophobic acrylic lenses have very low water content, usually less than 2%.
Major manufacturers of hydrophobic acrylic materials include Alcon Laboratories (AcrySof), AMO (Sensar), and Hoya (AF Series; Hoya, Japan), but recently other manufactures also started to use hydrophobic material.
Flexible Hydrophilic Acrylic Polymers
Hydrophilic acrylic polymers contain hydrophilic monomers and water. These polymers have the ability to swell like a sponge in water and retain a significant amount of water in their structure while not dissolving because their polymer chains are cross-linked. Their equilibrium water content depends on their composition and dictates their bulk and surface properties.
The currently available hydrophilic acrylic lenses are manufactured from acrylic copolymers (contain two primary acrylic monomers) with water contents ranging from 18% to 38%. One exception is represented by a lens manufactured in Brazil (Acqua, Mediphacos, Belo Horizonte, MG, Brazil), which has a water content of 73.5%. This expandable lens, based on the concept of the full-sized lens,
67
,
68
is inserted in the dry state and attains its final dimension of the original crystalline lens within the capsular bag after hydration and expansion.
The hydrophilic lenses got off to a slow start in the United States because some of the early designs brought to the international market were poorly designed and fabricated and inadequately tested. Some of these designs had unanticipated surface and interior calcification. This has largely been eradicated by careful contemporary manufacture performed by established companies. Some lenses never had the problem of primary calcification of the material. For example, the acrylic polymer material used to fabricate the Rayner Center C-flex IOL (Rayner, London East Sussex, England) series has not produced any cases with this complication in almost 14,000,000 implantations over 50 years.
Five hydrophilic lenses have been available in the United States. The Bausch & Lomb Hydroview IOL (18% water); the Carl Zeiss Meditec MemoryLens (La Rochelle, France) (20% water); the Bausch & Lomb Akreos and the Rayner C-Flex (26% water); and the STAAR Surgical hydrophilic acrylic designs. The Collamer material (34% water), is essentially composed of 2-hydroxyethyl methacrylate (HEMA) monomer and porcine collagen.
The Rayner C-flex IOL (Rayner) (26% water) design is presently under Food and Drug Administration (FDA) investigation in the United States. Clinical and laboratory studies, as well as preliminary results of the FDA study, have shown excellent results with low rates of posterior capsule opacification (PCO).
Other major manufacturers of hydrophilic acrylics include Rayner Intraocular Lenses Ltd., Brighton Hove, East Sussex, England (C-Flex IOL, formerly Centerflex); Bausch & Lomb, Rochester, New York (Hydroview); STAAR Surgical (Collamer IOL); Ioltech (MemoryLens); and manufacturers of a wide variety of European lenses that are not available in the United States.
Light Filters
Two classes of UV-absorbing chromophores are used for the manufacture of pseudophakic IOLs: benzotriazoles and benzophenones. The UV cutoff for a particular chromophore is determined by the unique structural features it contains.
In 2003, IOLs that filter both UV and short wavelength visible violet and blue light were introduced in the United States (section on Light Normalizing Intraocular Lenses). A yellow chromophore is incorporated into the IOL optic to more accurately mimic the light transmission characteristics of the normal crystalline lens by partially blocking the transmission of presumably excessive amounts of short wavelength visible light.
Haptic Materials
Four materials are currently used for the manufacture of the haptic component (loops) of three-piece lenses: PMMA, polypropylene (Prolene), polyamide (Elastimide), and polyvinylidene fluoride (PVDF).
Material Summary
The following is a summary of some of these materials:





Polymer: a compound of high molecular weight derived from the addition of many small molecules (monomers) resulting in chain formation.






Elastomer: a material that returns to its original shape after folding.






Acrylic resin: any of a group of thermoplastic resins formed by polymerizing the esters of acrylic or methacrylic acid.






Acrylics: polymers incorporating methacrylic or acrylic esters, including PMMA, hydrogels, and other foldable high-water- and low-water-content materials (

Fig. 11-54

).






PMMA: poly(methylmethacrylate), a hydrophobic acrylic, with R

1

= CH

3

and R

2

= CH

3

(

Fig. 11-54

).






Acrylic IOLs are acrylic in nature, even though the term "acrylic IOL" has come to define a foldable IOL with an acrylic structure, such as the Alcon AcrySof series. Technically, acrylics are composed of methacrylate and acrylate co-monomers (2-phenylethyl acrylate and 2-phenylethyl methacrylate for the AcrySof material) (

Fig. 11-54

). The addition of the phenyl ring is key for producing a high refractive index of 1.55. Low-water-content acrylic IOLs like the AcrySof have a glass transition temperature of +12°C, which accounts for their slow folding at room temperature and faster unfolding at body temperature. The unfolding rate is considerably slower than that of silicone IOLs, which have lower glass transition temperatures and significantly different structure. Acrylic IOLs are hydrophobic, with a water content of less than 2%.






Hydrophilic acrylic (hydrogels): a family of polymers that swell in water and retain a significant amount of water in their hydrated structure without dissolving. These polymers of methacrylate esters mostly consist of a hydrophilic monomer with a hydroxyl functional group such as HEMA, or 6-hydroxyethyl methacrylate (HOHEXMA). The presence of this hydroxyl group is responsible for the material absorbing and retaining water. These materials may include a second hydrophobic co-monomer such as methyl methacrylate. The ratio of hydrophilic to hydrophobic co-monomer determines the water content of the hydrogel, and it may vary from 18% to 38%. Its formula is based on the acrylic polymer formula (

Fig. 11-54

), where R

1

is CH

3

and R

2

is CH

3

, CH

2

CH

2

OH, or (CH

2

)

6

OH. There are many other variations of hydrogel IOLs used outside the United States.






HEMA: 2-hydroxyethyl methacrylate (

Fig. 11-54

). The original IOGEL lens was composed of HEMA, called poly-HEMA, and is a hydrogel of high water content (38%). This hydrophilic material damages corneal endothelial cells to a lesser degree than PMMA on contact

69

and incites less giant cellular reaction on their surfaces.

70






HOHEXMA: 6-hydroxyhexyl methacrylate, combines with HEMA in the formation of the Hydroview IOL.






Hydroview: a hydrogel-type IOL made by Bausch & Lomb Surgical. It has a low-water-content hydrophilic optic of 18% and PMMA haptics. The optic contains HEMA, HOHEXMA, and 1, 6-hexanedioldimethacrylate (as a cross-linker) (

Fig. 11-54

).






Elastimide: a polyamide haptic structure used in three-piece silicone optic IOLs manufactured by STAAR Surgical; originally used by Lynell Optics to frame and provide a haptic for its glass implants.






Silicone: elastomer of silicon–oxygen chains containing organic side groups, such as methyl or phenyl (

Fig. 11-54

). Polysiloxane with two methyl groups per silicon atom forms polydimethylsiloxane, the first-generation silicone material. If the organic side groups are two phenyl structures, alternating with two methyl groups, then the second-generation silicone is created, poly(dimethyldiphenylsiloxane). The refractive index is 1.41 for the first generation (STAAR AA4203VF), which accounted for IOLs with relatively thick optics. Because of the addition of the phenyl groups, the refractive index of the thinner second-generation IOLs is 1.47 (AMO SI40). Silicone lenses have a glass transition temperature of approximately -100°C, making them very flexible at room temperature. They are hydrophobic in nature.






UV blockers: benzophenone and benzotriazole structures.






Collamer: Trademarked by STAAR Surgical, this hydrophilic hydrogel is composed of poly-HEMA, containing 34% water and 0.3% porcine collagen with a benzophenone UV blocker. The porcine tissue component was chosen to enhance biocompatibility. The collagen is not subject to biodegradation because of the high degree of material cross-linkage.
INTRAOCULAR LENS TYPES, CLINICAL CHARACTERISTICS, AND USE
Polymethylmethacrylate
Until 1997, PMMA was the preferred optic material for IOL manufacture. In 1998 foldable acrylic became the preferred optic material and the PMMA IOL was the second most popular choice (33%) for use in primary implantation.
46
As of 2003, PMMA was preferred by only 6% of the surgeons.
71
It is available in an almost infinite variety of haptic configurations. It is available as a one- or three-piece IOL with PMMA or polypropylene haptics usually available in a modified-C configuration. It is available in positive and negative optic powers and because of its hardness can be piggybacked without optical degradation, which may be encountered in foldable IOLs.
72
Optic sizes range from 5 to 7 mm. The 5-mm optic has been used by some surgeons in carefully crafted clear corneal incisions. A 5.5- to 6-mm optic is standard for those who want to place the IOL through a traditional superior corneoscleral incision. The usual overall haptic length of the IOL for intracapsular fixation is 12 to 13 mm. PMMA optics may be used for primary implantation in some very highly myopic patients and are even available in negative power.
73
These are available in larger 13.5- to 14-mm diameters and are good choices for ciliary sulcus-fixated secondary IOL implantation in very large eyes in which a sufficient posterior capsular structure still exists; when it does not, these larger lenses can be secured within the sulcus and fixated with sutures anchored internally to the iris or externally to the sclera.
Silicone
This IOL is commonly delivered through an injector device using viscoelastic and a disposable plastic cartridge. An incision size of 2.8 mm is necessary.
The plate haptic IOL is not recommended for placement in eyes that have anterior radial capsular defects because of its strong tendency for clinically significant decentration and dislocation in such situations.
An important modification of this design is the toric IOL. For this design to be effective, the lens should not rotate within the eye after implantation.
For the three-piece modified C-loop silicone IOL, available haptic materials include polypropylene, polyamide, PMMA, or PVDF in overall haptic diameters of 12.5 to 14.0 mm overall lengths. These 5.5- to 6.3-mm optic diameter lenses can also be delivered with an injector through a 3-mm incision or folded and placed with instruments through a 3.2-mm incision. Care must be taken with the haptics so they are not overly deformed or broken.
Acrylic
1998 was the first year that the low-water-content foldable AcrySof (Alcon Surgical, Fort Worth, TX) acrylic IOL became the first choice (42%) among American surgeons,
48
and it was increased to 69% by 2003.
71
The popularity of foldable acrylics (high and low water content) had increased in 2009.
66
Acrylic IOLs provide all the advantages of foldable optics with none of the problems associated with silicone. Optically, they have all the attributes of PMMA. They can be placed with folder instruments or through injectors. Because of the material, capsular contact with it, and squared posterior optic edge, capsular opacification and capsule contraction are generally reduced, compared with PMMA and silicone optics. The substantial advantage of this IOL is the reduction in the epithelial inflammatory consequences of capsular opacification and contraction. It is quite usual for the AcrySof models to demonstrate glistenings, which are condensed water droplets visible in the AcrySof hydrophobic optic.
Hydrophobic Acrylic IOLs
As of 2009, the hydrophobic acrylic IOLs available to U.S. surgeons were the AcrySof (Alcon Surgical) and the Sensar AR40 and AR40E (AMO Surgical). What about the hydrophobic Tecnis? What about the Hoya IOL? They received the FDA approval in 2008—they are not selling in the US?
Introduced in 1995, the AcrySof IOL is manufactured from hydrophobic acrylic materials with cross-linked polymers or copolymers of acrylic esters and is less than 1% water. It is available as a three-piece in 5.5-, 6-, and 6.5-mm optics with bonded PMMA modified-C haptics in overall lengths of 12.5 and 13.0 mm (the MA series: 30, 60, and 50), and as a single-piece lens (the SA and SN series). All IOLs feature a nonreflective surface of the optic edge. This treatment is applied to the haptics in the single-piece design as well. There is a 5.50-D base curve on the posterior surface, with the remaining refractive power applied to the anterior surface.
Alcon has incorporated two additional features as combined options into its AcrySof platform: a light-normalizing blue blocker (SN) and the posterior aspheric surface (WF). The AcrySof single-piece toric IOLs were approved by the FDA in 2005. The AcrySof IQ Toric (aspheric and toric IOL) was approved by the FDA in March 2009. The FDA approved the diffractive-refractive pseudoaccommodative IOL (ReSTOR D3), and the D1 model with lower add and aspheric features became available. Both multifocal IOLs are available in three-piece and single-piece designs.
In the initial models, the high-index plastic and squared edge combined to cause an increased incidence of unwanted photic phenomenon, such as glare, rays, and temporal dark shadows (dysphotopsia) in a few patients. The glare and rays have almost been eliminated after Alcon engineers placed the power curve on the anterior optic surface and made the optic edge thinner and nonreflective (frosted square edge). The incidence of temporal shadows or temporal obscurations of vision do not seem to have been influenced as much by those design modifications. It was hypothesized that the corneal edema associated with a beveled temporal incision contributes to this transient negative dysphotopsia.
79
In 2000, the FDA approved the second foldable acrylic IOL, the Sensar AR40 (AMO Surgical) three-piece foldable IOL. This IOL featured a round edge optic. The edge was modified (AR40e) incorporating a PCO inhibiting posterior square edge and a compound rounded middle and anterior edge design to reduce the incidence of light reflections. On October 2007 AMO received the FDA approval for the Hydrophobic Tecnis IOL.
Another Hydrophobic IOL that received the FDA approval on September 2008 is the Hoya Spheric Model YA-60BB Intraocular Lens.
Hydrophilic Acrylic IOLs
For the last three decades IOLs fabricated from hydrophilic materials have occupied a back seat to silicone and hydrophobic acrylic because of technical complexities, varying degrees of bioincompatibility, and several cases in which the whitish discoloration on the optic surface or within the optical component occurred and required explanation. It is now known that these problems occurred only in poorly fabricated designs. Well-manufactured IOLs, for example, the series of Rayner IOLs, properly manufactured with their Rayacryl material, have not had that problem. More than four million of these lenses have been implanted over the past 10 years without a report of primary calcification that had given this category of lenses a poor reputation.
The high-water-content acrylic hydrogels are the descendants of the 38% high-water-content IOGEL composed of HEMA, which was not approved by the U.S. FDA (circa 1992) because of its tendency for intravitreal dislocation after YAG laser capsulotomy. It should be emphasized that the demise of this IOL and some others in this era was not because of lack of biocompatibility, but rather design problems that precluded good fixation of the IOL.
Hydrophilic acrylic IOLs are packed in fluid (wet packed). They are packed in a vial containing distilled water or balanced salt solutions; thus they are already in the hydrated state in their final dimensions within the container. These lenses are flexible, enabling the surgeon to fold and insert/inject the lens through small incisions.
The Bausch & Lomb Hydroview entered the international market in 1995. It was the first hydrophilic acrylic IOL to be approved by the U.S. FDA. However, in May 1999, the manufacturer first received reports about clouding of a small number of Hydroview IOLs. Analysis performed at Dr. Apple's laboratory revealed that the optical surfaces of the IOLs were covered almost completely by a layer of granular deposits on both anterior and posterior surfaces. The granules noticed on the optical surfaces stained positive with several calcium stains (1% Alizarin red, von-Kossa) (
Fig. 11-56
). Surface chemistry studies performed by Bausch & Lomb identified the lens deposits as a layered mixture of calcium phosphate, fatty acids, salts, and small amounts of silicone. This model, according to the manufacturer, revealed a migration of silicone from the gasket in the lens packaging onto the surface of the IOL. The models also indicated a possibility that in addition to silicone, fatty acids needed to be present to attract calcium ions to the lens surface. A compromised blood-retinal barrier also seemed to be associated with the appearance of calcified deposits. Therefore, fatty acids and silicone, perhaps in association with a metabolic disease in the affected patient, could result in the calcification.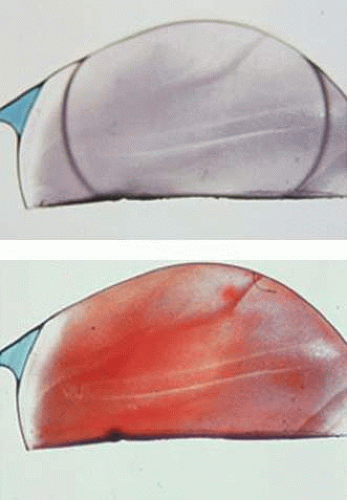 Figure 11-56. Hydroview IOL.
A.
Extensive surface calcification.
B.
Calcification shown by positive staining with alizarin red.
In May 2001, on the basis of this evidence, the manufacturer changed the packaging of the Hydroview. The new packaging retained the ease of use of the previous SureFold components, but it was sealed with a gasket made from a perfluoroelastomer. The company states that calcification has not been reported in any of these IOLs. (I am not sure that it is still available; in the website of B&L, I could not find the IOL.) There were more opacification cases in England after the company had changed the gasket
80
The MemoryLens by Carl Zeiss Meditec (formerly Ioltech, formerly by Ciba Vision, Duluth, GA) was introduced in 1989. The thermoplastic properties of the IOL are unique. The polymer used for the manufacture of the optic of this lens contains 59% HEMA, 16% methyl methacrylate, 4% 4-methacryloxy 2-hydroxy benzophenone UV absorber, and 1% ethylene glycol dimethacrylate. The haptics are made of polypropylene (Prolene). The lens is prefolded and remains glassy and stiff at room temperature. The prefolded MemoryLens can be implanted directly from the container without any requirement of folding instruments. The container with the lens is kept at a temperature of 8°C. After intraocular insertion, and under the influence of body temperature, the lens unfolds slowly (∼15 minutes) providing an atraumatic and controlled implantation.
Reports on granular deposits on the optical surface component of the MemoryLens led Ciba Vision to voluntarily withdraw the lens from the market in April 2000. Analyses performed in Dr. Apple's laboratory on some of those lenses demonstrated that the deposits were in part composed of calcium/phosphate. Analyses performed by the manufacturer revealed that a biofilm, composed of different proteins, in addition to calcium/phosphate, was covering the optic surfaces of the affected lenses. The company modified their tumbling process used in lens polishing, thus changing the surface characteristics of the lens in the hope of avoiding the unwanted biofilm. No new cases of this problem have been reported with this new lens design. After identifying and correcting the problem, the manufacturer received approval from both the U.S. FDA and the European regulatory authorities to return the lens to the market. Ciba Vision re-released the MemoryLens as model CV232. This maintains the same basic characteristics of the previous models, but in addition has an incorporated square posterior optic edge for PCO prevention. The CV232 model allows surgeons to place this IOL through a 3.2-mm incision. In 2005, few cases of cleft, cavitation, or schisis of the IOL were identified by Dr Apple's laboratory, the speculated mechanism leading to include a variation in the polymer and/or tighter rolling of the IOL after its relaunch than in the earlier version, in which no such occurrence was observed. During the folding process, the pressure applied to the IOL causes the anterior portion of the IOL to expand laterally while the posterior portion of the IOL compresses centrally. This may result in opposing forces inside the IOL, especially at the central portion, which can lead to movement of the anterior and posterior portions of the IOL in opposite directions. Changes in the manufacturing process of the IOL may result in an IOL material that is not cohesive enough to withstand these conflicting forces. This may result in an internal crack or cleft in the IOL, such as observed in Dr Apple's laboratory. In a later stage, after implantation, this cavity may fill with aqueous humor.
81
,
82
The STAAR Surgical Collamer IOL (CC4204BF) is a plate haptic, single-piece foldable lens manufactured from a collamer material. The overall length of the IOL is 10.8 mm (11.2 mm corner to diagonal corner) with an optic diameter of 6.0 mm. The haptic design has two 0.9-mm fenestrations to facilitate capsular fixation. These fenestrations are smaller than those of 1.15 mm incorporated into STAAR's silicone plate haptic IOL.
This acrylic IOL is composed of a hydrophilic collagen polymer (copolymer of 63% hydroxyl-ethyl-methyl-acrylate, 0.3% porcine collagen, and 3.4% of a benzophenone for UV absorption), with a water content of 34%, a light transmission of 99%, and a refractive index of 1.45 at 35°C. It is also available as a three-piece model with a square posterior optic edge (CQ2015A).
The Rayner C-flex, formerly Centerflex (Rayner Intraocular Lenses Ltd.), is a single-piece, hydrophilic acrylic IOL, which began FDA trials in the United States in 2004 and gained U.S. FDA approval in may 2007. Studies in Dr. Apple's laboratory have confirmed that this IOL and its basic polymer material have not been associated with the opacification/calcification and decentration problems seen with the previously mentioned IOLs, as well as the others that unfortunately have, until now, given this category of material a bad name. The C-flex lens has extended closed loops or haptics that render a general configuration of standard one-piece modified C-loop IOL designs. This type of platform helps provide stability of the lens optic in all three axes, an advantage that should be useful as new refractive or other specialized elements are added to this basic lens. The optic size of this lens is 5.75 mm with an overall diameter of 12.00 mm. The lens is made of a copolymer of hydrophilic and hydrophobic methacrylates with a water content of 26%, namely, HEMA and methyl methacrylate. Its material incorporates a benzophenone UV-absorbing agent, and it is inserted into the eye by means of a disposable cartridge-injector system (
Fig. 11-57
).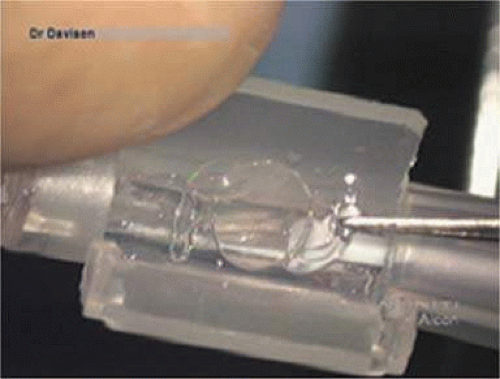 Figure 11-57. The Rayner C-flex 570 lens is placed in a disposable cartridge, which has been coated with Viscoat. The cartridge door is being held open with J.A.D.'s finger and will be closed once the IOL is seated within. The cartridge is part of a completely disposable single-use injector system.
The original Centerflex model had a square edge around most of the optic edge, but the optic edge remained continuous with the haptics, and therefore, it was rounded and continuous where the haptics attached to the optic (
Fig. 11-58
). Dr. Michael Ammon (Vienna, Austria), in observations of clinical cases, and Dr. David J. Apple, in observations of pathologic specimens, postulated that the optic-haptic junction might represent a structural vulnerability for epithelial cell invasion, or as termed by Dr. Apple, an Achilles heel, in which the lack of the 360-degree square optic edge may inhibit the IOLs ability to block ingrowth of lens epithelial cells (LECs) over the visual axis.
83
Both of these authors have furthermore postulated that the continuation of the square edge in the region of the optic-haptic junction would provide a complete 360-degree physical barricade against invading epithelial cells that cause PCO.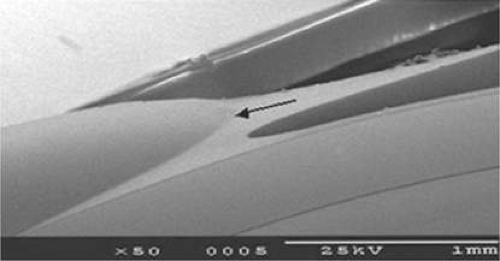 Figure 11-58. Scanning EM of Rayner Centerflex IOL shows a smooth physical transition from haptic to optic.
In rabbit studies completed at Dr. Apple's laboratory, it was noted that the subsequently improved model 570C featuring a discontinuous enhanced edge provided the best barrier effect against cell migration/proliferation and PCO formation.
65
Analyses of the scanning electron photomicrographs demonstrate this model's complete ridge or enhanced edge extending for 360 degrees around the lens optic (
Fig. 11-59
). It is this enhanced-edge model 570C that underwent FDA trial. Another advantage of the C-flex IOL is its ability to serve as a drug delivery system for the fourth-generation fluoroquinolones after presoaking the IOL in the antibiotic solution.
84
,
85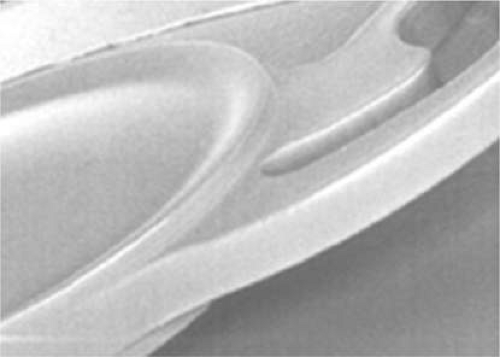 Figure 11-59. The scanning electron micrograph of a Rayner C-flex model 570 IOL demonstrates the raised square edge of the optic at the optic haptic junction. The optic is equiconvex with raised edges on both the anterior and posterior surfaces. There is a slight concavity central to the edge, but the posterior capsule applies itself to the concavity in continuous fashion without leaving a space.
Another hydrophilic IOL, the Bausch & Lomb Akreos Adapt is a one-piece lens, with four fixation points, made of the unique Akreos hydrophilic acrylic material. The biocompatible lens material has a long-term safety record, with more than 2 million implants since 1998. Akreos Adapt is implanted with its single use Hydroport injector (PS27) for a 3.2-mm standard injection.
Faulty hydrophilic designs have been largely weeded from the market, and more recent experiences such as noted with the Rayner design have altered negative attitudes about this category.
PSEUDOPHAKIC INTRAOCULAR LENSES WITH SPECIAL FEATURES
LOW/HIGH DIOPTER INTRAOCULAR LENSES
Many companies today have low and high power IOLs. The STAAR IOL is good as a piggyback. Another good option is the Rayner Sulcoflex.
STAAR Surgical created low dioptric power IOLs with an overall optic diameter of 6.3 mm and overall length of 14.0 mm of 10-degree angled polyamide modified C-loop haptics (model AQ501OV). Powers available are +1.0 to +4 D in a convex/plano optic, 0 D in a plano/plano optic, and -1 to -4D in a plano/concave optic. These can be used primarily in the capsular bag or in the ciliary sulcus as a piggyback IOL in situations in which IOL power calculation results have resulted in residual postoperative refractive error. Its diameter and edge characteristics have made it the lens of choice for piggyback sulcus placement in cases of negative pseudophakic dysphotopsia.
86
They also have been used to physically push back the Crystalens optic if the optic or haptic became involved in asymmetric anterior capsular fibrosis and the fibrosis had to be physically disrupted as a secondary procedure.
Similar products are available from other manufacturers, for example, the AMO DL60 L with a positive dioptric power range from 1 to 5 D and the DL60 N with a minus dioptric power range from -10 to -1 D. Both of these are 13-mm overall length one-piece PMMAs. The Alcon AcrySof Expand Series MA60 MA is available with a diopter range from +5.0 to -5.0 in whole diopter steps and 13.0-mm overall length. The Bausch & Lomb P574UV and BVR165XL are available in -18 D to +3 D in whole diopter steps. Models P359UV and P389UV are available in plano to +45 D in half-diopter steps. These are all single-piece PMMA lenses of 13.0 mm overall length. The three-piece silicone LI61 AO is available in positive dioptric powers of 0 to 4.0 D in whole diopters and 5.0 to 30.0 D in 0.5 diopters.
Light-Normalizing Intraocular Lenses
Background
Questions about the accuracy of color vision perception and the quality of vision in photopic, mesopic, or scotopic circumstances seem to have been raised for three reasons.
AcrySof Natural
This study of the AcrySof Natural SN30AL was carried out, presented, and accepted by the U.S. FDA as part of the process to gain premarket approval.
169
Study results showed no significant differences in performance between SN30AL and SA30AL models with regard to visual acuity, contrast sensitivity, or color perception as measured by the Farnsworth-Munsell D-15 test. The material has passed all requisite biologic testing for degradation, leaching, mutagenesis, and carcinogenesis. This IOL was approved for commercial use in the United States by the FDA in 2003. Since then, more millions of cases have been performed with only one report of IOL exchange because of color vision misperception with the Natural IOL.
170
Contrast sensitivity and color discrimination with the Farnsworth-Munsell 100-Hue test have been confirmed comparing AcrySof Natural versus nontinted AcrySof SA60AT.
124
It has also been corroborated that the AcrySof Natural does not increase anterior chamber inflammation.
171
As an aside, in J.A.D.'s clinical experience, color misperception after cataract surgery has been rarely observed in people in whom we thought might have the potential for ultrafine color perception (i.e., artists and engineers). Sometimes after surgery with conventional UVR-filtering IOLs, a rare number of those patients had difficulty with color-matching components of their wardrobes or work materials. They would report that things had a greater blue tint than they had before surgery. Likewise, in 200 cases of implanting a conventional IOL in one eye and an AcrySof Natural in the other (a unique situation that occurred during the introduction period of the Natural in which patients' first eyes were implanted with a conventional IOL and their second with the pigmented version), J.A.D. has seen only two patients who noticed that colors seemed "whitish blue" with the conventional IOL versus "skin toned" with the AcrySof Natural IOL. Neither perception was favored, nor was the combination bothersome to those patients.
169
Toric Intraocular Lenses: 2010
With corneoscleral incisions of old, there was almost always some eventual against-the-rule astigmatism induced over the long term, this despite suture patterns that created some with-the-rule astigmatism immediately after surgery. These variations would have made the use of modern toric IOL technology unreliable. Now with modern toric IOLs available, the use of three-piece IOLs, which tend to rotate more than currently engineered toric IOLs,
175
it has been estimated that 15% to 20% of cataract patients have more than 1.5 D of pre-existing keratometric astigmatism and could use the technology to reduce their postoperative refractive cylinder.
176
Two styles of toric intraocular lenses are available in the United States, and they can both be used with ease correcting appropriate amounts of anticipated postoperative refractive cylinder. Whereas the patient candidacy requirements are stringent for multifocal IOLs, i.e., no significant imperfections in the visual system or ocular anatomy, there are very few restrictions for use of toric IOL technology. Since toric IOLs work best for correcting regular keratometric astigmatism in eyes with normal ocular surfaces, they have even been used in refractive lens exchage.
177
They can also help improve refractive cylinder requirements in irregular astigmatism and in cases of form fruste keratoconus
178
and pellucid marginal degeneration.
179
Care must be taken to discover lid lesions or characteristics that may induce keratometric astigmatism and to make sure that astigmatism analysis is true and consistent in patients with corneal anterior basement dystrophy. There are various methods for alignment of toric IOLs,
180
but a basic routine involves making a small mark with a pen at the 6 o'clock corneal limbus with the patient seated so as to avoid the occasional cyclotorsion effects of recumbency, marking the desired orientation of the toric IOL, and then achieving that orientation after all viscoelastic has been removed and normal intraocular pressure has been restored. Although correct placement is relatively easy, there are multiple assumptions that need to be made prior to surgery to get a good optical result.
It is probable that even the 1.8-mm incisions that have been enlarged for IOL insertion from the 1.0-mm incisions created during bimanual microincision cataract surgery (MICS) have some minimal astigmatic effect,
181
but certainly the keratometric consequences of the 2.2- to 3.0-mm micro-coaxial cataract surgery incisions need to be included in the surgeon's plan for each patient. Monarch cartridges have evolved so that they are now available in sizes to go through 3.0-mm 2.8-mm, and 2.4-mm incisions (
Fig. 11-63
). Called the incision-assisted insertion, the AcrySof IOL can be inserted through a 2.2-mm incision with the D cartridge pressed against but not through it. Some surgeons believe that these small incisions induce no consistent astigmatism, but Masket et al have shown that a 2.2-mm clear corneal incision induces an average 0.35 D of surgically induced keratometric flattening and a 3.0-mm incision induces 0.67 D.
182
Surgeons may get some idea of their own characteristic incision-induced astigmatism after entering preoperative and postoperative data from a minimum of 10 cases courtesy of a free program on line provided by Warren Hill, M.D. (
www.doctor-hill.com
, accessed August 4, 2010)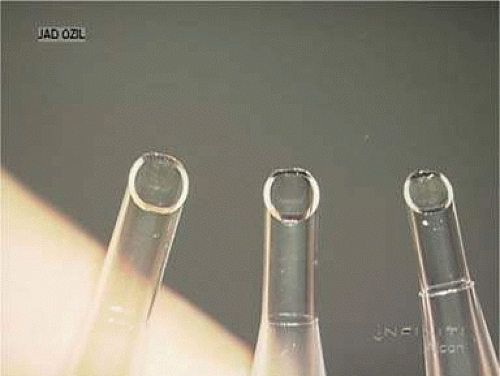 Figure 11-63. The Alcon Monarch injector cartridges have been remodeled with the major changes being the reduction in distal size to accommodate smaller incisions: Model B, 3.0 mm; Model C, 2.8 mm; and Model D, 2.4 mm.
The astigmatism-changing power of incisions can be seen when examining the consequences of creating a pair of incisions across the steep axis. They can have a magnitude of astigmatism-correcting effect similar to that of toric IOLs.
183
In that study paired clear corneal incisions of 2.75 and 3.0 mm lengths (one used for surgery and the other just created for astigmatic effect) were created across the steep keratometric axis. AcrySof toric IOLs were compared to incision effect. In the toric IOL group, 95% of eyes achieved 20/40 or better uncorrected visual acuity (UCVA) and 70%, 20/25 or better with an average cylinder reduction of 1.75 D. In the paired incision group, 80% of eyes achieved 20/40 or better UCVA and 50%, 20/25 or better with an average cylinder reduction of 1.61 D.
There are other methods available today for correcting corneal astigmatism such as corneal or limbal relaxing incisions and excimer laser surgery. However, even though limbal relaxation incisions are accurate in some hands,
184
astigmatic keratotomy is limited in its range and may be somewhat less predictable
185
and excimer surgery can be expensive and is contraindicated in abnormal corneas.
The toric IOL is a potentially predictable and safe way to neutralize preoperative corneal astigmatism. Proper patient rotation selection and preoperative evaluation, as well as accurate implantation with an IOL that will present stability, are important in attaining the best possible results.
It is important to briefly mention some of the contraindications to the toric IOL. These include irregular corneal astigmatism, suspicion of zonular instability, and use of surgical techniques with unpredictable effects on postoperative astigmatism such as ECCE.
According to the 2009 Market Scope Survey of Cataract Surgeons, slightly more than 40% of surgeons reported making no attempt to surgically correct astigmatism. Toric IOLs were used by about a quarter of the surgeons who responded to this survey.
Preoperative Evaluation
It is critically important for the surgeon to develop an efficient routine to effectively evaluate patients' candidacy for astigmatic correction—to develop the plan and then execute the plan. A disciplined routine of obtaining, evaluating, analyzing, and calculating preoperative and postoperative measurements needs to be established and followed. Hard or soft toric contact lenses should be removed for at least 3 weeks and soft at least 1 week before evaluations can occur. Testing should include manual and automated refraction, lensometry of current glasses, IOL Master (Carl Zeiss Meditec, Inc., Dublin, CA) axial lengths and keratometry length measurement, manual and automated keratometry, and computerized videokeratography. All test results should be in basic agreement or re-analysis and re-testing will need to be accomplished. Special care should be used in evaluation of the corneal surface and corneal videokeratography (CVK) images. Patients with corneal anterior basement membrane (ABM) dystrophy may exhibit some improvement in vision with various amounts of cylinder, but these refractions can change depending on the state of the ABM dystrophy (
Fig. 11-64
).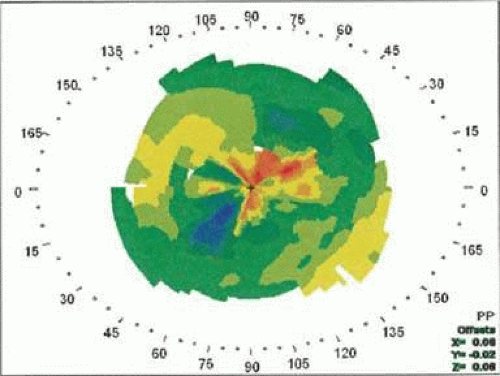 Figure 11-64. CVK software demonstrates more than 3.0 D of keratometric astigmatism, but it is irregular and will change over time and require differing amounts of cylinder to achieve best corrected visual acuity. (Courtesy J.A.D.)
It must be remembered that all measurements, even the very reliable and repeatable ones obtained from sophisticated machines like the IOLMaster,
186
are subject to the device's inherent limits of absolute accuracy; the numbers used for calculations should be thought of as the mean numbers that could be obtained from the device. Then it must also be remembered that the devices are being operated by humans, usually in a private practice setting, who have varying levels of training and abilities. This human factor also introduces a compounding range of accuracy for each number obtained from each device. There then must be a consideration for the cumulative error that can occur in an individual patient because of the results of theoretically derived formulae, calculations, rounding of the IOL power selection up or down to the nearest 0.5-D availability, axis marking, actual individual surgery incision location and effects, IOL placement accuracy, and actual IOL (A-P) final placement versus anticipated effective lens position, and rotational stability, all subject to a similar range of means and standard deviations. For each individual case, if the numbers are average, then we should get results that are average, which would be good clinical results. If some numbers come from one side of an extreme and others from the other side, then the results can still be average and good clinically. But if a preponderance of data and calculation errors come from one side of the extreme, the cumulative effect of the errors can combine to provide an extreme result from that side, viz, a result that is not average and does not seem to be clinically correct for spherical equivalent or cylinder. Small variations in individual ingredient performances can produce relatively large final result variations. The effects of cyclotorsion are somewhat variable,
187
but perhaps most important, theoretical estimations have shown that approximately 1 degree of off-axis rotation can result in a loss of up to 3.3% of the IOL's cylinder power, so a 10-degree variation from perfect can result in a 33% loss of effect.
188
After all of these considerations, it seems like somewhat of an intellectual contradiction to depend on a marking pen dot at the 6 o'clock limbus that may be 5 degrees wide even if perfectly applied.
A clinical case example is the left eye of a 70-year-old male operated by J.A.D. who had a preoperative manifest refraction of -3.00 × 086 degrees, keratometry 43.27 × 43.89 at 116. We had populated the Alcon Toric IOL calculator with an incision location of 10 degrees and a surgically induced astigmatism incision factor of 0.32 D. With that input, the calculator predicted that a T3 toric IOL placed at 111 degrees would leave a refractive cylinder residual of 0.12 D at 021 degrees. However, the patient's final refraction was + 0.75 to 1.25 × 085 for 20/20. He expected to see well without glasses but did not, and he was unhappy with his investment in the toric IOL option, which should have delivered better uncorrected distance vision. He was presented with options, and he selected a refund of his upgrade fee and was happy just to wear the glasses that he had already purchased.
This second example demonstrates the difficulty in the possible effective use of an IOL, which might correct 0.50 to 0.75 D of astigmatism. There would be a lot of prospective patients, since J.A.D.'s current use distribution of AcrySof toric IOLs is 50% T3, 25% T4, and 25% T5. But, the currently available measurement and formula validities and accuracies might not provide enough reliability to deliver good results to each individual patient with that small amount of preoperative keratometric astigmatism.
Surgical Technique
There are various methods to align the toric IOLs. Some are complex photographic iris anatomy registration techniques
180
,
189
and some involve limbal marking at the slitlamp. Carefully applied slitlamp markings have been found to have similar accuracy to photographic iris registration.
190
One more basic routine involves making a small mark with a pen at the 6 o'clock corneal limbus (3 and 9 o'clock marks are also popular) with the patient seated (but not using a slitlamp) so as to avoid the occasional cyclotorsion effects of recumbency, and marking the desired orientation of the toric IOL (
Figs. 11-65
–
11-70
). Another way to have a long-lasting mark is by creating a small scratch of the corneal epithelium on the periphery of the cornea. During IOL insertion, the IOL is rotated to a position about 20 degrees short of its final desired axis position. It is important to remove all viscoelastic in front of and behind the IOL before final positioning because even a small amount of residual viscoelastic may create postoperative rotation in larger eyes and even the process of removal of viscoelastic can change final IOL orientation.
191
It is important to have seated the IOL haptics and optic so that they are in a neutral position. The aim of the surgeon is to align the mark on the IOL with the desired axis mark on the cornea that was prepared by the surgeon at the beginning of the surgery (based on the orientation mark that was made while the patient was sitting). The AcrySof toric IOL may even be used without problem in cases where an anterior radial capsular tear has occurred during surgery. The 0.4-mm square haptics are long enough so that they can bridge an anterior radial tear, which extends to the capsular bag equator and will also provide enough friction so that the IOL will not rotate after placement (
Fig. 11-71
). Although correct placement is relatively easy, there are multiple assumptions that need to be made prior to surgery to end up with a good optical result.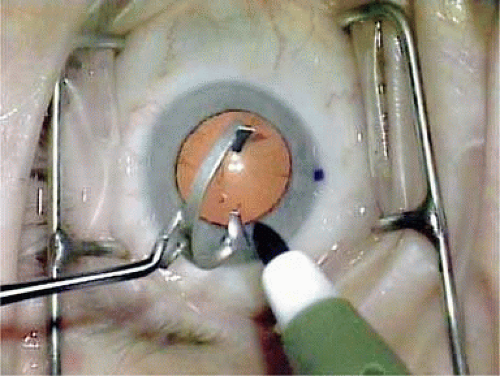 Figure 11-65. The six o'clock limbal mark made by pen with the patient in the seated position is seen to the right while the marking pen inks the axis markers. (Courtesy J.A.D.)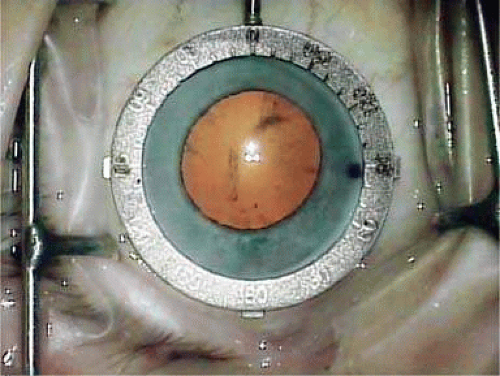 Figure 11-66. The axis identification ring is aligned with the 6 o'clock mark and placed on the conjunctiva so that the pupil and limbus are centered. (Courtesy J.A.D.)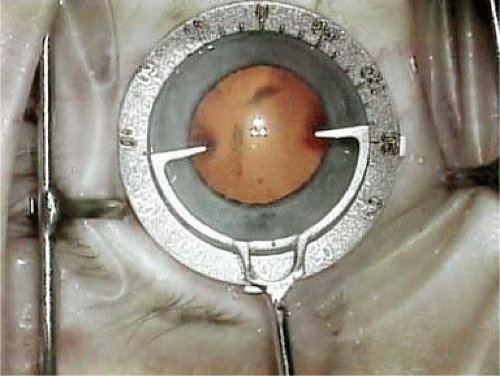 Figure 11-67. The inked axis marker has been oriented at 100 degrees, placed within the ring marker with that axis orientation, and pressed against the corneal surface. Courtesy J.A.D.)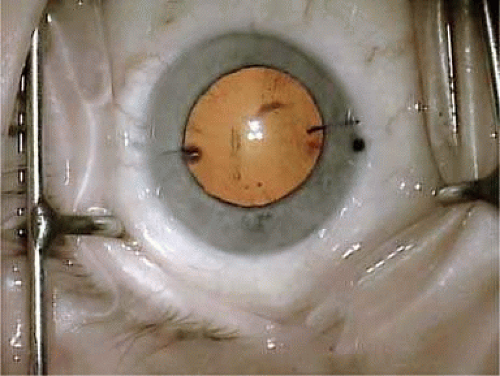 Figure 11-68. The inked axis marker has left its imprint on the cornea at 100 degrees. (Courtesy J.A.D.)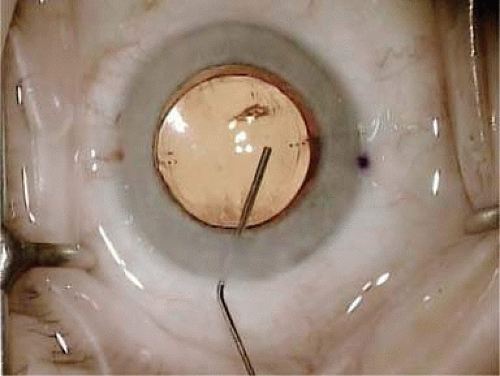 Figure 11-69. With Provisc still in the anterior chamber, the toric IOL was rotated with the irrigation/aspiration (I/A) tip clockwise to 20 degrees from the 100 degree mark. The viscoelastic was aspirated and replaced by balanced salt solution (BSS). Then the 30-gauge canula gently has adjusted the optic to its final position by gentle friction on the peripheral optic. (Courtesy J.A.D.)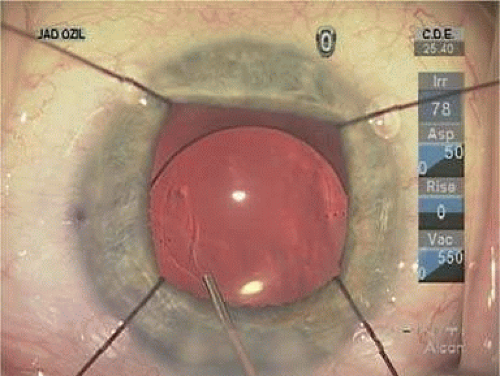 Figure 11-70. With iris retractors in place, final toric IOL orientation can be accomplished with iris retractors still in place after the exchange of Provisc for BSS with the I/A tip. The retractors may then be removed. (Courtesy J.A.D.)
Available Toric IOL Models
In the United States, only two models, the STAAR and AcrySof IOLs, are available. The other models mentioned in the following paragraphs are available in Europe and elsewhere.
STAAR Toric Lenses
The classic STAAR Surgical silicone posterior chamber plate-style IOL was modified to create an optic with toric capability (
Fig. 72
). Examples are models AA-4203TF (10.8 mm length) and AA-4203TL (11.2 mm length) approved by the FDA in 1998. STAAR's single-piece plate design includes a silicone lens, with a biconvex optic, 1.15-mm fixation fenestrations, and textured haptics, designed to be implanted within the capsular bag. The cylindrical powers of the IOLs are of 2 and 3.5 D in the long axis of the lens.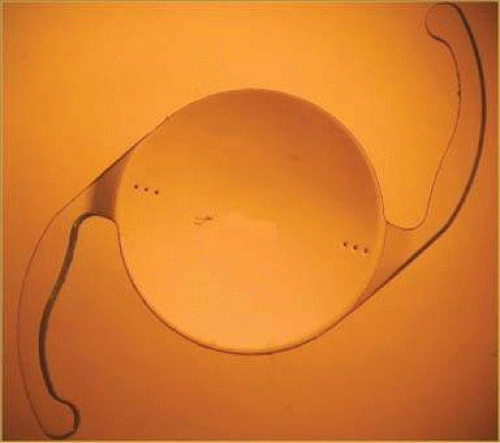 Figure 11-72. STAAR toric silicone IOL axis is marked with two lines to approximate its position under the steep keratometric meridian. (Courtesy STAAR Surgical.)
The initial 10.8-mm-long version of that IOL (AA4203 TF) in the 1998 FDA study had a reported overall postoperative wrong orientation of greater than 20 degrees in 12% of cases.
192
Performance of that style lens was improved by lengthening it to 11.2 mm in 1999 (AA4203 TL). David Chang,
193
M.D., reported a surgical reorientation rate with that longer lens of 2.5% in his series in which alignment in 4% of cases were greater than 15 degrees off target alignment.
AcrySof Toric Intraocular Lens
Residual refractive cylinder values were statistically significantly lower among those subjects implanted with either an AcrySof Toric Model SA60T3, SA60T4, or SA60T5 IOL when compared to the corresponding subjects implanted with the control Model SA60AT: 62.4%, 54.8%, and 67.8% mean reduction in refractive cylinder from the preoperative visit (keratometric cylinder) of SA60T3, SA60T4, or SA60T5, respectively, versus 10.8%, 22.1%, and 27.7% of SA60AT. Each of the AcrySof Toric Lens Models SA60T3, SA60T4, and SA60T5 had at least a threefold increase in the likelihood of achieving residual refractive cylinder of 0.5 D or less as compared to the corresponding control model.
Subjects implanted with lens Model SA60TT exhibited stability of cylinder at 3 months with greater than 90% of all subjects changing less than or equal to 1.00 diopter at consecutive visits between 1 month and 12 months. The rotational stability of the AcrySof Toric Model SA60TT is established with most lenses rotating 5 degrees or less, and the amount of rotation seen in each AcrySof Toric IOL model is independent of the amount of cylinder power present on the lens.
Statistically significantly more Model SA60TT subjects reported postoperative distance-vision spectacle independence compared to Model SA60AT subjects (59.9% vs 37.7%, respectively) when unilaterally implanted as specified by the terms of the FDA study.
Rayner
The Rayner toric IOL model 571 T (Rayner Intraocular, Ltd.), using the C-Flex lens as a platform, is well suited for this purpose because it is manufactured with a specific haptic design that should allow the IOL to stay centered and avoid the effects of capsular contraction or optic rotation. It should be resistant to rotation because the space between the closed-loop" type haptics functions in a fashion similar to the large holes or "foramen" seen with modern plate IOLs, in which fibrous tissue can grow. The toric model 571 T has demonstrated good performance in European clinical trials.
T-flex (573 T and 623 T)
The main technical features of these acrylic lenses are their one-piece design, with C-haptics and squared optic edges. Customizable toric power is added on the anterior side with radial markings along the steepest axis. The 623 T is available for lower spherical powers and the 573 T for higher-powered correction.
M-flex T
This lens is a multifocal aspheric IOL with customizable astigmatic correction between 1.0 and 6.0 D in 0.5-D increments. The lens uses refractive multifocal technology with four to five annular zones and provides 2.25 or 3.0 D of reading add at the spectacle plane. The C-haptic, squared edge optic, and single-piece acrylic design are similar to the C-flex.
Sulcoflex Toric
This lens is designed to correct postsurgical ametropia as a piggyback lens (adds on) implanted in the sulcus. It has a one-piece foldable design with undulated C-haptics. The 653 T model spherical correction is ranged between -3.0 and +3.0 D in 0.5-D increments with a cylindrical correction of 1.0, 2.0, and 3.0 D. Premium range of the IOL includes SE of -6.0 D to +6.0 D in 0.5-D increments, and cylinder power of +1.0 D to +6.0 D in 0.5-D increments
MicroSil Lens
The MicroSil MS 6116 toric IOL (Dr. Schmidt, formerly of HumanOptics, Erlangen, Germany) is a three-piece silicone-optic, PMMA-haptic lens. It has truncated edges, a spherical front surface, and a toric back surface. The overall diameter of the lens is 11.6 mm, with an optical diameter of 6 mm. Added blue light protection is optional. The haptics of the lens have a special Z-shaped design, which is purported to influence the rotational stability of the lens within the capsular bag and to balance any mechanical forces during postoperative capsular bag shrinkage. Because of the extended Z-haptics of this toric IOL, care must be taken during implantation as insertion into the capsular bag is more difficult than that of a conventional IOL, and an oval capsulorrhexis has been recommended.
195
This lens is available in a wide power range of cylindrical powers from 2.0 to 12 D in 1-D increments. The MicroSil line also includes a three-piece lens with C-haptics for primary implantation into the sulcus (MS 614 T) and another IOL designed for the sulcus using a piggyback technique (MS 714 TPB).
Carl Zeiss
This company offers the Acri.Tec model toric IOLs, specifically the
Acri.Com
fort 646TLC and the Acri.LISA 466TD. Both 6.0-mm optic diameter lenses are made from an acrylic polymer with a hydrophobic surface and have squared optic and haptic edges. They can both be inserted through incisions smaller than 2.0 mm and are available in cylinder powers between 1.0 and 12 D. The Acri.LISA is a bifocal lens with an anterior toric surface and a posterior diffractive surface with asymmetric light distribution (65% for far and 35% for near) and 3.75 D of near addition. The
Acri.Com
fort has bitoric optic design.
Oculentis
This company has a line of toric foldable IOLs with squared optic edges made from an acrylic material with 25% water content and a hydrophobic surface. These IOLs can also be inserted through a MICS incision, and the models are available in a wide range of astigmatic corrective power.
Aspheric Intraocular Lenses
The purpose of the aspheric IOL is to lower the total optical higher-order aberration (HOA) level by minimizing a particular fourth-order HOA known as spherical aberration (SA), a symmetrical HOA induced in an optical system when peripheral rays have a different focus than central rays (
Figs. 11-75
and
11-76
).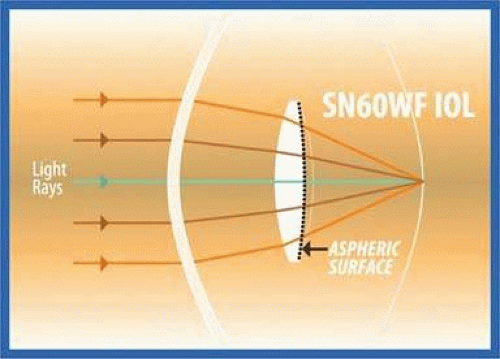 Figure 11-75. Axial and paraxial rays are focused on the retina while peripheral marginal rays are overfocused anterior to the retinal surface in spherical optic designs.(Courtesy Alcon.)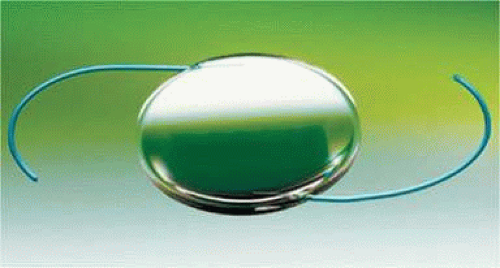 Figure 11-76. The aspheric posterior optic surface helps focus the light focused by the central and peripheral optic onto the desired retinal surface. (Courtesy Alcon.)
The major contributors to ocular SA are the cornea and the lens. The SA of the cornea is positive.
196
,
197
This means when central rays are focused on the retina, peripheral rays are focused in front of the retina. Several large studies
196
,
197
,
198
have determined that the average SA induced by the cornea for a 6-mm aperture is approximately +0.27 μm, a value that remains relatively unchanged with age.
197
The magnitude of corneal SA error is progressively lower for smaller apertures. As pupil diameter increases, more off-axis peripheral rays are focused in front of the retina, increasing the magnitude of the SA. Approximate magnitudes of corneal SA at decreasing aperture diameters are 0.13 μm at 5 mm, 0.051 μm at 4 mm, and 0.016 μm at 3 mm.
199
Therefore, the effect of this aberration is sensed most acutely under scotopic conditions when pupils are maximally dilated.
In young people the crystalline lens counteracts positive corneal SA by exhibiting a negative SA, and as a result ocular SA remains low. With age the crystalline lens undergoes changes and the SA induced by the lens becomes progressively more positive. Although there is interpatient variability, on average by ages 40 to 50years the lens SA has risen such that ocular SA is greater than zero, with lenticular SA continuing to progressively higher positive values.
196
Typical spherical IOLs act similarly to the aged crystalline lens in that they induce a positive SA by overrefraction at the lens periphery. The SA induced by a given spherical IOL is proportional to the lens power
198
and increases with pupil dilation. For this reason, spherical IOLs are expected to reduce visual function below optimum levels postoperatively. Aspheric IOLs are different. Through a modification of one or both of the IOL interfaces, aspheric IOLs do not induce a positive SA. Aspheric IOLs can even be modified to induce a negative SA similar to the role of the crystalline lens in young people, potentially eliminating ocular SA altogether.
The IOLs
The first aspheric IOL to appear commercially was the Tecnis Z9000, a foldable, 3-piece silicone IOL. The Tecnis Z9000 is a CeeOn Edge IOL model 911 with a modified prolate anterior surface. This alteration lowers the refractive power of the IOL at its periphery, inducing a negative SA. This negates the effects of overrefraction at the periphery of the optical zone at the cornea responsible for corneal-induced spherical aberration. The Tecnis Z9000 and the related Tecnis Z9002 and Tecnis ZA9003 were designed to fully negate the average corneal SA by inducing a negative SA at 6 mm of -0.27 μm.
Another aspheric IOL, the AcrySof IQ, was developed by Alcon. It has the same ultraviolet and blue light-filtering chromophores as those found in the single-piece acrylic AcrySof Natural IOL (SN60AT, Alcon). The unique feature of the AcrySof IOL is the posterior aspheric surface that adds -0.20 μm of spherical aberration to the eye at the 6.0-mm optical zone. This only partially corrects corneal SA, leaving the average patient with residual positive SA. A small amount of residual SA could benefit the patient by increasing depth of field, allowing the patient to better tolerate some residual ametropia and be less dependent on spectacle correction for near tasks.
For aspheric IOLs that induce negative SA, such as the Tecnis or AcrySof IQ, to be maximally beneficial they need to be well centered and without tilt.
200
If the aspheric IOL is not well centered, the induced HOAs from the malpositioned aspheric can cause the IOL to perform worse than a spherical IOL decentered to the same degree.
199
,
200
Decentered spherical IOLS are expected to increase ocular coma and other aberrations as well
201
but not to the same degree.
In light of this problem, Bausch & Lomb introduced the SofPort Advanced Optics model LI61 AO (
Fig. 11-77
). The SofPort IOL is an equiconvex silicone lens with prolate anterior and posterior surfaces. The aim of the IOL is to be perfectly aspheric and not induce HOA with tilt or decentration. Unlike the AcrySof IQ or Tecnis IOLs, which are designed to outperform spherical IOLs only up to a specific limit of tilt and/or decentration,
201
the SofPort IOL should outperform a spherical IOL at a much larger range of optic orientations.
202
However, because the SofPort does not reduce corneally induced SA, a well-centered Tecnis or AcrySof IQ IOL with minimal decentration or tilt should theoretically outperform the SofPort IOL in the average patient.
In recent years, other aspheric IOLs appeared in the market. These new models tend to imitate the basic strategy of one of the three IOLs mentioned previously; they either fully correct the average corneal SA like the Tecnis, partially correct the average corneal SA like the AcrySof IQ, or aim to be perfectly aspheric like the SofPort IOL. The Softec HD by Lenstec, (Clearwater, Florida) features a proprietary aspheric treatment to both anterior and posterior optic surfaces of its single-piece hydrophilic plastic. It has been presented that the biaspheric IOL is less sensitive to decentration and tilt. Perhaps most important, the company makes its IOLs available in quarter-diopter intervals rather than the industry standard half-diopter interval.
Clinical Studies Comparing Aspheric and Spherical Intraocular Lenses
Optimal Spherical Aberration Correction
A fundamental flaw in many of the comparative studies between spherical and aspheric IOLs is the assumption that any single aspheric IOLs should be a one-size-fits-all solution. In one study the corneal SA in patients presenting for cataract surgery ranged from 0.055 μm and 0.544 μm at 6 mm.
197
Implanting a Tecnis IOL into each patient may leave a large group with an average postoperative ocular near zero, but individual patients with nearly no preoperative SA would end up with a highly negative final ocular SA. As a consequence, the group would experience suboptimal benefit from the aspheric IOL. Selecting an IOL based on the patient's specific corneal SA error and aiming for a particular value of postoperative asphericity may provide more predictable results.
A clinical trial by Packer et al
242
took a group of cataract patients and targeted zero postoperative SA in each patient. Preoperative corneal SA was measured and a Tecnis, AcrySof IQ, or SofPort IOL was chosen so the arithmetic sum of the IOL and corneal SA came closest to zero. Total postoperative ocular SA in this group measured -0.013 ± 0.072 μm. The standard deviation in this population was lower than in other trials of similar size with aspheric IOLs, indicating that it is possible to effectively target a specific postoperative ocular SA.
No Residual Spherical Aberration
Peirs et al
243
compared letter acuity and contrast sensitivity for two different values of SA in four young phakic patients with 4.8-mm pupils. The first condition was 0.154 μm of SA at a 4.8-mm pupil, the average amount of SA in pseudophakic patients with a spherical IOL, and the second condition was complete correction of the subject's SA. Average contrast sensitivity improved 32% with complete negation of ocular SA. It should be noted that pupil size in these subjects was greater than that found in the average pseudophakic patient under all but scotopic conditions.
211
,
235
Therefore, the effect of negating SA in elderly pseudophakic patients is likely overestimated. However, the study does suggest that achieving a postoperative SA of 0 could have a clinically significant effect on contrast sensitivity under conditions where pupil size is larger.
Residual Positive Spherical Aberration
It has also been suggested that targeting a postoperative SA of +0.10 at 6 mm is a better choice
244
than targeting zero residual SA. This line of thinking is supported by Levy et al,
245
who found a mean total SA of +0.110 ± 0.077 μm at 6 mm in 35 young patients with 'supernormal' vision (uncorrected visual acuity μ20/15). However, there is no logical basis for the implication that the patient's SA was responsible for supernormal visual acuity. In fact, the authors found that the SA level in this population was comparable to a group of preoperative myopic patients considering refractive surgery (+0.128 ± 0.074 μm).
246
Nevertheless, a trial by Beiko
244
tested the theory of a postoperative SA of +0.10. He selected a group of patients with corneal SA greater than +0.33 um (average +0.370 ± 0.024 μm, range +0.337 to +0.411 μm) and implanted a Tecnis IOL with -0.27 μm of SA correction. The result in this group was compared to an unselected group of patients with an average preoperative corneal SA of +0.291 ± 0.081 μm at 6 mm (range +0.149 to +0.419 μm) who also received a Tecnis IOL. The first group demonstrated significantly better mesopic and photopic contrast sensitivity at multiple spatial frequencies. This interesting finding would need to be confirmed in a larger trial that compared visual function between groups targeting +0.10 or 0 residual ocular SA. This study does further support the notion that it is possible to target final ocular SA in a small group of patients.
No Single Spherical Aberration Is Best
It can also be argued that there is no single ideal target SA value, and that the optimal SA value depends on patient-specific factors. A study by Applegate et al
247
examined the effect on visual acuity of combining various pairs of aberrations. They found that certain combinations of aberrations could improve letter acuity above the levels induced by either aberration alone. A report by Wang and Koch
248
carried out a simulation examining the effect of varying ocular SA levels while leaving all other HOAs intact in 154 emmetropic eyes. Best image quality was obtained in more than 90% of eyes with a residual SA of between -0.05 and +0.05 μm. However, the specific pseudophakic ocular SA that optimized visual function depended on the interaction of many different corneal HOAs as well as pupil size.
Another point to consider is the potential benefits of residual SA. Increased ocular SA is associated with increased depth of focus
249
,
250
and improved distance corrected near visual acuity. With higher SA, fewer incoming rays converge at the focal point of the eye. Although this decreases optimum image quality at best focus, the off-center rays provide improved visual function at other points along the visual axis. When SA is corrected, fewer rays are focused at other points along the visual axis reducing depth of focus and distance corrected near acuity. The trade-off between optimized contrast sensitivity when SA is minimized and increased tolerance to defocus with higher residual SA should be considered when determining a patient's ideal postoperative HOA profile.
Which Patients Should Receive Aspheric IOLs?
Although aspheric IOLs can improve visual function in comparison with spherical IOLs and the available technology allows for the targeting of a specific pseudophakic ocular SA, we do not yet know how to optimally correct ocular SA. Gaining maximal benefit from the technology will likely require individualizing patient asphericity,
242
,
244
a change that would necessitate preoperative calculations of corneal SA and other HOAs. Even if this information is collected, it is unclear how it should be used to determine the optimal aspheric IOL correction. Still, collecting these data may be a necessary first step before the role of aspheric IOL technology can be established.
There is another concern with aspheric IOLs. Given senile miosis, their purported advantage would be clinically significant only in a subgroup of elderly cataract patients who perform a significant amount of contrast-dependent tasks under mesopic or scotopic conditions, like night driving. The benefits might be more apparent in younger patients with larger pupil sizes who undergo refractive lens exchange or surgery for a congenital cataract. The role of an aberration-free SofPort IOL might be to reduce induced HOAs if an increased risk of optic tilt or decentration exists, for example with significant pseudoexfoliation. However, it is likely that all these indications add up to only a small proportion of cataract patients.
A third factor to consider is that while cataract surgery technology has improved, exact emmetropia is not achieved in all eyes. Studies have shown that aspheric IOLs have the potential to improve visual function with best spectacle correction in place, but many pseudophakic patients do not wear spectacle correction and find their uncorrected vision adequate for most if not all tasks of daily living. As the popularity of multifocal IOLs indicates, many cataract patients are willing to accept less than optimal visual function to remain spectacle free. Patients with uncorrected defocus and astigmatism who have accepted reduced acuity from best corrected values are less likely to derive clinically significant benefit from targeting a specific postoperative ocular SA. Blur from the uncorrected lower-order aberrations should negate the benefit of reducing ocular SA, which can optimally improve only contrast sensitivity, but not letter acuity, with best spectacle correction in place.
Summary
It is clear that reducing HOAs has the potential to improve quality of vision and that aspheric IOLs can play a role in achieving this goal. However, the available information today suggests that only a few cataract patients would derive clinical benefit from aspheric IOL technology. Even among these patients it is unclear how the available IOLs should be used. Future developments, including new multifocal aspheric IOLs, may expand the applications of this technology.
Presbyopia-Correcting Pseudophakic Intraocular Lenses: 2010
Some lucky patients amaze us by seeming to achieve good uncorrected distance and near vision without the aid of spectacle correction. These patients benefit from factors that collectively can be called pseudoaccommodation and/or be able to recruit relative multifocus from astigmatism and/or higher-order aberration to create an accommodative-like effect. Pseudoaccommodation refers to that accommodative-like near vision performance achieved by means other than classic accommodation, which is caused by lens deformity or anterior lens shift or the use of a multifocal IOL.
251
Factors that contribute to pseudoaccommodation, and which can improve apparent subjective and objective accommodative performance, include posterior placement of the IOL,
252
residual myopic astigmatism
253
and small pupil size, and pupillary constriction during accommodation.
254
Higher-powered IOLs will have a greater effect and lower-powered IOLs a lesser effect. Additionally, there may be some ability to shift their IOL optic forward in response to ciliary body contraction. Without those pseudoaccommodative elements, good levels of uncorrected distance with some level of intermediate or near vision can currently be reliably obtained by three basic strategies.





Monovision in which the focus for usually the dominant eye is set for distance and the nondominant eye for near or intermediate focus. The work is primarily done by the brain.






Multifocal IOLs, which split light into distance and near components either by multizonal refractive or refractive-diffractive means. The work is primarily done by the light.






Accommodating IOLs, which require some level of anterior displacement of the IOL optic or change in its surface to increase its power in response to ciliary muscle contraction. The work is primarily done by the ciliary muscle.
The annoyance of presbyopia can measurably reduce quality of life versus compared with the improved quality experience of life that can be experienced after successful presbyopia IOL implantation.
255
Some have argued for an economic justification for using presbyopia-correcting IOLs.
256
It is important to remember that a trade-off exists when considering these devices. Patients who do not like wearing spectacles for reading and are sufficiently motivated toward complete spectacle independence can take an increased chance of having to endure glare and halos. And in the future, the correction of presbyopia may not be just an IOL option as a LASIK procedure, presbyLASIK has yielded similar near vision results to the Acri.Smart 36A (Acri.Tec, Munich, Germany) but better near vision performance than that achieved with the Crystalens AT-45 (AMO).
Monovision
The gold standard for cataract surgery patients has been to calculate for the intraocular lens power to emmetropia and leave the patients with a plano refraction so that they just need to wear reading glasses after surgery. This has been and still is a tremendously effective strategy that provides consistently excellent quality vision and stereopsis. But some patients do not want to wear reading glasses or bifocals even if the distance portion is close to plano. Monofocal IOLs, even in using a monovision strategy, are generally thought to provide better quality of vision and with fewer visual side effects than multifocal IOLs.
257
Some clinicians use a minimonovision technique leaving the nondominant eye with a residual approximately -0.75 sphere to help with intermediate and near tasks. Properly selected and motivated patients can be happy and have good functional vision with a slightly greater difference. In one study
258
with a mean anisometropia of 1.16 D, 96% of patients had better than 20/30 uncorrected distance visual vision acuity, and 92% had uncorrected near vision of J4 while maintaining good stereopsis s and contrast sensitivity. Another study found that for effective reading ability, monovision with the dominant eye left at plano and the nondominant eye left at -2.00 sphere provided satisfaction in 80% to 90% of properly selected cataract patients.
259
A kind of monovision can also be achieved by implanting a multifocal IOL in one eye and a monofocal IOL in the other. One study found that unilateral implantation of a multifocal IOL (ReSTOR SN60D3) in patients who were previously pseudophakic with a monofocal IOL in the other eye, provided high levels of patient satisfaction (75%), spectacle freedom (65%), and good visual acuity without compromising contrast sensitivity.
260
However, patients who received the multifocal IOLs bilaterally were more satisfied (92%) and had a greater level of spectacle freedom (77%).
Multifocal Intraocular Lenses
History
In the 1980s, most IOLs were rigid and large incisions were used. Monofocal IOLs were giving good clinical results, and multifocal IOLs were evaluated on rigid IOL platforms in clinical studies. Similar designs evaluated as contact lenses generally had poor acceptance, and it was not clear at the time how good the multifocal IOL performance needed to be. There was no clear path to approval by either the U.S. FDA or the European regulatory agencies. In 1992, an FDA advisory panel approved the 3M diffractive multifocal IOL, but the FDA then requested that additional studies be conducted to evaluate vision while driving. Additional testing was done successfully, but the move to foldable IOLs in the mid-90s was then well under way, and the lens was never approved in the United States, though it was available for a while overseas. In 1997 Allergan Corporation's Array lens was the first multifocal IOL to be approved by the FDA, following both conventional visual testing and a driving simulation evaluation.
Because of the superior performance of monofocal IOLs with regard to acuity performance, contrast sensitivity, and visual aberrations, multifocal technology was withdrawn from the U.S. market until 1997 when Allergan Corporation's Array lens was approved by the FDA. This was the first multifocal design to be placed on a foldable IOL platform and was available until it was replaced by a similar multizonal refractive optic design created using a foldable hydrophobic material, which was designated the ReZoom IOL (AMO).
The Array IOL reached a maximum popularity in 2000, with use in 35% to 50% of some ophthalmologists' practice.
ReZoom Multizonal refractive intraocular lens
ReZoom was approved by the FDA in March 2005. It is similar to the Array in its five-zone design light-splitting features and three-piece PMMA haptics but is created using a foldable hydrophobic acrylic optic. Zones 1, 3, and 5 are for distance and zones 2 and 4 for near vision. The optic features the OptiEdge (rounded anterior edge and square posterior edge), designed to reduce both edge reflections and PCO. The ReZoom had better intermediate vision performance than the original ReSTOR D3, which had better near vision performance. Because of this, there was a period when mixing these IOLs, usually with a ReSTOR in the dominant eye and a ReZoom in the nondominant eye, was popular with some surgeons. It has generally generated more visual disturbances and aberrations than the ReSTOR or Tecnis
263