Infection, Infiltration, and Benign Neoplasms of the Larynx
Craig R. Villari
Melissa M. Statham
Multiple infectious and benign conditions can affect laryngeal biomechanics and detrimentally affect laryngeal function and vocal performance. A variety of clinical presentations is possible ranging from dysphonia or dysphagia to airway compromise depending on pathology, the affected laryngeal subsite(s), and premorbid laryngeal anatomy. Treatment is targeted to the specific pathology, which is usually diagnosed from a thorough history, physical examination, and detailed laryngoscopy, but may also require more specific laboratory or radiologic examination.
INFILTRATION OF THE LARYNX
Multiple inflammatory processes can affect the larynx. These differ in their underlying presentation and pathologic and histologic features. As a group, these conditions generally cause decreased vocal fold pliability and/or lesions of the vocal folds, supraglottis, or subglottis. Symptoms correspond to the severity of vocal fold infiltration and potentially degrees of airway compromise.
Wegener Granulomatosis
Wegener granulomatosis is associated with necrotizing granulomatous inflammation and vasculitis of small blood vessels. The disease tends to affect the upper airway, the lungs, and the kidneys (
26
). The otolaryngologist may identify a patient because of nonhealing ulcers in the nasal cavity or, more rarely, subglottic airway stenosis. Diagnosis relies on thorough physical examination, nasal and laryngeal endoscopy, and testing for classical antineutrophil cytoplasm antibody (c-ANCA). Interestingly, 10% to 20% of those with airway symptoms have been reported to have a negative c-ANCA test (
26
).
The best treatment for these patients involves a multidisciplinary approach. Medical management with systemic corticosteroids and/or cyclophosphamide is used to obtain remission, and medications such as methotrexate, trimethoprim methoxazole, or azathioprine are used for maintenance therapy (
26
). Surgical treatments include subglottic expansion (subglottic releasing incisions with balloon or rigid dilation) and intralesional injection of corticosteroids (
27
). Subglottic stenting is generally avoided in favor of tracheotomy for recalcitrant presentations (
28
). In the setting of inactive Wegener granulomatosis with resultant subglottic stenosis, cricotracheal resection is also a viable treatment option.
Rheumatoid Arthritis
Rheumatoid arthritis affects millions of people worldwide with a predilection for females. It affects the larynx in just over one-fourth of cases (
29
). In comparison to unaffected control subjects, patients with rheumatoid arthritis had more frequent loss of higher frequency phonation, generalized dysphonia, decreased vocal fold mobility, and
laryngeal edema (
30
). These symptoms are modulated by the active status of the patient's disease. Active rheumatoid arthritis tends to present with a substantial laryngitis with erythematous arytenoid mucosa (
30
,
31
,
32
). Chronic rheumatoid arthritis also selectively targets the arytenoid cartilages, but more specifically seems to affect the cricoarytenoid joint causing ankylosis and possible joint fixation (
26
). Patients may also present with rheumatoid nodules, also known as bamboo nodes, which are focal subepithelial lesions, typically on the superior surface of the membranous vocal fold. Treatment of rheumatoid arthritis relies upon medical management with immunomodular and anti-inflammatory treatments. Although outcomes data are sparse, surgical management may be indicated to manage airway symptoms or to judiciously remove rheumatoid nodules to improve phonation (
32
,
33
). (See Chapter 68) Alternatively, serial vocal fold steroid injections are a lessinvasive treatment that may improve vocal outcome (
34
).
Amyloidosis
Amyloidosis is an autoimmune condition characterized by extracellular deposition of fibrillar proteins in affected tissue. Laryngeal involvement is rare and may not be associated with primary systemic amyloidosis. However, laryngeal amyloidosis may be present in conjunction with other systemic conditions such as multiple myeloma (
35
,
36
). Patients usually present with bulky deposition of amyloid protein with variable degrees of infiltration of the vocal fold, paraglottic space, and the supraglottis. Presenting features include cough, dysphonia, dysphagia, and possible stridor. Biopsy is required for diagnosis as amyloid has a pathognomonic apple green birefringence after staining with Congo red (
Fig. 67.4
). Referral is needed to examine for underlying secondary causes, such as systemic amyloidosis. There are reports of complete resolution with radiation therapy, but this treatment modality has not gained mainstream acceptance (
37
). Surgical intervention is usually undertaken to address specific symptoms and can improve vocal deficits. Recurrence is quite common (
38
).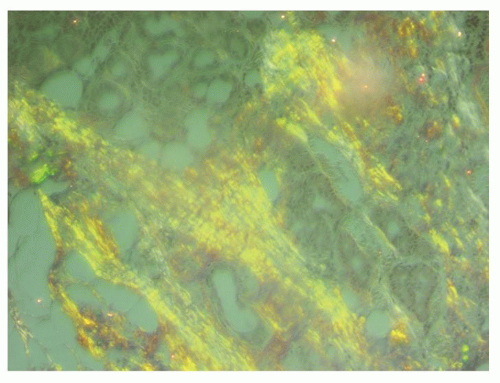 Figure 67.4
Full access? Get Clinical Tree
Get Clinical Tree app for offline access