Fundus Autofluorescence of Intraocular Tumors: Choroidal Nevus and Melanoma
Daniel Lavinsky
Rubens Belfort Mattos Neto
Eduardo V. Navajas
Rubens Belfort Mattos Jr.
CLINICAL CHARACTERIZATION AND FUNDUS AUTOFLUORESCENCE FEATURES
Choroidal Nevus
A choroidal nevus can be classified clinically according to the Collaborative Ocular Melanoma Study (COMS). Benign lesions are usually less than 1 mm in height and 5 mm in basal diameter according to ultrasound measurements, and have no risk factors for growth, such as specific symptoms, orange pigmentation, subretinal fluid,
juxtapapillary location, and "hot spots" on angiography. Nevi may be brown to gray in color and their appearance may vary from homogeneous, small, flat, and well delineated to more heterogeneous with secondary changes overlying the nevus, such as drusen and pigment mottling.
AF in choroidal nevus may show a normal pattern of background fundus AF, with no areas of increased or decreased AF signal, indicating a lack of RPE involvement (
Fig. 15.2
). Most nevi will demonstrate this pattern (
8
). In a minority of cases, nevi may also reveal areas with mild decreased or increased AF signal (
11
). The size of these lesions does not appear to influence the AF pattern, since large lesions may show normal background AF and small lesions with some RPE chronic degeneration may have a faint increased or decreased AF signal.
Drusen, often overlying nevus, when large or coalescent, may appear as areas of localized increased AF. However, the increased AF signal under these circumstances may not be a sign of lipofuscin accumulation in the RPE, such as occurs in choroidal melanoma; rather, it may result from the accumulation of different fluorophores inside these large drusen of drusenoid detachments, or relate to the presence of detached RPE cells within the latter.
Pirondini et al. (
11
) observed drusen in 56% of nevi, the majority of which demonstrated no changes in the distribution of AF or a traced increased AF signal. Less commonly, a reduced AF signal was also detected. Another clinical feature of nevus, although seen less commonly than drusen, is overlying RPE atrophy, which is easily identified as areas of low AF signal on AF images.
Choroidal Melanoma
Choroidal melanoma may appear as a pigmented lesion with orange pigment in a reticular or confluent pattern throughout its surface. Other features present in this lesion are subretinal fluid, superficial fibrosis with RPE metaplasia, and adjacent retinal detachment.
In the majority of cases, fundus AF correlates with the presence of orange pigmentation within choroidal melanoma. Gunduz et al. (
9
) found a complete
correlation between an increased AF signal and orange pigment in 61.5% of tumors, a partial correlation in 23.1%, and no correlation in only 15.4%.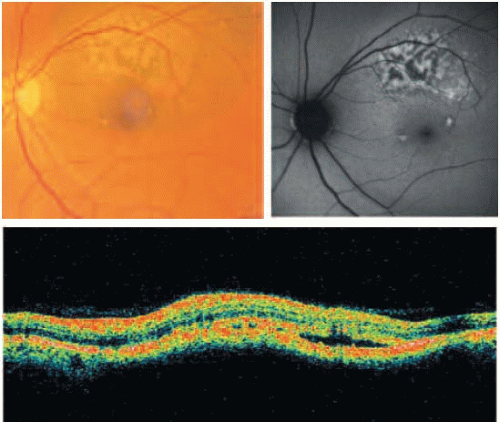 FIGURE 15.3.
Correlation between orange pigmentation and subretinal fluid on AF images and OCT (horizontal scan) in a choroidal melanoma.
Premium Wordpress Themes by UFO Themes
WordPress theme by UFO themes