Congenital Vascular Lesions
In 1982, a seminal article authored by Mulliken and Glowacki (
1
) marked a turning point in the history of classifying and managing congenital vascular lesions, or more properly termed vascular anomalies. These authors developed a classification system in which vascular anomalies were designated as either vascular tumors or vascular malformations, based on their clinical appearance, histopathologic features, and biologic behavior (
Fig. 104.1
). Hemangiomas were identified as benign tumors that undergo a phase of active growth characterized by endothelial proliferation and hypercellularity, followed by gradual tumor regression that occurs over the first decade of life. In contrast, vascular malformations were described as structural congenital anomalies derived from capillaries, veins, lymphatic vessels, arteries, or a combination of these. Unlike vascular tumors, vascular malformations were shown to have normal levels of endothelial turnover and to grow proportionately with the child. In the chapter to follow, readers will be presented with a description of the most common types of vascular anomalies and available treatment modalities.
KASABACH-MERRITT PHENOMENON
Kasabach-Merritt phenomenon is a rare, life-threatening condition associated with two specific subtypes of vascular tumors, tufted angioma or kaposiform hemangioendothelioma. Kasabach-Merritt phenomenon is included in this section only to highlight the fact that it is not associated with infantile hemangiomas, as sometimes construed. In Kasabach-Merritt phenomenon, the tumor traps and destroys platelets. In addition to platelet trapping, there are also other associated coagulopathies. As the tumor grows, it causes more platelet trapping. No single treatment approach is effective and unfortunately, responses to various treatments are inconsistent. Initially, corticosteroids are given at varying doses. If this approach is not effective, chemotherapy with vincristine is started. If this regimen is not effective, other drugs such as interferon, Cytoxan, and Amicar are used. If the tumor does not respond to drug therapy, embolization, surgical removal, or both may be necessary. Blood products such as platelets and packed red blood cells are administered only if absolutely necessary. The lesion may take many years to decrease in size. Improvement in platelet counts initially occurs with a decrease in the size of the lesion.
DIAGNOSTIC EVALUATION OF INFANTILE HEMANGIOMAS
The diagnosis of infantile hemangiomas is generally established on the basis of clinical presentation, history, and physical examination. In patients with complex lesions that require surgical intervention, additional investigations can be helpful in determining the extent of involvement. Ultrasound (US) with color flow Doppler can be extremely useful in differentiating hemangiomas from vascular malformations that may have a similar appearance. On US, an infantile hemangioma appears hypoechoic, well defined, and heterogeneous in texture, with small cystic and sinusoidal spaces. In most proliferating hemangiomas, a characteristic fast-flow pattern is visualized by Doppler US. Typically, a quick upstroke and gradual down slope is seen (
Fig. 104.6
).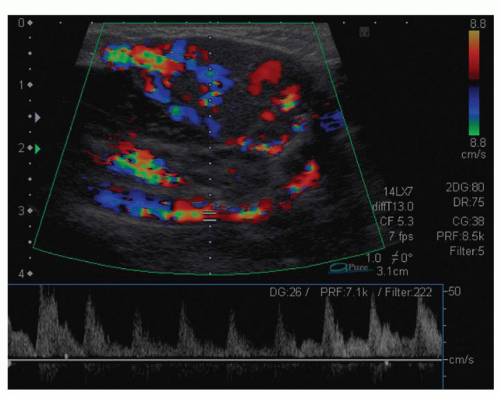 Figure 104.6
Color ultrasound Doppler image of an infantile hemangioma. Infantile hemangiomas are composed of small blood vessels conducting blood at high flow rates
(top panel)
. Doppler demonstrates that the blood flow in these small blood vessels is pulsatile, characterized by a rapid upstroke and a gradual down stroke in flow rates
(bottom panel)
.
TABLE 104.1 MRI CHARACTERISTICS OF VASCULAR ANOMALIES







Anomaly Type






T1-Weighted






T2-Weighted






Contrast






Gradient







Hemangioma






Soft tissue mass, isointense or hypointense, flow voids






Lobulated soft tissue mass, increased signal, flow voids






Uniform intense enhancement






High-flow vessels within and around soft tissue mass







Venous malformation






Isointense to muscle, possible high-signal thrombi






Septated soft tissue mass, high signal, signal voids (phleboliths)






Diffuse or inhomogeneous enhancement






No high-flow vessels







Lymphatic malformation






Septated soft tissue mass, low signal






Soft tissue mass, high signal, fluid levels






Rim enhancement or no enhancement






No high-flow vessels







Arteriovenous malformation






Soft tissue thickening, flow voids

Premium Wordpress Themes by UFO Themes

WordPress theme by UFO themes