Congenital Craniofacial Anomalies and Their Management
Brian J. Forbes
James A. Katowitz
William R. Katowitz
Congenital abnormalities of the cranium and face present complex diagnostic and therapeutic challenges to the ophthalmologist. Patients with craniofacial anomalies are best treated by a multidisciplinary team that includes specialists from plastic surgery, neurosurgery, ophthalmology, otolaryngology, oral surgery, orthodontics, anesthesia, and genetics as well as specialists in the disciplines of psychiatry, social work, and nutrition. These specialists must work together to provide for the overall well-being of the patient. To assist in the evaluation and treatment of these patients, the ophthalmologist must possess an understanding of craniofacial syndromes as well as the necessary medical and surgical interventions required to improve ocular and adenexal problems. This chapter systematically reviews the major craniofacial anomalies of ophthalmic importance and highlights salient treatment issues. Craniofacial syndromes may be conveniently divided into two broad categories: craniosynostosis or premature closure of the cranial sutures and clefting syndromes.
To facilitate understanding of the congenital craniofacial anomalies, a review of the normal embryogenesis of the human head is valuable. Although a more complex review of embryology is beyond the scope of this chapter, essential morphogenetic events are presented here to help the reader better visualize the formation of the craniofacial anomalies.
Embryology
The branchial arches are initially composed of an external layer of ectoderm and an internal core of endoderm. The migration of neural crest cells into the branchial arches causes them to enlarge. The ectodermal furrows dividing the facial processes are eventually obliterated by proliferating neural crest cells and mesenchyme. Fusional failure of the facial processes caused by the absence of neural crest cell migration is one of the proposed causes of "true" facial clefts and is described in more detail in later sections. At the beginning of the fourth week, the developing eye appears as a placode on the lateral forebrain and by the end of the fourth week there is an easily identifiable optic vesicle.
By the eighth week of gestation, the embryonic face has distinct human characteristics despite the obvious differences in facial proportions. By the end of the embryonic period, external ears begin to assume their final shape despite being set low on the head. The eyes assume a more almond shape and continue their anterior rotation. The cranium loses most of its overhang while the chin and nose achieve a more pronounced profile.
Most congenital craniofacial anomalies arise from developmental abnormalities before the eighth week of gestation. Striking similarities between characteristics of the developing embryonic face and certain craniofacial deformities should now be readily apparent. It is as though growth and differentiation progress normally to a certain stage and then are abruptly interrupted. The following sections review in detail the craniofacial deformities most frequently encountered by the ophthalmology consultant.
Craniosynostosis
Craniosynstosis comprises a major group of congenital malformations in which one or more of the cranial sutures are closed prematurely. In 1851, the German pathologist Virchow first described how premature closure of one cranial suture promotes growth parallel to that suture and inhibits growth perpendicular to it.
1
Although the terms craniosynostosis and craniostenosis are often used interchangeably, the preferred, more accurate term is craniosynostosis. The word
craniosynostosis
describes the process of premature sutural fusion,
craniostenosis
is the result.
2
There are several different types of craniosynostosis. First, craniosynostosis can be defined as either simple or compound. Simple craniosynostosis refers to the premature closure of a single suture, whereas a compound craniosynostosis involves two or more sutures. The most prevalent type of craniosynostosis is scaphocephaly, in which the sagittal suture is synostosed and results in a boat-shaped skull. Boys are affected with craniosynostosis much more commonly than girls, whereas sagittal synostosis occurs in girls more often than boys.
2
Craniosynostosis is also designated as either primary or secondary. In primary synostosis, the most common type, the cranial sutures are fused prematurely because of a genetic predisposition. In secondary craniosynostosis, the premature sutural fusion is secondary to another known disorder. Examples of secondary craniosynostosis include hematologic disorders (thalassemia and sickle cell disease), metabolic disorders (hyperthyroidism), metabolic disorders (mucopolysaccharoidosis), and malformations (microcephaly).
2
Finally, craniosynostosis can be either isolated or syndromic. In the isolated form, the patient has no other abnormalities except those directly related to early sutural obliteration. In contrast, patients with the syndromic craniosynostosis have other primary morphogenic alterations. For example, in Apert syndrome, syndactyly of the hands and feet frequently occurs.
Specific terms, such as scaphocephaly, have been used to describe the typical skull deformities associated with various synostoses (
Fig. 41.10
). Single coronal sagittal, metopic, or lambdoidal synostosis, respectively, leads to various degrees of brachycephaly, scaphocephaly, trigonocephaly, or plagiocephaly. Oxycephaly (tower head) is used to describe multiple synostoses involving at least the coronal and sagittal sutures, with compensatory upward growth of the cranium. Triphyllocephaly
3
or kleeblattschädel describes a cloverleaf-shaped skull, which is clinically characterized by the synostosis of the lambdoid and coronal suture with herniation of the cerebrum through a patent sagittal suture. The general term
plagiocephaly
refers to closure of a single cranial suture, whether sagittal, coronal, or lambdoidal and can lead to wide variability in cranial morphology. Although descriptive, these terms may be confusing and it is probably simpler to classify these patients by the sutures involved.
4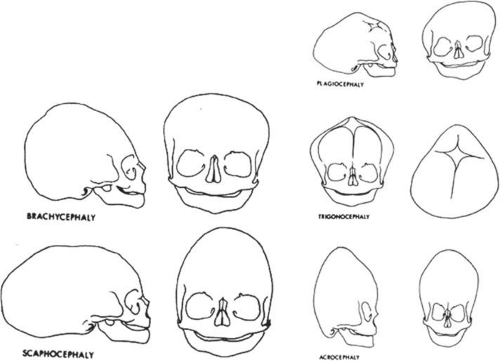 Figure 41.10. Frontal and lateral views of fetal skulls demonstrating more common calvarial abnormalities resulting from suture closure. (From Fries PD, Katowitz JA: Congenital craniofacial anomalies of ophthalmic importance. Surv Ophthalmol 35:87, 1990, with permission from Elsevier Science.)
Traditional classification of craniosynostosis has been divided into three main groups: (a) craniofacial dystosis or Crouzon syndrome, (b) acrocephalosyndactyly or "Apert syndrome," and (c) simple or single craniosynostosis. This classification system has largely been replaced by Cohen's
5
,
6
,
7
more extensive classification.
8
Cohen's classification of craniosynostosis categorizes these anomalies based on clinical similarities and genetic transmission
5
,
6
,
7
(
Table 41.1
).
Table 41.1. Craniosynostosis Syndromes




Name


Ophthalmic Involvement



Crouzon syndrome


Shallow orbits, proptosis, hypertelorism, exotropia, exposure keratitis, luxation of globe



Apert syndrome


Hypertelorism, shallow orbits, strabismus, proptosis



Pfeiffer syndrome


Hypertelorism, proptosis, strabismus



Saethre-Chotzen syndrome


Hypertelorism, ptosis, strabismus, nasolacrimal duct obstruction, optic atrophy



Carpenter syndrome


Hypertelorism, epicanthal folds, medial canthal dystopia, corneal opacities



Kleeblattschadel anomaly: cloverleaf skull


Variable: proptosis, hypertelorism, exposure keratitis, iris coloboma, orbital hypoplasia, nasolacrimal duct obstruction



Christian syndrome


Hypertelorism, ophthalmoplegia, lateral canthal dystopia



Summitt syndrome


Epicanthal folds, strabismus



Baller-Gerold syndrome


Hypertelorism, epicanthal folds



Lowry syndrome


Proptosis, strabismus



Gorlin-Chaudhry-Moss syndrome


Lid colobomas, ptosis, microphthalmia



Hermann-Opitz syndrome


Hypertelorism, proptosis, exotropia



Hermann-Pallister-Opitz syndrome


Hypertelorism, exotropia



Sakati-Nyhan-Tisdale syndrome


Hypoplastic orbits, proptosis



Adapted from Cohen MM Jr: An etiologic and nosologic overview of craniosynostosis syndromes. Birth Defects 11:137, 1975.
Three classic theories of pathogenesis explain craniosynostosis. Virchow
1
believed that premature fusion of the cranial sutures was the primary dysgenesis and that the cranial base abnormalities were secondary to the craniosynostosis. Moss,
8
conversely, postulated that the cranial base malformation was the primary event, resulting in secondary obliteration of the cranial sutures. Moss speculated that spatially malformed lesser sphenoidal wings in coronal synostosis, and a malformed cribriform plate in sagittal synostosis transmit aberrant tensile forces at points of dural attachments leading to premature fusion of the overlying sutures. Park and Powers
9
implicated a primary defect in the mesenchymal blastema that produced both an abnormal cranial base and craniosynostosis.
There are chromosomal and environmentally induced causes for the craniosynostosis syndromes. The specific inheritance patterns and genetic anomalies of the individual craniosynostosis syndromes of ophthalmic importance are individually discussed in later sections. For many dysmorphic syndromes, it is possible to find families that display a particular phenotype in either an autosomal-dominant, recessive, or X-linked manner.
10
In addition, patients with the same genetic condition may have fusion of completely different sutures.
11
Nonsyndromic synostosis can be sporadic or familial, with similar suture involvement in several members of the same family.
12
With the recent advancements in gene mapping and cloning techniques, investigation into the genetic elements of craniofacial dysmorphologies has advanced rapidly. It is critical for geneticists to be intimately involved with other craniofacial medical specialists so that they may provide genetic counseling to the patient's family as well as further research, which may ultimately lead to possible genetic therapy.
Apert Syndrome
Several additional cranial synostoses share common craniofacial features with Crouzon syndrome but occur less frequently; these include Carpenter, Pfeiffer, and Sathre-Chotzen syndrome.
Pfieffer Syndrome
Patients with type I have normal intelligence, whereas types II and III have developmental retardation. The usefulness of this classification lies chiefly in genetic counseling, given that much clinical overlap exists among the different subtypes.