Congenital Abnormalities of the Optic Disk
Gary C. Brown
Melissa M. Brown
VASCULAR ANOMALIES OF THE OPTIC DISK
COLOBOMATOUS AND OTHER EXCAVATED DEFECTS
Congenital Pit of the Optic Disk
Found in approximately 1 per 11,000 patients (
16
), a congenital pit of the optic nerve head appears as a localized depression that can be yellow-white (
Fig. 15.13
), gray (
Fig. 15.14
), black (
Fig. 15.15
), or other variants in color.
The defects generally range in size from 0.25 to 0.40 disk diameters. More than 50% are located on the temporal aspect of optic disk, versus inferiorly, nasally, or centrally (
Fig. 15.16
). Although found anywhere on the optic disk, they occasionally have a peripapillary location.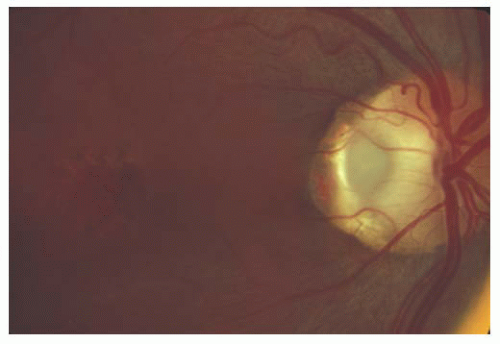 FIGURE 15.13.
Right eye of a patient with a yellow/white, temporal congenital optic pit and prominent, peripapillary, retinal pigment epithelial changes adjacent to the pit. A serous detachment of the sensory retina involves the macular, and a lamellar macular hole is present with the internal limiting membrane intact over it. (Reprinted with permission from Brown GC, Tasman WS.
Congenital anomalies of the optic disc.
New York: Grune & Stratton, 1983:107.)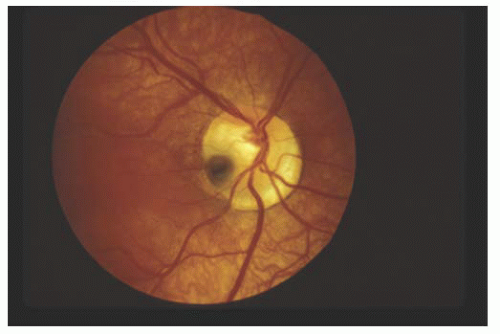 FIGURE 15.15.
Black congenital pit of the optic nerve head with an adjacent macular retinal detachment. The background choroidal vessels are more obscured in the region of the retinal detachment.
Peripapillary retinal pigment epithelial disturbances are present in 95% of eyes with optic pits that are not centrally located (see
Fig. 15.13
) (
17
). Peripapillary choroidal neovascularization has been seen rarely in these cases (
18
). In unilateral cases, the nerve head with the pit is larger than a normal contralateral nerve head in 85% of patients. Most pits are single, but approximately 5% of affected eyes have more than one defect on the disk. Cilioretinal arteries are frequently associated.
Approximately 40% of eyes with a congenital optic pit have an associated or previous serous detachment of the sensory retina and/or posterior retinoschisis (see
Fig. 15.13
) (
17
Premium Wordpress Themes by UFO Themes
WordPress theme by UFO themes