Fig. 2.1
Slit lamp photograph of an eye with herpes simplex virus acute anterior uveitis with granulomatous keratic precipitates and sector iridoplegia, which subsequently developed sector atrophy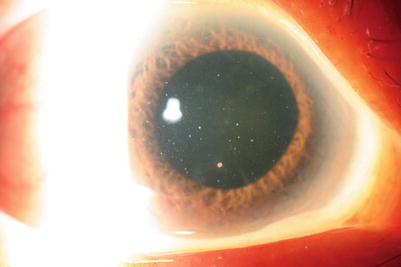 Fig. 2.2
Slit lamp photograph of an eye with varicella-zoster virus acute anterior uveitis with granulomatous and small keratic precipitates
The impairment of VZV-specific delayed hypersensitivity seen by Kezuka [
44
] in patients with acute zoster anterior uveitis suggests that it may play a role both in the pathogenesis of ocular inflammation and in the diagnosis of zoster uveitis. In their series, patients with anterior uveitis were significantly more likely to have a negative delayed hypersensitivity response to VZV antigen as compared to patients who had facial skin involvement by VZV but no uveitis.
In addition to these commonly seen features, HSV has been found in a few eyes with unusual clinical presentations. For example, it was found in the corneoscleral specimen of an eye with acute iris depigmentation and elevated IOP [
45
]. The clinical features of this patient are similar to those seen in a series of 28 eyes with bilateral acute depigmentation of the iris [
46
] where polymerase chain reaction (PCR) analysis of the aqueous was performed in two eyes and was negative for all the three herpesviruses. Nonetheless the iris depigmentation is very suggestive of a viral etiology for this clinical syndrome of bilateral acute depigmentation of the iris. HSV was also identified in an eye diagnosed clinically as Fuchs uveitis syndrome (FUS) [
47
].
Cytomegalovirus Anterior Uveitis
Management
HSV/VZV Anterior Uveitis
Despite concerns of renal toxicity, neutropenia, and drug resistance, the guanosine nucleoside analogues, acyclovir (and its prodrug valacyclovir) and famciclovir, are reasonably well tolerated and remain the mainstay of therapy in the management of herpetic eye diseases both for the acute disease and long-term prophylaxis to prevent recurrences [
50
–
53
] in conjunction with corticosteroids and cycloplegics as well as glaucoma medications as required. The recommended doses of acyclovir in healthy adults are 400 mg five times a day in acute HSV uveitis, 400 mg twice a day for prophylaxis against recurrences, and 800 mg five times a day for VZV infections. Alternatively the prodrug valacyclovir which has three to five times the oral bioavailability of acyclovir may be used at 500 mg three times a day in acute HSV uveitis, 500 mg once daily for prophylaxis against recurrences, and 1 g three times a day for VZV infections. Similarly famciclovir, the prodrug of penciclovir, has a simpler regimen than acyclovir, consisting of a three times a day dosing – 250 mg in acute HSV uveitis and 500 mg in VZV infections. Although a number of alternate therapies such as helicase inhibitors, therapeutic vaccines, microbicides, and curcumin are being investigated, none have been approved for clinical use at present [
54
,
55
].
CMV Anterior Uveitis
As with acyclovir, the guanosine analogue ganciclovir (and its prodrug valganciclovir) is the only currently used modality in the management of CMV infections. Chee and Jap [
56
] described their treatment of CMV anterior uveitis using various modalities of ganciclovir including systemic, intravitreal implant, intravitreal injections, and topical application. They found that overall, 75 % of treated patients responded to therapy, but the disease relapsed in about three out of four patients. Ganciclovir gel induced a response in 2/3, but uveitis recurred in 57 % of acute and 25 % of chronic inflammation. This study recommended ganciclovir gel as first-line therapy in view of its minimal adverse effects and affordability. In addition to antiviral therapy, immunosuppressants such as topical corticosteroids and/or ketorolac are useful in reducing the inflammation, and glaucoma medications and surgery are other therapeutic aspects that may be required in the management of herpetic anterior uveitis.
Rubella Virus
Other Viruses
In addition to herpes and rubella, there have also been a few small case series reporting the involvement of other viruses in anterior uveitis. The ocular manifestations of HIV infection are often a result of opportunistic infections such CMV retinitis. Anterior uveitis associated with HIV infection itself is relatively rare (4–11 %) and has features somewhat similar to FUS with fine KPs, absence of posterior synechiae, and ocular hypertension [
60
–
62
].
Six patients with anterior uveitis associated with Chikungunya infections have been described, with fine diffuse KPs which had a dendritic pattern on confocal microscopy. Two of the patients had bilateral iritis with elevated IOP, and another patient with bilateral involvement had features resembling FUS, including small to medium-sized KPs, iris atrophy, cataract, and vitritis [
63
,
64
].
In a series of 139 patients suspected of having an infectious uveitis, PCR analysis isolated EBV and the human herpesvirus 6 each in one patient and the human parechovirus in four patients. However, the true role of these viruses remains to be determined as they may be only bystanders and not true infective agents [
18
].
Diagnosis of Viral Anterior Uveitis
The diagnosis of a viral infection in all these cases was made based mainly on clinical features, supplemented by aqueous analysis for viral nucleic acid PCR or intraocular antiviral antibody production (Goldmann-Witmer coefficient >3). However, as discussed above, there is considerable overlap in the clinical features where HSV, CMV, and rubella may present as an FUS-like uveitis and HSV and CMV may present as a PSS-like uveitis. The infectious and noninfectious anterior uveitis with ocular hypertension are also very similar clinically [
22
]. Although aqueous analysis is a relatively safe procedure [
10
,
65
,
66
], nonetheless long-term sequelae have been reported [
10
], and moreover the diagnostic tests are not widely available. Hence, other modalities of differentiating between an infectious and a noninfectious etiology have been sought. These include clinical signs, endothelial cell counts, and confocal microscopy. Clinical signs which may be predictive of a viral infection include the presence of coin-shaped KPs, nodular endothelial lesions, non-herpetic hypertensive uveitis refractory to corticosteroids, and features consistent with FUS or PSS [
6
,
8
,
9
,
13
–
17
,
28
].
Given that CMV has been found in corneal endothelial cells [
67
], endothelial cell loss has been examined as a possible predictor of infection [
68
]. Similarly confocal microscopy has shown the presence of the "owl's eye sign" in the cornea which in turn represents CMV inclusion bodies in cases of corneal endotheliitis [
69
–
71
]. On the other hand, its ability to differentiate between infectious and noninfectious cases of anterior uveitis is less certain. On confocal microscopy, KPs may be divided into six types (globular, infiltrating, smooth rounded, stippled, dendritiform, and cruciform) [
72
]. The dendritiform and infiltrating pattern seems to suggest an infective cause [
30
,
32
]. However, PCR analysis of eyes with FUS that had dendritiform and infiltrating KPs was negative for herpesviruses and rubella virus [
31
].
Conclusion
With the availability of new molecular diagnostic tests, more of what were considered to be idiopathic anterior uveitis may be discovered to have an infectious cause especially a viral origin. However, not all centers or patients have access to these investigations. Hence, a viral etiology should be suspected in cases of hypertensive anterior uveitis with iris atrophy, and corticosteroids should be withheld if aqueous analysis is not available.
References
1.
Birnbaum AD, Little DM, Tessler HH, Goldstein DA. Etiologies of chronic anterior uveitis at a tertiary referral center over 35 years. Ocul Immunol Inflamm. 2011;19(1):19–25. Epub 2010/11/09.
PubMedCentral
CrossRef
PubMed
3.
Jakob E, Reuland MS, Mackensen F, Harsch N, Fleckenstein M, Lorenz HM, et al. Uveitis subtypes in a German interdisciplinary uveitis center–analysis of 1916 patients. J Rheumatol. 2009;36(1):127–36. Epub 2009/01/10.
PubMed
4.
Thygeson P, Hogan MJ, Kimura SJ. Observations on uveitis associated with viral disease. Trans Am Ophthalmol Soc. 1957;55:333–49; discussion 49–52. Epub 1957/01/01.
PubMedCentral
PubMed
6.
Rodier-Bonifas C, Cornut PL, Billaud G, Lina B, Burillon C, Denis P. Cytomegalovirus research using polymerase chain reaction in Posner-Schlossman syndrome. J Fr Ophtalmol. 2011;34(1):24–9. Epub 2010/11/30. Interet de la recherche du cytomegalovirus par polymerase chain reaction dans le syndrome de Posner-Schlossman.
7.
Kongyai N, Sirirungsi W, Pathanapitoon K, Tananuvat N, Kunavisarut P, Leechanachai P, et al. Viral causes of unexplained anterior uveitis in Thailand. Eye (Lond). 2012;26(4):529–34. Epub 2012/01/14.
CrossRef
8.
Park SW, Yu HG. Association of cytomegalovirus with idiopathic chronic anterior uveitis with ocular hypertension in Korean patients. Ocul Immunol Inflamm. 2013;21(3):192–6. Epub 2013/03/14.
CrossRef
PubMed
Full access? Get Clinical Tree