Purpose
To evaluate the safety and bioactivity of MP0112, a designed ankyrin repeat protein (DARPin) that specifically binds vascular endothelial growth factor (VEGF) in patients with diabetic macular edema (DME). DARPins are a novel class of proteins selected for specific, high-affinity binding to a target protein.
Design
Phase I/II, open-label, multicenter dose-escalation trial.
Methods
After a single intravitreal injection of MP0112, the main outcomes were safety assessments, aqueous MP0112 levels, change in best-corrected visual acuity (BCVA), and foveal thickness measured by optical coherence tomography. Six cohorts were planned, but only 3 were enrolled (0.04, 0.15, 0.4 mg), because a maximally tolerated dose of 1.0 mg was identified in a parallel age-related macular degeneration trial.
Results
Median aqueous concentration of MP0112 was 555 nM 1 week and >10 nM in 3 of 4 patients 12 weeks post injection of 0.4 mg. Median BCVA improvement at week 12 was 4, 6, and 10 letters in cohorts 1, 2, and 3. Ocular inflammation was observed in 11 patients (61%) and was severe in 1. High-resolution chromatography separated proinflammatory impurities from MP0112, resulting in a new formulation.
Conclusions
A single intraocular injection of 0.4 mg MP0112 resulted in levels above the half-maximal inhibitory concentration and neutralization of VEGF in aqueous humor for 8-12 weeks. Despite inflammation in several patients, there was prolonged edema reduction and improvement in vision in several patients. The source of the inflammation was eliminated from a new preparation that is being tested in an ongoing clinical trial.
Diabetic macular edema (DME) is a highly prevalent cause of vision loss. Although its pathogenesis is not completely understood, recent studies have helped to elucidate important aspects. Retinal hypoxia is an important feature, because supplemental inspired oxygen reduces DME. Vascular endothelial growth factor (VEGF) is upregulated in hypoxic retina, and recent studies using nonselective and selective antagonists have demonstrated that VEGF is an important stimulator of DME.
There are several types of VEGF antagonists. Ranibizumab is an Fab fragment that binds all isoforms and active proteolytic fragments of VEGF. Several studies have demonstrated that intraocular injections of ranibizumab provide benefit in patients with DME. Ranibizumab is approved in Europe and the United States for treatment of DME. Bevacizumab is a humanized full-length monoclonal antibody that also binds all isoforms and fragments of VEGF. Intraocular injections of bevacizumab have shown benefit in patients with DME and it is widely used off label. Aflibercept is a recombinant protein that binds all isoforms and active fragments of VEGF and placental growth factor, and recent studies have suggested that it also will be useful for DME.
Antibodies (ranibizumab and bevacizumab) and receptor fragments (aflibercept) take advantage of protein motifs specifically designed in nature to bind to a ligand. Repeat proteins are also utilized in nature for binding. They consist of small structural units (repeats), such as leucine-rich repeats or ankyrin repeats, linked together to form domains. Each repeat binds tightly to preceding and following repeats and also has variable sequences that do not interact with other repeats and are oriented on the surface of the domain. The variable surface residues of the repeats provide the external shape and hence the specificity for binding to external partners. These principles were used to design an amino acid sequence motif with fixed and variable portions, the former mediating the interaction between repeats and the latter mediating part of the external shape available to engage a target. Designed ankyrin repeat protein libraries result in production of numerous domain proteins, designed ankyrin repeat proteins (DARPins), with varied shapes that can be screened for binding to target proteins. Using this strategy, a DARPin that selectively binds all VEGF-A isoforms with a dissociation constant (Kd, a measure of affinity) of 2 pM, MP0112, was identified (Molecular Partners AG, Zurich, Switzerland; MP is for Molecular Partners and 0112 is the identifying number for this DARPin). In this study, we tested the safety, tolerability, pharmacokinetics, and biologic activity of a single intraocular injection of MP0112 in patients with DME.
Subjects and Methods
This was a phase I/II, open-label, nonrandomized, dose-escalation clinical trial conducted at 4 sites in the United States. The study and data accumulation were carried out with approval from the Institutional Review Board (IRB) at Johns Hopkins University and Western IRB. Informed consent for the research was obtained from all participating patients and the study complied with the Declaration of Helsinki and the Health Insurance Portability and Accessibility Act. The study is registered at www.clinicaltrials.gov under the identifier NCT01042678 . The duration of the study was 16 weeks.
Results
Patient Demographics and Baseline Characteristics
Six patients were entered into each of 3 cohorts and given a single intraocular injection of 0.04 mg, 0.15 mg, or 0.4 mg of MP0112. The mean age was 64.8 years (range 50-82); 11 patients were male and 7 were female; 15 were white and 3 were Hispanic. All patients reported prior treatment in the study eye for DME: bevacizumab in 10 (56%), ranibizumab in 2 (11%), and "other" treatments in all 18. One patient in cohort 1 exited the study at week 12 because of deteriorating vision and alternative treatment was requested; the other 17 patients completed the study. The mean BCVA letter score at baseline was 57.1 ± 11.2 (range 30-72) with Snellen equivalent of 20/63 or better in 50% and 20/80-20/250 in 50%. Mean central subfield thickness by Stratus 3 OCT was 434.9 ± 124.0 μm.
Pharmacokinetics of MP0112 and Aqueous Humor VEGF Levels
Three patients in each of cohorts 1 and 2 and 4 patients in cohort 3 consented to have anterior chamber taps. Aqueous levels of MP0112 were undetectable at baseline and at 1 week after a single intravitreous injection of MP0112 ranged from 13 to 26 nM for cohort 1 (0.04 mg dose), 26 to 270 nM for cohort 2 (0.15 mg dose), and 230 to 622 nM for cohort 3 (0.4 mg dose) ( Figure 1 , Top left). Because of the limited number of samples per cohort, a dose correlation was not performed; however, based on the median values, a trend was observed: cohort 1 (14 nM) < cohort 2 (106 nM) < cohort 3 (555 nM). These aqueous levels are about 1000-fold to 100 000-fold above the affinity of MP0112 to VEGF (about 2 pM; data on file, Molecular Partners) or the potency of MP0112 to inhibit VEGF in a spheroid sprouting assay (about 17 pM; data on file, Molecular Partners). Data from the 4 cohort 3 patients were used to determine ocular pharmacokinetic parameters. Maximal observed aqueous MP0112 concentrations after a single intravitreous injection of 0.4 mg ranged from 230 to 622 nM with a median concentration of 555 nM (19 μg/mL) at week 1 ( Figure 1 , Top right). Four weeks after injection, aqueous MP0112 concentrations ranged from 41 to 89 nM with a median of 60 nM (2 μg/mL), and 12 weeks after injection, levels were still detectable in all 4 patients, with a median of 10 nM. These data suggest an ocular half-life ≥13 days. None of the patients had measurable serum levels of MP0112 at 1, 3, 7, or 28 days after a single intraocular injection of 0.04, 0.15, or 0.4 mg; all samples were below the lower limit of quantification of 0.3 nM.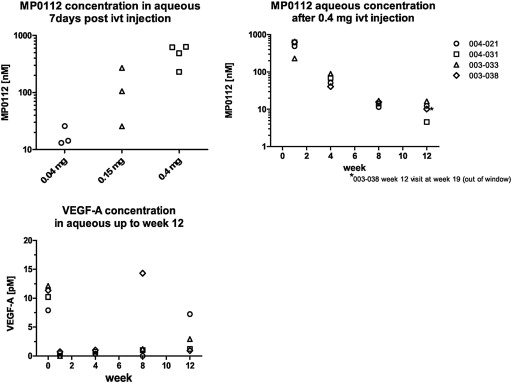 Baseline aqueous humor VEGF-A levels ranged from 7.5 to 12.5 pM in the 4 cohort 3 patients that had measurements ( Figure 1 , Bottom left). Aqueous humor levels of VEGF-A were below the limit of detection in the 4 cohort 3 patients at weeks 1 and 4, and in 3 of 4 patients at week 8. Patient 003-038 had a high level of VEGF-A at week 8 and a low level at week 12, which could represent a transient rebound effect at week 8 or a spurious measurement. At week 12, all 4 patients continued to have VEGF-A levels below baseline, with 3 of 4 <5 pM.
Biologic Activity of MP0112
Visual acuity was assessed at all visits. No patients received rescue therapy. Some patients in cohort 1 showed an improvement in BCVA after injection and the median improvement at week 1 was 11 letters ( Figure 2 , Top). At week 4, the median improvement in BCVA was 10 letters, but there was no decrease from baseline in mean central subfield thickness. The median BCVA decreased between weeks 4 and 12 and then increased somewhat at week 16. One patient in cohort 1 experienced a reduction in BCVA between week 4 and week 8 and exited the trial to receive alternative treatment. There was no overall change in median central subfield thickness.
Get Clinical Tree app for offline access