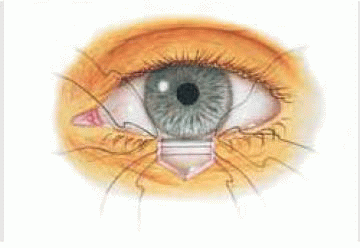 Surgical Management of Eyelid Tumors
Surgical Management of Eyelid Tumors
Surgical management of eyelid tumors can be very complex. It involves knowledge of eyelid anatomy and experience with handling tumor tissue and cosmetic reconstruction. It is beyond the scope of this textbook and atlas to describe the fine details of surgical management of eyelid tumors. There are several excellent textbooks that cover surgery for eyelid tumors (
1
,
2
,
3
,
4
,
5
). In this chapter, we outline some of the basic surgical approaches to eyelid tumors.
In each patient with a suspicious eyelid lesion, the clinician must determine whether a biopsy is indicated and, if so, what kind of biopsy would be most appropriate. In the case of a large lesion (generally more than half of the eyelid) that is possibly malignant, an incisional biopsy is often warranted and a histopathologic diagnosis is obtained before extensive definitive surgery and reconstruction are undertaken. A small trephine punch is ideal for such a biopsy, although an incisional biopsy with a scalpel is also acceptable particularly for suspected basal cell carcinoma.
A probable benign tumor that is cosmetically unacceptable may be managed by a shaving biopsy. A highly probable malignant tumor that is small can be managed by primary excision with eyelid reconstruction, without risking a biopsy. This is particularly true for eyelid melanoma. An incisional diagnostic biopsy is generally acceptable for malignant tumors with low metastatic potential, such as basal cell carcinoma and squamous cell carcinoma. Frozen sections or chemosurgery are generally advisable to insure that margins are free of tumor before closure of the wound.
A skin graft or flap may be necessary in some cases to close the defect and minimize functional eyelid problems, such as cicatricial ectropion. Donor skin can be obtained from the upper eyelid of the ipsilateral or contralateral eye, retroauricular skin, or other sites, depending on the preference of the surgeon and the clinical circumstances. Larger malignant tumors may require wide surgical removal and extensive eyelid reconstruction. Some malignant eyelid tumors that invade the orbital soft tissues may require a subtotal or total orbital exenteration.