Focal arteriolar narrowing
Generalized art. narrowing
Arteriovenous nicking
Optic nerve atrophy
Age (years)
Prevalence %
Prevalence %
Prevalence %
Prevalence %
41–50
55/509
10.8
18/509
3.5
10/509
2.0
4/509
0.8
51–60
104/577
18.0
26/577
4.5
20/577
3.5
13/577
2.3
61–70
123/383
32.1
34/383
8.9
25/383
6.5
13/383
3.4
71–80
59/160
36.9
14/160
8.8
13/160
8.1
16/160
10.0
81–90
12/33
36.4
5/33
15.2
3/33
9.1
5/33
15.2
1.2

Purpose

To examine the prevalence of "simple" optic nerve atrophy, retinal microvascular narrowing and arteriovenous nicking in a normotensive, nondiabetic, "healthy" population gained by the Tele-Ophthalmic Consultation Service Talkingeyes®.
1.3

Methods
1.3.1

Study Population

This report is based on examinations of over 9,400 men and women gained by the Tele-Ophthalmic Consultation Service Talkingeyes® [

3

–

7

] within the years 2007–2012. All participants underwent a profound interview documenting information of general medical, ocular medical and family history. By this interview age, gender, presence of arterial hypertension, diabetes mellitus or any other systemic disease (such as kidney damages, cardiac infarction, coronary artery bypass) and incident stroke were reported.

For the analysis we selected

N

 = 1,662 "healthy" individuals aged 41–90 years without arterial hypertension, diabetes mellitus or any other systemic or ocular disease or stroke or heart infarction in medical history. Patients with nicotine abuse, with one eye missing or with retinal images that were not evaluable due to the poor image quality were excluded.

N

 = 785 participants were male (47 %), while

N

 = 877 were female (53 %). The age ranged from 41 to 89 years.

Systemic hypertension was defined as reported systolic blood pressure higher than 140 mmHg or a diastolic blood pressure higher than 90 mmHg and/or taking antihypertensive medication. Blood pressure values were documented as reported values. Diabetes was defined as reported HbA1c value higher than 6 % and/or taking antidiabetic medication.
1.3.2

Procedures

The telemedical evaluation by the Tele-Ophthalmic Consultation Service Talkingeyes® was validated by comparing the diagnoses gained by the telemedical approach versus a regular ophthalmological examination with dilated pupils [

8

,

9

].

The Tele-Ophthalmic Consultation Service Talkingeyes® served as virtual telemedical consultant in institutions without ophthalmic expertise documenting general and ocular medical history, visual function and retina and optic nerve head morphology. The used software (MedStage, Siemens, Talkingeyes and more) is browser-independent running at PC, tablets and smartphones. All imaging techniques can be used.

In this study digital retinal images of both eyes were taken with a 45° non-mydriatic colour fundus camera (KOWA NM-45, non-mydriatic-alpha) centred on the papilla of the optic nerve (Fig.

1.1

). Pupils were not dilated. After completing the medical interview (Tables

1.2

,

1.3

,

1.4

and

1.5

), selected clinical images of the anterior, the posterior segment or other modalities were uploaded in the electronic patient chart (Table

1.6

) followed by a telemedical evaluation by an experienced eye doctor. Tables

1.2

,

1.3

,

1.4

and

1.5

depict the data entry formulas and Table

1.6

the formula to upload images. All images were stored on a server using the web-based software MedStage. The medical evaluation of the colour fundus images and other images was done through telemedical analysis (Fig.

1.2

). Figure

1.2

showed the standardized procedure of the medical evaluation. Each fundus image was evaluated by an experienced ophthalmologist using a standardized protocol with defined criteria, namely, focal arteriolar narrowing, focal and generalized arteriolar narrowing, arteriovenous nicking and optic nerve atrophy. The evaluation of the images was facilitated by the options to zoom the images and to examine them in different aspects (colour image, red-free image and green channel image). "Simple" optic nerve atrophy was defined as a partly or completely atrophic optic nerve head with a pale rim, but no cupping.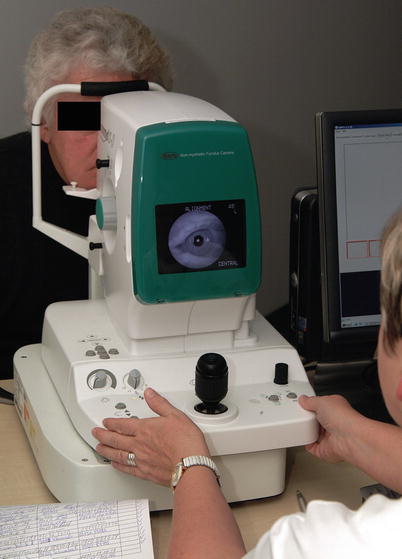 Fig. 1.1
Image acquisition by a non-mydriatic fundus camera (Reprinted with permission from Talkingeyes&more GmbH)
Table 1.2
MedStage: date entry of a new patient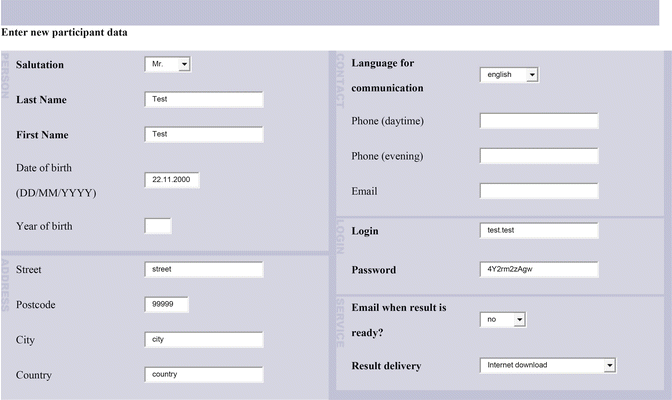 Full access? Get Clinical Tree
Get Clinical Tree app for offline access