Figs. 13.1 and 13.2
(
a
,
b
) Two examples of the geriatric nose, profile and frontal views. Note the skin changes and external structural effects of aging
Anatomic changes of the nose are, in part, related to changes of the cartilaginous structures as well as weakening of soft tissue attachments. The biochemical composition and mechanical properties of cartilage change with age, resulting in a tendency to collapse. For example, there is a decrease in the glycosaminoglycan content of nasal septal cartilage with increasing age, resulting in stiffening with decreased fluid flow through the tissue. Additionally, there appears to be a slight increase in hydroxyproline content with increasing age. These changes are similar to those seen in articular cartilage during the aging process. Although the physical stresses on articular cartilage are much different than that of septal cartilage, the similarity of their biochemical changes may represent systemic effects on cartilage with age (Rotter et al.
2002
).
There are two practical considerations of these data for clinical practice. First, anatomic changes are likely to affect airflow through the nose in older patients, resulting in restrictions that may cause dryness, irritation, and obstruction. These problems may exacerbate existing conditions and contribute in a large way to patient symptoms. Secondly, older adults may seek septorhinoplasty to alleviate such functional problems and also for cosmetic desires. Careful consideration must be given to these patients as they may have underlying significant medical comorbidities, such as hypertension, coronary artery disease, or diabetes, placing them at higher risk for elective surgery. Cochran et al. noted that many older patients at the time of rhinoplasty had ossified septal cartilage, making it more frequently necessary for auricular or costal cartilage to be harvested (Cochran et al.
2007
), potentially lengthening operative time. It would be prudent to have medical and anesthesia clearance prior to proceeding with elective surgery in any older patient and several guidelines exist to make this determination (Stefan et al.
2011
; Palmer
2009
). Nevertheless, nasal surgery in older subjects can be safe and effective when approached carefully (Ban et al.
2010
). As with all rhinologic patients, psychological motivation for the procedure needs to be assessed. Geriatric patients frequently have to deal with significant life issues, including death of loved ones, lack of social support, financial challenges, and struggles with quality of life. One must assess whether older patients have taken ample time to consider any cosmetic surgery prior to proceeding. Most importantly, assessment of the functional consequences of rhinoplastic procedures on this patient subset is critical to maintain airflow.
13.3

Physiological Changes with Age

New research is helping to elucidate some of the subtle changes in the physiology of the nose over time that may lead to symptoms and/or disease in older adults. Although we are far from fully understanding comprehensively how the nose changes over time, further study of the known physiological changes will help us to provide better medical and surgical treatment regimens for these patients.
13.3.1

Alterations in Nasal Function

A common result of aging is nasal dryness, a frequent complaint in older patients. This condition may present with crusting, irritation, epistaxis, or obstruction. Although this is not well studied, etiologies include mucosal and glandular atrophy, vascular changes which reduce nasal humidification, and medication use (e.g., antihypertensives, which affect vascular regulation in the nose, or first-generation antihistamines, which inhibit cholinergic responses in the nose). Structural changes in the nose may also contribute by causing turbulent airflow which dries the mucosa. The mucosa itself is altered. Schrödter performed biopsies of the middle turbinate in 40 subjects of varying ages and found significant atrophy of the epithelium in the older subjects (Fig.

13.3

) (Schrödter et al.

2003

). This analysis found thin epithelium and also increased thickness of the basement membrane. Also, the percentage of normal ciliated respiratory epithelium declined in the older subjects. Similar studies using electron microscopy corroborate this finding (Toppozada

1988

). Increased expression of caspase 3, an apoptotic marker, indicates that part of the defect may be in the ability of the epithelium to renew itself, and there are other functional aspects of the epithelium (toxin neutralization) that may be affected (Getchell et al.

1993

). This matches what we see clinically, a thinner, atrophic epithelium in older subjects when examined with nasal endoscopy.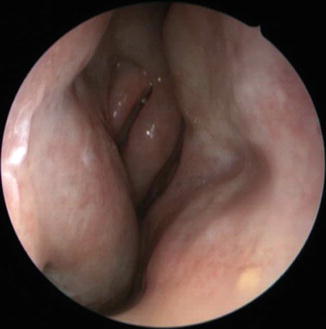 Fig. 13.3
Endoscopic view of geriatric patient with atrophy of endonasal mucosa
Another major alteration affecting this symptom is in one of the main functions of the nose: the ability to warm and humidify air (Naclerio et al.
2007
). The two major mechanisms leading to the alteration in nasal conditioning capacity (NCC) are changes in the nasal mucosal temperature (NMT) and the volume of the nasal cavity. During inspiration of air, water evaporates from the nasal mucosa to condition inspired air, leading to heat loss and, consequently, a decrease in NMT (Cole
1954
). Lindemann found that using in vivo air temperature and humidity measurements at the nasal valve and the region just anterior to the head of the middle turbinate, both temperature and humidity values were significantly lower in older subjects (mean age 70 years old) compared to younger subjects (median age 27 years old) (Lindemann et al.
2008
). Additionally, nasal volumes appeared to be larger in the older age group. Increased turbulence of airflow may be one result causing the sensation of nasal obstruction despite larger space (paradoxical nasal blockage). Endonasal geometries are indeed enlarged in older subjects (Kalmovich et al.
2005
). This suggests that NCC in older subjects is compromised. Thus, lower ability to warm and humidify air may be present in older subjects, potentially affecting lower airway function. This may also contribute to the increased dryness in this population.
We may take some analogy from changes in the oral mucosa. As with the nose, the lubrication of the oral cavity changes with age. Although there should not be a decrease in saliva production with age, unless altered by medications or systemic conditions, there are changes in the consistency of the saliva, including a decrease in mucin concentration and decreased secretion of protective IgA antibodies (Ritchie
2002
). This may lead to increased caries, periodontal disease, and poorer nutritional status.
A second area of altered nasal physiology with age is in mucociliary clearance. Kim noted decreased ciliary beat frequency in vitro nasal epithelial cells taken from patients older than 60 years of age (Kim et al.
2007
). Ho et al. also found decreased nasal mucociliary clearance by the crude saccharin clearance test and the more sensitive measure of ciliary beat frequency by a photometric test (Ho et al.
2001
). However, there is likely significant interindividual variability in this phenomenon since Sakakura et al. showed that 70 % of patients older than age 60 retained saccharin transport times comparable to their younger counterparts (Sakakura et al.
1983
). Diabetes and hypertension, both increased in prevalence in older subjects, are also associated with decreased ciliary function (de Oliveira-Maul et al.
2012
). In summary, if the cilia are not moving as rapidly, this can lead to symptoms of mucus buildup, rhinitis, inflammation, or infection, from persistence of organisms and molecules trapped in the mucus layer (Fig.
13.4
). Hence, both the structural components and the function of the epithelial lining of the nose in older patients demonstrate significant changes with age that may affect airflow, mucus quality and production, and mucociliary clearance.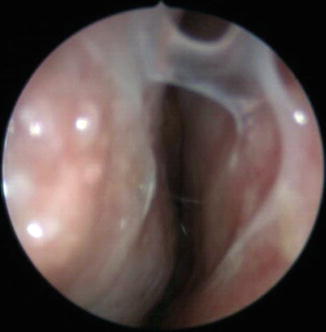 Fig. 13.4
Endoscopic view of geriatric patient with thickened nasal mucus, a common complaint in this patient population
A third way nasal function is altered with age is regulation of vascular responses in the nose. Nervous control of vascular tone in the nose is important in the regulation of the critical functions of the nose, to warm and humidify air, and also may affect diseases involving vasodilation such as allergic and nonallergic rhinitis. Tillmann found that vascular regulatory responses are reduced with age (Tillmann et al.
2009
). Fifty-two subjects were acclimated to the laboratory environment for 5 min and baseline measures of perfusion by optical rhinometry were performed. The subjects were then moved to supine position for 30 min, which should alter blood flow. Older subjects had more rapidly increased perfusion, but did not return to baseline in contrast to younger subjects. This study suggests that autonomic control of nasal blood flow is altered in older subjects, potentially affecting humidification (as described above) and the other functions of the nose discussed above. Using liquid crystal thermography exhalation monitoring to measure nasal cycle, Doty found decreased regulation of the nasal cycle in older adults (Mirza et al.
1997
). Overall, the proportion of subjects exhibiting the alternating rhythmicity associated with the classic nasal cycle decreased with age. No association was present between nasal cycle parameters and scores on the mini-mental state examination (MMSE). The results suggest that the classic nasal cycle may be a marker for age-related central nervous system changes. These phenomena may also be important in nonallergic rhinitis.
13.3.2

Olfaction and Nasal Sensitivity

There are many systemic causes of chemosensory dysfunction. Olfactory deficits are seen in neurologic disorders, such as Alzheimer's disease, Huntington's disease, Parkinson's disease, and Korsakoff's psychosis, all of which generally affect the elderly. It is important to counsel patients with hyposmia or anosmia, as they may be unaware of noxious materials in their surroundings. They should obtain natural gas detectors if they have natural gas stoves, oven, or heat at home as they may not be able to detect a fuel leak. Additionally, they should be aware of dates on food products, label leftovers, and dispose of foods reaching their expiration dates to avoid food spoilage. Lastly, smoke detectors should be checked regularly for function and efforts must be maintained to promote nutrition.
13.3.3

Immunosenescence

In summary, this is a complex area in which there is little data on the nose specifically, but age-related changes in immune function are likely to impact nasal physiology and disease in older patients.