Fig. 10.1
The smartphone has changed our lives and also the healthcare profession. Office-based tasks can now be completed "on the go," and the smartphone has taken the place of reference books, the desk phone, stationary Internet computers, and handheld assistants (Illustration: Joe Moran, UMKC School of Medicine)
10.1.3

Today

Today's smartphone market is dominated by two players, Apple Inc. and Google Inc., who combine 92.3 % of all smartphone operating system shipments in the first quarter of 2013 [

5

]. While Android had a 75 % market share, iOS contributed 17.3 % to the total operating system shipments, with Windows Phone and Blackberry OS making up 3.2 and 2.9 %, respectively, according to the same study. However, despite the dominance by Android overall, the healthcare sector remains strongly dominated by Apple. While it is notoriously difficult to accurately determine mobile communication hardware preferences, estimates suggest that almost 90 % of physicians use and prefer Apple mobile devices over Android or any of the other competitors. Why? Several reasons are likely the cause for this very uneven distribution compared with the general public:

1.

Apps. There is a much larger number of high-quality medical applications for the Apple platform compared with Android (cf. 6).

2.

Integration. Apple has maintained a strong position by integrating several devices, and many apps work on both the iPhone and Apple's iPad or have even been converted to dedicated tablet versions.

3.

Compatibility. Apple provides iOS updates for most supported devices ensuring that apps continue to work. In contrast, there are multiple versions of the Android OS on the market and not all apps work seamlessly with all the versions.

4.

Implementation. Many academic institutions have implemented Apple hardware, notably iPads, into their education curricula as well as patient care. Apple's strength in integration clearly has swayed the decision making of healthcare professionals and educators toward choosing an iPhone over an Android-based smartphone.

What does the future hold? In the short history of mobile phones and smartphones, no single player has dominated the market both in terms of technological innovation and market share for more than 5–6 years. Research in Motion has begun a major restructuring of the company and recently released 4G LTE-compatible devices, the BlackBerry Q10 and Z10 smartphones, as well as their BlackBerry PlayBook tablet. It remains to be seen whether the BlackBerryTM will have its comeback. Nonetheless, industry-leading security standards and exceptional email integration remain the most important purchase decision factors for a BlackBerry device. Furthermore, BlackBerry sales may benefit from new regulations and privacy concerns regarding the security of medical records.

Software applications,

apps

, are available through application distribution platforms based on the mobile operating system. For iPhones and iPad, apps are available through the Apple App Store, while Android apps are distributed via the Google Play. Microsoft and Research in Motion operate the Windows Phone Store and BlackBerry App World, respectively. Many apps, including specialized medical apps, are free, while others are offered for purchase (in the medical field often the case for reference works and textbooks) or on a subscription model. In the following, we will describe some of the various types of apps available for ophthalmologists.
10.2

Apps and Tools for the Ophthalmologist and Vision Researcher

The number of apps specifically designed for the healthcare provider is rapidly growing, and there are countless apps with an ophthalmological focus [

6

,

7

]. Recent studies have shown that up to a third of physicians make prescription decisions based on data from smartphone apps [

8

]. However, with patient safety in mind, assessing the quality, accuracy, and currentness of the content makes choosing an app far from a simple task. The larger the number of apps used for medical decision making, the greater the time and effort required to update the apps, organize the device, and remember "which is which." This also means that an app that incorporates as many features into one application as possible and at the same time maintains a user-friendly and logical interface will provide the greatest gain in productivity.

The one single most comprehensive app on the market, available for both iPhone and Android, is the

Eye Handbook. Eye Handbook

was originally launched for iPhone in 2009 and has since had more than 750,000 downloads and updates, making it the most popular ophthalmological smartphone app.
10.2.1

The Eye Handbook

The

Eye Handbook

(Cloud 9 Development, LLC) was developed by ophthalmologists for ophthalmologists and features the most comprehensive collection of tools for ophthalmological testing as well as patient and physician education. The

Eye Handbook

is a free application that is currently available in the iTunes and Google Play Stores.

The included testing tools such as near vision cards, color vision plates (see Fig.

10.2

), animated pediatric fixation targets, Amsler grids, etc. (for complete listing, see Table

10.1

), will of course not replace office-based testing under ideal conditions; however, these tools can be particularly useful in the clinical setting when performing inpatient consults and emergency room visits. An additional advantage is their use in rural areas and in assisted living facilities, where office visits often pose a significant strain and burden on patients.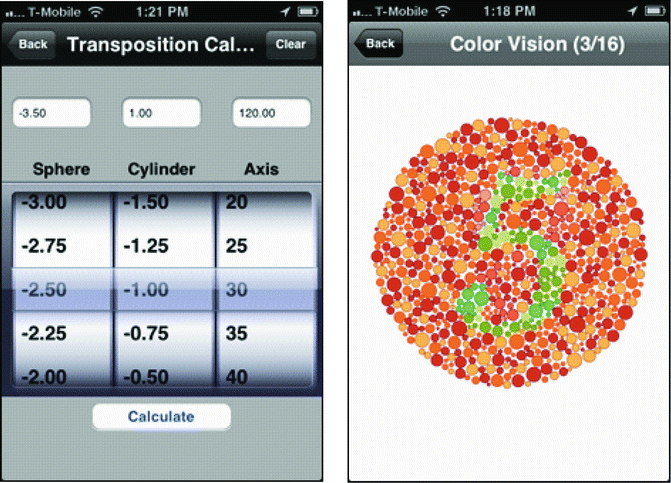 Fig. 10.2
Screenshots from the Eye Handbook app.
Left
: The transposition calculator is one many calculator tools available in the application.
Right
: Color vision slide to diagnose colorblindness (Reproduction of screenshots with permission by Cloud Nine Development, LLC)
Table 10.1
Features available in the
Eye Handbook
app











Calculators






Testing






Other features








Age to bifocal add






Accommodation test






Coding







Amplitude of accommodation






Amsler grids






Equipment







Diopter to radius conversion






Color vision






Eye atlas







Glaucoma risk calculator






Contrast sensitivity test






EHB manual







IOL calculators






Duochrome test






Meds







IOP–CCT calculator






Fluorescein light






References







SIAC






Near vision cards






RSS feeds







Toric calculators






Near vision cards (inverted)






Treatment







Transposition calculator






OKN drum











Vertex conversion






Peds fixation targets






Eye diagrams







Visual acuity calculator






Peds optotypes






Media consent form







Penlight






Patient education

Full access? Get Clinical Tree

Get Clinical Tree app for offline access