Fig. 32.1
Allergens bind Fc
ε
RI and trigger Syk-mediated signaling pathway resulting in mast cell degranulation, eicosanoid mediator synthesis, and cytokine production. Ionomycin, a calcium mobilization agent, can also induce degranulation of mast cells
Ramasamy et al. reported association of three loci for either AR or grass sensitization through evaluation of genome-wide meta-analysis of genetic variants. The HLA variant rs7775228, which cis-regulates HLA-DRB4, was strongly associated with grass sensitization and weakly with AR. Variants in a locus near chromosome 11 open reading frame 30 (C11orf30) and leucine-rich repeat containing 32 (LRRC32), which was previously associated with atopic dermatitis and eczema, were also strongly associated with both phenotypes (rs2155219). The third genome-wide significant variant was rs17513503, which is located near transmembrane protein 232 (TMEM232) and solute carrier family 25, member 46 (SLC25A46). They also observed strong associations of both AR and IgE sensitization to grass with a common (minor allele frequency, 47 %) polymorphism in the 11q13.5 locus (Ramasamy et al.
2011
).
Lu et al. (
2011
) found that the CT/CC genotypes in IL-4 C-590T were associated with a significantly decreased risk of mite-sensitized PER (adjusted odds ratio (OR) = 0.64, 95 % confidence interval (CI) 0.45–0.92), compared to the TT genotype. Moreover, persistent allergic rhinitis (PER) patients with CT/CC genotypes had significantly lower serum levels of total IgE than those with TT genotype (
P
 = 0.001). However, there was no significant association of the IL-13 and IL-4RA polymorphisms with mite-sensitized PER (
P
 = 0.05).
Kruse et al. (
2012
) reported genome-wide significant linkage to a novel AR locus at 1p13 and suggestive linkage to two novel regions at 1q31-q32 and 20p12. The locus has previously been demonstrated to have suggestive linkage with asthma (Denham). Possible candidate genes are the glutathione S-transferase M1 (GSTM1) (Ober and Hoffjan
2006
) and acidic mammalian chitinase (CHIA) genes located at 1p12-p13, earlier shown to be associated with asthma (Bierbaum et al.
2005
). Chromosome 20p12 is also a novel finding in regard to AR. However, it has previously been found to have linkage with atopy as well as asthma (Denham et al.
2008
).
Several studies have found an association of filaggrin (FLG), a filament-associated protein that binds to keratin fibers in epithelial cells with various allergic conditions and diseases including atopy as well as atopic dermatitis (AD), asthma, and AR (Rodriguez et al.
2008
).
At 2q13-q14, the interleukin 1 gene cluster (IL-1A, IL-1B, and IL-1RN) previously associated with AR (Joki-Erkkila et al.
2003
).
At 20p13, a disintegrin and metalloproteinase domain 33 (ADAM33) gene residing almost 3 Mb from the maximum linkage signal has previously been associated with AR. Toll-like receptors 7 and 8 (TLR7 and TLR8) located at Xp22 confer susceptibility to several allergic diseases and among these are AR (Kruse et al.
2012
).
Yousri et al. (Hussein et al.
2012
) showed that the genotype and allele frequencies of the TLR2 Arg753Gln and TLR4 Asp299Gly polymorphisms are not significantly different between asthmatic children or allergic rhinitis as compared to controls (
P
 > 0.05 for each) or even when compared further with IgE level. However, it is shown that the mutant allele of TLR2 or TLR4 polymorphisms was significantly associated with the moderate to severe groups compared to the mild group in both atopic asthmatics and allergic rhinitis group (
P
 > 0.001 for each). In conclusion, their study demonstrated a lack of association of TLR2 and TLR4 polymorphisms with asthma and allergic rhinitis but suggests significant association between these genetic variants and the disease severity.
32.4.5

Allergic Rhinitis and Epigenetics

The immune system is heavily affected by environmental changes. One of the good and current examples of this situation is the remarkable increase of all immune diseases with urbanization. Likewise, rising prevalence of immune diseases in infancy indicate that there may be an essential early period of sensitivity. During fetal life, essential arrangements occur such as structure, function, and response patterns of many systems. So, elucidating early events may offer important insights into the pathogenesis of the disease, as well as the pathways of environmental influence.

The effects of diet are potentially complex. More studies are needed to examine the effects of related dietary nutrients such as vitamins B2, B6, and B12, methionine, and choline, which may be implicated in epigenetic effects through their effects on folate-mediated one-carbon metabolism.

Belinsky et al. also showed that exposure to the ultrafine particulate matter found in pollution may also change DNA methylation in maternal and fetal DNA and may be associated with altered inflammatory response pathways.

In conclusion, the role of genetic as well as epigenetic factors in the pathophysiology of nasal diseases, including allergic rhinitis, is becoming more evident. Environmental effects on genetic variants and epigenetics determine the fate of chronic nasal diseases. Clarification of such relationships and mechanisms will lead to novel molecular diagnostic and therapeutic approaches for these kinds of diseases.
32.5

Role of Genetics in Chronic Rhinosinusitis
32.6

Genetics of Cystic Fibrosis and Pathophysiology in Airways
32.7

Role of Genetics in Nasal Polyposis
32.7.1

Introduction

The nasal polyp is one of the final manifestations of chronic inflammation. Nasal polyposis is a chronic inflammatory disorder of the upper respiratory tract that 1 to 4 % of the human population suffers from (Pawankar

2003

). The lamina propria of nasal polyps usually presents great numbers of eosinophils and lymphocytes. In chronic inflammation, inflammatory cells produce neuropeptides, cytokines, and growth factors. These molecules lead to an extensive network of cellular interactions. In addition, resident structural cells can synthesize many of these molecules. Fibroblasts, epithelial cells, and endothelial cells help to organize the inflammatory process in nasal polyps (Liu CM et al.

2002

).

Recently, it has been shown that there are proinflammatory cytokines such as tumor necrosis factor-α (TNF-α) and interleukin-1b (IL-1b) in the epithelial and endothelial cells of nasal polyps. Also, cell adhesion molecules such as very late antigen-4 (VLA-4) have been found on the surface of eosinophils, while integrins such as vascular cell adhesion molecule-1 (VCAM-1) have been shown on the surface of the small venules of the nasal polyp. Lastly, the presence of chemokines such as regulated upon activation normal T cell expressed and secreted (RANTES), eotaxin, and IL-8 in the epithelium of the nasal polyps has been determined.

The nasal polyp tissue and the nasal mucosa have a sufficient collection of inflammatory molecules to combat efficiently against different agents such as allergens, bacteria, fungi, chemical particles, and viruses that come into the nose from the external environment. One of the most significant cells to offer an immune response may be the lymphocyte subpopulations. The percentages of TH

1

lymphocytes

(

which produce IL-2 and interferon-α [ INF- α]

)

and TH

2

lymphocytes

(

which produce IL-4 and IL-5 cytokines

)

in the nasal pharyngeal tonsillar lymphocytes and peripheral blood lymphocytes have been determined in patients with nasal polyposis (Bernstein et al.

2001

). These same researchers have described the lymphocyte subpopulations and cytokines in nasal polyps (Bernstein et al.

2004

).
32.7.2

Mucosal Irritation and the Role of Staphylococcal Exotoxin

As the nasal polyp symbolizes a final point in chronic inflammation, it is difficult to describe the initial events that trigger the inflammatory process in the lateral wall of the nose. Some substances, such as allergens, bacteria, viruses, air pollutants, and fungal elements, enter the submucosa of the lateral wall of the nose and damage the airway epithelium. These irritants lead to changes in some of the possible modifications of the respiratory epithelium that may take place after entrance of these particles. These changes include the following: first, the synthesis of inflammatory eicosanoids, which are potent cell activators and chemoattractants; second, proinflammatory cytokines such as TNF-α and IL-1, which have major effects on growth, differentiation, migration, and activation of inflammatory cells; and, third, specific cell adhesion molecules, which have an essential role in managing the inflammatory cell. Lastly, major histocompatibility class II antigens have a crucial role in antigen presentation to T cells (Salik et al.

1999

) and are also responsible for consequent activation of T cells. Figure

32.2

shows the possible changes in respiratory epithelium after the entrance of bacteria, virus, allergens, and fungal elements.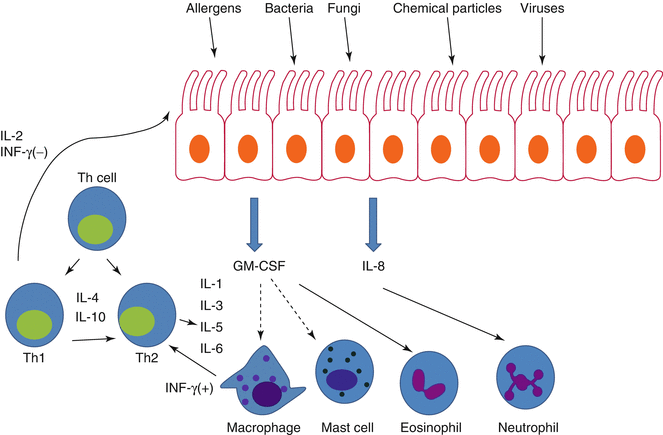 Premium Wordpress Themes by UFO Themes
WordPress theme by UFO themes