Fundus Autofluorescence in Pattern Dystrophy
Pattern dystrophy (PD), a term coined by Marmor and Byers (
1
), refers to a group of inherited retinal dystrophies characterized by the deposition of a highly autofluorescent material at the level of the retinal pigment epithelium (RPE), with an onset late in life. The incidence and prevalence are not known; however, PD is considered to be rare. In most cases there is an autosomal dominant (AD) mode of inheritance, although penetrance is variable. However, some cases may be sporadic or inherited as an autosomal recessive (AR) trait (the latter in association with reticular dystrophy). Patients may be asymptomatic or present with blurred vision and/or metamorphopsia. In advanced stages of the disease, reduced central vision and reading difficulties may be noted as a result of the development of atrophy or, less frequently, choroidal neovascularization (CNV).
The most common form of PD, adult vitelliform macular dystrophy (AVMD), is characterized by a bilateral solitary yellow, round to oval subfoveal lesion with or without a central pigmented spot (
2
). The next most common forms are multifocal PD simulating Stargardt disease-fundus flavimac ulatus (STGD-FFM) and butterfly-shaped PD (
3
,
4
). Rarer forms of PD include Sjogren reticular dystrophy, macroreticular dystrophy, and fundus pulverulentus. These various phenotypes can be seen in different individuals in the same family (
5
,
6
). Also, depending on the stage of the disease, the phenotype can change in appearance in the same individual over time (
7
,
8
).
PD may be present as an isolated condition or as part of a syndrome associated with other systemic disorders. PD has been found in a proportion of patients with maternally inherited diabetes and deafness (MIDDM) (
9
) (see
Chapter 11H
), myotonic dystrophy (
10
), pseudoxanthoma elasticum (PXE) (
11
), Friedreich ataxia (
12
), and Crohn disease (
13
).
HISTOPATHOLOGY AND MOLECULAR GENETICS
CLINICAL FEATURES
The age of onset in PD is usually in late adulthood, but with a positive family history it may occur in early adulthood. The progression of visual loss is usually slow, and most patients maintain reading vision until later in life. The condition can be quite
asymmetrical. Monitoring vision, especially in drivers, is important. Regular self-monitoring with an Amsler grid should be encouraged, and patients should be advised to seek ophthalmic review if sudden onset of blurring or distortion occurs, which could indicate the development of CNV. CNV was originally thought to be rare in PD (
29
), but is probably not uncommon (
30
,
31
). Macular atrophy has been observed both at presentation and over time in patients with PD (
32
).
Adult Vitelliform Macular Dystrophy
AVMD is most commonly dominantly inherited, with incomplete penetrance and highly variable expression, but there are a significant number of sporadic cases. In one study, 91% of patients with AVMD had no family history (
8
). Furthermore, lesions may be unilateral in a high proportion of patients (
8
). Typical findings include a yellow (
Fig. 11E.1
) or pigmented central deposit, around which a depigmented halo is often seen (
Fig. 11E.2
). There may be a central spot alone or there may be a few deposits near the lesion or in the peripheral retina (
Fig. 11E.3
). The electro-oculogram (EOG) light rise is usually normal or mildly affected. Color vision may be abnormal.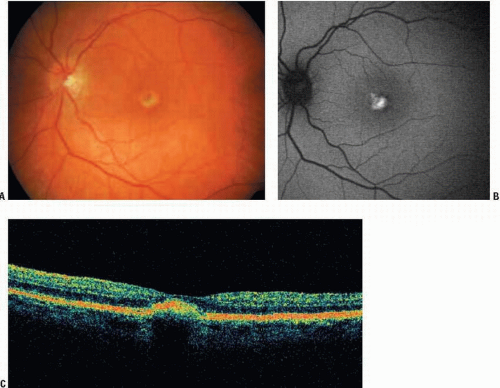 FIGURE 11E.1.
Color fundus photograph
(A),
AF image
(B),
and OCT
(C)
obtained from a 64-year-old female with AVMD. Slit-lamp biomicroscopy disclosed a small yellow deposit at the left fovea
(A),
with a highly increased signal on AF imaging
(B).
OCT demonstrated a well-delineated, dome-shaped elevation of the anterior reflective band and increased reflectivity within the vitelliform lesion
(C).
PRPH2
testing demonstrated a mutation in the gene.
Butterfly-Shaped Pattern Dystrophy
Butterfly-shaped PD is characterized by an accumulation of yellow or brown pigment at the level of the RPE in a butterfly configuration (
Fig. 11E.4
). A subnormal EOG and normal or slightly diminished visual acuity have been described, as well as atrophic changes and an AD inheritance (
3
). Although Deutman proposed a relatively benign course for butterfly-shaped PD, it has now clear that butterfly-shaped PD, like other types of PD, is usually a progressive disorder with varying degrees of visual deterioration (
3
). Older individuals may have atrophic, depigmented lesions extending into the peripapillary region, with markedly reduced visual acuity (
33
).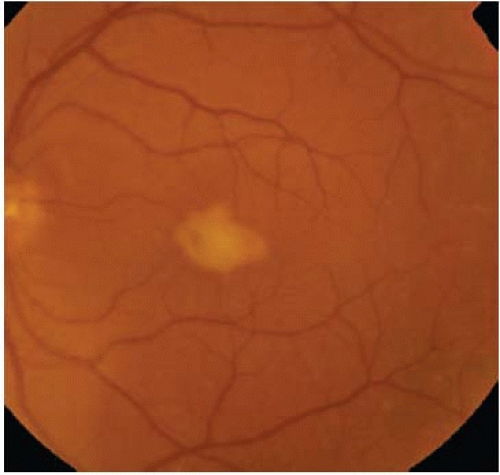 FIGURE 11E.3.
Color fundus photograph of a patient with AVMD demonstrating accumulation of yellow material at the fovea and additional deposits near this main lesion distributed throughout the macula and into the midperipheral retina.
Premium Wordpress Themes by UFO Themes
WordPress theme by UFO themes