CORNEAL DYSTROPHIES

ANTERIOR CORNEAL DYSTROPHIES
ANTERIOR BASEMENT MEMBRANE DYSTROPHY (MAP-DOT-FINGERPRINT DYSTROPHY, COGAN'S MICROCYSTIC DYSTROPHY)
Anterior basement (ABM) dystrophy is a common epithelial dystrophy that can cause painful recurrent corneal erosions and/or decreased vision.
Etiology and Pathology
• ABM dystrophy is due to an abnormality of production of epithelial basement membrane that extends into the epithelium, leading to multiple basement membranes in the corneal epithelium. Trapped epithelial cells can form "Cogan's microcysts."
Symptoms
• Most commonly asymptomatic
• Recurrent erosion syndrome: may have unilateral or bilateral recurrent episodes of pain in the middle of the night or upon opening the eyes after sleep. Can occur after trauma with a sharp object such as a fingernail, tree branch, or paper edge.
• May note painless distortion of vision when the central cornea is involved.
Signs
• Slit-lamp examination shows maplike lines, dots (microcysts), and/or fingerprintlike epithelial lesions, which may occur singly or in various combinations. These findings are best seen with retroillumination and with a broad slit beam from the side. There may be "negative staining" from slightly elevated areas of epithelium seen with fluorescein dye (Figures 5-1A,B,C,D).
• Eyes with recurrent erosions may have minimal clinical findings, localized areas of loose epithelium, or a frank epithelial defect.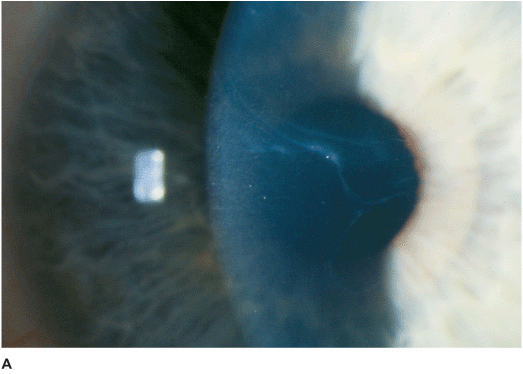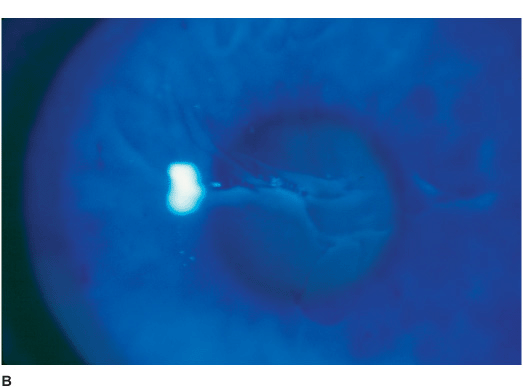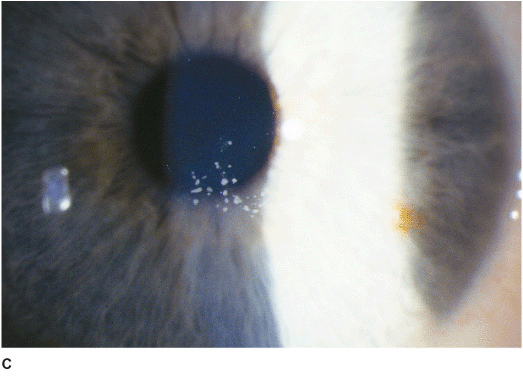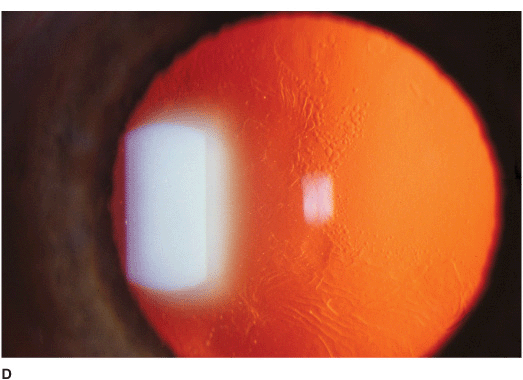 Figure 5-1 Anterior basement membrane dystrophy A. Maplike changes due to anterior basement membrane dystrophy. Note the "mare's tail" pattern of multiple epithelial layers. B. Fluorescein stain and the cobalt blue light view of the cornea in Figure 5-1A. Significant "negative staining" is evident due to areas of elevated epithelium. These elevated areas can cause foreign body sensation and/or decreased vision. C. Dot changes of ABM dystrophy. These creamy white Cogan's microcysts are tiny pockets of surface epithelial cells trapped beneath an abnormal epithelial basement membrane. D. Fingerprintlike changes of ABM dystrophy in retroillumination. These parallel lines and bleblike changes are due to irregularities in the epithelial basement membrane. They can cause irregular astigmatism and decreased vision.
Differential Diagnosis
• Other anterior corneal dystrophies, such as Meesmann's dystrophy and Reis-Bücklers' dystrophy
Treatment
• If vision is decreased due to central involvement, the irregular epithelium can be debrided.
• Painful erosions can be treated with lubrication, hypertonic drops and ointment (sodium chloride 5%), pressure patching, debridement, bandage soft contact lens, anterior stromal micropuncture, diamond burr polishing of Bowman's membrane, or excimer laser phototherapeutic keratectomy (PTK).
Prognosis
• Very good with appropriate treatment, although some patients have recalcitrant recurrent erosions
MEESMANN'S DYSTROPHY (HEREDITARY JUVENILE EPITHELIAL DYSTROPHY)
Meesmann's dystrophy is a rare bilateral epithelial disorder that can cause ocular irritation and photophobia.
Etiology and Pathology
• Meesmann's dystrophy is an autosomal dominant condition in which hundreds of tiny vesicles containing periodic acid-Schiff (PAS)-positive "peculiar substance" develop in the epithelium.
Symptoms
• Patients are usually asymptomatic, but may note irritation, glare, and photophobia. Mild pain may develop in adulthood due to recurrent corneal erosions.
Signs
• Retroillumination demonstrates myriad tiny, translucent, epithelial cysts that extend to the limbus and are most numerous in the interpalpebral region. The lesions appear gray or clear under direct illumination (Figures 5-2A,B).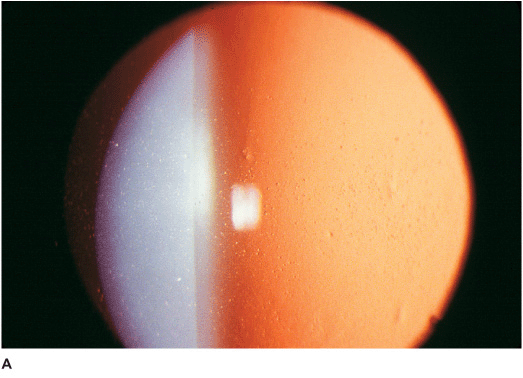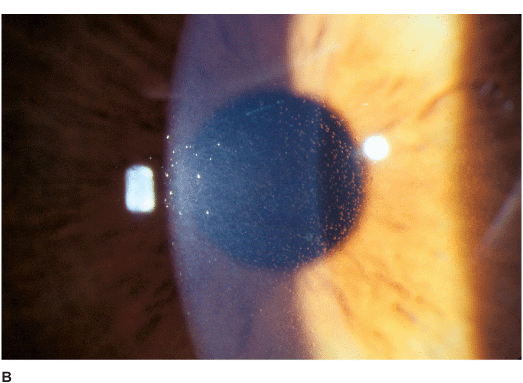 Figure 5-2 Meesmann's dystrophy A. Multiple tiny, translucent, epithelial cysts are apparent in retroillumination. They tend to be more prominent in the interpalpebral zone. B. On direct illumination, the microcysts are gray in color but are difficult to see. On illumination off the iris, at the 3 o'clock edge of the pupil, myriad microcysts are visible.
Treatment
• Most patients require no treatment. Consider lubrication and sunglasses for mild symptoms. Rarely, a bandage soft contact lens can be used or a superficial keratectomy can be performed for severe symptoms, but the dystrophy will recur.
Prognosis
• Good, although rare patients will have chronic symptoms
REIS-BÜCKLERS' DYSTROPHY
Reis-Bücklers' dystrophy is an uncommon, bilateral, symmetric dystrophy of Bowman's membrane that causes pain and decreased vision early in life.
Etiology
• Reis-Bücklers' dystrophy is an autosomal dominant (Big h3 gene, chromosome 5q31) disorder causing damage and scarring to Bowman's membrane and the anterior stroma.
Symptoms
• Severe recurrent corneal erosions from a young age, even soon after birth.
• Progression of the condition leads to reduced visual acuity that occurs in the second to third decades of life, although in severe cases it can occur in the first decade.
Signs
• Honeycomb appearance due to reticular, ringshaped, subepithelial opacities that are most dense centrally but may involve the entire cornea. With time, they can progress deeper into the stroma (Figures 5-3A,B).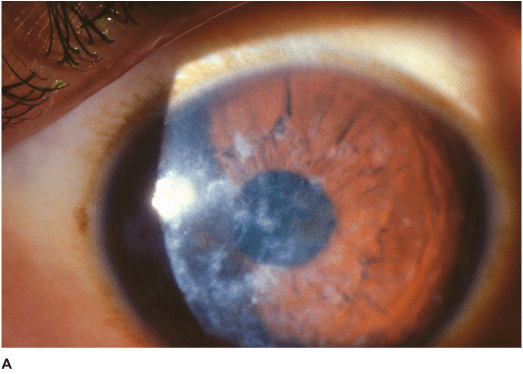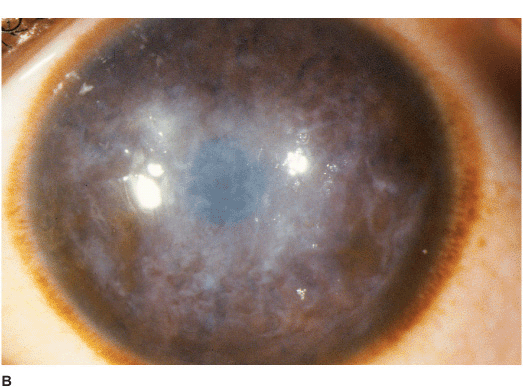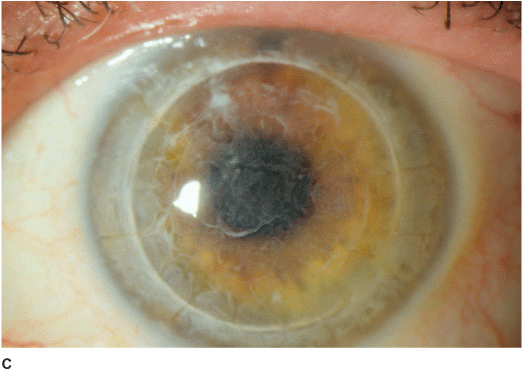 Figure 5-3 Reis-Bücklers' dystrophy A. This eye has moderate changes of Reis-Bücklers' dystrophy. It primarily involves the central cornea, but the opacity approaches the limbus inferiorly. B. This eye with advanced Reis-Bücklers' dystrophy has diffuse, reticular, limbus-to-limbus subepithelial and anterior stromal opacity. There are few if any clear spaces. C. This eye has recurrent Reis-Bücklers' dystrophy several years after penetrating keratoplasty. Note the honeycomb opacity centrally and involvement of the entire corneal periphery.
Differential Diagnosis
• Other anterior or stromal dystrophies (e.g., anterior basement membrane dystrophy, granular dystrophy, macular dystrophy)
Treatment
• Mild cases: lubrication.
• More severe cases: bandage soft contact lenses, superficial keratectomy, excimer laser PTK, lamellar keratoplasty, or penetrating keratoplasty may be necessary.
Prognosis
• Excimer laser PTK can be quite successful in improving vision and decreasing painful episodes in many cases. Keratoplasty may be required in advanced cases. Recurrence in the donor graft is common after corneal transplant and also after PTK (Figure 5-3C). PTK can often be repeated or performed for recurrence after keratoplasty.
STROMAL CORNEAL DYSTROPHIES
GRANULAR DYSTROPHY
Granular dystrophy is an uncommon disorder that can cause decreased vision and recurrent painful erosions in young adults.
Etiology and Pathology
• Granular dystrophy is an autosomal dominant (Big h3 gene, chromosome 5q31) disorder which becomes manifest during the first or second decade of life.
Histopathology Hyaline deposits stain bright red with Masson trichrome.
Symptoms
• Painful recurrent erosions are uncommon, but may occur before the vision is significantly affected.
• Decreased vision occurs in young adulthood and middle age, when the corneal opacities become confluent.
Signs
• Small, discrete, white granules ("crushed breadcrumbs") within the central anterior stroma, separated by clear intervening spaces. With time, the lesions extend deeper within the stroma and become larger and more numerous. With more time, superficial lesions become confluent over the pupillary axis, severely affecting vision. The periphery is spared (Figures 5-4A,B,C,D,E,F).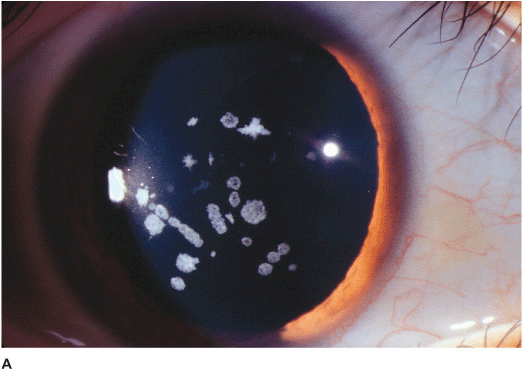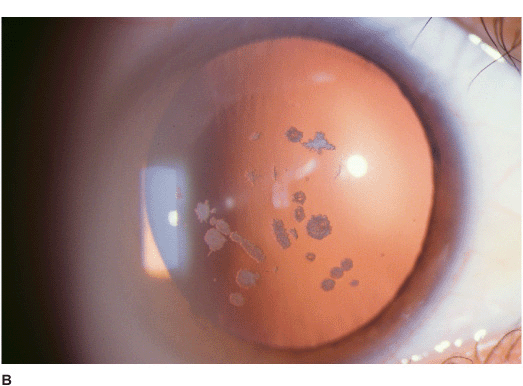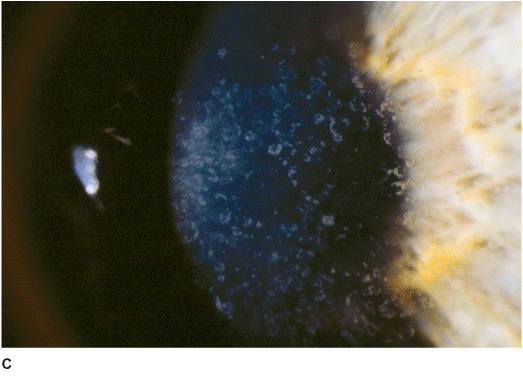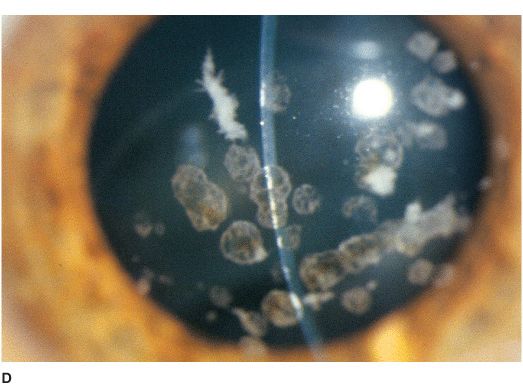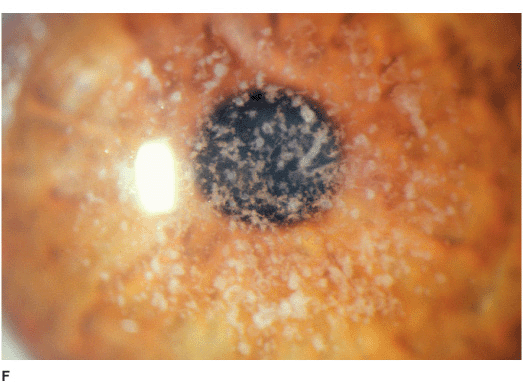 Figure 5-4 Granular dystrophy A. This eye with mild granular dystrophy has minimal opacity and still retains excellent vision. There are numerous discrete white, "crushed breadcrumb" opacities centrally with clear intervening spaces. B. This is the same eye as in Figure 5-4A seen in retroillumination off the retina; the granules are highlighted. C. This eye with granular dystrophy has relatively confluent opacities although the granules are small and not very dense. D. This slit-lamp view demonstrates some of the granular opacities to be rather superficial. E. This eye has a combination of the flat "crushed breadcrumb" opacities and the more three-dimensional dense white stellate opacities. The intervening spaces are still relatively clear. F.
Full access? Get Clinical Tree