Purpose
To assess the safety, tolerability, pharmacokinetics, and dose-limiting toxicity of single intravitreal injection of Sirna-027, a small interfering RNA targeting vascular endothelial growth factor receptor-1, in patients with choroidal neovascularization (CNV) resulting from neovascular age-related macular degeneration (AMD). Secondary objectives included assessment of anatomic changes in retinal thickness, size of CNV, and changes in visual acuity.
Design
Prospective, open-label, single-dose, dose-escalation phase 1 study.
Methods
Twenty-six eyes of 26 patients with a median age of 82 years and CNV resulting from AMD who had previous treatments with other therapies were treated at 2 academic retinal practices. Patients received a single dose of Sirna-027 (100, 200, 400, 800, 1200, or 1600 μg/eye). Blood was sampled for pharmacokinetic analysis at 1, 4, and 24 hours after injection and on day 7. Patients underwent ophthalmic examinations including visual acuity, fluorescein angiography, and optical coherence tomography at screening and days 7, 14, 28, and 84. The main outcome measures were adverse reactions and dose-limiting toxicities.
Results
Intravitreal injection of a single dose of Sirna-027 from 100 to 1600 μg was well tolerated in patients with AMD, with no dose-limiting toxicity found. Adverse events were mild to moderate in severity. Adjusted mean foveal thickness decreased within 2 weeks after study treatment. The decrease was most pronounced in the 100- and 200-μg doses.
Conclusions
A single intravitreal dose of Sirna-027 up to 1600 μg/eye was well tolerated in patients with CNV resulting from neovascular AMD that had been refractory to other therapies. Stabilization or improvement in visual acuity and foveal thickness was observed. No dose-response or dose-limiting effects were noted.
Age-related macular degeneration (AMD) is the leading cause of irreversible vision loss in the Western world. Since the publication of the Minimally Classic/Occult Trial of the Anti-VEGF Antibody Ranibizumab in the Treatment of Neovascular AMD (MARINA) and Anti-VEGF Antibody for the Treatment of Predominantly Classic Choroidal Neovascularization in AMD (ANCHOR) trials, demonstrating clinical treatment effects greater than had been seen hitherto, inhibition of vascular endothelial growth factor (VEGF) A has become the standard of care for most presentations of neovascular AMD. VEGF has 2 cell surface receptors, both of which are tyrosine kinases: VEGF receptor 1 (VEGFR-1) and VEGF receptor 2 (VEGFR-2). These receptors are potential targets for treatment of neovascular AMD, not only because VEGF inhibition is so successful, but also because inhibition of individual receptors may allow particular aspects of the angiogenic process to be modulated, and inhibition of a receptor with multiple ligands may have a greater effect than simply inhibiting the action of a single ligand.
VEGFR-1 is the receptor for both vascular endothelial growth factor B and placental growth factor, both of which may play a role in pathologic neovascularization. VEGFR-2 is the major mediator of the mitogenic, angiogenic, and permeability-enhancing effects of VEGF. The functions of VEGFR-1 are very complex, with both positive and negative angiogenic effects. It is upregulated by hypoxia and plays a role in hematopoiesis, recruitment of monocytes, induction of matrix metalloproteinases, and release of growth factors from endothelial cells. It also may play an inhibitory role by sequestering VEGF and preventing its interaction with VEGFR-2. Activation of VEGFR-1 by placental growth factor results in transphosphorylation of VEGFR-2, thus amplifying angiogenesis through VEGFR-2.
Sirna-027 (also known as AGN 211745) is a chemically modified small interfering RNA (siRNA) molecule that targets a conserved region of human, cynomolgus monkey, mouse, and rat VEGFR-1 mRNA molecules. Sirna-027 reduces pathologic neovascularization in a mouse laser-induced choroidal neovascularization (CNV) model in mouse oxygen-induced retinopathy. siRNA molecules induce gene silencing by binding to complementary target RNA molecules in association with the nucleolytic cytoplasmic protein complex known as the RNA-induced silencing complex ( Figure 1 ).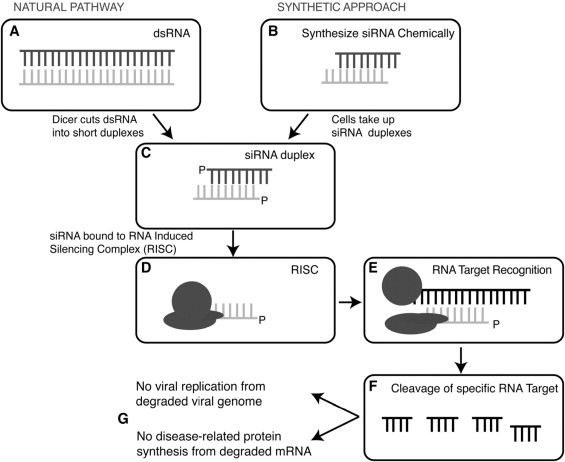 Nonclinical safety studies were conducted and included a single-dose intravitreal pharmacokinetic study in rabbits, single-dose intravitreal toxicity studies in rats and cynomolgus monkeys, and a single-dose intravenous toxicity study in rats (data on file). The primary effect of Sirna-027 in rats and monkeys was mild ocular inflammation detected by ophthalmoscopy, histopathologic analysis, or both at the highest doses, which was reversible and did not progress with repeated dosing. The observed adverse effect levels defined in the nonclinical ocular safety studies were 9- to 12-fold times the starting dose in the current study.
Based on the preclinical activity and tolerability of Sirna-027, a phase 1 study was conducted. The study was designed to demonstrate the safety and tolerability of single ascending intravitreal doses of Sirna-027 and to evaluate the proof-of-principle biological activity of Sirna-027 in patients with CNV secondary to AMD.
Results
Twenty-six patients with CNV secondary to AMD were enrolled and received treatment in this clinical trial. All 26 patients completed the study through day 84. Baseline demographic characteristics are summarized in the Table . Twenty of the 26 patients (76.9%) in this study were females, and all patients were white. The mean age for all patients was 81.5 years (range, 67 to 93 years). Eighteen of the 26 patients had received 1 or more prior treatments for AMD in the study eye. At baseline, the CNV type in the study eye was classified as predominantly classic in 10 patients (38.5%), minimally classic in 12 patients (46.2%), and occult in 4 patients (15.4%).
TABLE






100 μg


200 μg


400 μg


800 μg


1200 μg


1600 μg


Total




Age (yrs) at baseline



No.


4


3


3


6


6


4


26



Mean (SD)


84.5 (6.24)


74.7 (7.51)


86.0 (1.73)


78.5 (5.50)


83.0 (2.53)


82.5 (2.89)


81.5 (5.49)



Median


83.5


75


85


78.5


83


82.5


82



Range


78 to 93


67 to 82


85 to 88


70 to 86


80 to 87


80 to 85


67 to 93



Sex



Male


1 (25.0%)


2 (66.7%)


1 (33.3%)


1 (16.7%)


1 (16.7%)


0


6 (23.1%)



Female


3 (75.0%)


1 (33.3%)


2 (66.7%)


5 (83.3%)


5 (83.3%)


4 (100%)


20 (76.9%)



Race



Asian


0


0


0


0


0


0


0



Black


0


0


0


0


0


0


0



White


4 (100%)


3 (100%)


3 (100%)


6 (100%)


6 (100%)


4 (100%)


26 (100%)



Hispanic


0


0


0


0


0


0


0



Other


0


0


0


0


0


0


0



Treatment history



Photodynamic therapy with verteporfin


2 (50.0%)


2 (66.7%)


1 (33.3%)


2 (33.3%)


1 (16.7%)


1 (25.0%)


9 (34.6%)



Subfoveal laser photocoagulation


2 (50.0%)


0


0


0


1 (16.7%)


0


3 (11.5%)



Intravitreal injection with triamcinolone


1 (25.0%)


2 (66.7%)


0


0


0


0


3 (11.5%)



Other treatments



Clinical trial with adenoviral vector and pigment epithelial derived factor


0


0


3 (100%)


3 (50%)


2 (33.3%)


2 (50.0%)


10 (38.5%)



Clinical trial with combretastatin infusions


0


0


0


0


1


0


1



Injection of gas for pneumatic air displacement of subretinal hemorrhage


0


0


1


0


0


0


1



Laser retinopexy


0


0


0


0


1


0


1



Pegaptanib (Macugen)


0


0


0


0


1


0


1



Posterior sub-Tenon injection with triamcinolone


0


0


0


0


0


1


1



Rheopheresis


0


0


0


0


0


1


1



Clinical trial with VEGF-Trap infusions


0


0


0


1


0


0


1
Full access? Get Clinical Tree
Get Clinical Tree app for offline access