Purpose
To evaluate the retinal functional changes measured by scanning laser ophthalmoscope microperimetry in neovascular age-related macular degeneration treated with ranibizumab injections.
Design
Prospective, interventional case series.
Methods
A total of 42 eyes of 39 patients with neovascular age-related macular degeneration were included. After an initial 3 loading injections of ranibizumab, 0.5 mg per injection per month, injection was performed as needed. Evaluation of best-corrected visual acuity, microperimetry, and optical coherence tomography were performed before treatment and 3 months, 6 months, and 12 months after treatment. According to the appearance of the subfoveal choroidal neovascular membrane on fluorescein angiography, the study group was divided into patients with a predominantly or purely classic choroidal neovascular membrane, those with a minimally classic choroidal neovascular membrane, and patients with occult choroidal neovascular membrane.
Results
In all the subjects, mean retinal sensitivity of the central 12-degree area had increased significantly from 4.89 ± 3.1 dB to 9.82 ± 2.1 dB at month 12 ( P = .01). The number of absolute scotoma points decreased significantly from 11.3 ± 3.2 to 5.9 ± 2.4 at month 12 ( P = .01). However, in the subgroup analysis, the mean retinal sensitivity improvement, decreased absolute scotoma size, best-corrected visual acuity improvement, and central macular thickness improvement did not differ significantly among the groups.
Conclusions
Intravitreal 0.5 mg ranibizumab therapy improves retinal function, quantified not only by visual acuity, but also by mean retinal sensitivity and fixation stability, as assessed by scanning laser ophthalmoscope microperimetry. Measurement of retinal sensitivity may facilitate evaluation of the effectiveness of intravitreal ranibizumab treatment in patients with neovascular age-related macular degeneration.
Neovascular age-related macular degeneration (AMD) is the leading cause of irreversible loss of central vision in people of older than 50 years in industrial countries. Loss of visual acuity typically results from choroidal neovascularization (CNV) beneath the macula. Vascular endothelial growth factor (VEGF)-A is a key factor in the pathogenesis of CNV. Ranibizumab (Lucentis; Novartis Pharma AG, Basel, Switzerland, and Genentech, Inc, South San Francisco, California, USA) is a recombinant, fully humanized, affinity-matured monoclonal antigen-binding antibody fragment that inhibits the binding of multiple biologically active forms of VEGF-A to their receptors.
Two pivotal phase III trials, MARINA ( M inimally classic/occult trial of the A nti-VEGF antibody R anibizumab I n the treatment of N eovascular A ge-related macular degeneration) and ANCHOR ( AN ti-VEGF antibody for the treatment of predominantly classic CHOR oidal neovascularization in age-related macular degeneration), have demonstrated the efficacy of monthly dosing regimens of ranibizumab in improving visual acuity in patients with subfoveal CNV secondary to AMD. These studies also described the safety and tolerability profile of intravitreal treatment using ranibizumab.
In most previous studies, visual acuity was the standard way of measuring visual performance, but it inadequately described the functional impact in patients with compromised central visual fields resulting from AMD. Perimetry examines the light differential threshold, which differs from the minimal angle of spatial resolution (also termed visual acuity ). The latter markedly depends on the translucency of the optic media, whereas the light differential threshold mainly depends on the intactness of the photoreceptors. Therefore, the evaluation of retinal sensitivity and central retinal field function by using microperimetry, which is one of the functional evaluation techniques, is more informative compared with only visual acuity testing.
Several studies have shown that microperimetry allows an accurate measurement of retinal sensitivity in neovascular AMD treated with an anti-VEGF agent. However, to the best of our knowledge, most of the previous studies were retrospective, and there have been no reports on differences in the change of retinal sensitivity among neovascular membrane types. In this study, we evaluated the changes in macular sensitivity for patients with neovascular AMD treated with intravitreal ranibizumab therapy in association with subfoveal neovascular membrane type.
Results
Baseline Characteristics
Forty-two eyes of 39 patients (19 men and 20 women) were enrolled in this study. The average age for the entire study group was 67.62 ± 10.42 years. At the baseline, the mean logarithm of the minimal angle of resolution BCVA of the entire study group was 0.86 ± 0.58, and the mean CMT was 297 ± 120.4 μm. Subjects received a mean of 3.9 ± 1.2 injections within the 12-month period ( Table 1 ).
Table 1






Total (n = 42)


Purely or Predominantly Classic Type (n = 10)


Minimally Classic Type (n = 13)


Occult Type (n = 19)


P Value




Age (mean ± SD), year


67.62 ± 10.42


67.22 ± 11.48


66.25 ± 9.54


68.23 ± 7.65


.31 a



Gender



Male


20 (47.6%)


4 (69.1%)


8 (61.5%)


8 (42.1%)





Female


22 (52.4%)


6 (30.9%)


5 (38.5%)


11 (57.9%)


.24 b



BCVA (Snellen equivalent)



≤ 20/200


8 (19.0%)


1 (10.0%)


2 (15.4%)


5 (16.7%)





> 20/200 to ≤ 20/40


27 (64.3%)


7 (70.0%)


8 (61.5%)


12 (63.2%)





> 20/40


7 (26.7%)


2 (20.0%)


3 (23.1%)


2 (20.1%)


.58 b



Total CNV size (DA)



Mean ± SD


4.1 ± 1.8


3.8 ± 2.1


4.2 ± 2.2


4.1 ± 2.4


.64 a



Median (range)


3.6 (0.1-11.8)


3.3 (0.0-9.4)


3.7 (0.2-10.2)


3.5 (0.1-8.5)


.74 a



Mean baseline CMT ± SD (μm)


297 ± 120.4


317 ± 106.9


302 ± 150.2


284 ± 134.6


.29 a



Mean no. of injections ± SD


3.9 ± 1.2


3.8 ± 1.7


4.0 ± 1.8


3.9 ± 1.5


.84 a
According to the appearance of the subfoveal choroidal neovascular membrane on FA, the group of predominantly or purely classic type consisted of 10 eyes, the group of minimally classic type comprised 13 eyes, and the group of occult type included 19 eyes. All 3 subgroups had similar baseline characteristics for age, sex, distribution of the baseline BCVA, total CNV size, CMT, and mean number of injections with no significant differences ( Table 1 ).
All patients were Korean, and no systemic adverse events were recorded for any of the patients treated with intravitreal injection. No complications, including endophthalmitis, traumatic lens injury, or retinal detachment, were associated with the intravitreal injections.
Functional Changes of the Macula With Microperimetry
There was significant improvement of mean retinal sensitivity of all the subjects by microperimetry at each examination (4.89 ± 3.1 dB at baseline, 6.52 ± 2.1 dB at 3 months, 8.78 ± 3.1 dB at 6 months, and 9.82 ± 2.1 dB at 12 months; Table 2 ). In each group, mean retinal sensitivity increased significantly during the follow-up ( Table 2 ; Figures 1 and 2 ). The mean changes in retinal sensitivity compared with the baseline were the largest in the occult CNV group: 2.20 at 3 months, 4.68 at 6 months, and 5.46 at 12 months. However, there was no statistical difference of mean retinal sensitivity achieved among the groups ( Table 3 ).
Table 2






Mean Retinal Sensitivity ± SD



Baseline


3 Months


6 Months


12 Months




Total (n = 42)


4.89 ± 3.1


6.52 ± 2.1


8.78 ± 3.1


9.82 ± 2.1



P value a




.03


.01


.01



Purely or predominantly classic type (n = 10)


4.24 ± 2.5


5.01 ± 2.5


7.42 ± 2.8


8.23 ± 1.9



P value a




.16


.04


.01



Minimally classic type (n = 13)


4.90 ± 2.8


6.21 ± 3.2


8.12 ± 2.4


10.2 ± 2.2



P value a




.03


.01


.01



Occult type (n = 19)


4.42 ± 2.5


6.62 ± 3.1


9.12 ± 2.7


9.88 ± 2.9



P value a




.02


.01


.01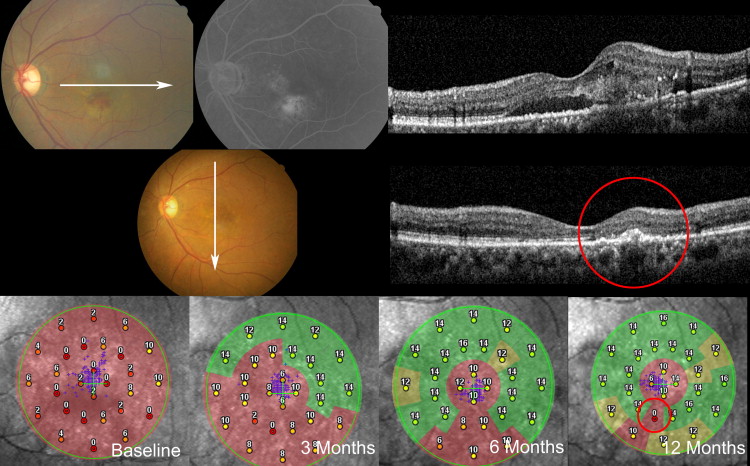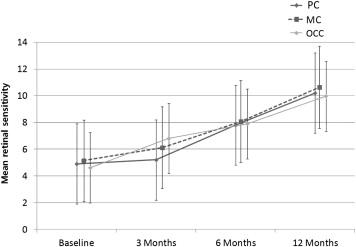 Table 3






Mean Change (95% Confidential Interval)



Baseline to 3 Months


Baseline to 6 Months


Baseline to 12 Months




Total (n = 42)


1.63 (1.13 to 2.13)


3.89 (2.88 to 4.90)


4.93 (2.91 to 6.94)



Purely or predominantly classic type (n = 10)


0.77 (0.27 to 1.27)


3.18 (1.68 to 4.68)


3.99 (2.09 to 5.89)



Minimally classic type (n = 13)


1.31 (0.71 to 1.91)


3.22 (2.11 to 4.33)


5.30 (3.19 to 7.41)



Occult type (n = 19)


2.20 (1.42 to 2.98)


4.68 (3.45 to 5.91)


5.46 (3.34 to 7.58)



P value a


.18


.24


.47
Full access? Get Clinical Tree
Get Clinical Tree app for offline access