5 PHARMACEUTICAL AGENTS

The Prescription/Patient Compliance
Jill C. Autry

THE PRESCRIPTION DOS AND DONT'S: PRESCRIBING GUIDELINES (SEE FIGS. 5-1 TO 5-3 AND TABLES 5-1 AND 5-2)
1. Do write legibly.
2. Do check drug spelling; many drug names look alike.
3. Do include dosage form, quantity, and strength of medication.
4. Do specify length of treatment on acute care prescriptions.
5. Do use the most economical size package on chronic care prescriptions.
6. Do make sure the patient understands all special instructions, for example



Refrigeration




Shake suspensions




Proper instillation techniques
7. Do specify the symptoms that require "as needed" treatment, for example
8. Do use only metric measurement. DO NOT use household or apothecary measurement systems.
9. Do not preprint your DEA number on your prescription pad.
10. Do use tamper resistant prescription pads where required by law.
11. Do not leave prescription pads unattended on counter tops.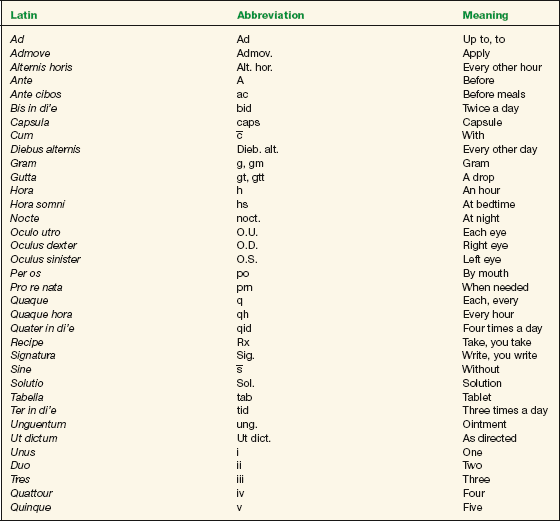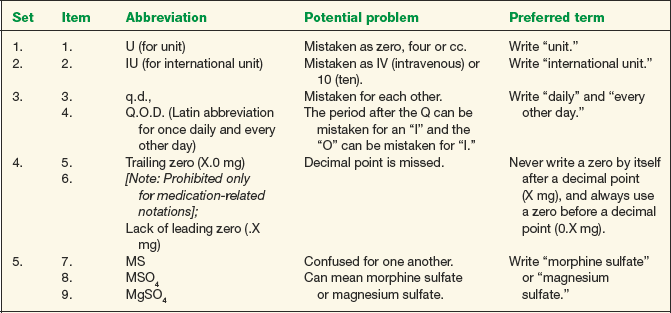 Effective April 1, 2004 (if your organization does not already have additional "do not use" items in place), each organization must identify and apply at least another three "do not use" abbreviations, acronyms, or symbols of its own choosing. (Revised 11/3/03.)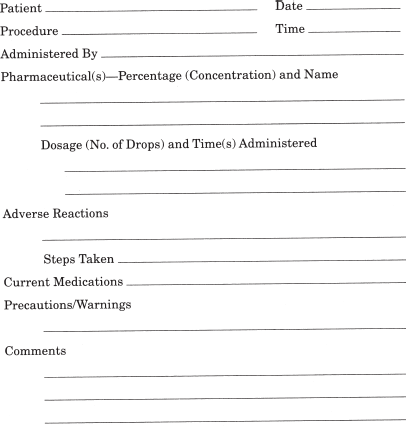 Figure 5-1. Sample drug record—diagnostic.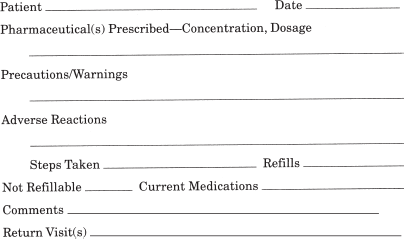 Figure 5-2. Sample drug record—therapeutic.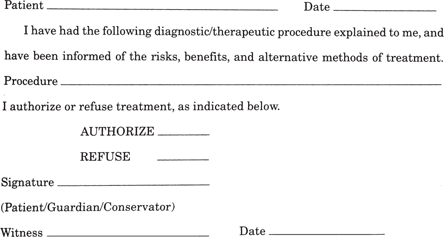 Figure 5-3. Sample consent form.

IMPROVING PATIENT COMPLIANCE
One of the most difficult things that any physician faces in managing the patient with chronic disease, be it systemic hypertension, elevated cholesterol, diabetes, or, as in ophthalmic cases, glaucoma and dry eye, is patient compliance with drug therapy.
Use the following recording and education sheets to assist your patient to utilize their medications more effectively (Figs. 5-4 to 5-6).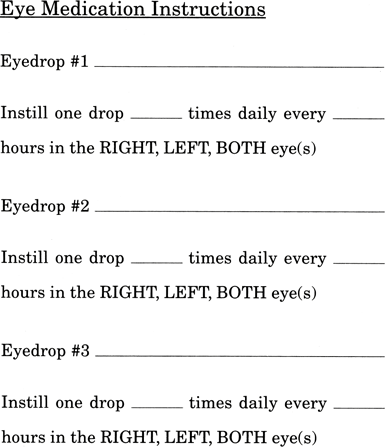 Figure 5-4. Patient medication instruction sheet.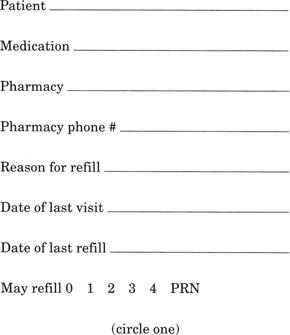 Figure 5-5. Medication refill request form.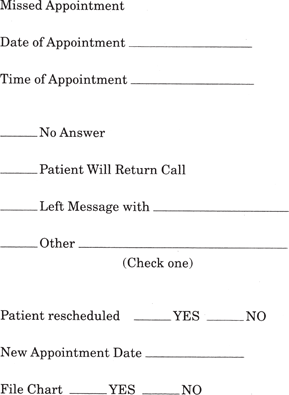 Figure 5-6. Missed appointment record sheet.
Ophthalmic Dyes
Jill C. Autry
Ophthalmic dyes are among the most useful diagnostic agents used in the management and detection of disorders of the visual system. The most common uses of these agents and their properties are listed in Tables 5-3 to 5-8 and Figure 5-7.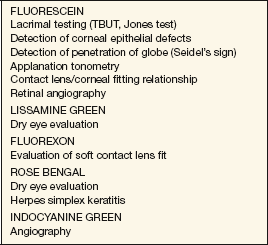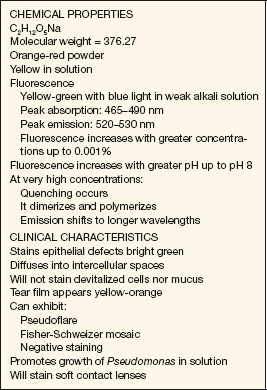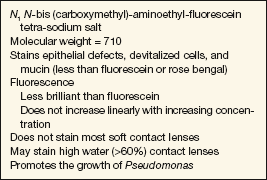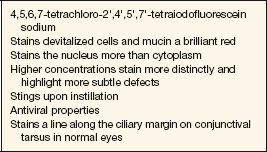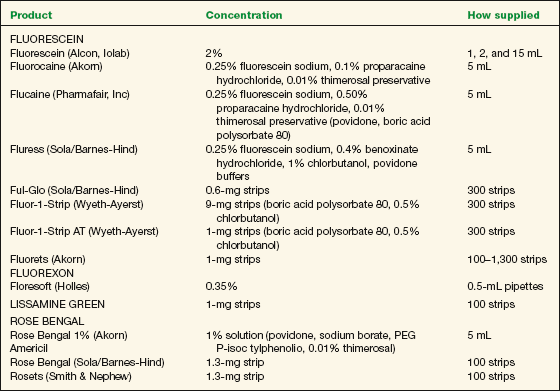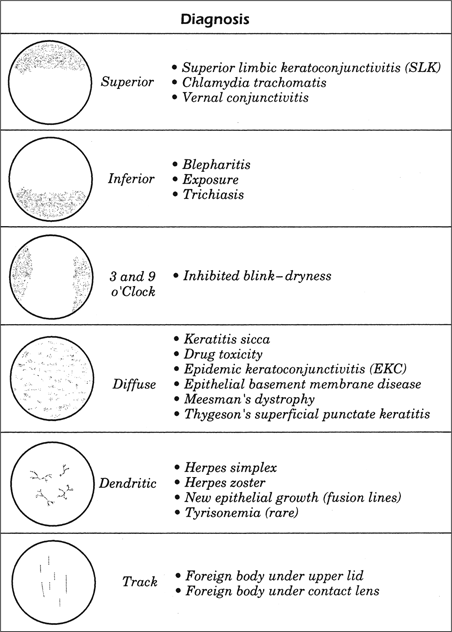 Figure 5-7. Common corneal fluorescein patterns.
Anesthetic Agents
Jill C. Autry
Clinical procedures that may induce patient discomfort should always include the use of an appropriate anesthetic agent. These drugs can vary in their ability to decrease pain, duration of effect, and potential to induce allergic and toxic reactions. It is important to select the most appropriate agent with adequate efficacy and minimal adverse effects (Tables 5-9 to 5-13). If a patient reports an allergy to an anesthetic agent in one chemical class, an agent from the alternate class can be considered with caution. For example, if a patient reports an allergy to tetracaine (an ester compound), a compounding pharmacist can prepare topical lidocaine (an amide compound) for ocular use.

*Partition coefficient is a measure of lipid solubility.
†Onset and duration times seen with epidural injection.
Modified from Covino BG. Pharmacology of local anesthetics. Ration Drug Ther 1987;21:1–9, and Local anesthetics. In: Facts and Comparisons, St. Louis: Lippincott, 1990: 691–694.

*Suggested maximum total topical doses. (Based on theoretical calculations from Lyle WM, Page C. Possible adverse effects from local anesthetics and the treatment of these reactions. Am J Optom Physiol Opt 1975;52:736.)
†Assumes approximately 20 drops/mL of solution.
‡Combined with 0.25% fluorescein sodium.
§Must be prepared from a powder.

Ointment, 0.5%.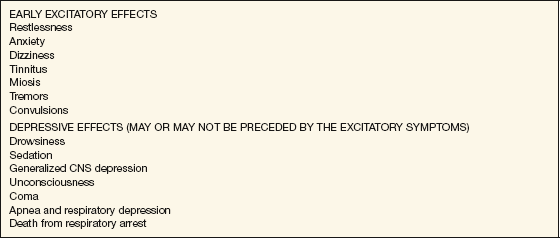 Dilating Agents and Procedures
Jill C. Autry
Of all the tests that we, as primary eyecare providers, perform to assess the ocular health of our patients, there is probably no more important test than the dilated fundus examination.
This section provides a quick reference to the procedures and medications that will improve the efficiency of this all-important procedure (Tables 5-14 and 5-15).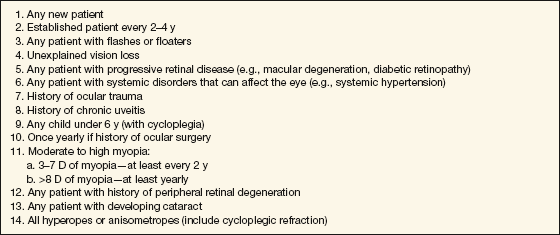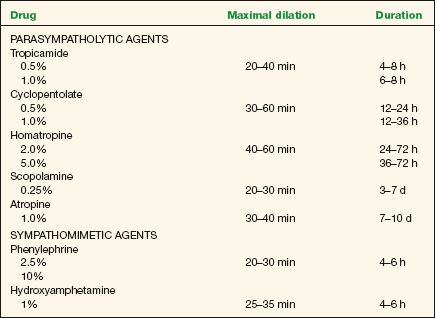 Prior to dilation, the clinician must assess the potential for angle closure. This can be done by gonioscopy or by the slit-lamp estimation procedure as seen in Table 5-16. Of course, patients most likely to develop angle closure are older, phakic patients with emmetropic to hyperopic prescriptions. See also Tables 5-17 and 5-18.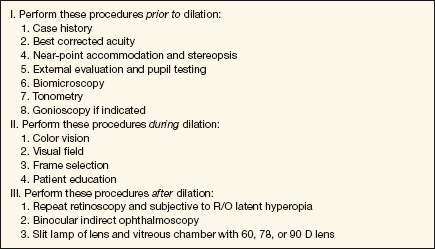 *Afternoon schedule may repeat morning or use for specialty appointments. Examination times may vary from doctor to doctor. Delegation of tests and an adequate number of examination rooms is necessary to follow this type of scheduling.
Diagnostic Agents and Procedures for the Management of Accommodative Disorders
Jill C. Autry
The use of diagnostic pharmaceuticals during the examination procedure is necessary in a number of situations. This section provides information regarding the appropriate use of pharmaceutical agents for the diagnosis of accommodative disorders (Tables 5-19 to 5-24 and Fig. 5-8) and accommodative esotropia (Table 5-25 and Fig. 5-9).