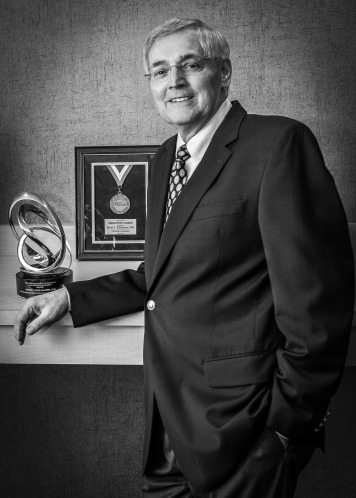 Henry Frances Edelhauser was born September 9, 1937 in Dover, New Jersey and died on December 2, 2015, surrounded by friends and family, at Emory University St Joseph's Hospital in Atlanta, Georgia. Dr Edelhauser was Emeritus Professor of Ophthalmology at Emory University and was arguably the top translational vision scientist of our era. He is responsible for improving the sight of millions as a result of his high-impact research.
Dr Edelhauser, known to his friends as Hank, was the son of a tool-and-die maker, Henry F. Edelhauser, an apprentice who studied under Charles Edison. Dr Edelhauser's grandfather, also Henry F. Edelhauser, worked directly with the great American innovator and father of Charles, Thomas Edison of Edison Electric Company (aka General Electric/GE). Dr Edelhauser's mother died when he was just 2 years old from complications related to childbirth. His grandmother raised him until his father remarried. He was fortunate to also have a half-sister, Judy Hamilton, who was 7 years younger than Hank. The two siblings developed very close bonds of admiration, love, and respect that grew over the years. Not surprisingly, Hank was an Eagle Scout, and he also loved to golf.
Dr Edelhauser's early education was in the public education system of West Orange, New Jersey. He attended Boonton (New Jersey) Public High School, where he excelled academically and also ran both track and cross-country. Hank met his future wife, Barbara, during his senior year of high school. Hank graduated early at age 17 and joined the Navy, of course, with a letter of parental consent. He spent 3 years on a Navy destroyer and had a chance to see the world. The commander of the destroyer recognized the extraordinary talents of this young enlisted sailor and strongly encouraged him to seek a formal college degree. Hank's career aspirations were to teach high school biology. In 1958, Hank attended Paterson State College, then a state teacher's college, now William Paterson University. He graduated with a teaching degree in 1962.
Barbara attended the Katharine Gibbs Secretarial School and graduated with distinction. She was asked to remain at Katherine Gibbs as a secretary and was rapidly promoted to become a Registrar for the school. Meanwhile, Hank had returned from the Navy and was attending Paterson State College; he and Barbara were reunited and eventually married in 1961. Hank and Barbara then moved to East Lansing, Michigan, where Hank attended Michigan State University (MSU). Working very long, hard hours, Hank first received a master's degree, followed closely by a demanding doctoral degree in physiology… all in the span of 4 years. Meanwhile, Barbara also worked at MSU for the Director of Broadcasting and also with a professor of communication. Unfortunately, Hank's father passed away prior to seeing him receive his doctoral degree.
During his time at MSU, Hank studied under a wonderful and caring mentor, Paul O. Fromm, PhD, who primarily studied fish physiology. Professor Fromm quickly recognized Hank's passion and skills as a teacher and an educator. He hired Hank as his teaching assistant, a highly sought-after position at MSU. Then in 1966 Hank was offered a position at the Marquette University School of Medicine in Milwaukee, Wisconsin, in the Department of Physiology. In October of 1970, the Marquette University School of Medicine was renamed the Medical College of Wisconsin.
Meanwhile, Richard (Dick) Schultz, MD, Professor and Chairman of Ophthalmology at the Medical College of Wisconsin, was recruiting a very talented group of academic ophthalmologists. One of his many recruits included a young Thomas M. Aaberg, Sr. Dr Schultz wanted to develop the research program and was interested in combining some of Dr Edelhauser's physiology expertise in the fish eye with the clinical expertise of the ophthalmologists. For Hank, this launched an exciting 46-year academic career in ophthalmology and vision science research. The timing couldn't have been better.
During the early years in ophthalmology, two very important surgical techniques were being developed: phacoemulsification and pars plana vitrectomy. Dr Edelhauser's physiology background was exactly what was needed during this important phase of surgical innovation. The irrigation solutions used in ophthalmic surgery were not well developed and the delicate corneal endothelial cells could not tolerate the harsh conditions of the early saline solutions. Thanks to the translational research of Dr Edelhauser and his ability to communicate fluently with the clinicians, solutions were refined and optimized for both anterior and posterior segment surgeons to perform the surgeries more safely. He was instrumental in the development of BSS and BSS Plus (Alcon Laboratories, Ft Worth, Texas, USA). In addition, Dr Edelhauser was also widely recognized for his basic physiology work on the corneal endothelium, corneal and scleral physiology, ophthalmic drug delivery, and intraocular gases for retinal detachment surgery and for intraocular inflammation, especially as it relates to the toxic anterior segment syndrome (TASS).
In 1989, Dr Aaberg, Chairman of Ophthalmology at Emory University, recruited Dr Edelhauser as the Director of Ophthalmic Research at the Emory Eye Center, where he held the prestigious Sylvia Montag Ferst Professorship (1989–2009). Dr Edelhauser built a strong research program at Emory and worked closely with long-term colleague and prior graduate students Dayle H. Geroski, PhD, and Bernard E. McCarey, PhD. Dr Edelhauser had always wanted to be a teacher and his favorite topic of discussion, especially among his academic colleagues, was the success of his students… not only academic success, but also personal success. Indeed, he trained an impressive list of students, ranging from undergraduate to graduate and postdoctoral students. He served as a graduate student advisor to 17 and postdoctoral advisor to 38 of some of the most prominent names in ophthalmology and vision research.
Dr Edelhauser's investigative style was highly collaborative and supportive. For those of us who were privileged to study with Hank, we were challenged by the mind of a brilliant physiologist, yet also comforted by his kind and approachable demeanor. He was knowledgeable, yet also wise and humble. His character was impeccable and he radiated an eternal optimism and genuine sense of curiosity. Elegant!
Hank loved the game of golf. In fact, growing up in New Jersey, he would caddy for golfers as a summer job. He enjoyed teaching golf to his son and grandson, and also playing the game with his friends and colleagues. While working at the Medical College of Wisconsin, Hank enjoyed teaching courses and facilitating research during the summers at the Mount Desert Island Biological Laboratory near Bar Harbor, Maine.
During his academic career, Dr Edelhauser co-authored over 320 peer-reviewed publications and 56 book chapters, had received continuous NIH funding for approximately 42 years. He held 4 patents and gave over 156 keynote or named lectures. He received numerous awards and honors. Just to mention some of his many awards and honors: He served as President of ARVO (1990–91), was a Gold Fellow, and also received the prestigious Proctor Medal in 2005. He was awarded the R. Townley Paton Award by the Eye Bank Association of America and the Castroviejo Medal by the American Academy of Ophthalmology; received the Alcon Research Institute Award and, from Fight for Sight, the Mildred Weisenfeld Award; and gave the 2010 Charles D. Kelman Innovator's Lecture at the American Society for Cataract and Refractive Surgery. Most recently, he was recognized with the Outstanding Alumni Award from Michigan State University in 2013. In 2012, he was the recipient of the "Start-up Company of the Year" by the Emory Office of Technology Transfer for his role in Clearside Biomedical, the result of a collaborative project with the Georgia Institute of Technology.
Dr Edelhauser was a remarkable individual. He was so talented as a translational researcher, physiologist, and scientist who also conversed fluently in the clinical arena that many MDs were surprised to learn that his degree was a PhD rather than an MD. He touched the lives of many colleagues, friends, and students. He also served humanity through his pragmatic approach to solving important issues in clinical and surgical ophthalmology. Elegant!
Dr Edelhauser loved and enjoyed spending time with his family. He and Barbara were married for over 54 years; their oldest child, son Scott (Sabrina), and daughter Jill Harshman (Chris) are both married and are very proud of their father. He has two grandchildren: Matthew, currently an academic merit scholar at St Louis University and Elizabeth, a junior in high school and an artist, who currently lives in Ventura, California. Our dear friend Hank will be missed.
Full access? Get Clinical Tree