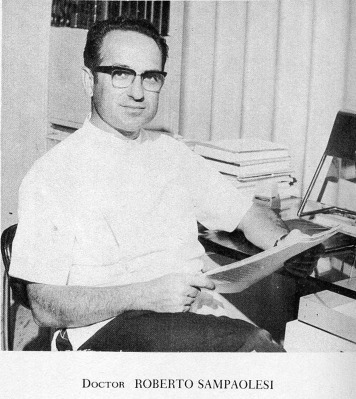 Professor Roberto Sampaolesi passed away on November 8, 2015, the same day he turned 90 years of age. Sampaolesi was one of the most outstanding professionals in Argentina, reaching the highest level in his field of expertise as Professor Emeritus of the University of Buenos Aires, while head of the department in the Hospital de Clínicas and the Hospital Italiano.
Sampaolesi was a fervent promoter of the residency, creating the first one in Buenos Aires at the Lagleyze Institute in 1970. Many outstanding professionals from Argentina and abroad were formed under his tuition. Carlos Argento, Roberto Geria, Carlos Nicoli, Javier Casiraghi, and many others were among his students.
Professor Sampaolesi was fluent in 6 languages: his native Spanish, Italian, German, English, French, and Portuguese.
His doctoral thesis (1953) is about clinical uses of fluorescein in ophthalmology. Sampaolesi spent several years in the United States and in Europe, especially in Munich, Rome, and Zurich, where he worked with Marc Amsler and Hans Goldmann, both among the greatest contributors of the twentieth century in ophthalmology. With the former, Sampaolesi studied kinetic and static perimetry. In Germany, he worked with Gerhard Meyer-Schwickerath, the one with whom he would witness the first cases of retinal photocoagulation.
Professor Sampaolesi was a member of the Medical Academy in Rome, the American Academy of Ophthalmology (AAO), and the French, German, and Italian Societies of Ophthalmology. He was also a Member of Honor of the Ophthalmology Societies of Central and South America, the Argentinian Medical Society, and the Argentinian Society of Ophthalmology (SAO).
His main interests were glaucoma, especially congenital glaucoma, where he established clinical parameters for its surgical treatment. He also investigated ocular pressure variation and its daily curve, a method which he standardized. Pseudoexfoliation glaucoma was another favorite subject. A pigment line description in gonioscopy bears his name. Sampaolesi was among the promoters of echography and ecometry in the diagnosis of congenital glaucoma, and published a book on the subject. During his last years, he and his son Juan both studied the clinical and tomographic evolution of the optic nerve excavation with Heidelberg retina tomography, thus establishing the evolutionary parameters of the disease.
Sampaolesi was the author of many books about glaucoma. He also wrote about the history of art, especially about the Golden Ratio, one of this favorite subjects.
Sampaolesi was a man of many interests and a great opera lover with tight bonds to the outstanding Italian singer Beniamino Gigli, who was his father's best friend. The opera singer used to stay at his family's home whenever he visited Buenos Aires. Sampaolesi was also a gifted painter. Devoting part of his leisure time to art, painting turned out to be his beloved hobby.
Roberto Sampaolesi leaves behind two sons, a daughter, and his dear wife Erika, who devoted her time for his husband's welfare. His son, Juan, follows in his father's footsteps as a glaucoma specialist.
With his departure, Professor Sampaolesi leaves behind an exemplary life that will continue inspiring many of his followers.
Full access? Get Clinical Tree