Purpose
To estimate the impact of dry eye disease (DED) on work performance and productivity in office workers using visual display terminals (VDTs).
Design
Cross-sectional study.
Methods
Six hundred seventy-two Japanese young and middle-aged office workers using VDTs completed a questionnaire that was designed to measured at-work performance deficits and productivity losses using the Japanese version of the Work Limitations Questionnaire, completed by e-mail. Using the Japanese dry eye diagnostic criteria, respondents were classified into 3 groups: definite DED, probable DED, and non DED.
Results
Of the 672 office workers, 553 subjects (82.3%), including 366 men and 187 women, completed the questionnaire and underwent clinical evaluation. As for the total workplace productivity loss, the non DED group demonstrated a loss of 3.56%, those with probable DED demonstrated a loss of 4.06%, and those with definite DED demonstrated a loss of 4.82%, indicating significantly worse performance and productivity ( P = .014, trend test). For the 4 subscales, DED was associated with significantly lower on-the-job time management ( P = .009, trend test) and combined mental performance and interpersonal functioning ( P = .011, trend test). After controlling for age, sex, VDT working hours, and diagnosis of DED, time management, physical demands, and mental and interpersonal functioning showed a significant relationship to DED (each P > .05). Annual DED productivity losses were estimated to be $6160 per employee when measured by total production and $1178 per employee calculated by wage.
Conclusions
This study indicated that there is a significant impact of DED on the total productivity of Japanese VDT users.
According to the International Dry Eye Work Shop, "Dry eye is a multifactorial disease of the tears and ocular surface that results in symptoms of discomfort, visual disturbance, and tear film instability with potential damage to the ocular surface." Dry eye disease (DED) is one of the most prevalent ocular surface diseases in the world, occurring from 4.4% to as high as 50% of middle-aged and older people. In the United States, estimates from the largest studies suggest that DED affects approximately 5 million people 50 years of age and older. Many studies have demonstrated that patients with DED experience an impact on their daily lives, including poorer general health among patients with moderate to severe DED.
Prior studies also have demonstrated an impact of DED on the ability to work using questionnaires such as the Impact of Dry Eye on Everyday Life questionnaire, which includes a module on work productivity. However, to the extent that this work is based on questionnaires developed for use specifically in the dry eye setting, direct comparisons with other health conditions generally have not been performed. Whether one approach is better or worse has not, to our knowledge, been studied. Nonetheless, such work has aided the recognition that there is an economic burden from DED that can be divided into 2 categories: (1) direct costs such as medical fees and cost of medications and (2) indirect costs such as reduced employment rates, absence from work (absenteeism), and equivalent lost work days resulting from adversely affected performance (presenteeism). Moreover, there have been some studies using questionnaires, such as the Work Productivity and Activity Impairment Questionnaire, developed to assess work productivity across a range of health conditions that have reported a correlation between the severity of dry eye and the duration of both absenteeism and presenteeism, with perhaps a greater impact of DED on presenteeism.
In Japan, Yamada and associates evaluated presenteeism in patients with DED using the Japanese version of the Work Limitations Questionnaire, an established tool for evaluation of presenteeism with high internal reliability. However, that study was carried out as an online survey and did not include a clinical evaluation for DED, which could provide important additional information and may reduce misclassification.
The present study was undertaken to address some of the limitations of prior studies. We evaluated the impact of DED on presenteeism in office workers using the Japanese version of the Work Limitations Questionnaire to allow for direct comparison of the impact of DED versus other health conditions. We conducted clinical evaluation and classification of DED according to the Japanese DED diagnostic criteria to address possible misclassification that could arise from use of self-reported DED.
Results
Participants and Diagnosis of Dry Eye
Of the 672 office workers in this company, 553 (82.3%) participated in this study, including 366 men (66.2%) and 187 women (33.8%) between 22 and 65 years of age. Using the Japanese DED diagnosis criteria, 65 subjects (11.8%) were diagnosed with definite DED, 299 subjects (54.1%) were diagnosed with probable DED, and 189 subjects (34.2%) were in the non DED group. Characteristics of the study population are provided in Table 1 (detailed ophthalmic findings were presented previously). Only 4.7% and 1.1% of all the subjects had hypertension or diabetes mellitus, respectively, with no significant difference among the 3 DED groups ( P = .68 for hypertension and P = .16 for diabetes mellitus). Previous studies showed an association between depression and DED; however, only 2 subjects reported having been diagnosed with depression or to be using antidepressants in the current study.
Table 1
| | Definite DED (n = 65; 11.8%) | Probable DED (n = 299; 54.1%) | Non DED (n = 189; 34.2%) | Total (n = 553) | P Value |
| --- | --- | --- | --- | --- | --- |
| Age (y) | 40.6 ± 7.3 | 43.5 ± 8.9 | 43.5 ± 8.9 | 43.1 ± 8.8 | .045 a ∗ |
| Male (%) | 46.2 | 63.9 | 76.7 | 66.2 | .000 b ∗ |
| Average VDT hours | 8.2 ± 2.3 | 8.0 ± 2.3 | 7.6 ± 2.1 | 7.9 ± 2.2 | .071 a |
| Hypertension, no. (%) | 2 (3.1) | 13 (4.3) | 11 (5.8) | 26 (4.7) | .678 b |
| Diabetes mellitus, no (%) | 1 (1.5) | 5 (1.7) | 0 (0.0) | 6 (1.1) | .164 b |
Work Limitations
The degree of work limitation according to DED status was 4.82% in the definite DED group and 4.06% in the probable DED group; both showed greater losses than the non DED group (3.56%). There was a significant difference between the definite DED and non DED groups ( P = .041; Figure 1 ). Using the average working hours in Japan (7.75 hours/day, 243 days/year), this difference can be converted to a loss of approximately 23.7 hours, or almost 3.1 working days in a year. The trend test across the 3 DED groups (non DED, probable DED, definite DED) also showed significant worsening from the non DED to the definite DED group ( P = .014). Trend tests across DED diagnostic groups and each subscale score revealed 2 subscales that were significantly lower in the definite DED group ( P = .009 for time management loss and P = .011 for mental and interpersonal functioning loss; Figure 2 ). Subgroup analyses comparing subjects with (n = 343) and without (n = 21) dry eye symptoms showed a significantly greater magnitude of work limitations among those with symptoms (4.33 ± 3.44 vs 2.07 ± 2.07; P = .005).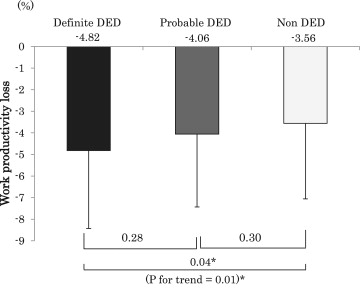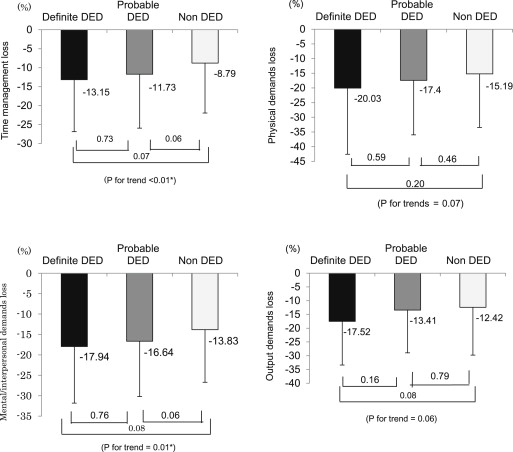 Using models that evaluated the association between DED and work productivity losses after taking in account the possible influence of other factors (age, sex, VDT hours), we observed a significant association between DED and total productivity loss ( P = .022; Table 2 ). Additional adjustment for cigarette smoking (which was not associated with productivity loss; data not shown) did not affect findings and was not included in the final models. Considering the 4 subscales, 3 of them, time management, physical demands, and mental and interpersonal functioning, showed a significant relationship with DED ( P = .021, P = .023, and P = .025, respectively). For the subscale of output demands, there was a borderline significant association with DED ( P = .068).
Table 2






Total Loss


Time Management Loss


Physical Demands Loss


Mental or Interpersonal Loss


Output Demands Loss



Slope ± SE


P Value


Slope ± SE


P Value


Slope ± SE


P Value


Slope ± SE


P Value


Slope ± SE


P Value




Dry eye


0.57 ± 0.25


.022 a


2.17 ± 0.94


.021 a


3.03 ± 1.33


.023 a


2.05 ± 0.91


025 a


2.04 ± 1.11


.068



Age (y)


−0.01 ± 0.02


.491


−0.16 ± 0.07


.026 a


0.37 ± 0.10


.001 b


−0.10 ± 0.07


144


−0.07 ± 0.08


.382



Gender (female)


0.10 ± 0.34


.768


−0.47 ± 1.32


.722


−0.42 ± 1.86


.819


0.68 ± 1.28


595


−0.22 ± 1.56


.889



VDT working hours (>8 hours)


−0.03 ± 0.37


.937


1.68 ± 1.42


.239


−2.74 ± 1.97


.165


0.35 ± 1.38


799


−0.15 ± 1.68


.929
Premium Wordpress Themes by UFO Themes
WordPress theme by UFO themes