Purpose
To investigate the association of spontaneous drusen regression in intermediate age-related macular degeneration (AMD) with changes on fundus photography and fundus autofluorescence (FAF) imaging.
Design
Prospective observational case series.
Methods
Fundus images from 58 eyes (in 58 patients) with intermediate AMD and large drusen were assessed over 2 years for areas of drusen regression that exceeded the area of circle C1 (diameter 125 μm; Age-Related Eye Disease Study grading protocol). Manual segmentation and computer-based image analysis were used to detect and delineate areas of drusen regression. Delineated regions were graded as to their appearance on fundus photographs and FAF images, and changes in FAF signal were graded manually and quantitated using automated image analysis.
Results
Drusen regression was detected in approximately half of study eyes using manual (48%) and computer-assisted (50%) techniques. At year-2, the clinical appearance of areas of drusen regression on fundus photography was mostly unremarkable, with a majority of eyes (71%) demonstrating no detectable clinical abnormalities, and the remainder (29%) showing minor pigmentary changes. However, drusen regression areas were associated with local changes in FAF that were significantly more prominent than changes on fundus photography. A majority of eyes (64%-66%) demonstrated a predominant decrease in overall FAF signal, while 14%-21% of eyes demonstrated a predominant increase in overall FAF signal.
Conclusions
FAF imaging demonstrated that drusen regression in intermediate AMD was often accompanied by changes in local autofluorescence signal. Drusen regression may be associated with concurrent structural and physiologic changes in the outer retina.
The presence of large soft drusen is a clinical hallmark of intermediate age-related macular degeneration (AMD) that is associated with an increased risk of progression to advanced AMD. Large soft drusen exhibit structural dynamism by demonstrating growth, as well as partial or complete regression, which can occur either spontaneously or in response to laser photocoagulation. What cellular mechanisms underlie drusen regression and how retinal function and AMD progression are affected by its occurrence are incompletely understood. Whether drusen regression can constitute a useful surrogate endpoint in clinical trials on the prevention of AMD progression also remains a topic of some debate.
The purpose of the current study was to examine the incidence of drusen regression in eyes with intermediate AMD and to discover whether drusen regression in the short term may be associated with local changes in the overlying retina. As large soft drusen abut the adjacent retinal pigment epithelium (RPE) layer, alterations in drusen size per se, and/or the processes that drive or accompany drusen regression, may influence the health and function of adjacent RPE cells. Fundus autofluorescence (FAF) imaging, which relies primarily on the fluorescence generated from bisretinoid compounds accumulated in RPE cells, has been demonstrated to reveal clinically significant alterations in the anatomic and physiological state of the outer retina. In the current study, we employed this modality to discover whether the events surrounding drusen regression were accompanied by changes in the outer retina. Our findings here are relevant to the significance of drusen regression in the natural history of AMD and may relate to the mechanisms by which large soft drusen confer risk on AMD progression.
Results
Prevalence of Drusen Regression in Eyes with Intermediate Age-Related Macular Degeneration
Study eyes (n = 58) were assessed for the presence of significant drusen regression between baseline and year-2. Two methods of analysis were performed in parallel: (1) manual segmentation and (2) computer-assisted delineation based on image subtraction. On manual segmentation of baseline and year-2 follow-up fundus images of 58 study eyes, 28 eyes (48%) were identified as demonstrating at least 1 area of drusen regression exceeding circle C1 (125 μm) in area. In comparison, computer-assisted delineation of drusen regression identified a similar proportion of eyes (50%, 29/58) as having met this criterion. Agreement between the 2 methods was very good (Cohen κ = 0.91 ± 0.05), with 27 eyes being similarly identified as having significant drusen regression by both methods. One eye identified by manual segmentation was not identified by computed-assisted delineation, while 2 eyes identified by computed-assisted grading were not identified by manual segmentation. These 3 discordant eyes were "borderline" cases in which the largest area of drusen regression was close to the area of circle C1.
Manual Grading of Clinical and Fundus Autofluorescence Changes in Areas of Drusen Regression
For study eyes that were identified on manual segmentation to have met criteria for drusen regression (n = 28), multimodal fundus images (color, red-free, mFC FAF) captured at baseline and year-2 were registered and inspected in parallel. Figures 3-5 illustrate representative examples of drusen regression and their appearance on multimodal imaging in analyzed eyes. These representative individual examples illustrate that retinal areas of drusen regression appeared clinically unremarkable on color and monochromatic photography in the majority of cases. In these areas that were previously occupied by drusen, the retina either had a normal clinical appearance or developed small amounts of new pigment clumping. However, on FAF imaging, these same areas typically demonstrated clear changes in the local patterns of autofluorescence that were considerably more prominent than the clinically observable changes.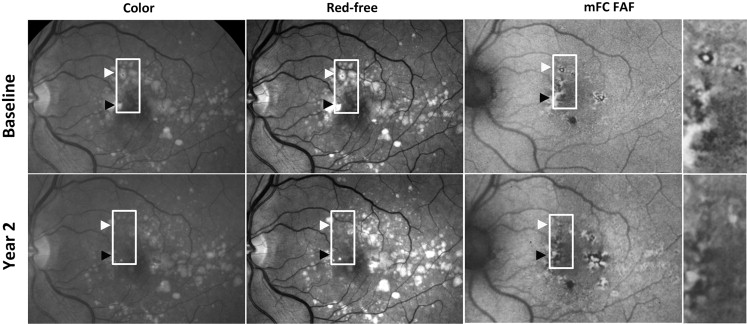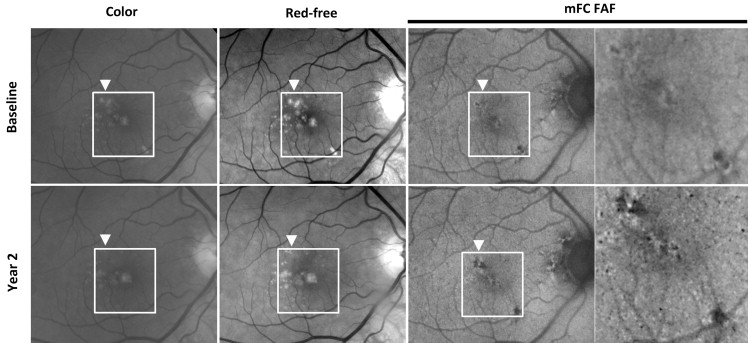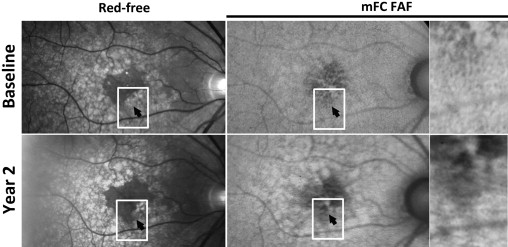 Areas of drusen regression, delineated as "regions of interest," were overlaid on color fundus and red-free photographs and graded ( Figure 6 , Top). In the majority of graded eyes (71%, 20/28 eyes), these areas had a clinical appearance that was devoid of retinal pathology and indistinguishable from neighboring fundus areas uninvolved with AMD lesions (drusen or pigmentary changes). A minority of eyes (29%; 8/28 eyes) had some evidence of new pigmentary changes that were not apparent at baseline. None of the graded eyes was noted to have clinically evident geographic atrophy or neovascular change in the areas of drusen regression.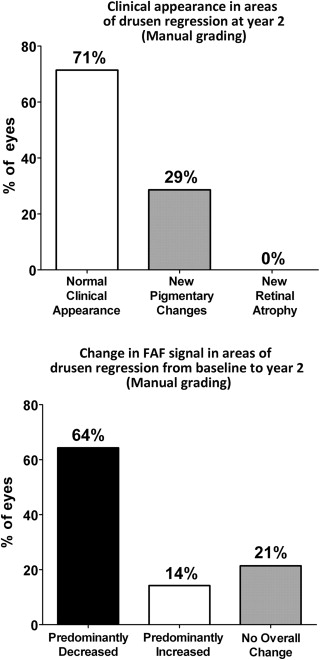 Get Clinical Tree app for offline access