Purpose
To determine and validate thresholds of anterior chamber angle (ACA) parameters in discriminating open- vs narrow-angle eyes using images from dedicated anterior segment optical coherence tomography (DASOCT).
Design
Reliability analysis.
Methods
Eyes imaged by DASOCT and examined with gonioscopy were reviewed. By gonioscopy, eyes were classified as narrow if posterior trabecular meshwork was not visible and open if the angle was open to scleral spur and beyond. Imaging was performed in the dark with the CASIA SS-1000 (Tomey, Nagoya, Japan). ACA parameters angle opening distance (AOD), trabecular-iris space area (TISA), trabecular-iris circumference volume (TICV), length of iridotrabecular contact (ITC), and extent and area of ITC were calculated. AOD, TISA, and TICV were measured at both 500 μm and 750 μm from the scleral spur landmark. Study eyes were randomly divided into training and testing sets. Thresholds were calculated from the training set. Sensitivity, specificity, and agreement were then calculated against the clinical classification using the testing set.
Results
One hundred and eighty-nine eyes (111 open, 78 narrow, including 8 borderline angles) were included. Using the threshold determined in the training set on the testing set, 9 of 24 ACA parameters had no misclassification of narrow-angle eyes as open (sensitivity = 1.0). Of 9 parameters, the specificity was >0.79. The highest kappa values (kappa = 0.91) was AOD750 inferiorly at 0.31 mm threshold, followed by both TICV500 at 1.92 μL and TICV750 at 4.00 μL with kappa = 0.86.
Conclusion
The parameters with the best discriminative ability for detecting narrow angles were AOD750 inferiorly, TICV500, and TICV750.
The primary angle-closure spectrum of disease occurs as a result of predisposing anatomic relationships between structures in the peripheral angle of the anterior chamber and, therefore, is managed differently than open-angle glaucoma. Consequently, assessment of structures in the anterior chamber angle (ACA) is essential in the diagnosis and management of these disorders.
Although gonioscopy remains the clinical gold standard for grading the ACA, it is a subjective and difficult skill to learn, and assessment of the angle anatomy can be affected by technique. Advances in imaging have resulted in our ability to measure the angle quantitatively. Dedicated anterior segment optical coherence tomography (DASOCT) is one such advance and is a noncontact technique that can be used to image and evaluate the ACA objectively. DASOCT uses a 1310 nm central wavelength, reducing light scatter through tissue such as the sclera and iris, and allowing deeper penetration of the peripheral angle, as compared with an 840- to 870-nm central wavelength, which is used with commercially available devices not dedicated to imaging the anterior segment. The newer generation of Fourier-domain DASOCT uses swept source technology, which provides higher image acquisition speed (30 000 A-scans per second) compared with time-domain DASOCT (2048 A-scans per second). The dramatic improvement in image acquisition speed allows reduction of motion artifacts, increased image resolution, and assessment of the entire 360 degrees of the ACA.
Parameters originally developed using ultrasound biomicroscopy, angle opening distance (AOD) and angle recess area (ARA), can be measured using DASOCT with improved repeatability and reproducibility. Three additional parameters have been developed using DASOCT: trabecular-iris space area (TISA), trabecular-iris circumference volume (TICV), and iridotrabecular contact length (ITC length). The definitions of and the relationship among these parameters can be seen in Figure 1 .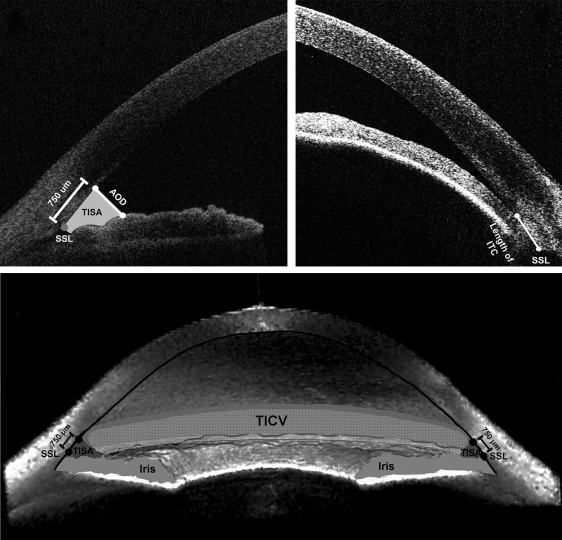 ACA parameters obtained from DASOCT, including AOD, TISA, and TICV, have been variably studied for their repeatability, reproducibility, and agreement and used to evaluate angle anatomy after laser peripheral iridotomy or lens extraction. Previous studies have determined threshold values for AOD, ARA, and TISA obtained from horizontal meridian angles (temporal and nasal) to identify a predisposition to angle closure. Threshold values for the other ACA parameters have not yet been determined. In addition, none of the thresholds have been validated. Before further clinical evaluation of these parameters, validated thresholds to discriminate narrow angles are required. The purpose of this study is to determine the threshold values for ACA parameters by optimizing sensitivity and specificity to identify narrow angles from open angles as well as validating these thresholds using an independent dataset.
Methods
This reliability analysis reviewed 4 prospective cohort studies previously conducted at the Robert Cizik Eye Clinic of the Ruiz Department of Ophthalmology and Visual Science at the McGovern Medical School at The University of Texas Health Science Center in Houston (UTHealth). The University of Texas Health Science Center Committee for the Protection of Human Subjects determined that this study was exempt from review and approved it. All research adhered to the Declaration of Helsinki and was HIPAA compliant, and data collection was in conformity with all relevant laws.
Premium Wordpress Themes by UFO Themes
WordPress theme by UFO themes