Audiologic Tests for Otologic Surgery
Dianne H. Meyer
Edward L. Applebaum
This chapter describes audiologic tests used in the diagnosis and measurement of hearing disorders. The first section reviews basic audiologic procedures, including pure-tone and speech audiometry, acoustic immittance, auditory brainstem response (ABR), and evoked otoacoustic emissions (EOAEs). The following sections discuss the application of these basic procedures, as well as other specialized tests, in the evaluation of conductive, sensorineural, and central auditory disorders. Two patient groups, young children and patients with nonorganic hearing loss, require modified procedures, and these are discussed in the last sections. An effective audiologic evaluation depends on careful test selection and knowledgeable interpretation of the results.
AUDIOLOGIC EVALUATION OF CONDUCTIVE HEARING LOSS
An audiologic evaluation for conductive hearing losses should include pure-tone air- and bone-conduction thresholds, speech audiometry, and immittance measurements. Careful masking must be used in all cases. The ABR may be used to estimate conductive hearing losses when patients are unable to give reliable behavioral responses. Patterns of air-conduction thresholds alone are not sufficient to diagnose conductive hearing losses, as was once thought.
Clinical indicators published by the American Academy of Otolaryngology-Head & Neck Surgery recommended pure-tone and speech audiometry be completed preoperatively and postoperatively for mastoidectomy, myringotomy and tympanostomy tubes, stapedectomy, and tympanoplasty procedures (
7
). In addition, the guidelines recommended tympanometry prior to myringotomy and tympanostomy tubes, and tympanometry plus acoustic reflex testing prior to stapedectomy surgery.
Pure-tone and Speech Audiometry
Speech audiometry with conductive hearing loss should result in SRTs that are in agreement with air-conduction thresholds in the most important speech frequencies (500 to 2,000 Hz). If bone-conduction responses are normal, word recognition scores should be 90% or better when test words are delivered at a sufficiently high sensation level, usually about 40 dB above the SRT. It also is possible to administer speech audiometry via bone conduction if the audiometer is calibrated for speech delivered through the bone receiver. This technique is especially useful with patients who show poor reliability in air- and bone-conduction pure-tone testing.
Audiometric Masking
Appropriate masking is important in the evaluation of all hearing losses, but it is critical with conductive hearing loss. Unrecognized errors can lead to useless and perhaps even harmful surgery on a nonhearing ear. Bilateral conductive loss presents a special audiometric testing problem referred to as the masking dilemma. In this situation the intensity level of the masking noise needed to mask the nontest ear is so high (due to the degree of air-conduction loss in that ear) that the masking noise itself may cross over via bone conduction and elevate the threshold in the test ear. The use of insert phones, rather than supra-aural earphones, often eliminates the need for masking and avoids many masking dilemmas.
Acoustic Immittance Measurements
Tympanometric and acoustic reflex findings in combination with a complete audiogram can confirm the presence of
conductive hearing loss and differentiate among types of conductive pathology.
Table 3.1
includes the tympanogram type and acoustic reflex pattern typically found for selected conductive hearing disorders.
When interpreting tympanogram shapes, it must be remembered that in the presence of more than one middle ear lesion, the more lateral pathology will dominate. For example, the combination of otosclerosis and a monomeric tympanic membrane will likely result in a tympanogram with high compliance, reflecting the thin and flaccid tympanic membrane.
The acoustic reflex is extremely sensitive to middle ear pathology, even when conductive hearing loss is not apparent on the pure-tone audiogram. An air-bone gap of only 5 dB in the probe ear is enough to obscure measurement of the reflex, and an air-bone gap of greater than 30 dB in the stimulated ear will prevent measurement of the reflex in a normal hearing probe ear (
18
). A distinctive pattern occurs with early otosclerosis in that reflexes may show a negative, biphasic pattern known as the on-off effect (
19
).
Auditory Brainstem Response
The ABR may be needed to identify and quantify conductive hearing loss in patients unable to be evaluated by behavioral methods, such as newborns, infants, young children, and developmentally delayed or cognitively impaired patients. The effect of conductive pathology on the click-evoked ABR is to prolong the latencies of the component waves. As shown in
Figure 3.3
, the slope of the latency-intensity function with conductive hearing loss is parallel to the normal slope. The amount in decibels that the wave V latency-intensity function is shifted approximates the degree of conductive hearing loss. All the ABR waves are shifted approximately equally, so the interpeak intervals remain within normal limits.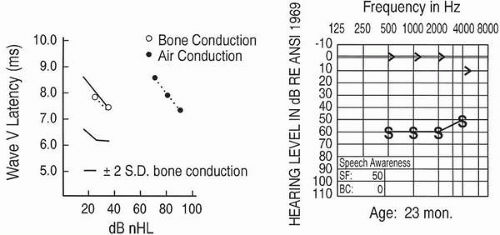 FIG. 3.5
ABR and behavioral test results for a 23-month-old infant with bilateral microtia, complete atresia of the right external auditory canal, and partial atresia of the left external auditory canal. ABR results are shown for the left ear. Responses to bone conduction ABR were in the expected normal range and were consistent with behavioral bone conduction results. Responses to bone conduction ABR showed an expected shift in the latency-intensity function.
The bone-conduction ABR provides a more direct estimate of cochlear function. Bone-conduction ABR is especially valuable in infants with aural malformations in whom air-conduction and immittance measurements may be difficult or impossible to do. In newborns who fail hearing screening, ABR may help to identify conductive involvement.
Figure 3.5
shows air conduction and bone conduction for a 23-month-old infant with bilateral microtia, complete atresia of the right external auditory canal, and partial atresia of the left external auditory canal. Inner ear structures appeared normal on computerized tomography. There was a shift in the ABR latency-intensity function for air conduction, but the bone-conduction responses fell within the expected normal range. The ABR results supported the behavioral responses that indicated a 60-dB conductive hearing loss. This case also demonstrates how contralateral masking may be needed with ABR and that masking dilemmas may exist. Because of the patient's absent or malformed external auditory canals, insert receivers could not be used to increase the interaural attenuation. The ABR results therefore reflected function of the better cochlea if a difference in hearing existed between the two ears. Bone-conduction ABR has a number of calibration and interpretive considerations, but it is invaluable as a procedure to identify or confirm conductive involvement in difficult-to-test patients.
AUDIOLOGIC EVALUATION OF SENSORINEURAL HEARING LOSS
Pure-tone and speech audiometry and immittance measurements are obtained for all patients with suspected pathology of the cochlea and/or eighth nerve. The ABR is included when a lesion of the eighth nerve is suspected and when behavioral thresholds are in question or cannot be done. Another
auditory evoked potential, electrocochleography (EcochG), is useful in the diagnosis of Ménière's disease.
Table 3.2
summarizes the audiometric results for selected sensorineural hearing losses.
Pure-tone and Speech Audiometry
If otoscopic findings and all immittance results are normal, it may not be necessary to obtain bone-conduction thresholds. Because outer and middle ear function are normal, air-conduction thresholds alone will reveal the severity and symmetry of the hearing loss. For SNHL such as endolymphatic hydrops, periodic pure-tone threshold testing is helpful in evaluating the benefits of treatment or progression of the disease.
TABLE 3.2.
Summary of site of disorder and audiometric findings for selected sensorineural hearing losses
Premium Wordpress Themes by UFO Themes
WordPress theme by UFO themes