Purpose
To evaluate the short-term efficacy, predictability, stability, and safety of the foldable Artiflex Toric phakic intraocular lens (pIOL; Ophtec) for the correction of myopia with astigmatism.
Design
Prospective, nonrandomized multicenter study.
Methods
One hundred fifteen eyes of 73 patients were implanted with an Artiflex Toric pIOL. Mean implanted spherical and cylindrical powers were −7.10 ± 2.70 diopters (D) and −2.14 ± 0.80 D, respectively. Total follow-up was 6 months. Outcome parameters included uncorrected visual acuity (UCVA), best spectacle-corrected visual acuity (BSCVA), subjective manifest refraction (used for vector analysis), intraocular pressure, and endothelial cell density (ECD).
Results
At 6 months, 99.0% of eyes had a UCVA of ≥20/40, and 81.8% of eyes were ±0.5 D of the intended refraction. In 74.5% postoperative UCVA was equal to or better than preoperative BSCVA; 2 eyes lost 2 or more lines of BSCVA postoperatively because of the development of synechiae. In 75.5% of eyes the remaining cylinder was ±0.5 D. There was a significant decrease in ECD after 3 months (4.8% ± 11.9%), with no additional decline between 3 and 6 months. There were few complications, except for the incidence of pigment and nonpigment precipitates (14.8% and 12.2%, respectively at 6 months). Mean misalignment was 0.6 ± 1.5 degrees (range 0–8).
Conclusions
The Artiflex Toric pIOL effectively and safely corrects myopia and astigmatism in the short term, with stable and predictable visual results after 6 months, when strict inclusion criteria are applied. Deposition of pigment and nonpigment precipitates on the pIOL warrants further investigation.
Several treatment options are available to correct myopia with astigmatism. Laser refractive surgery, such as photorefractive keratectomy (PRK) and laser in situ keratomileusis (LASIK), can only be used in mild to moderate myopia. Especially in thin corneas, these refractive procedures cannot adequately and safely correct high ametropia, because of the risk of post-LASIK ectasia. Although these procedures are adjustable, they can never be reversed. Another available treatment option is refractive lens exchange with implantation of a toric intraocular lens (IOL). However, young refractive patients lose their ability to accommodate, which makes them dependent on reading glasses. Phakic intraocular lenses (pIOLs) can correct high myopia and astigmatism, and patients keep their ability to accommodate. Also, the quality of vision in patients with high myopia has been reported to be better after pIOL implantation as compared to LASIK.
The first iris-fixated pIOL was introduced in 1986 (mentioned iris-fixated pIOLs throughout this manuscript are made by Ophtec BV, Groningen, The Netherlands). The first Artisan pIOL had a biconcave design, which was changed into a convexo-concave model in 1991 to reduce potential complications. In the last decade, this lens has proven to be stable, predictable, and safe, when strict inclusion criteria are applied to maintain a safe distance from the pIOL to the endothelium and natural lens. In 2001 the Toric Artisan pIOL was marketed in Europe after a multicenter study showed that it effectively reduced or eliminated high ametropia and astigmatism in only 1 procedure.
The developments in cataract surgery with IOL placements through smaller incisions led to the development of a foldable iris-fixated pIOL type in 2005: the Artiflex Myopia pIOL, which can be inserted through a 3.2-mm incision. This Artiflex pIOL may offer an advantage over the Artisan pIOL because of its smaller incision size, with a decrease in surgically induced astigmatism and a faster visual recovery. Combining the toric technology with the foldable Artiflex pIOL resulted in the development of the Artiflex Toric. This new toric pIOL corrects myopia and astigmatism and has a flexible, cylindrical 6-mm optic, which is different from the 5-mm rigid, spherical optic of the Toric Artisan pIOL. It is a 3-piece lens that consists of a flexible optical part made of ultraviolet-absorbing silicone and 2 rigid haptics made of polymethyl methacrylate (PMMA) ( Figure 1 ). It is available in spherical powers of −1.0 to −13.5 diopters (D) (in increments of 0.50 D) and cylindrical powers of −1.0 to −5.0 D (in increments of 0.50 D). The sum of spherical and cylindrical power should not exceed −14.5 D.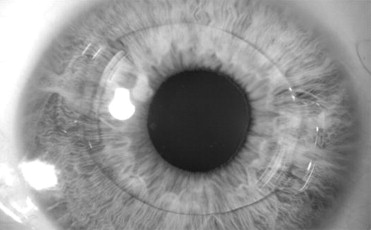 Most surgeons prefer to place the non-toric Artiflex pIOL in the horizontal position. To facilitate the surgeons' implantation of the Artiflex Toric pIOL in the position to which they are accustomed, the cylindrical correction can be manufactured with the cylinder axis at 0 degrees or 90 degrees ( Figure 2 ). When the cylinder axis of the patient is between 0 and 45 degrees or between 135 and 180 degrees, the manufacturer recommends a pIOL with the cylinder axis at 0 degrees. The Toric pIOL should be implanted in the axis of the refractive cylinder of the patient. However, when the patient presents with a cylinder between 45 and 135 degrees, the manufacturer recommends a pIOL with the cylinder axis at 90 degrees. In this case, the implantation axis in which the pIOL should be positioned will be the axis of the refractive cylinder of the patient plus 90 degrees. To ensure a proper placement of the Artiflex Toric pIOL and avoid implantation errors, all surgeons receive an illustration of the correct toric pIOL position.

The purpose of this study was to evaluate the short-term safety and effectiveness of this new Artiflex Toric pIOL for the correction of myopia and astigmatism.
Results
Mean age of the included patients was 37.7 ± 8.0 years (range 20 to 60 years). Sixty-seven of the lenses (58.3%; 67/115) were implanted in female eyes. Left (47.8%; 55/115) and right eyes were equally implanted. Mean preoperative spherical equivalent (SE) was −7.53 ± 2.70 D, with a mean absolute cylinder of −2.18 ± 0.79 D (range −0.75 to −4.50 D). Mean ACD was 3.65 ± 0.25 mm (range 3.20 to 4.28 mm), and the mean axial length was 26.20 ± 1.24 mm (range 23.53 to 29.32 mm). Mean scotopic pupil size was 5.70 ± 0.97 mm. Figure 3 shows the lens power distribution of the implanted Artiflex Toric pIOLs.
Premium Wordpress Themes by UFO Themes
WordPress theme by UFO themes