Purpose
To evaluate possible changes in the collagen and elastic components of the subepithelial connective tissue of human pterygium.
Design
Immunohistochemical study.
Methods
Immunohistochemical staining using antitropoelastin, anti-fibulin-2, and anti-fibulin-3 antibodies was performed in 10 normal conjunctival and 20 pterygium specimens. Masson trichome staining also was performed to study subepithelial connective tissue. Sirius red staining was used to identify collagen type I and III components. Tropoelastin, fibulin-2, and fibulin-3 messenger ribonucleic acid (mRNA) expressions were analyzed in 9 conjunctival and 12 pterygium specimens by quantitative real-time polymerase chain reaction assay.
Results
The subepithelial connective tissue and vessels were more predominant in pterygium compared with the normal conjunctival tissue. Amorphous subepithelial zones were observed in the areas of the pterygium tissue, but not in normal conjunctiva. Increased tropoelastin staining was seen in the pterygium tissue with areas of degenerative changes or immature formation of elastic fibers, as well an increase in tropoelastin mRNA, in contrast with fibulin-2 and fibulin-3 messenger levels. Fibulin-2 and fibulin-3 expression was colocalized in the subepithelial connective tissue and was distributed along blood and lymphatic vessels. Collagen type III, an immature form of collagen, was increased in the pathologic samples in association with a tissue remodeling process.
Conclusions
Elastin metabolism is dysregulated in the pathogenesis of human pterygium with tropoelastin, fibulin-2, and fibulin-3 overexpression in the subepithelial connective tissue.
A pterygium is a triangular growth of fibrovascular tissue extending from the bulbar conjunctiva onto the cornea. Pterygium is more prevalent in patients living in regions closer to the equator. Histologically, pterygium is characterized by an atrophic conjunctival epithelium and a highly vascularized mass of hypertrophic and elastotic degenerated connective tissue. The extent and severity of this fibrovascular growth is a reliable morphologic index for predicting pterygium recurrence after excision.
The pathogenesis of pterygium is uncertain. Many environmental factors such as ultraviolet (UV) irradiation, chronic irritation, and inflammation have been postulated to be causes. Chronic exposure to UV light is the main predisposing environmental factor for pterygium formation. Limbal stem cell deficiency resulting from chronic UV light exposure may result in concomitant breakdown of the limbal barrier and subsequent corneal conjunctivalization.
Elastodysplasia and elastodystrophy are 2 known manifestations present in the subepithelial connective tissue of the conjunctival portion of pterygium. Pterygium may result from newly synthesized elastic fiber precursors and abnormal maturational forms of elastic fibers (elastodysplasia) that undergo secondary degeneration (elastodystrophy). These structures are presumed to be formed by actinically damaged fibroblasts of the conjunctival substantia propria. Immunohistochemical studies confirmed that these fibers are elastic and do not result from elastotic degeneration of collagen fibers. Similar pathologic accumulation of abnormal elastic fibers is found in chronically photodamaged skin ; therefore, it is reasonable to associate the formation of elastoid degeneration in pterygium with UV irradiation.
Collagen and elastin, the major components of the extracellular matrix, are intrinsic indicators of physiologic and pathological states. The elastic function complements collagen fibrils, which impart tensile strength. However, to understand the healthy and diseased tissues, an investigation of the arrangement and modification of the major structural proteins, such as collagen and elastin, is crucial.
The elastic fibers are formed through the reticulation of an amorphous polymer composed of the protein elastin, known as tropoelastin, over a framework of fibrillin-rich microfibrils, and latent transforming growth factor-β–binding proteins. The fibulins are a family of proteins that are associated with basement membranes and elastic extracellular matrix fibers. Substantial evidence has implicated the fibulins in both elastic matrix fiber assembly and function ( Figure 1 ). Fibulin-1, fibulin-2, and fibulin-5 bind to tropoelastin. Unlike fibulin-1, fibulin-2 is found at the interface between the microfibrils and the elastin core. The ability of fibulin-2 to bind elastin and fibrillin-1 may indicate that fibulin-2 anchors fibrillin-containing microfibrils to elastin fibers. Fibulin-3 interacts with another basement membrane protein, extracellular matrix protein 1, and it also interacts with elastin monomer tropoelastin. These interactions likely contribute to the integrity of basement membrane zones and anchor other extracellular matrix structures such as elastic fibers to basement membranes.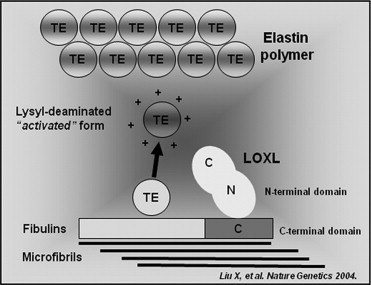 Several recent findings have indicated that fibulins are involved in human inherited ocular disorders like age-related macular degeneration and macular dystrophies. However, they have never been tested in the pterygium pathogenesis. Therefore, this study focused on evaluating the expression of collagen and elastic components in human pterygium.
Results
Light Microscopy
Staining of the different samples showed that subepithelial connective tissue generally was more predominant in the pathologic tissue than in the normal conjunctiva. In these specimens, angiogenesis was more evident than in the control group and showed a large number of vessels in the subepithelial tissue ( Figure 2 ). Subepithelial zones with amorphous and fibrillar material were not observed in normal conjunctiva ( Figure 2 , Top), but were observed in the areas of the pterygium tissue ( Figure 2 , Bottom). These amorphous or fibrillar zones failed to stain with Sirius red, indicating that these structures were not collagen fibers. The collagen fibers surrounding these amorphous areas were associated with some isolated fibers located within the structures ( Figure 3 , Right).
The Sirius red staining in healthy specimens showed that collagen types I and III were present in similar proportions ( Table and Figure 3 , Top left). Sirius red staining in the pterygium samples showed that collagen types I and III were presented in the subepithelial areas; however, in these pathologic specimens, the immature form of collagen (collagen III) increased compared with the normal conjunctival specimens ( P = .032) and showed a tissue remodeling process ( Table and Figure 3 , Top right).
TABLE
| Staining | Control Tissue | Pterygium Tissue |
| --- | --- | --- |
| Tropoelastin | 9.5 ± 3.1 a | 30.3 ± 5.4 |
| Fibulin-2 | 11.6 ± 4.2 a | 22.1 ± 2.5 |
| Fibulin-3 | 15.8 ± 2.9 a | 34.1 ± 6.3 |
| Collagen I | 16.9 ± 5.3 | 14.3 ± 7.6 |
| Collagen III | 12.2 ± 3.2 a | 26.8 ± 5.7 |