Purpose
To evaluate long-term outcomes of proton beam radiotherapy in the treatment of choroidal melanoma of the intermediate zone of the fundus.
Design
Retrospective interventional single-center study.
Methods
The study was a retrospective analysis with long-term follow-up of 62 patients with a minimum tumor-to-disc and tumor-to-fovea distance of 2 mm of choroidal melanoma in the intermediate zone of the fundus. Mean values of tumor prominence, largest basal diameter, and tumor distances to the optic disc and fovea were 7.6, 12.8, 5.2, and 4.6 mm, respectively. All patients were irradiated with a total proton dose of 60 cobalt gray equivalents.
Results
After proton beam radiotherapy, 71.0% of the patients received subsequent endoresection of the tumor. Only 18 patients (29.0%) did not require additional tumor resection and were analyzed as a separate group. For the total of patients, the median follow-up time was 70.3 months. The 5-year Kaplan-Meier rates of local tumor relapse, enucleation, and distant metastasis were 3.9%, 3.7%, and 13.4%, respectively. Cataract surgery was the most frequent secondary treatment in our cohort.
Conclusions
In this study we demonstrate the effectiveness of proton beam irradiation in tumor control and preservation of the globe in the analyzed patients. The rate of metastasis was not higher than previously described. Nevertheless, consecutive tumor surgery is frequently required to maintain the eye in patients with large-sized choroidal melanomas. In conclusion, proton beam radiotherapy allows preservation of the eye in mid-zone choroidal melanomas.
Enucleation for choroidal melanoma has been replaced by radiotherapy as an accepted treatment standard. The most popular techniques used for radiotherapy of choroidal melanoma are brachytherapy and proton beam therapy. There are currently more than 30 years of experience with proton beam irradiation. The advantage of using protons for irradiation is the fact that the proton energy can be modulated to cover target tissue of any shape and at any depth with a nearly uniform dose owing to its physical characteristics, including minimal scatter and delivery of maximum dose at the end of the beam path, known as Bragg peak. Several investigators have demonstrated a noninferiority of proton beam irradiation with respect to metastasis and tumor-specific survival. While proton beam therapy has been advocated for central choroidal melanoma with close proximity to the disc and fovea, studies demonstrated that tumors exceeding 6 mm in height can be successfully treated with proton beam therapy if the inflammatory reaction after irradiation is met with surgical excision of the tumor tissue via a transscleral approach or endoresection.
The present retrospective analysis presents the long-term outcomes in patients with proton beam irradiation for choroidal melanoma in the intermediate zone of the fundus at the Center for Ocular Oncology in Berlin.
Results
Sixty-two patients met the inclusion criteria of our retrospective study. The mean age was 57.7 years (standard deviation [SD] 13.6 years). Twenty-nine patients were female, 33 were male. The overall range for tumor prominence was 1.7–12.6 mm (mean 7.6 mm, SD 2.9 mm), and it was 6.6–21.5 mm (mean 12.8 mm, SD 3.4 mm) for the largest tumor diameter. The respective fovea and disc distances ranged from 2.0 both to 10.1 mm and 11.3 mm with a mean distance of 4.6 mm to the fovea (SD 2.2 mm) and 5.2 mm to the optic disc (SD 2.1 mm). For the proton beam radiotherapy alone group (n = 18) the mean values of tumor height and largest tumor diameter were 3.9 mm (SD 2.0 mm) and 10.6 mm (SD 3.0 mm), respectively. The mean tumor-to-fovea distance was 3.7 mm, and the tumor-to-disc distance was centered at 3.9 mm (both SD 1.9 mm). In the endoresection group (n = 44) we found a mean tumor height of 9.1 mm (SD 1.5 mm), a mean largest tumor diameter of 13.7 mm (SD 3.2 mm), and mean distances to the fovea and the disc of 5.1 and 5.3 mm (SD 2.2 and 2.3 mm), respectively.
None of the patients demonstrated extraocular growth. Diabetes mellitus was present in 2 patients who were part of the endoresection group (3.2% of the cohort). One patient in each treatment group demonstrated glaucoma at pretreatment diagnosis. The median follow-up time was 77.2 months in the proton beam radiotherapy alone group and 64.4 months in the endoresection group. Nine eyes in the first group (50.0%) and 39 eyes in the latter group (88.6%) showed an exudative retinal detachment at presentation.
Tumor Regression
In the proton beam radiotherapy alone group, a slight tendency toward an initial swelling of the tumor could be observed in 3 patients during the first year after proton beam radiotherapy ( Figure 1 ), followed by a continuous decrease in median tumor prominence up to the end of follow-up, which was valid for all of the patients in this group. Five years after proton beam radiotherapy, the tumor volume, as determined by the largest tumor diameter and prominence, was reduced to about 65% of the volume at the initial presentation. In the surgical group there were no alterations of the tumor height owing to the almost complete surgical excision of the tumor tissue.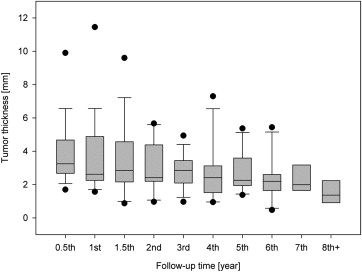 Survival and Local Tumor Control
For the total of 62 patients, metastasis-free survival was estimated at a rate of 86.6% and 81.8% 5 and 10 years after proton beam radiotherapy, respectively ( Figure 2 ). Of 10 patients who developed metastasis, 8 died before completion of the 5-year follow-up (1 in the proton beam radiotherapy alone group, 7 in the endoresection group, Figure 3 ). Another 2 patients died of other causes, and 12 patients terminated the follow-up without known reason. Metastasis-related mortality was thus estimated at 10.6% and 16.9% within 5 and 10 years, respectively. Patients with smaller tumors who were treated by proton beam radiotherapy alone had a trend to a lower rate of metastasis-induced death compared to patients with large tumors and concomitant surgical therapy ( Figures 4 ).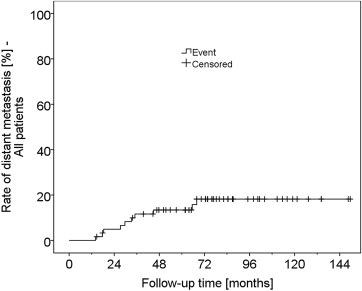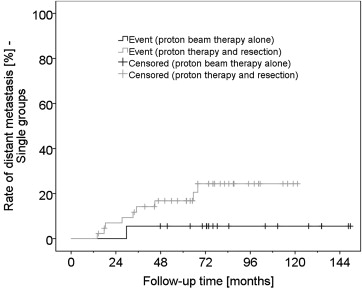 Local tumor control was estimated at 96.1% both after 5 and after 10 years. In total, 2 local recurrences developed during follow-up, 1 in each treatment group ( Figures 5 ).

Functional Outcome
Both initial visual acuity and final visual outcome ( Figures 6 ) were better in the proton beam radiotherapy alone group, where the visual acuity on presentation was high (20/16–20/50 Snellen or −0.1–0.4 logMAR) in 15 patients (83.3%), medium (20/63–20/160 Snellen or 0.5–0.9 logMAR) in 2 patients (11.1%), and low (20/200 Snellen or 1.0 logMAR and worse) in 1 patient (5.6%). The final visual acuity in this group was high in 9 (50.0%), medium in 3 (16.7%), and low in 6 patients (33.3%).
Premium Wordpress Themes by UFO Themes
WordPress theme by UFO themes