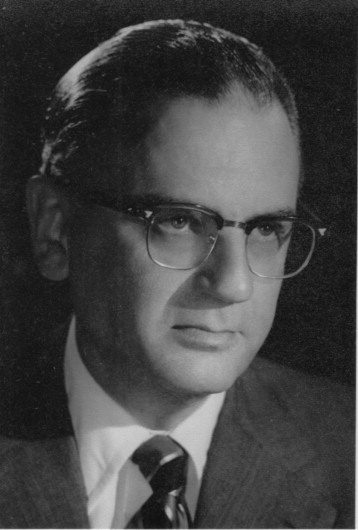 Dr Alberto Urrets-Zavalía Jr, who passed away on July 31, 2010, at the age of 89, was one of the most influential Argentine ophthalmologists of the 20th century. Born in Córdoba (Argentina) on September 30, 1920, he was the son of a nationally renowned ophthalmologist and the eldest of 6 children.
In 1953, he founded in Córdoba the Cornea and Glaucoma Surgical Center. In 1956, at the age of 36, he became chairman of the Department of Ophthalmology of the National University of Córdoba, where he toiled for 30 very productive years and created the first residency program in ophthalmology in Argentina. Many well-known ophthalmologists from Argentina, South America, and Spain trained under his leadership. In 1957, he founded the first eye bank and introduced one of the first argon laser photocoagulators in South America.
He authored around 200 scientific presentations and publications, many of them describing new findings and clinical entities. At the age of 26—even before receiving his PhD—Urrets-Zavalía Jr identified and described the phenomenon of abduction and adduction in elevation or depression, incomitances later named A and V patterns . The importance of these key observations is based on the fact that elevation or depression of the gaze can cause a significant variation in the horizontal angle of strabismus. The individualization of the cyclovertical component in strabismus, which was considered purely horizontal at that time, led to an important evolution of ideas concerning the pathogenesis and therapy in oculomotor disorders of infancy. In 1955, he was the first to propose the dehydration of the vitreous body in glaucoma patients prior to ocular surgery, mainly cataract surgery, penetrating keratoplasty, ablation of iris tumors, and iridocyclectomy, in order to diminish the vitreous pressure and the risk of the complication of intraoperative vitreous loss. Since then, preoperative dehydration of the vitreous with acetazolamide is frequently incorporated worldwide as part of the preparation for open globe surgery. He also described a new technique, the V-Z procedures for the correction of senile ectropion.
Urrets-Zavalía Jr, who was a skilled, experienced surgeon in lamellar keratoplasty, first published in 1963 a new entity—now known as Urrets-Zavalía syndrome—which consisted of chronic pupillary dilation after penetrating keratoplasty in keratoconus following the postoperative instillation of a strong mydriatic. This led to the use of only short-acting mydriatic agents when it is necessary to dilate a constricted pupil after penetrating keratoplasty. Urrets-Zavalía syndrome has also been described following different ocular surgeries and laser photocoagulation procedures. In 1968, Urrets-Zavalía Jr published his Décollement de la rétine , considered a masterpiece in retinal detachment literature for many years.
Urrets-Zavalía Jr was president of the Ophthalmological Society of Córdoba (1959-62), the Pan-American Association of Ophthalmology (1968-72), and the Club Jules Gonin (1980-82); founding member of the Cornea Society (former Castroviejo Society) in the United States, the Academia Ophthalmologica Internationalis, and the Argentine Council of Ophthalmology; and an honorary member of the Academy of Sciences of Argentina, among many others scientific societies, universities, and institutions. Because of his achievements, he received many principal honors and awards, including the Award of Merit, American Academy of Ophthalmology, 1970; Chauvin Prize, French Society of Ophthalmology, 1978; Gradle Memorial Lecture (USA), 1979; Gold Medal Castroviejo Award, The Cornea Society (USA), 1983; Honor Award, American Academy of Ophthalmology, 1985; and Gold Medal, XIII Argentine Congress of Ophthalmology, 1987.
Besides his prolific and high-quality scientific and educational contributions, he spoke 8 languages and displayed a solid humanistic and intellectual education. Urrets-Zavalía Jr was considered the modern version of a Renaissance man.
Full access? Get Clinical Tree