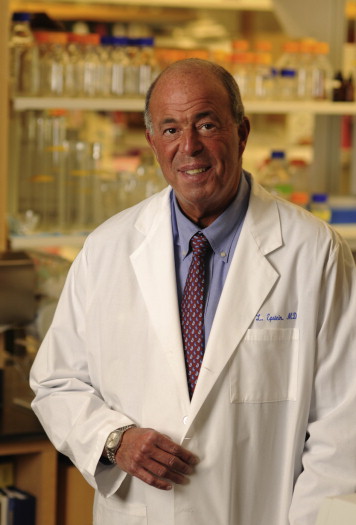 David L. Epstein, MD, the Joseph A.C. Wadsworth Clinical Professor and Chairman of the Department of Ophthalmology at Duke University and Director of Duke Eye Center in Durham, North Carolina, passed away unexpectedly in his home on Monday, March 4, 2014, at 69 years of age. He is survived by his wife Susan, his son Michael and daughter-in-law Lenea, and his grandson Sam.
Dr Epstein served as Duke's Ophthalwmology Chair from 1992 to 2014, building and leading an outstanding community of ophthalmologists and vision scientists. Under his leadership, the Duke Department of Ophthalmology grew to include 73 faculty members and more than 300 staff members. During his 22 years as Chairman of Ophthalmology at Duke, Dr Epstein transformed an already great institution into an outstanding one. He created a culture of academic curiosity and inquisitiveness that permeated all aspects of the department. He initiated a K-12 institutional mentored clinician–scientist training program and produced a nurturing environment for the development of clinician–scientists. Dr Epstein produced a legacy that will benefit all of ophthalmology, and medicine in general as well.
Dr Epstein had an encyclopedic knowledge of basic science and clinical practice in ophthalmology. He could have an informed discussion about the engineering aspects of aqueous humor drainage, clinical practice in the management of the difficult glaucoma patient, cellular and molecular biology in the eye, and Duke Basketball. This demonstrated Dr Epstein's wide-ranging and inquisitive mind, which allowed him to lead by example in so many areas of ophthalmic research.
As a research leader and mentor, Dr Epstein formed a group of basic scientists and MD clinician–scientists at Duke to create a critical mass for translational science. He was a major advocate for a second year of glaucoma research training for glaucoma fellows. He was very proud of the students he trained, both at Massachusetts Eye and Ear Infirmary and at Duke. In addition to encouraging others, Dr Epstein set a shining example as a dedicated and committed clinician–scientist who was continually at the forefront of research, generating important new ideas until his premature death.
Dr Epstein was among the first to propose the concept of trabecular meshwork dysfunction induced by oxidative stress and carried out important early experiments that clarified how the trabecular meshwork dealt with its harsh oxidative environment. With more than 230 original scholarly publications, he made important scientific contributions, particularly in glaucoma. Using modern tools and approaches, he was among the first to recognize the importance of cytoskeletal function, specifically actin-myosin tone, on aqueous outflow facility. His experiments on the role of perfused pigment on outflow facility in monkey eyes and the possible role of trabecular meshwork obstruction by serum proteins are classic examples of elegant experimental design that helped to establish important basic principles about how the trabecular meshwork could deal with extraneous materials.
Dr Epstein sought to translate his ideas and discoveries into clinical practice. To that end, he helped found Aerie Pharmaceuticals, which refined and advanced his work to develop a trabecular active glaucoma drug. At the time of his passing, Aerie was beginning phase 3 clinical trials with a promising compound, an inhibitor of Rho kinase and norepinephrine transporter.
In addition to his contributions to basic science and clinical practice, Dr Epstein was a dedicated member of the ophthalmic community, serving in a number of important administrative and leadership roles. He was the senior editor of a leading textbook, Chandler and Grant's Glaucoma ; served the NEI in a number of capacities; and was on numerous national scientific advisory boards. From 1992 to 1993 he served as president of the Association for Research in Vision and Ophthalmology (ARVO), from 2004 to 2005 was president of the Chandler-Grant Glaucoma Society, and in 2011 was president of the Association of University Professors of Ophthalmology.
Dr Epstein received many awards for his work, including the 2013 Mildred Weisenfeld Award for Excellence in Ophthalmology from ARVO. This award is presented annually to an individual in recognition of distinguished scholarly contributions to the clinical practice of ophthalmology. In 2012, he received the Duke University School of Medicine Medical Alumni Association's Distinguished Faculty Award.
Dr Epstein summed up his philosophy succinctly and elegantly in his Weisenfeld Lecture, the year before his death. He said, "'When you wake up in the morning and when you look yourself in the mirror at night, are you proud of what you are doing?' I truly believe that a lifetime of inquisitiveness in one's 'clinical laboratory' will be a long-lasting source of ultimate satisfaction in one's career. Please maintain your passion! With patience and focus on what truly is important, meaningful success can come to you. If one focuses on what is truly important, the rest will take care of itself."