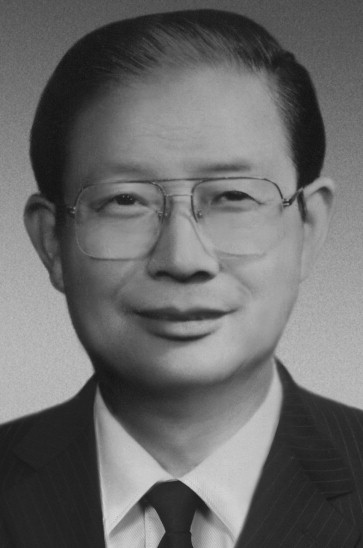 Dr Hu Tian-Sheng, former Professor and Chair of Ophthalmology at Peking Union Medical College Hospital (PUMCH) in Beijing, died on May 26, 2014. He was 88. He is survived by his wife, Professor Liu Wenyuan, and 2 children, Hu Lihong, MD, and Hu Lisheng. Dr Hu's career spans 60 years and includes work on at least 4 continents. His training program produced professors at multiple universities throughout China, and his international research involved collaborators from Europe, the Americas, and Asia. His diminutive size contained an enormous spirit and determination. He was rigorous without malice and meticulous without intimidation.
Dr Hu graduated from a Yale University–affiliated high school in his native Changsha in 1946. After undergraduate studies, he received his medical degree from PUMCH in 1955. Residency followed until 1959, during which time he was also a Fellow in the Department of Biochemistry. After assuming the Chair in Ophthalmology at Nanchang University, Dr Hu was granted leave by the Chinese government to join Jin Kinoshita, PhD, at the National Eye Institute for 3 years, from 1980 to 1982, to advance his interest in lens proteins and the formation of cataract. Dr Kinoshita suggested that it would be easier to call Tian-Sheng "Tennyson," an Americanization that Dr Hu accepted with pride.
Tennyson was an iconoclast. He was able by force of his intellect and affiliations to introduce Western teaching methods and instrumentation to his department. He invited guests from the world over to visit his department, to teach and to perform surgical demonstrations. He was careful to make sure that his department members learned from these encounters and were permitted active involvement.
Tennyson's patients included people from all walks of life. His experience in the Yale-sponsored high school in his own province enabled him to become friendly with people who then rose to positions of importance in the central government. In his uveitis clinic at PUMC Hospital, one of the earliest specialty clinics in ophthalmology in China, he saw janitors and Ministers and initiated treatment with steroids and immune suppressants, at that time a completely innovative therapeutic approach. He managed each case carefully and documented their care in a little notebook that he returned to the patient to carry home and bring back for the next visit.
From 1987 to 1991, he received NIH support to perform epidemiologic studies of the environmental and nutritional influences on cataract formation in Tibet and Lin Xian, Henan Province. As his interest in the epidemiology of cataract blossomed, Professor Hu acted as a consultant to the World Health Organization (WHO). He was one of the founding members of the International Society of Ophthalmic Inflammation and Immunology and acted as executive director. He also became more active in governmental affairs. He was a member of the committee for approving new medications; Director of the Division of Ophthalmology and Otolaryngology, under the Ministry of Health in China; a member of the Committee Granting Prizes for Advancement in Medical Sciences and Technology; an editorial member of the English edition of the Chinese Journal of Ophthalmology ; and a consulting editor of Ocular Immunology and Inflammation ; and he received the Award for Special Contributions from the Peking Union Medical College Hospital.
Tennyson was shaken by the events of Tiananmen Square in the spring of 1989. He entered the Square to help tend to the wounds of students involved in the confrontation. He risked professional and political position for the principles in which he believed. Ultimately, his compassion and sincere desire to protect the lives of others was compelling to his peers, and his work was not interrupted.
Dr Hu Tian-Sheng will be remembered by those with whom he came in contact as a man whose moral compass was not shaken by the tumultuous events that surrounded him. During the Cultural Revolution, he established a medical clinic to help those around him and pursued studies of aqueous humor dynamics. His students described him in correspondence as communicating "profound knowledge in a clear way to facilitate understanding. His teaching style was always logical and easy to grasp." Some of his former students have assumed the responsibilities of heads of major hospitals; some are engaged in clinical or research work. The most important result is that the legacy of his clinical and research work has been passed on to younger generations of ophthalmologists. He left the world a little kinder, seeing a little better, and with greater understanding.
Full access? Get Clinical Tree