Macular Disease Secondary to Peripheral Retinal Vasculopathy
Maximiliano Gordon
Hugo Quiroz-Mercado
Paul R.V. Chan
Peripheral retinal vascular changes are common findings associated with both local and systemic disease in the pediatric population. These changes can be helpful in differentiating between various disease states resulting from primary ocular conditions well known to the ophthalmologist or systemic disease that requires a careful clinical history and systemic workup in order to determine the etiology.
Peripheral retinal vascular changes may result in significant visual impairment, especially if the macula is involved. Patient age, extension of vascular changes, and duration of disease all contribute to the prognosis. Of major concern, however, is the presence of peripheral retinal ischemia with secondary retinal neovascularization (
1
). If this is to occur, appropriate management of the patient can preserve and/or improve macular function. Laser treatment is the treatment of choice and should be directed toward the peripheral retina, but at times direct intervention to the macular area may need be considered. Herein we describe the most common diseases associated with peripheral retinal vascular changes, and we focus mainly on those conditions that require laser photocoagulation, cryotherapy, or surgical intervention.
Tables 48-1
and
48-2
show a classification for differential diagnosis (
1
,
2
and
3
). Pathologies not included in this classification are the inflammatory diseases associated with vasculitis like Eales' disease, Behcet's disease, sarcoidosis, systemic lupus erythematosus, multiple sclerosis, pars planitis, and other less common problems that are described in other chapters.
PATHOPHYSIOLOGY
Peripheral retinal abnormalities such as retinal neovascularization, vascular tortuosity, ectasis, vascular shunts, and aneurysms may damage the inner blood-retina barrier. Damage to the retinal vascular endothelium may involve primary arteries, veins, or capillaries, or any combination of the three. Also, the endothelial alteration may be focal or widespread. Fluorescein angiography has demonstrated that the entire capillary bed may be affected in some cases, whereas in others, the changes may only be limited to capillaries in the midneuroretina, with the inner retinal vessels remaining normal.
Sickle cell retinopathy
Retinitis pigmentosa
Angiomatosis retinae (von Hippel's disease)
Congenital retinal telangiectasis (Leber's military aneurysms, Coats' syndrome)
Congenital retinal macrovessels and arteriovenous communications
Incontinentia pigmenti
Retinal cavernous hemangioma
Inherited retinal venous beading
Small vessels hyalinosis
Retinal capillary obstruction/loss
Retinopathy of prematurity
Hyperviscosity syndromes
Diabetes mellitus
Radiation retinopathy
Longstanding retinal detachment
Retinoschisis
Toxemia of pregnancy
Cocaine abuse
Choroidal melanoma and hemangioma
Decreased ocular blood supply
Ocular ischemic syndrome
Carotid cavernous fistula
Encircling sclera buckling operation
Decreased retinal blood supply
Large retinal vessels obstruction
Retinal embolization
Retinal venous occlusive disease
Following surgical retinectomy
The extracellular space of the retina generally is considered to be relatively small compared with other tissues except for the brain. The outer plexiform layer is the primary interstitial space in the retina. If the retina becomes edematous, it is in this layer that fluid accumulates in the outer plexiform layer. The macular contains only four layers of the retina: the internal limiting membrane, the outer plexiform layer, the outer nuclear layer, and the rods and cones. The absence of Muller cells in the foveal region is also a contributing factor (
4
). No intermediate layers exist between the internal limiting membrane and the outer plexiform layer in the fovea, which in the macula is oblique (outer plexiform layer of Henle). This is an important factor in understanding the stellate appearance of the cystoid edema in the macula as opposed to the honeycomb appearance of cystoid edema outside the macula (
3
,
5
).
According to the severity of the damage in the bloodinner retina barrier, Gass distinguished three categories of macular edema: mild, moderate, and severe (
3
). If the decompensation is mild, small molecules and proteins escape into the extracellular space, and clear serous exudate may be confined to the inner retinal layers. It is not visible biomicroscopically. In fluorescein angiography, diffuse mild staining of the inner retina is observed. If capillary damage is moderate, deeper plexus of capillaries are affected. Serous fluid accumulates within the inner nuclear and outer plexiform layers. The biomicroscopic picture of cystoid macular edema then can be observed. Swelling of the retina and loss of the foveal depression is caused by the development of large central cysts. On fluorescein angiography, molecules diffuse out of the capillaries, producing a stellate pattern. If endothelial damage is severe, large proteins and lipids escape into the extracellular compartment, and the exudate may be cloudy. The
extravascular protein is transported across the pigment epithelium, choroid, and sclera. Around the outer margin of capillary leakage, the fluid is reabsorbed and small ions that are components of the blood leave behind the lipoprotein in the outer plexiform layer that tend to aggregate frequently in a circinate pattern.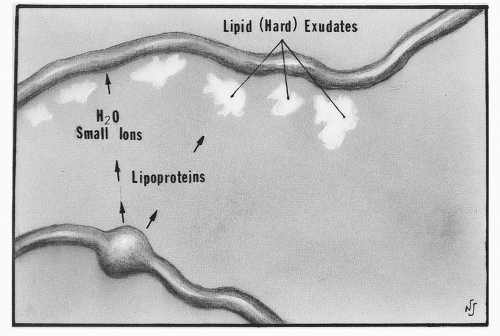 Figure 48-1.
Schematic diagram of leakage from retinal aneurysm. Small ions and water are reabsorbed. The large lipoprotein molecules are too large to enter the healthy capillary wall, and they deposit along these vessels, frequently in a circinate pattern. (Adapted from Ferris FL, Patz A. Macular edema, a complication of diabetic retinopathy.
Suv Ophthalmol
1984;28(suppl):452-561, with permission.)
After resolution of the capillary leakage or following photocoagulation, macrophages remove the lipid exudates (
3
,
6
) (
Fig. 48-1
).
In diseases with severe vascular abnormality involving the peripheral retina, chronic gravitation of the subretinal lipid to the macula and inferior periphery may cause widespread deposits of subretinal and outer retinal exudate remote from the vascular abnormality (
3
,
7
). Massive lipid residue may cause permanent damage to the retina and pigment epithelium, as well as choroidal neovascularization (
8
). Early treatment of vascular lesions may prevent permanent visual lost and resolution of lipid deposits in the macula (
9
).
RETINOPATHY OF PREMATURITY
Retinopathy of prematurity (ROP) is a potentially blinding eye disease (
12
). It has been suggested that therapeutic oxygen, although important, has been overemphasized as a cause of ROP under contemporary neonatal care practices. Other factors related to very low birth weight are probably quite important, especially in view of current nursery monitoring of oxygen. Birth weight is inversely related to risk of ROP and is at least as good an indicator as is gestational age. With current nursery practices, ROP is truly a disorder of the "smallest and sickest" infants (
13
).
Treatment
There are numerous advantages to LSV over SB for tractional stage 4A ROP retinal detachments. First, SB has an anatomic success rate on the order of only 70%. Second, placement of a SB requires an additional procedure to divide the encircling element so that the eye may continue to grow. Third, scleral buckling could produce an induced mean anisometropia of −9.5 diopters, with residual myopia on the order of −5 diopters, even after the encircling element is divided. Fourth, visual acuity results for stage 4A detachments repaired with scleral buckling surgery techniques have been very discouraging.
FAMILIAL EXUDATIVE VITREORETINOPATHY