The authors present a manual of transcanal ear dissection, a completely clinically focused discussion of the goals, steps, and outcomes of endoscopic dissection of the middle ear. From operating station setup through instrumentation and tasks, the reader is presented with detailed technique steps interspersed with observe notes that provide anatomic and technique pearls, such as "by removing the skin of the canal and the epithelial layer of the tympanic membrane (TM), you have largely eliminated the bleeding elements of the external ear and TM".
Key points



•




The endoscope allows detailed observation of the anatomy of the tympanic cavity.




•




The anatomy of the ear canal is important as the access point to the tympanic.




•




The Epitympanic Diaphragm separates the air containing spaces of the temporal bone into two cavities: a posterior superior mastoid/attic cavity and an anterior inferior mesotympanic/eustachian tube cavity.




•




There are other mucosal folds that segment the air cavities and prevent pan ventilation of these spaces.
Endoscopic dissection of the middle ear
Objectives



1.




Develop an understanding of the endoscopic anatomy of the middle and inner ear through transcanal access.




2.




Develop the necessary hand-eye coordination and hands skills to perform endoscopic ear surgery.




3.




In the laboratory, perform the specific steps involved in tympanoplasty.




4.




Understand the anatomy of the cholesteatoma-bearing areas of the middle ear.




5.




In the laboratory, perform the exploration of all the cholesteatoma-bearing areas of the middle ear.
Workstation and Setup
The head/temporal bone holder should be positioned in such a way that would align the axis of the ear canal with the axis of the surgeon's vision. Given the up-sloping orientation of the ear canal ( Fig. 1 ), this would result in the surgeon's field of view being centered on the lateral short process of the malleus rather than the umbo of the tympanic membrane (TM). The anatomic specimen should be positioned between the monitor and the surgeon. When using the 0° endoscope and during much of the dissection, the specimen's top should be to your right for the right ear and to your left for the left ear. When using angled scopes, you should always be able to rotate the anatomic specimen around as you explore the different middle ear space. The orientation of the angled view of the endoscope should always face away from the surgeon and face the monitor.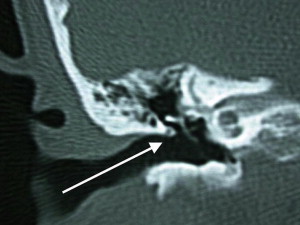 Required Instruments
Description



•




Round knife 45°, 16 cm, diameter: 2.5 mm




•




Plester knife, round, vertical, 16 cm, standard size 3.5 × 2.5 mm




•




Serrated Alligator forceps




•




Wullstein needle, 16.5 cm, light curve




•




Bellucci scissors, working length 8 cm, delicate, curved right




•




Bellucci scissors, working length 8 cm, delicate, curved left




•




House-Dieter malleus nipper, working length 8 cm, up biting




•




House curette, 15 cm, large size




•




Fisch adaptor, with cutoff hole, Luer cone 5.5 cm




•




Suction cannula, angular, Luer-Lock, working length 6 cm, outer diameter (OD) 1.5 mm




•




3 mm 14 cm, 0° Hopkins telescope




•




3 mm 14 cm, 30° Hopkins telescope
Premium Wordpress Themes by UFO Themes
WordPress theme by UFO themes