Purpose
To describe, apply, and test a new ocular grading system for assessing keratoconjunctivitis sicca (KCS) using lissamine green and fluorescein.
Design
Prospective, observational, multicenter cohort study.
Methods
The National Institutes of Health-funded Sjögren's Syndrome International Registry (called Sjögren's International Collaborative Clinical Alliance [SICCA]) is developing standardized classification criteria for Sjögren syndrome (SS) and is creating a biospecimen bank for future research. Eight SICCA ophthalmologists developed a new quantitative ocular grading system (SICCA ocular staining score [OSS]), and we analyzed OSS distribution among the SICCA cohort and its association with other phenotypic characteristics of SS. The SICCA cohort includes participants ranging from possibly early SS to advanced disease. Procedures include sequenced unanesthetized Schirmer test, tear break-up time, ocular surface staining, and external eye examination at the slit lamp. Using statistical analyses and proportional Venn diagrams, we examined interrelationships between abnormal OSS (≥3) and other characteristics of SS (labial salivary gland [LSG] biopsy with focal lymphocytic sialadenitis and focus score >1 positive anti-SS A antibodies, anti-SS B antibodies, or both).
Results
Among 1208 participants, we found strong associations between abnormal OSS, positive serologic results, and positive LSG focus scores ( P < .0001). Analysis of the overlapping relationships of these 3 measures defined a large group of participants who had KCS without other components of SS, representing a clinical entity distinct from the KCS associated with SS.
Conclusions
This new method for assessing KCS will become the means for diagnosing the ocular component of SS in future classification criteria. We find 2 forms of KCS whose causes may differ.
Phenotypic characteristics of the eye in Sjögren syndrome (SS) have been a key component in diagnosing the syndrome since its first description by Sjögren in 1933. Rose Bengal (the 4,5,6,7-tetrachloro 2,′4,′5,′7′-tetraiodo form of fluorescein) was used by Sjögren to demonstrate changes in the cornea and interpalpebral areas of the conjunctiva in patients with a form of dry eyes he named keratoconjunctivitis sicca (KCS). Although the use of vital dyes to stain the ocular surface was first reported by Pfluger in 1882, Sjögren was the first to recognize the diagnostic significance of the staining pattern by rose Bengal.
In 1949, Holm attempted to categorize Sjögren's observations by dividing the pattern into grades A (clinically severe), B (moderate), and C (mild). This scheme was followed in 1969 by a semiquantitative method reported by van Bijsterveld, whose observations became the basis for subsequent grading systems. In 1973, Norn was the first to report the use of lissamine green, an acidic synthetically produced organic food dye, for vital staining of the cornea and conjunctiva. Norn and others noted that although lissamine green had staining properties very similar to rose Bengal, it did not cause the ocular irritation so prominent with rose Bengal.
A 1995 report from the National Eye Institute workshop on clinical trials involving participants with dry eyes outlined a comprehensive new grading system for KCS using fluorescein dye to stain the cornea and rose Bengal to evaluate the conjunctiva. The underlying principle of using different stains for the cornea and conjunctiva provided a significant advance, but the system was not readily adopted because of its complexity. This was followed in 2003 by the Oxford grading scheme developed by Bron and associates, in which fluorescein was used to stain the cornea and either rose Bengal or lissamine green was used to stain the conjunctiva. By counting the number of dots stained with each dye, Bron and associates' grading scheme became the first quantitative method of accessing ocular changes in patients with KCS; however, the scoring system was never validated with patient data.
The Sjögren's International Collaborative Clinical Alliance (SICCA) is a National Institutes of Health-funded international registry created to develop standardized classification criteria for SS and to store clinical data and biospecimens collected from the SICCA cohort that range from those with possibly early SS to those with advanced disease, disseminating those data and specimens for future SS research. As part of SICCA, we have adapted from the previous grading systems cited above to develop a new, simplified, quantitative dry eye grading scheme that yields the SICCA ocular staining score (OSS). The SICCA OSS is novel in that it uses lissamine green dye to grade the conjunctiva and fluorescein dye to grade the cornea and is easily applied in clinical practice. The OSS gives equal numerical weight to corneal and conjunctival changes, is less time consuming than previous grading systems, and emphasizes clinical relevance. It is the product of a collaborative effort between SICCA ophthalmologists and researchers in Argentina, China, Denmark, Japan, the United Kingdom, and the United States and represents a new international standard for identifying and grading KCS in these patients.
The objectives of this article are (1) to describe the grading system that produces the OSS; and (2) to analyze the distribution of the OSS among the current participants in the SICCA registry and its association with other phenotypic characteristics of SS (e.g., other ocular, oral, and serologic measures).
Results
Eye-Related Characteristics Among Participants in the Sjögren's International Collaborative Clinical Alliance Registry
Among the 1208 participants for whom data were available as of September 15, 2008, the vast majority were women (93%), with a median age of 55 years (range, 21 to 90 years). The cohort was predominantly white (43%) and Asian (38%). A large proportion (85%) reported symptoms of dry eyes, and among those, 43% reported that they had had these symptoms for more than 5 years ( Table 1 ). A quarter of the participants (24%) reported having eye redness half of the time or more, and the same proportion reported an inability to produce tears. There was a widespread use of artificial tears, with 32% reporting use 1 to 3 times per day and 29% reporting use 4 or more times per day. Only 8% reported using cyclosporine drops, and 5% reported using corticosteroid drops. With respect to lid and conjunctival diseases, the most common condition was the presence of a pingueculum (28%), followed by meibomitis (15%) and blepharitis (11%), either unilaterally or bilaterally.
TABLE 1
| Eye-Related Characteristics | No. | % a |
| --- | --- | --- |
| Symptoms | | |
| Reported symptom of dry eyes | 1025 | 85 |
| Duration since onset of dry eyes (yrs) b | | |
| ≤1 | 156 | 16 |
| 1; ≤2 | 119 | 12 |
| >2; ≤5 | 280 | 29 |
| >5; ≤10 | 214 | 22 |
| >10 | 207 | 21 |
| Reported eye redness | | |
| Never | 441 | 37 |
| Sometime | 470 | 39 |
| Half of the time or more | 289 | 24 |
| Inability to produce tears | 290 | 24 |
| Use of ophthalmic drops | | |
| Frequency of artificial tear use: | | |
| Never | 468 | 39 |
| 1 to 3 times/day | 381 | 32 |
| 4 times/day or more | 348 | 29 |
| Use of medicated drops c | | |
| None | 851 | 71 |
| Cyclosporine | 80 | 8 |
| Antibiotic | 99 | 10 |
| Steroid | 45 | 5 |
| Other | 99 | 10 |
| Lid and conjunctiva diseases (unilateral or bilateral) d | | |
| Pingueculae | 334 | 28 |
| Meibomitis | 184 | 15 |
| Blepharitis | 134 | 11 |
| Punctal occlusion (lower) | 93 | 8 |
a Column percent may not sum to 100% for some variables because of rounding.
b Median duration since onset of dry eyes: 51 months (6.7 years); range, < 1 to 723 months.
c Column percent does not add up to 100% because participants may use more than 1 type of medicated drops.
d Other conditions affecting lid or conjunctiva, such as lagophthalmos, entropion, or ectropion, were diagnosed in < 2% of participants.
As described earlier, the OSS may have a value ranging from 0 (no corneal or conjunctival staining detected) to 12 for each eye. We used the maximum OSS between the right and left eye because 80% of participants had a minimal difference of 0 or 1 between the 2 eyes. However, the TBUT and Schirmer test had skewed distributions and higher variability between right and left eyes; therefore, we used the mean TBUT and Schirmer test values between the 2 eyes for each participant.
Interrelationship Between Abnormal Ocular Staining Score, Labial Salivary Gland Biopsy Focus Score > 1, and Presence of Anti-Sjögren Syndrome A or B Antibodies
A total of 920 participants in the SICCA registry had at least 1 of 3 phenotypic characteristics thought to be associated with SS: an abnormal OSS of 3 or more, focal lymphocytic sialadenitis with a focus score of more than 1, positive serologic results for anti-SS A or B antibodies, or a combination thereof. These participants were included in a proportional Venn diagram, which revealed that 28% had all 3 characteristics, whereas 28% had an abnormal OSS only, 3% had an abnormal focus score only, and 2% had a serologic results for anti SS A or B antibodies in the absence of the other 2 characteristics ( Figure 4 , Left). To explore whether the level at which we defined an abnormal OSS may explain the much larger proportion of participants with a positive OSS only (as compared with those with either a focus score of more than 1 or with positive serologic results for anti-SS A or B antibodies or both), we also constructed a Venn diagram with an abnormal OSS defined as 4 or more ( Figures 4 , Right). Although the overlap between groups shifted slightly, the large proportion of participants with abnormal OSS only remained (at 22%).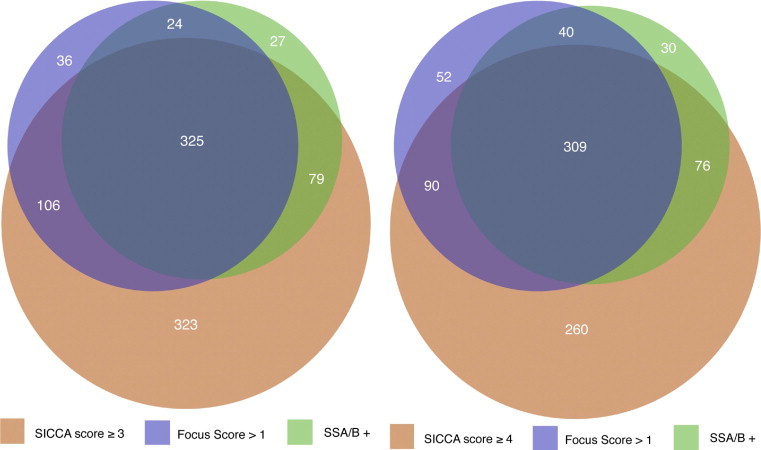 Get Clinical Tree app for offline access